Good money management is essential for all ages and stages of life. As older adults, our financial needs (along with spending and saving patterns) change. The thought of living on a fixed income can certainly be scary.
Financial security and preparedness come in many forms. This guide covers essential financial topics for older adults, including ways to ensure you're cashing in on tax credits, deductions, and senior discounts. We'll also detail important ways to prepare for taking Social Security, building your retirement portfolio, and ensuring your estate is in order.
Topics Covered In This Article:
Social Security
If you're in the planning phase or already receiving Social Security, you're in good company! Approximately 65 million Americans receive Social Security payments annually.1
Understanding "…how Social Security fits into your financial health is a powerful way to be prepared," said Andrew Meadows, senior vice president of human resources, brand, and culture at Ubiquity Retirement + Savings.
Will Social Security cover all of your financial retirement needs? "One of the biggest sticker shocks around Social Security is that it's likely not enough for you to pay your bills once you retire."
There are several ways to understand how Social Security will fit into your overall financial goals and estimate your benefits. We'll take a closer look below.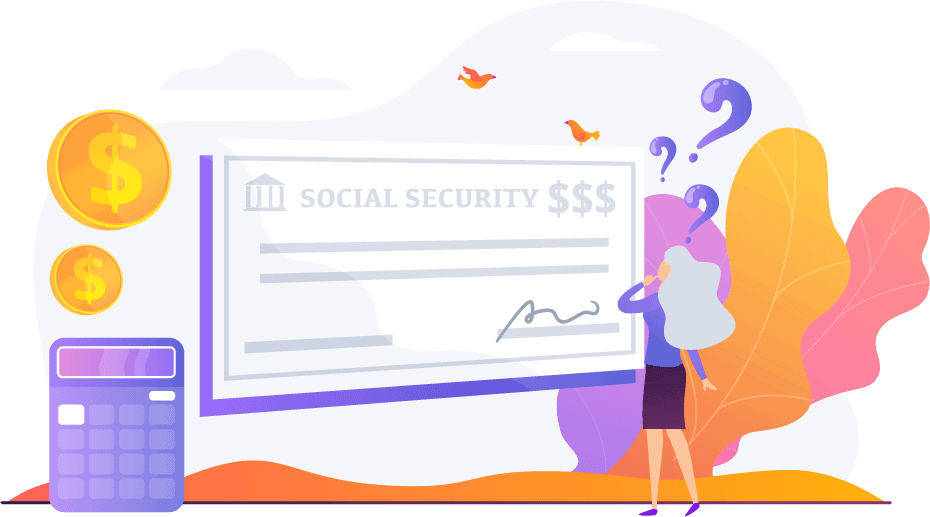 Create a my Social Security Account
The Social Security Administration's free my Social Security account is an easy, safe, and secure way to view and manage your benefits. Even if you're not eligible for benefits yet (anyone over the age of 18 can set up an account), creating a my Social Security account gives you access to personalized estimates, benefit calculators, and customer support. Plus, signing up early prevents scammers from creating an account using your Social Security number.
Estimate Your Social Security Payments
Knowledge equals financial power! Avoid being surprised about how much Social Security you'll receive by understanding how your benefit is calculated, how much money you'll receive each month, and the factors that impact your payment.
The Social Security Administration (SSA) offers free tools to estimate your payment. You can also speak with an SSA representative by calling the administration toll-free at 800-772-1213. If you're deaf or have hearing loss, you can call their toll-free TTY number at 800-325-0778.
Know Your Social Security Benefit Options
Neal Stern, CPA, who is also a member of the American Institute of CPAs' National CPA Financial Literacy Commission, touched on the often overlooked aspects of Social Security.
"There are some special considerations for married couples, widows or widowers, and former spouses that can have a significant impact on Social Security benefits."
There are several different Social Security benefits, and it's important to understand which ones you and your family may be eligible to receive. Benefit options include:
Social Security Spousal benefits
Divorced spouse Social Security benefits
Social Security survivors benefits
Social Security Disability Insurance (SSDI) benefits
Keep Your Social Security Safe With Direct Deposit
If you're already receiving Social Security, why not skip the trip to the bank? Now is a great time to arrange to have your Social Security checks deposited into your bank account through direct deposit. Instead of anxiously waiting for your check to arrive in the mail, an electronic funds transfer is faster and more convenient. Direct deposit is also safer, as there's no risk of your check getting lost or stolen.
Setting up your funds to be sent directly to your bank account is simple. Just follow our step-by-step guide on how to initiate your Social Security direct deposit.
Retirement Planning
We asked Keri Dogan, senior vice president of retirement income at Fidelity Investments, to share Fidelity's recommendations for clients in the retirement planning phase. Dogan advised people to "create a plan and think through what their income needs are going to look like in retirement."
Dogan's No. 1 piece of advice for those who are five years away from retirement is to analyze your plan to see "how much you're on track to have in retirement and what that translates into in terms of monthly income."
Consider these common expenses as you create your financial retirement plan:
Housing
Health care
Auto and life insurance
Taxes
Utilities
Groceries and personal care
Transportation
Home improvements and maintenance
Travel and leisure
If you have old debts that you're worried about paying off in retirement, know that you have options. Visit our page on why seniors don't need to worry about old debts to learn more. Watch the video below to learn why many seniors don't need to worry about old debts.
Retirement Accounts
According to the Federal Reserve Board's latest Survey of Consumer Finances, the median net worth of Americans aged 55 to 64 is $212,500. Your net worth is calculated by subtracting any liabilities, such as debt, from your assets.
Your retirement accounts make up a portion of your assets. They also play a starring role in ensuring you can retire comfortably. Common accounts include:
401(k)
403(b)
457(b)
Thrift Savings Plan (TSP)
Traditional and Roth IRA
Pensions
To make the most of these accounts and your retirement savings, Dogan recommends that older adults first take advantage of company matches from their employers. Next, seniors should max out any tax-advantaged accounts, including 401(k)s, IRAs, or HSAs.
Planning for Insurance and Medical Expenses
The National Institute on Aging (NIA) reports that many older adults and caregivers worry about medical care expenses. These costs can take up a hefty part of a senior's income, even for those who felt confident that they had enough in savings.2
The details of health care, what's covered, and who pays for it can be confusing. Dogan says, "People don't realize that you actually have to pay for a lot of aspects of Medicare, never mind the out-of-pocket costs beyond that."
Avoid budget-busting expenses with proper financial planning. Dogan noted, "We see that on average, couples need $295,000 to fund their health care in retirement, and many people well underestimate that." As you budget for your medical expenses, there are several types of insurance that may alleviate some of the financial burden.
14 Insurance Options to Help Cover Expenses
Medicare Supplement plan (Medigap)
assisted living costs
Social Security Disability Insurance (SSDI)
Supplemental Security Income (SSI)
Military veteran benefits
Cash-value life insurance
Burial insurance
Tax Credits and Deductions for Seniors
As we get older, our health and medical needs often expand. Many older adults face costly out-of-pocket expenses that can disrupt even the best financial plan. That's why it's important to understand the tax credits and deductions available to you as a senior to alleviate some of your tax burden.
Health Care Tax Deductions
According to the Internal Revenue Service (IRS), if you itemize your health care deductions for a taxable year, you may be able to deduct expenses you paid for medical and dental care for yourself, your spouse, and your dependents.
Before filing your tax return, check to see if you are eligible for any tax credits or tax deductions according to IRS regulations,3 including:
Tax Credits
Health care credits
Family and dependent credits
Income and savings credits
Homeowner credits
Education credits
Tax Deductions
Health care deductions
Investment-related deductions
Work-related deductions
Itemized deductions
Education deductions
If you're a low-income senior who struggles to pay your tax bill, there may be ways to eliminate or significantly reduce your taxes. Watch the video below for more details.
Making Your Money Stretch in Retirement
Being on a fixed income can be stressful. Don't come up short at the end of each month; create a budget, prioritize your spending, and find frugal ways to live.
10 Money-Saving Deals and Discounts for Older Adults
Senior discounts are a fantastic way to maximize your savings. Many businesses offer exclusive discounts to older adults, such as:
Important Financial Milestones for Older Adults
The journey into our older years includes significant age-related financial milestones. It's critical to know when you can initiate retirement contribution catch-up, enroll in Medicare, and take Social Security. Understanding what actions are needed in your 50s, 60s, and 70s can help keep your finances stable.
Housing Expenses
Retirement housing costs should be a key consideration in your overall financial plan. Whether you spend $30,000 on home modifications to age in place or $300,000 on housing in a retirement community, it's essential to take a hard look at the different options and the related expenses.
Five Retirement Housing Options to Explore
Reverse Mortgages
Whether you decide to age in place or move to a new home, a reverse mortgage is an option available to older adults.
What Is a Reverse Mortgage?
As a homeowner, your home's equity is a valuable piece of your retirement assets. Adults aged 62 and older can take out a loan based against their home's equity. Unlike traditional mortgages, reverse mortgage loan payments are deferred. For example, reverse mortgage repayments are made after the home is sold or upon the homeowner's death.
However, Steve Irwin, president of the National Reverse Mortgage Lenders Association, cautioned that, "a reverse mortgage is not for everyone."
Reverse mortgages are complex, and a decision to apply for this type of mortgage should not be made lightly. Consulting with trusted family members and advisors can help "determine whether the strategic use of home equity should be considered," said Irwin.
The Home Equity Conversion Mortgage (HECM) is the U.S. Department of Housing and Urban Development's (HUD) reverse mortgage program for homeowners aged 62 and older.4 HECMs are insured by the Federal Housing Authority (FHA) and, they account for around 90 percent of all reverse mortgages in the country.5
Whether you're considering aging in place or downsizing from your current home, reverse mortgages are an option to explore. "Because many seniors live on a fixed income, the reverse mortgage provides the best option for them to age in place," said Irwin. Many older adults aging in place tap into their home's equity through an HECM to help supplement what they receive from social security, pensions, 401(k)s, and other retirement assets.
"If downsizing makes better sense, I would also point out that a homeowner can use a reverse mortgage to purchase a new home that better suits their needs," shared Irwin. "The HECM for Purchase is a variant of the HECM program that allows people to use a reverse mortgage to purchase a new home that better suits their mobility or lifestyle needs."
The HECM and HECM for Purchase aren't the only reverse mortgage solutions. Some private mortgage lenders offer proprietary reverse mortgages. A proprietary reverse mortgage may be better suited for your needs if you're seeking a higher lending limit or lower upfront costs. Keep in mind, proprietary reverse mortgages are not FHA-insured.6
For more information on reverse mortgages, watch the video below with our editor-in-chief, Jeff Hoyt.
Common Misconceptions About Reverse Mortgages
As reported by the Consumer Financial Protection Bureau, a reverse mortgage loan is not free money. The homeowners, or their heirs, will need to pay back the loan at some point, including interest accrued, which is usually done by selling the home.
Another misconception is that the reverse mortgage lender owns your home. "That's simply not true," advises Irwin. "As with any mortgage, the borrower always retains ownership of the home."
Avoid Reverse Mortgage Scams
Government agencies and financial institutions are sounding the alarms about reverse mortgage scams targeting older adults. According to Federal Bureau of Investigation (FBI) data, senior victims are offered free homes, investment opportunities, and foreclosure or refinance assistance.7
A key component of avoiding reverse mortgage scams is to understand how the process works. Irwin explains, "One of the most important consumer protections with any reverse mortgage product is that the homeowner must first meet with an independent HUD-approved housing counselor." HUD-approved counselors help older adults understand how reverse mortgages work and what alternative options are available.
For those considering a reverse mortgage, Irwin encourages homeowners to "work with a member of the National Reverse Mortgage Lenders Association (NRMLA)." All members and employees of NRMLA "…must abide by a code of ethics and professional responsibility."
Will and Estate Planning Essentials
An important aspect of financial planning that many older adults put off or overlook is estate planning. It's a difficult topic to think about, but it's important to decide what will happen to your belongings and assets when you're gone.
Leaving a Legacy: A Lasting Gift to Loved Ones, a research study by Merrill Lynch and Age Wave, found that:
Nearly half of Americans over 55 do not have a will.
For those with a will, an estimated 23 percent of wills are out of date.
Only 18 percent of Americans have all three essentials in order (will and/or trust, healthcare directive, and durable power of attorney).
Ensuring your end-of-life financial affairs are in order is a critical part of growing older. There are three essential aspects to put in place:
Create a will and/or trust naming all beneficiaries, along with when and how you want your assets distributed.
Write a health care directive (living will). These are often written prior to surgery or upon being diagnosed with a terminal illness.
Assign a durable power of attorney (POA) to help protect your health and safety.
Want to learn more? View the video below for all the details on living wills and choosing a POA.
Other Finance-Related Resources
For a closer look at the topics we covered in this guide, check out the resources below!