It's been said you're never fully dressed without a smile. The right dental insurance plan or dental care alternative is an important investment in your overall health. Whether you're preparing to purchase a dental plan or making a plan switch, tracking down the best dental insurance can be challenging. We'll cover how to research dental insurance plans, the questions to ask, and important details to keep in mind as you shop.
Do You Want to Save 10-60% on Your Dental Care?
See How Much You Can Save with a Dental Savings Plan!
:DP SavingsCalculator
Powered by DentalPlans.com
The Truth About Dental Insurance Coverage
It would certainly be incredible to find a dental insurance company that pays 100 percent of your dental needs. The reality is most dental insurance plans haven't adjusted their coverage to reflect the cost of inflation. What that means is the insurance maximum (the dollar amount of dental treatment covered) in one of today's policies is about the same as it was in the 1980s. There's no way you can buy a home for the same price you did in 1980, and the same goes for a dental crown.
Properly budgeting and choosing the right dental insurance plan is possible if you follow the guidelines below.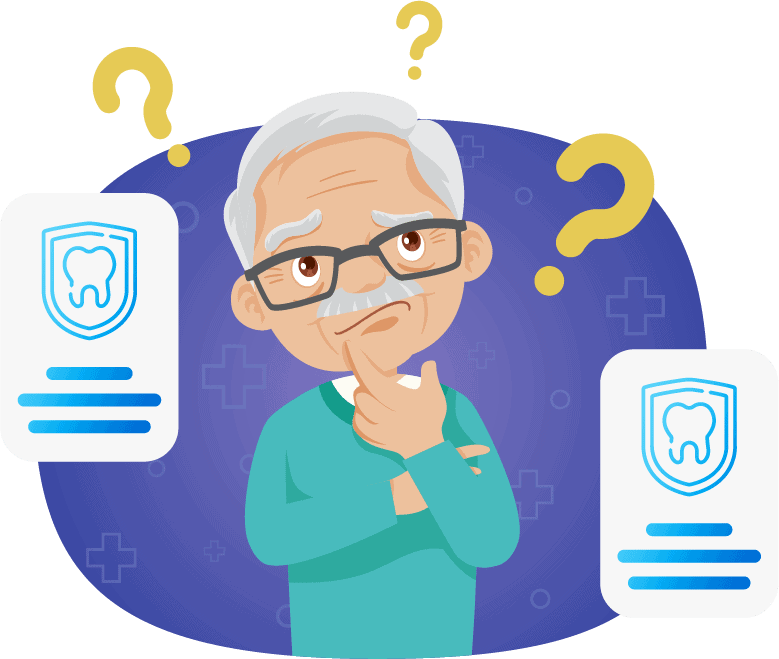 Shopping for the Best Dental Insurance Plan
Since Original Medicare doesn't cover much in the way of dental care, you'll either need Medicare Advantage (with dental coverage) or a separate dental insurance plan when you go to the dentist. It can be easy to overlook dental work when budgeting for your medical expenses, but these costs can quickly add up. If you need a new dental insurance plan to supplement your current medical coverage, view our top picks below.
Sit back and relax: You can shop for dental insurance from the comfort of your home! Most dental insurance companies make their plans available for purchase online. Many offer a comparison tool to easily see what will (and won't) be covered. If you're shopping online and aren't sure what the plan covers, be sure to speak with a customer service team member before you lock in a policy.
If you'd prefer to skip comparing policies on your own, a dental insurance broker can navigate the options for you. Simply let your broker know how often you usually need treatment, what your annual budget is, and which dentist you want to see. A dental broker can compare numerous policies against one another and provide you with the best options based on your dental needs.
Your dentist is also an excellent resource! Contact your dental office's billing manager and ask for guidance on which plans work best for their retired patients. Knowing what types of plans other older adults have is a great first step in your research and can help shorten a potentially lengthy process.
What to Consider When Choosing Dental Insurance
Choosing the right dental insurance is based on plan benefits, along with your present and future dental care needs. Take time to consider the following points.
Do You Have Minimal Dental Needs?
Have you always had minimal dental problems? If you anticipate needing coverage for basic dental checkups and potential emergency treatment, then a dental plan with minimal coverage and a higher out-of-pocket deductible may be optimal.
Do You Have Recurring Dental Needs?
For older adults with recurring dental needs such as aging dental work or previous gum disease, a dental plan with comprehensive coverage and a lower deductible may be best. While this type of coverage comes with higher monthly premiums, overall, it can make less of a financial impact on your budget when you need new fillings, crowns, or bridges.
What Dental Services Are Covered?
Your dental insurance policy will most likely have three tiers of services: preventative, basic restorative, and major. Some tiers are covered at 100 percent (like preventative cleanings), while others are only covered at 50 percent (such as major crowns, bridges, or dentures.)
Ask potential carriers these questions:
What is the maximum dollar amount (also known as the annual allowable) the insurance company will pay in a year?
What percentage is covered for preventative, basic restorative, and major care? If you have specific upcoming dental needs, ask what tier the care falls into and how much will be covered.
What is the annual deductible and copay budget? Do the copays vary based on service provided?
Is your dentist listed as in-network or out of network with the insurance company? Also, confirm with your dentist that the type of insurance you're considering is accepted as in-network.
Do the math to see if your monthly dental insurance premiums will make up for the savings on the treatment. If they don't, consider a dental insurance alternative.
Five Important Dental Insurance Details
Many major dental insurance companies, including Delta Dental, will provide your dentist with a pretreatment estimate.

1

This helps you know upfront what your dentist will charge, what your dental provider will cover, and what costs (if any) you'll pay out of pocket.
Not every dentist is in-network or accepts dental insurance. Verify if your dentist accepts your dental insurance before any treatment begins.
Your dental plan may come with an annual dental service limit. This is the total yearly amount your dental insurance will pay toward your dental care. Annual maximums usually range between $1,000 and $2,000.

2

If you don't use your dental insurance plan maximum, the balance does not roll over to the next year. These limits are the "use it or lose it" type.
Your choice of dentists may be limited depending on your type of dental insurance. It's essential to understand if your dental insurance plan is an HMO or PPO. HMOs require you to use an approved in-network dentist while PPOs allow greater flexibility in your choice of dentists and dental specialists.
Affordable Dental Insurance Alternatives for Seniors
Cash Pay
If you're able to pay 100 percent out-of-pocket for your dental care (without insurance), your dentist may offer a cash discount. Don't forget your checkbook or cash, as this money-saving discount may not apply if you pay by credit or debit card due to processing fees. Cash pay isn't the only way to save; ask your dentist if they also offer a senior discount.
In-House Membership Plan
You don't have to be enrolled in a traditional dental insurance plan to receive quality dental care. Many dentists offer their uninsured patients in-house dental memberships. Dental memberships provide similar benefits or discounts that match or surpass those offered by conventional insurance policies.
Dental or Hygiene Schools
If you live near a university with a dental or hygiene school, cash in on dental care at a significantly lower price! Keep in mind, many schools do not accept insurance, so you'll need to pay out-of-pocket. Patience is key, as there may be a wait or limited availability when scheduling an appointment.
Flexible Spending Accounts
A flexible spending account (FSA) or health savings account (HSA) through your employer is a fantastic way to pay for dental costs. Dental expenses are approved as an FSA or HSA medical expense by the IRS. Contributions are nontaxable, which lowers your annual gross income and provides the opportunity to save more for your golden years of retirement.
How Much Does Dental Care Cost Without Insurance?
An easy way to estimate the annual cost for routine dental care is to calculate the total amount you would pay into a dental insurance policy. This total typically covers preventative care appointments. If you anticipate costly dental needs such as dentures, crowns, or a root canal, ask your dentist for a cost breakdown. Knowing ahead of time is key to avoiding a costly dental bill.
Checkups and Cleanings
With dental insurance, preventative care checkups and cleanings typically cost zero dollars out-of-pocket. Without dental insurance, plan to pay between $100 to $300 or more.
Additional Treatments
With dental insurance, your dental treatments go toward your annual benefit maximum (minus any deductibles or copays that are your responsibility). The more dental care needed, the more you pay out-of-pocket at a cost of approximately 20 to 50 percent. Without dental insurance, you'll pay 100 percent of all dental expenses.
This is why preventative care is essential, as it helps reduce the need for additional dental treatments and additional costs. There's a strong connection between your oral health and overall health. According to the Mayo Clinic,3 oral bacteria and the inflammation from periodontitis (a severe form of gum disease) may play a role in diabetes, Alzheimer's disease, cardiovascular disease, and stroke. Taking care of yourself is good for your body and your wallet!
Does Medicare Cover Dental Care?
Adults aged 65 or older are eligible to enroll in Medicare. Medicare is focused on medically necessary coverage, so most dental treatments, such as routine dental health care, are not covered under Medicare. There are a few exceptions in which dental needs are covered, such as major oral surgery following a life-threatening illness or injury.
The Choice Is Yours
As we grow older, our dental care and coverage needs change. It's important to consider what coverage works best for you and your budget. Planning for your future can help you avoid unexpected dental costs. Rest assured, if you aren't satisfied with the dental plan you're enrolled in, you always have the option of changing it next year.