Retirement housing isn't just about location. One of the many wonderful aspects of being a retiree is the freedom to explore the wide range of senior living options available.
Whether you choose to stay in your current home, downsize, or relocate to a retirement community, it's essential to understand how much each option costs. Armed with this knowledge, you can decide which choice is best for you and your retirement budget. In this guide, we'll take you through everything you need to know about retirement housing, including the different types of senior living available, their costs, and how to choose the right place for you.
Table of Contents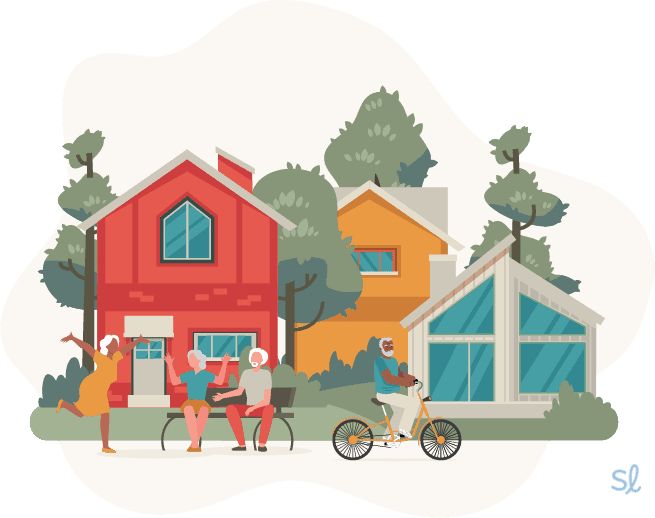 Discuss Your Vision for Retirement Housing
Before choosing where you want to retire, it's important to talk with your partner and establish a clear vision for retirement.
"It's hard to have a good financial plan if you don't really know what life is going to look like in retirement," said Keri Dogan, senior vice president of retirement income solutions at Fidelity. Having a conversation with your spouse or significant other is fundamental. "One of my favorite pieces of research that we've done in the past was about those spousal conversations and how many times spouses don't have the same vision for retirement."
Not all spouses are on the same page. "Sometimes we find that when we meet with spouses, they haven't talked about their vision for retirement," Dogan said. "We have one spouse who's picturing moving to a farm in Vermont and another who's thinking about moving into an apartment in the city, and they don't realize it until they're a year from retirement."
Dogan recommends starting with the basics. "Think about where you will live and if you will stay in your house or downsize."
Another crucial step is having a conversation with your financial advisor. Make sure you have a firm grasp on what your retirement portfolio looks like, what you can afford, and how housing affects your overall budget.
Find the Right Housing Options for You
Our free housing and care finder uses your unique needs to curate a list of the best options in your area.
Downsizing vs. Staying in Your Current Home
Many empty nesters realize they have more square footage than they need. Downsizing to a smaller home saves on monthly payments, utilities, and repair costs. It can also free up funds to pay for assisted living or nursing home expenses.
A home with a smaller footprint certainly helps simplify your life and frees up time to enjoy hobbies like vacations and travel. However, the emotional ties to a family home can be strong, making the decision to move difficult.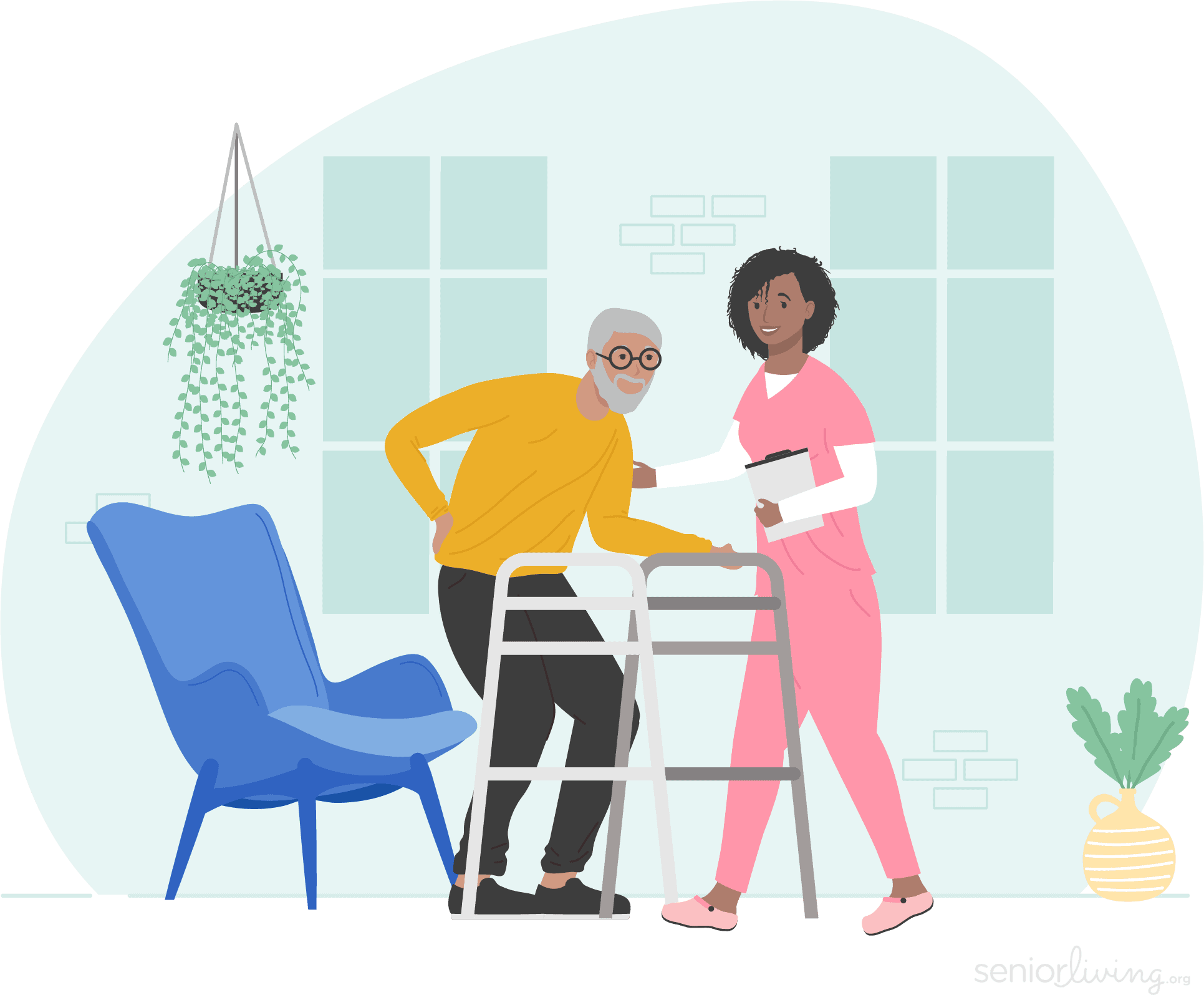 The Downsizing Dilemma: 5 Questions to Ask Yourself
If you own your home, how much equity do you have?
Can you afford to stay in your current home for another decade (or longer)?
Can your medical or physical needs be met in your current home?
Is home and yard maintenance enjoyable or overwhelming?
Do you feel lonely or isolated?
Pro Tip: Our downsizing guide takes a deep dive into the pros and cons of moving into a smaller home.  
Once you and your partner are on the same page and you've decided whether or not you want to downsize, it's time to look at your different options for retirement housing.
Types of Retirement Living Options
Aging in Place
Older adults who age in place choose to remain in their current home instead of moving to a retirement community. An essential part of comfortably and safely aging in place is ensuring extra care (such as home health care) is available and necessary home modifications are made.
How Much Does Aging in Place Cost?
Financial costs for aging in place are based on a person's medical and physical needs. For example, adding wall-mounted grab bars and a shower chair in the bathroom to prevent falls won't break the bank. However, extensive modifications come with a heftier price tag. According to HomeAdvisor, the average price of installing a stair lift is $6,000,1 and adding a wheelchair ramp averages $2,000.2
As you can see, home alterations and modifications can add up. The National Institute on Aging (NIA) suggests contacting your local National Association of Area Agencies for Aging to find additional resources.
Independent Living Retirement Community
Independent living retirement communities are designed for independent and active retirees. While some communities set the minimum qualifying age at 50 years old, the more common minimum ages are 55+ and 65+. Amenities are similar to those found in high-quality hotels, including swimming pools, fitness centers, beauty salons, restaurant-style dining, and security services.
You can find a wide variety of independent living retirement housing options like the following:
Speak With a Senior Living Consultant
Our team of senior living advisors provide free guidance to help you find the right housing option for your needs and budget.
How Much Does Independent Living Cost?
Depending on the location, prices for independent living communities range from $1,500 to $4,000 per month. Independent living facilities often bundle rent, utilities, and amenities into the overall monthly cost.
Pro Tip: The U.S. Department of Housing and Urban Development (HUD) and the Housing for Older Persons Act provide HUD-sponsored senior housing, and older adults with limited resources can apply for affordable housing, such as low-income senior apartments, under Section 202.
Continuing Care Retirement Community
A continuing care retirement community (CCRC) is a life plan community offering an independent, amenity-rich lifestyle with access to onsite care if medical needs should progress. This continuum of care offers greater stability, allowing residents to stay in one community for the long term.
How Much Does Living in a Continuing Care Retirement Community Cost?
According to CBRE Group, a U.S. commercial real estate firm, the average CCRC entrance fee is $329,000. Monthly charges can range from $3,000 to $5,000 but can increase as needs change. It's important to note that these fees may include the cost of care, depending on the contract and community you choose.
Assisted Living Retirement Community
Within assisted living retirement communities, you'll find older adults who remain largely independent. While residents may need help with specific activities of daily living (ADLs), they don't require 24-hour medical attention. Common services provided in assisted living communities include meals, laundry, housekeeping, and transportation.
How Much Does Living in an Assisted Living Retirement Community Cost?
The size of the assisted living facility you choose, along with the types and number of services you need, all impact the final cost of assisted living. According to Genworth's Cost of Care Survey, the 2021 national median cost for assisted living is about $148 per day or $4,500 per month, totaling $54,000 annually. Assisted living communities are generally more affordable than a private or semiprivate room in a nursing home.
Nursing Homes
Nursing homes are residential care facilities that provide 24-hour care for older adults who need high levels of assistance with nonmedical, everyday living tasks. Support may include dispensing of medication, housekeeping, assistance with ADLs, and meal services. Senior care in a nursing home is more comprehensive than assisted living.
How Much Does Living in a Nursing Home Retirement Community Cost?
Genworth's Cost of Care Survey reports the median nursing home financial cost for a private room is $297 per day or $9,034 per month, totaling $108,405 annually. Semiprivate rooms are slightly more affordable, with a median of $260 per day or $7,908 per month, totaling $94,900 annually.
Keep in mind that the above nursing home costs do not include higher-level skilled nursing, memory care for Alzheimer's and dementia patients, or hospice care.
Retirement Housing Planning Resources
According to the State of Retirement Planning Study by Fidelity Investments, a mere 12 percent of older adults aged 41 to 75 years have used online search tools to calculate how to afford their desired retirement lifestyle.
It's time to fire up your computer and take control of your future! Budgeting for housing during your retirement years doesn't have to be overwhelming. Simply tapping into the wide range of online resources is an excellent way to make more educated decisions.
A great place to start is understanding how much money you'll need for retirement and creating a budget. Additional financial planning resources for older adults include the National Council on Aging, the U.S. Department of Health and Human Services, and AARP.

Helpful Tips for Choosing a Senior Living Community
12 Retirement Community Questions to Consider
You've worked hard; now it's time to enjoy your retirement! There are quite a few factors to consider before choosing a new place to call home. Here are 12 important questions to get you started on your journey:
What is your expectation for daily life as a retiree?
What are your preferences for geographical location and climate?
What is the cost of living in the communities you're considering?
How will you pay for living in a retirement community?
What are the contract terms, entrance fees, and monthly association fees?
What is your plan for current and future health care needs?
Does the community offer recreational and leisure activities of interest, such as exercise classes, gardening, golf, or crafting?
What amenities does it offer?
Are there restrictions set on things like pets, visitors, or smoking?
Is the location a gated community?
What is the crime rate?
Are you eligible for municipal tax benefits like a property tax exemption?
Retirement Locations Designed to Meet Your Lifestyle Needs
Finding a community where you truly feel at home is key to long-term happiness. There are many types of retirement lifestyle communities to choose from, including:
| Retirement community type | Features |
| --- | --- |
| Veterans senior living communities | Focused on individuals who served in the active military, navy, or air force |
| LGBTQ+ retirement communities | Quality care in a discrimination-free environment |
| Religious-based senior care | Spiritual support in a faith-based facility |
| Masonic senior living housing | Caters to Master Masons, wives, widows, and female dependents |
| Singles retirement communities | Tailored to single, divorced, and widowed older adults |
| Luxury senior living communities | Upscale living and high-end amenities |
| RV retirement parks | Full hookup to power, water, and sewage |
| Beachfront senior living communities | Coastal location in close proximity to the water |
| University retirement communities | Advanced educational options and on-site classes |
| Equestrian retirement communities | Access to horses, stables, and trails |
| Houseboat retirement communities | Open spaces for motorized or moored vessels |
Did You Know? Do you have a passion for pickleball? Or dream of living in an artist's colony for older adults? If so, be sure to check out these 10 unique retirement communities.
Maureen joined SeniorLiving.org with more than 10 years of experience writing in health, lifestyle, and nutrition for premium brands like General Mills, Westinghouse, and Bristol Myers Squibb. Her passion for empowering older adults is evident in coverage of topics like…
Learn More About Maureen Stanley
As Editor-in-Chief of the personal finance site MoneyTips.com, Jeff produced hundreds of articles on the subject of retirement, including preventing identity theft, minimizing taxes, investing successfully, preparing for retirement medical costs, protecting your credit score, and making your money last…
Learn More About Jeff Hoyt