Whether you don't need the extra space or don't want to spend time and money on upkeep, you may be looking to downsize as you get older. One option to consider is a senior townhome. Townhomes for older adults allow you to maintain independence and privacy while eliminating the maintenance of a larger single-family home. In this guide, we'll take a look at all that senior townhomes have to offer!
What Are Senior Townhomes?
A senior townhome is much like a senior condo, though styles of each can change from one area to the next. Most of the time, these homes are smaller than traditional single-family homes. They may also be placed closer to neighbors and with shared walls. Townhomes are larger than apartments, but tend to be smaller than full-size homes. And, yet, they can offer many of the amenities that homeowners have.
Depending on the location, senior townhomes tend to offer private amenities. You will still have all of the rooms and spaces that you are used to enjoying. Most will have a smaller yard and porch area. Some townhomes are a single floor while others can be towering to three floors. The amount of space, the overall style, and the features will range widely from one location to the next.
Most often, senior townhomes are in shared communities. This means that you will have a private home to enjoy, but you may share amenities such as a community pool, fitness center, and walking path with other seniors sharing the community with you. Some locations are designed for those over the age of 55. Others are open to anyone living there. It is important to consider what your goals are when trying to make a decision about whether or not to buy or rent a senior townhome. In nearly all cases, these spaces can be a good option for many people.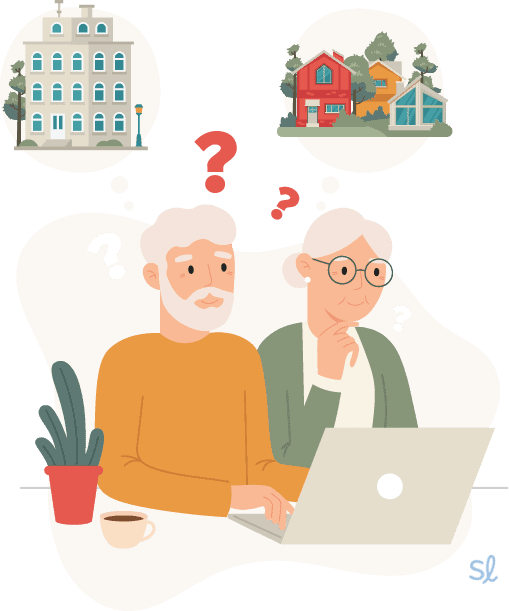 Buying vs. Renting Senior Townhomes
Senior townhomes are available both for sale and for rental needs. To decide whether to rent or buy a townhome, you can consider your income and long-term goals. Renting tends to cost less in the short term, but does not allow you to own the asset at some point. However, buying a senior townhome can be a bit more expensive, though mortgages are available to help cover these costs. Making the decision to buy or rent really comes down to costs, but also to the way you plan to use this space and the length of time you plan to be there. There are a few key things to consider when making these decisions.
Senior Townhomes for Sale
Senior townhomes for sale are generally available in most areas. These properties are often existing homes for sale, but some areas also have new construction options. In all cases, if you plan to buy a townhome, you will need to have the funds available to do so. Also, consider your goals such as what types of amenities you need onsite. You also may wish to consider the layout and choose a space that is comfortable for you.
How Much Does It Cost to Buy a Senior Townhome?
For those who wish to buy a senior townhome, it will be important to consider the locations, size, features, and overall type of home. This will make a big difference in the cost of these homes. The good news is that most areas offer various options to fit any need.
How Can You Pay for a Senior Townhome Purchase?
Buying a senior townhome means you will need to pay for it out of your pocket. You may be able to sell an existing home and use the results from that sale to cover the new purchase. You may also be able to obtain a new mortgage for the purchase. Seniors who are veterans may qualify for VA loans as well.
Senior Townhomes for Rent
Sometimes, renting is best. Senior townhome rentals can be limitedly available in some situations. It is common to find these types of properties available in senior communities where everyone in the subdivision is over the age of 55. However, rentals may be available in just about any city. They may be a bit smaller, and they may offer more of an apartment feel, but they are available.
How Much Does It Cost to Rent a Senior Townhome?
The cost of renting a senior townhome will again depend on location, size, and amenities. You should outline your long-term goals with your location to determine what the expected costs will be down the road. You do not want to see your rental costs rise too quickly.
How Can You Pay for a Senior Townhome Rental?
Renting a senior townhome is not a type of expense that is covered by any third party provider. You will need to pay for these costs out of your pocket. Most often, it will be important for seniors to ensure that the cost to rent the townhome fits into their budget before considering this type of move.
Are There Senior Townhomes Near Me?
If you are thinking about buying or renting a senior townhome, it will always be important for you to consider your goals, budget, and overall needs for that space. The good news is that there are many options available in most areas. Work with your local senior center or look for senior communities with townhomes in your local area online. You can often find options available for most needs through a variety of local resources. You can also work with a local real estate agent specializing in helping seniors.