There's a good chance you won't be able to live fully independently forever. At a certain point, you'll need help taking care of yourself, managing an illness, or recovering after surgery. That's where long-term care services come into play.
Long-term care services help seniors safely age, whether they remain at home or move into a residential facility. Since everyone's needs, budgets, and lifestyles vary, there are a lot of long-term care services to choose from.
Frankly, it can feel overwhelming trying to navigate it all. To help, we're going to walk you through everything you need to know about long-term care, including the different types, how to decide if it's right for you, the cost, and how to pay for it.
What Is Long-Term Care?
Long-term care is the umbrella term used to describe care or assistance you need if you can no longer do activities of daily living (ADLs) on your own. ADLs include bathing, dressing, eating, and using the bathroom.
Sometimes long-term care just means someone helps you get ready in the morning and at night. In other cases, it means moving into a nursing home while you recover from a fall or surgery or manage a chronic illness. On average, people use any mix of long-term care services for three years.1 Only 20 percent of seniors will need it for more than five years.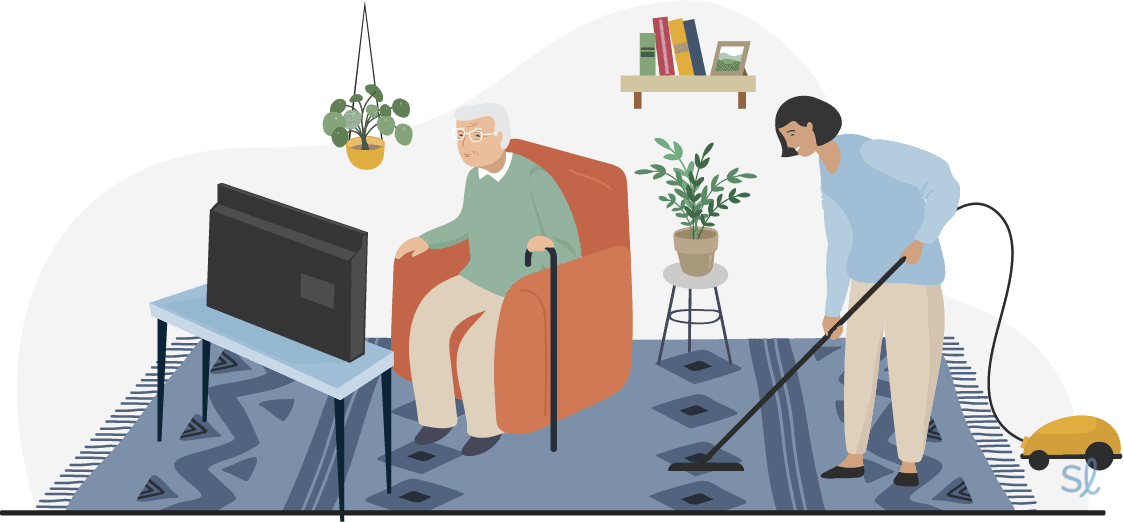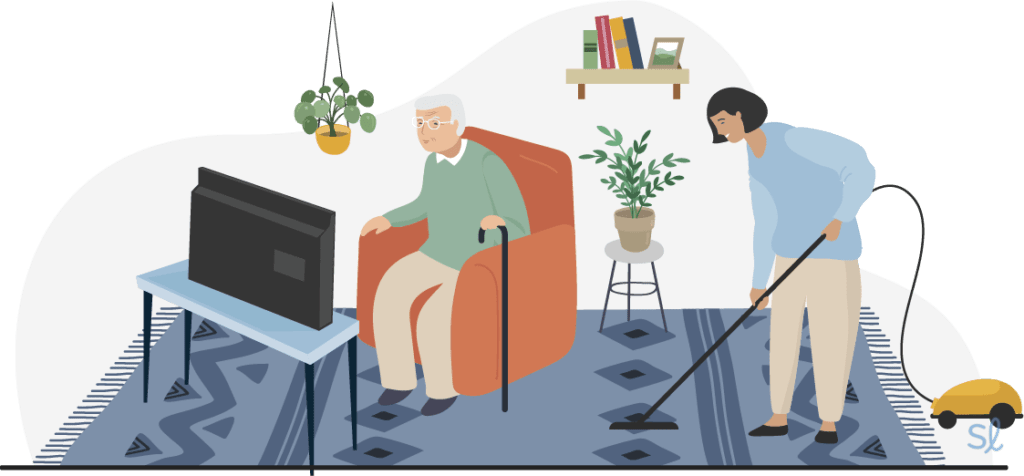 Types of Long-Term Care
All of your long-term care options fall into one of the following categories: personal care and skilled care.
Personal care, also called custodial care, is for older adults who need help with non-medical tasks like:
ADLs such as dressing, bathing, personal hygiene, and transfers
Instrumental activities of daily living (IADLS) such as grocery shopping, laundry, meal prep, and light cleaning
Non-medical care
Companionship
Housekeeping
Supervision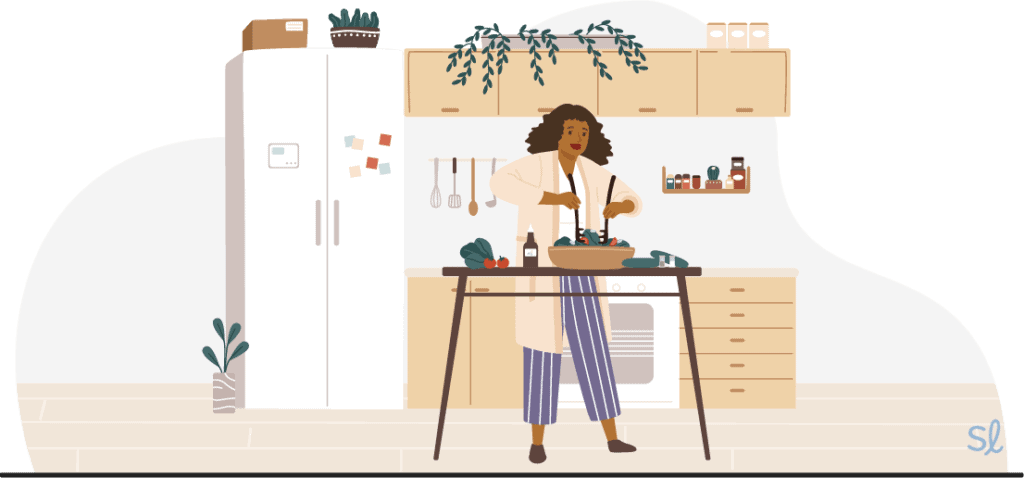 Skilled care, or skilled nursing care, is for seniors who need skilled medical care or rehabilitation services like:
Vital sign monitoring
IV treatments/feedings
Medication management
Wound care
Mobility assistance
Occupation, physical, and speech therapy
Long-Term Care at Home
Many seniors want to age in place. Home care is the type of long-term care that makes this possible. It's exactly what it sounds like: care provided right in your home. The type of care and how often depends entirely on your needs and budget.
Home care offers many benefits:
Lets you age in place and stay in your community
Keeps spouses who require different levels of care together
Often more affordable than other long-term care options
Provides companionship to ward off feelings of isolation and depression
Reduces stress for seniors
Supplements the care a friend or family caregiver provides
Family and friends can visit whenever they want (no strict visitation hours)
Even if you know you want to go the home care route, you'll need to determine what type of home care you want or need.
Personal Care
With personal care, a non-medical paraprofessional called a personal care attendant helps you with ADLs. Other names include home care companion, companion, caregiver, and personal care aide. This type of home care is helpful for older adults who need extra help to live safely at home but who do not need additional medical services.
Types of care and assistance provided
Dressing
Bathing
Personal hygiene
Toileting and toilet hygiene
Feeding
Mobility assistance
Transportation
Homemaker Services
A homemaker is a non-medical paraprofessional that assists with home management and instrumental activities of daily living (IADLs). IADLs are tasks that are not necessarily the main components of independent living like ADLs, but they improve quality of life.2 It's a good option for seniors who need extra help managing their home but who do not need additional medical services.
Types of care and assistance provided
Caring for your pet
Housekeeping
Meal preparation and clean up
Laundry
Shopping
Transportation
Companionship
Home and finance management
Good to Know: The terms "homemaker services" and "personal care attendants" are sometimes used interchangeably by home care agencies to describe home care paraprofessionals who only offer non-medical care.
Home Health Care
With home health care, a trained home health aide comes into your home to assist with basic medical care and monitoring. It's best for seniors who need help with ADLs and/or medical monitoring and basic medical care.
Types of care and assistance provided
Assistance with ADLs
Vital sign monitoring
Medication assistance
IV treatments/feedings
Mobility assistance
Wound care
Monitor your physical and mental condition
Did You Know: Home health aides must meet state-set training requirements, which involves at least 75 hours of training with at least 16 hours being hands-on training.3
Nurse Care
The next level up from home health care is nurse care. With nurse care, a licensed medical professional (registered nurse, physical therapist, occupational therapy, speech therapist) comes into your home to provide more comprehensive medical care for ill or injured seniors.
Seniors who are managing a chronic condition might need ongoing nurse care, whereas a senior recovering from surgery may just need in-home therapy services for a few weeks. Nurse care is best for older adults who need more advanced or specialized medical care, medical monitoring, or rehabilitation services.
Types of care and assistance provided
Skilled nursing care
Intravenous treatments
Medical monitoring
Wound care
Diabetes care
Physical therapy
Speech therapy
Occupational therapy
Hospice Care
Hospice is end-of-life care designed to make your loved one's remaining time with you as comfortable as possible. It prioritizes their quality of life and pain management over curing an illness. Hospice care is typically for seniors who received a fatal diagnosis or prognosis of six months or less.
Anyone, not just seniors, can use hospice care, but seniors account for 94 percent of recipients.4 We put it under home care because hospice care is most often provided in the home. However, you can turn to a nursing home for hospice care as well.
Types of care and assistance provided
Doctor services and nursing care
Medical equipment and supplies like wheelchairs and catheters
Prescription drugs for symptom and pain management
Physical therapy, occupational therapy, and speech therapy services
Bereavement counseling
Dietary counseling
Social work services
Community-Based Care for Seniors
You don't need to let someone in your home or move into a facility to take advantage of long-term care services. Community-based care and services provide seniors and their caregivers with regular or as-needed support outside of the home. Some examples include adult day care centers, transportation services, and respite care.
Community-based care offers many benefits:
Helps seniors feel connected
Gives family caregivers time off
Enables seniors to run errands independently
Keeps you connected with your community
More affordable than other long-term care options
Community-based care is ideal for seniors who want to get out of the house and for caregivers who need a break. It's also a great option for seniors with a limited budget.
Adult Day Care
Some families decide to enroll their loved one in an adult day care program. This type of care is typically offered Monday through Friday from the morning until early evening. It gives family caregivers a break, especially if you work during the day. It's also great for older adults who want to get out of the house, seniors with Alzheimer's or dementia who need supervision, and those on a limited budget.
At adult day care, seniors receive supervision and needed health services while also enjoying planned group activities. The level of care between facilities varies. Some specialize in memory care, where extra care is taken to monitor wandering-prone seniors and offer brain activities.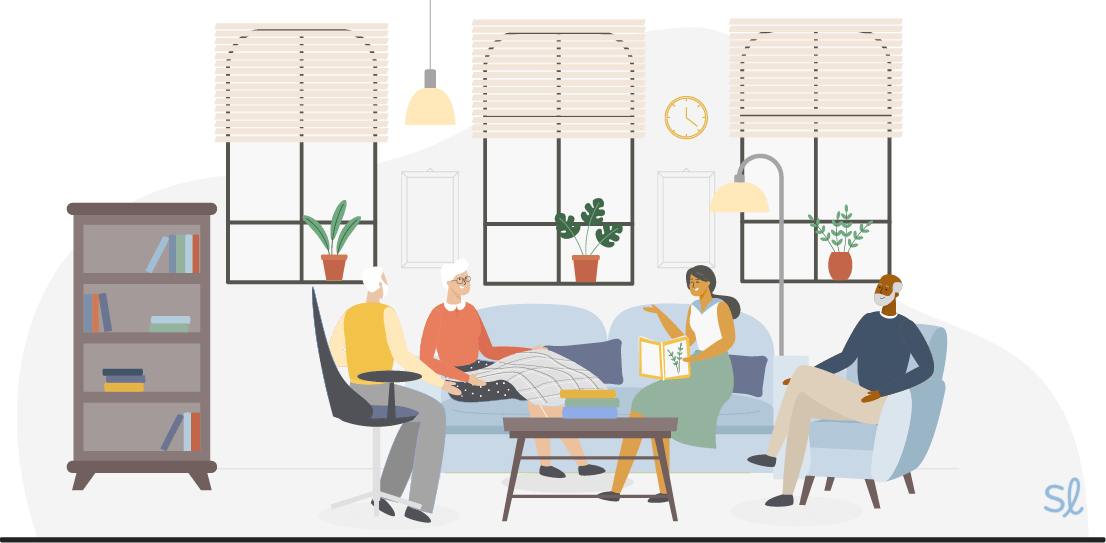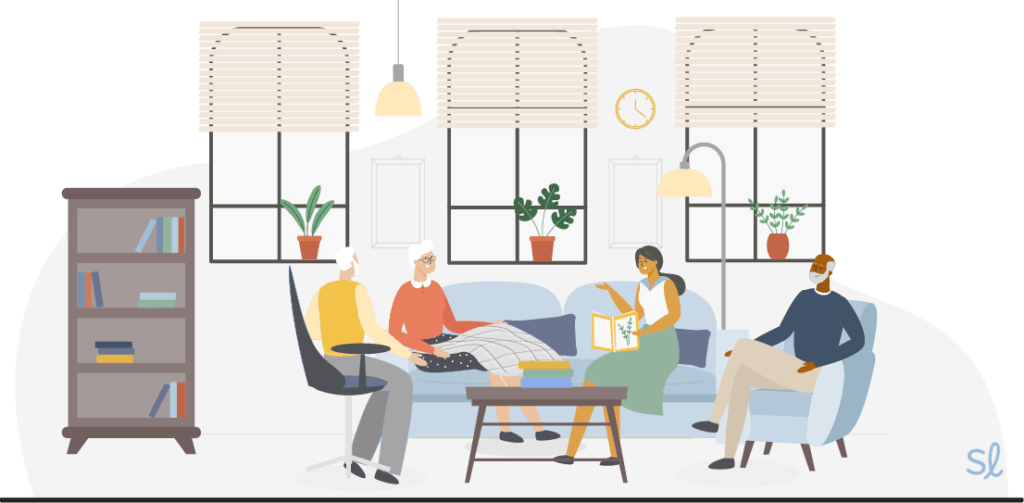 Types of care and assistance provided
Planned social, educational, and wellness activities
Nutritious meals
Supervision
Transportation
Counseling
Medical services: medication dispensing, hearing checks, symptom management
Rehab services: occupational therapy, speech therapy, physical therapy
Support services for caregivers: counseling, support groups, education
Pro Tip: Some adult day care providers offer extended hours or weekend hours. That's great news for caregivers who don't work a 9-to-5, Monday-Friday work shift.
Respite Care
Respite care gives primary caregivers a short break for just a day, a few days, or even weeks. Maybe you need to go on a work trip, take a vacation, or have time to yourself each week to attend appointments and see your kids. Whatever the reason, respite care can help.
Respite care is offered by several different types of senior living services. You can arrange respite care through:
Adult day care
Nursing homes
Personal care agencies
Home health care agencies
Transportation Services
Does your loved one need help getting to appointments or the store? Many communities offer transportation services for seniors at no or low cost. A bus or van picks your loved one up at their home, drops them off where they need to go, and picks them up afterward. This is a great option for seniors who can independently shop and attend appointments but who cannot or choose not to drive.
Long-Term Care in a Facility or Residential Community
Seniors who want to or need to move out of their homes for care can move into a residential community or care facility. Here, you have access to staff 24/7, live amongst your peers, and enjoy scheduled activities.
Residential senior community benefits include:
24/7 medical and personal care
Meets all of a senior's needs
Married seniors can often stay together
Opportunity to participate in social activities and outings
Provides safety and security
No more yard work, housework, or meal prep
Moving into a care facility is best for seniors who can no longer live alone, feel lonely, desire to live around their peers, or need care that cannot be provided in their current home.
Assisted Living Communities
An assisted living community is a senior residential community with staff members who can assist you with ADLs. You live in your own room, apartment, cottage, or small home, but you have access to 24/7 supervision and assistance. It's best for seniors who want to remain as independent as possible yet still need help with some or many ADLs.
Types of care and services provided5
Supervision and assistance with personal care tasks and ADLs
Scheduled recreational, wellness, educational, and social activities
On-campus amenities like a gym, library, movie room, game room
Access to three meals a day
Laundry, housekeeping, linen, and maintenance services
Medication management
Transportation
Continuing Care Retirement Communities
Also called a life plan community, a continuing care retirement community (CCRC) provides seniors with continuous care as they age. You enjoy independent living with plenty of amenities and activities, but you also have on-site access to higher-level personal and medical care should you need it. CCRCs are excellent for older adults who want to spend their retirement years in a community that will meet their changing needs as they age, and couples who need different levels of care but want to live together.
Types of care and services provided
Various residential options: condos, cottages, apartments, duplexes
On-site medical care available, including assisted living, memory care, and skilled nursing care
Physical therapy, occupational therapy, speech therapy
Indoor and outdoor recreational activities and facilities
Scheduled social, wellness, and educational opportunities
Community book clubs or crafting clubs
Transportation
Housekeeping, linen service, laundry
Home repairs and maintenance
CCRCs tend to have lots of amenities too. These could include a beauty salon or barber, a coffee shop, retail and food shops, an art and music studio, and a golf course.
Nursing Homes
Does your loved one need more care than you're able to provide at home? A nursing home might be their best option. Nursing homes are residential facilities for seniors and those with disabilities that provide medical care, help with ADLs, meals, and laundry. They're best for older adults who need 24/7 medical monitoring, those who are recovering from a hospital stay, injury, or illness, or seniors with Alzheimer's or another type of dementia. Think of a nursing home as a step above assisted living.
Types of care and services provided
24/7 supervision and on-site assistance
On-site medical services (vary depending on the facility)
Rehabilitation services: occupational therapy, physical therapy, speech therapy
Help with ADLs
Shared or private rooms
Meal service, housekeeping, linen service, laundry
Social activities like game nights or book clubs
Senior-friendly exercise facilities and opportunities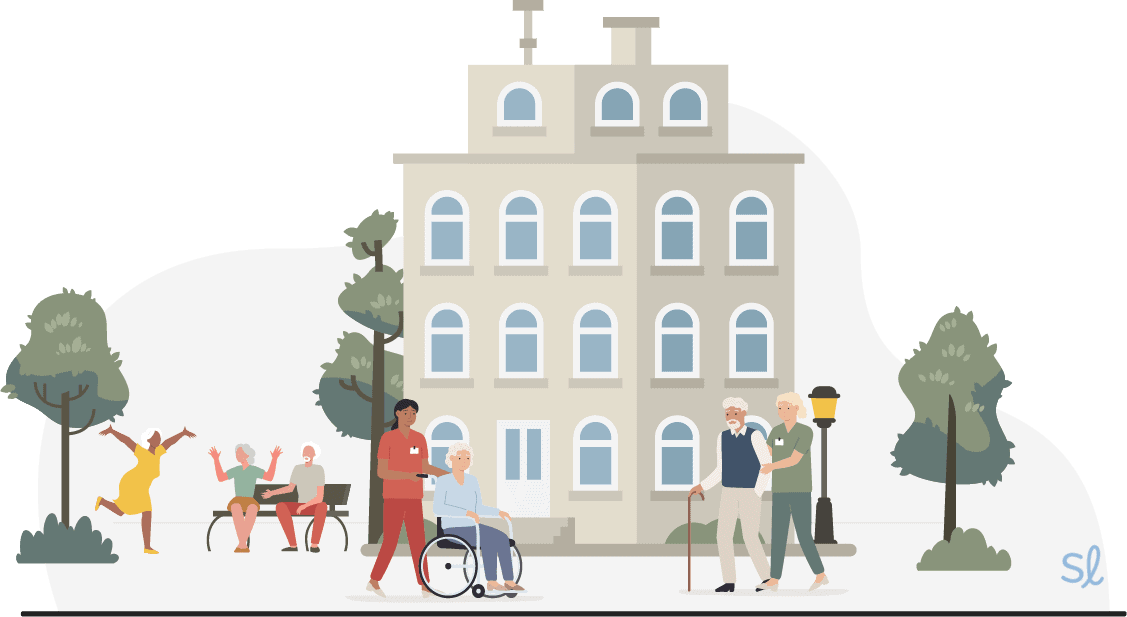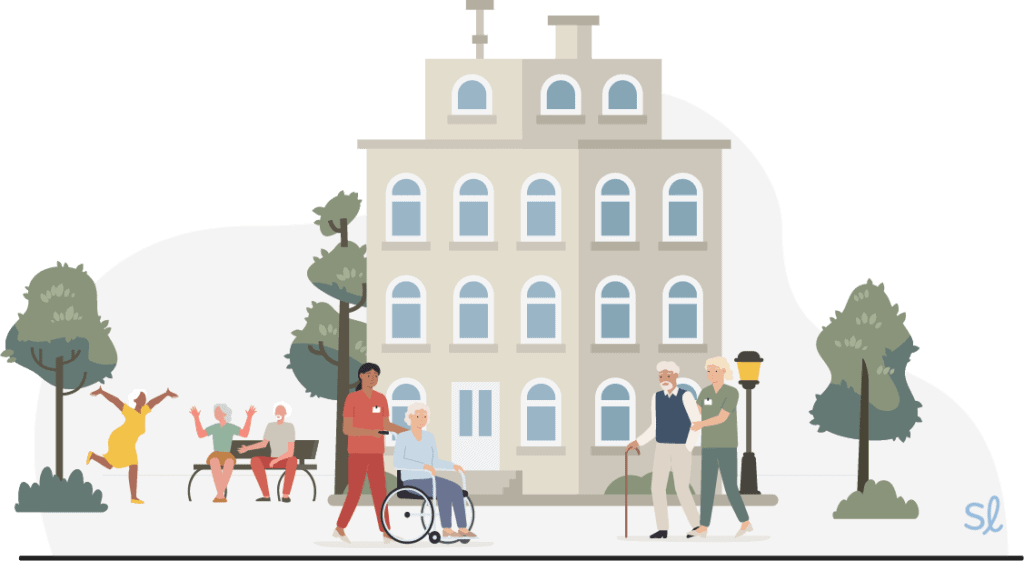 How to Decide if It's Time for Long-Term Care
Seven out of 10 people will require long-term care at some point in their lifetime.6 So, even though you may think you don't need long-term care now, there could very well come a time when you do.
It's important to understand some signs that can help you know when that time's coming (or if it's already here) for you or the senior you care for.
Physical signs: Experiencing weight loss, worsened balance, decreased energy, or mobility difficulties.
Mental signs: Memory loss or confusion, feelings of isolation or depression, or forgetting to take medications.
Other medical signs: New or worsened health conditions, unexplained bruising, or frequent falling or almost falling.
Visible signs: House is always messy and cluttered, burn marks in the kitchen from leaving the stove or oven on, or damage to a house's exterior from a car hitting the home, garage, or fence.
Hygiene: Unable to safely use the shower, forgetting to brush teeth and wash hands, looking disheveled, or wearing the same clothes day after day.
As you've learned so far, you have many long-term care options available to you. So, don't stress if you notice that independent living isn't as easy as it used to be. Just because you're struggling to get ready in the morning doesn't mean you need to move out of your home.
Talking with your spouse, loved ones, and medical team is an important part of this decision process too. They may notice changes in you that you don't see or have recommendations based on your health or financial situation.
Maybe your long-term care plan is your adult child stepping up as your primary caregiver. Or maybe your doctor knows of an adult day care facility specializing in memory care that they think you'd benefit from. You won't know if you don't talk to them.
How Much Do Long-Term Care Services Cost?
We'll cut to the chase. Long-term care services are pricey. Of course, the exact cost varies since you have several different options and may or may not need full-time care. To help give you an idea, we've created this chart showcasing the median national cost by service type.
Median Cost of Long-Term Care Services in the U.S. by Type*
| Type of care | Daily median cost | Monthly median cost | Yearly median cost |
| --- | --- | --- | --- |
| Homemaker services | $163 | $4,957 | $59,488 |
| Home health aide | $169 | $5,148 | $61,776 |
| Adult day care | $78 | $1,690 | $20,280 |
| Assisted living facility | $148 | $4,500 | $54,000 |
| Nursing home: semi-private room | $260 | $7,908 | $94,900 |
| Nursing home: private room | $297 | $9,034 | $108,405 |
*All data for this chart comes from Genworth's Cost of Care Survey
Along with the type of care, several other factors influence the cost of long-term care services:
Number of hours of care required each week
Time of day that you need care
Geographic location
Your chosen service provider or facility
Whether you need extra services not included in the base price
Paying for Long-Term Care
Now that you've seen how much long-term care costs, you're probably wondering, how do I pay for it?
Just looking at the numbers, affording long-term care might feel impossible, but seniors and their families do it every day. The most commonly used payment methods are:
Medigap (Medicare Supplemental Insurance)
Medicaid
Private health insurance
Long-term care insurance
Personal savings
Home care loans
Reverse mortgages & HELOCs
Life insurance policy conversion
Annuities
Trusts
Social Security income
Just make note that not every payment option we listed above works for every type of long-term care service. For example, Medicare will only cover in-home skilled nursing care if you're under the care of a doctor and a doctor certifies that you're homebound.7
Long-Term Care Insurance
One way to help minimize your long-term care costs is to plan ahead and purchase a long-term care insurance policy. Just as health insurance helps you pay your medical bills, long-term care insurance helps to cover in-home or out-of-home care you may need as you age. Coverage varies depending on the policy.
Common covered expenses include:
Nursing home facilities
Memory care facilities
Assisted living facilities
In-home care, like skilled nursing care, therapy, and personal care
Hospice and respite care
Adult day care centers
Some policies even cover home modifications that make your home more accessible. Think wheelchair ramps or grab bars in your bathroom.
When to Take Out a Long-Term Care Insurance Policy
There isn't a magic age that indicates it's time to take out a long-term care (LTC) insurance policy. Instead, it's a personal decision that depends on several different factors, including your health and financial stability.
In general, the younger you are and the better your health, the more affordable your premiums will be. Why? Because the cost of long-term care insurance is partly determined by your age and your health.
That's why AARP suggests seeking long-term care insurance between the ages of 60 and 65, or over 55 for couples.8 After that point, your health won't get any better, so you'll owe more in premiums.
If you're still working, you should check with your employer to see if they offer an employer-sponsored LTC insurance plan. These plans can save you a lot of money since they're offered at discounted group rates. Of course, you'll want to find out if you can keep the plan after you retire or leave. If so, it might be worth taking out a policy while you're still employed.
Want to learn more about long-term care insurance? In the video below, our editor-in-chief, Jeff Hoyt, will fill you in on everything you need to know.