Federal law mandates that all benefit payments — Social Security and Supplemental Insurance — must be done electronically (i.e. direct deposit or Debit Mastercard).1
Having funds sent directly to your bank account is one of the easiest ways to track and secure your benefits, but it goes well beyond budgeting. If you or a loved one has not yet signed up, then direct deposit is a smart move for multiple reasons. In this article, we'll lay out the benefits, how to enroll, and, most importantly, when to expect that first deposit!
Pro Tip: Setting up direct deposit is just one way to make the most of your Social Security funds. Want to learn what else you might be missing? Visit our 2023 guide to Social Security.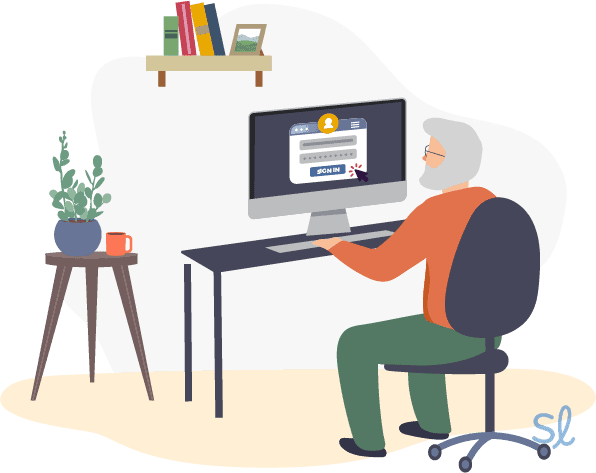 Benefits of Switching to Direct Deposit for Social Security
Many people, especially as they get older, think that keeping cash or having a physical check is the safest way to protect their money. In reality, physical money is easier to lose and more difficult to manage. Here's why using direct deposit can be a huge help in managing your money:
It's easier. It's automatic, so you don't have to remember to physically deposit a check.
It's safer. The funds go directly into your account electronically, so there's no risk your paper check will be lost or stolen.
It's more convenient. You don't have to go anywhere or wait in line for your benefits. The funds appear in your account all on their own.
It's faster. Electronic transfers can happen in a matter of days or even hours in some cases. That's a lot faster than waiting for a check in the mail and trekking to the bank to make a deposit.
How to Change Your Social Security to Direct Deposit Online
You can switch to direct deposit through the SSA's website. To do that, you'll also need to have a "my Social Security" account. If you don't have one, head over to our guide to creating a my Social Security account. It takes about 10 minutes to create your account. Here's a step-by-step guide on how to make the change to direct deposit.
Before getting started, make sure you have the following information on hand:
Your Social Security number
A bank statement and/or checkbook and your:

Bank routing number
Bank account number
Bank account type (checking or savings)

"my Social Security" account and login information
Go to the my Social Security website.
Sign in to your my Social Security account.
Once you're logged in, select the blue Benefits & Payments Details link on the right of your screen.
Scroll down and click the Update Direct Deposit button.
Enter your bank account information.
Click Next.
Review and confirm that your bank information is correct.
Click Submit and then click Done.
You can also switch from a paper check to an electronic payment through the U.S. Treasury's Go Direct website.
Did You Know? Only you can create your my Social Security account with your personal information. You cannot have anybody do it on your behalf or enter someone else's data for them. This ensures that your information and account stay safe and secure!
Other Ways to Change Your Social Security to Direct Deposit
If you can't or don't want to register for direct deposit online, you can:
Call your bank, credit union, or other lending organization. They can usually initiate the process on their end, but they might need you present or on the phone for identification and security purposes.
Call Social Security at 800-772-1213 (TTY 800-325-0778).
Get in-person help at your local Social Security office.
Contact the Treasury's Electronic Payment Solution Center at 800-333-1795.
In some situations, you may be able to request a waiver for an exception to the electronic payment mandate. To request a waiver or see if you qualify, contact the Treasury at 855-290-1545.
Did You Know? If you don't have a bank account, you can collect benefits electronically by signing up for the Direct Express debit card. The SSA deposits your payment directly to the card as long as you have a Direct Express account. To sign up, call 800-333-1795.
How Long Does It Take to Change to Direct Deposit with Social Security?
Once you sign up (regardless of the method), it takes 30 to 60 days for any direct deposit changes or new accounts to take effect. Make sure you don't close or switch your bank account before you see that first successful deposit. The SSA will also send you a letter with a date you can expect to see the funds hit your account.