Deciding whether your loved one needs to move to a nursing home can feel overwhelming. And if you're their caretaker, it might feel like there's not enough time in the day to do your own research and find the best facility for your loved one's needs. In this guide, we'll cover nursing home basics, including services offered, levels of care available, signs it's time for a nursing home, and how to find nursing homes near you.
Additional Nursing Home Resources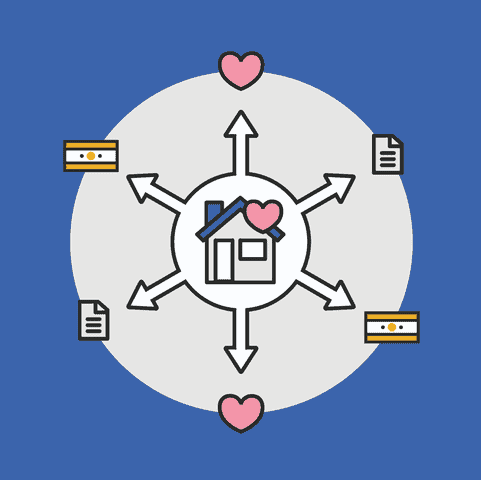 Looking for more information on nursing homes? Check out the resources above for information on nursing home costs, ways to pay, insurance coverage, regulations, and more.
---
What Is a Nursing Home?
Nursing homes are residential care facilities for seniors or people with disabilities who don't need a hospital but require more help than they can get at home. That help might include medication management, certain types of medical care, assistance with activities of daily living (ADLs), meal service, and laundry. If you're familiar with other types of senior care, it might help to think of a nursing home as a step above assisted living.
For more details on nursing homes and what they entail, watch the video below from our Editor-in-Chief, Jeff Hoyt.
What Services Do Nursing Homes Provide?
The feel of a nursing home varies from place to place. Some nursing homes feel more like a hospital with a nurse's station on each floor.1 Others feature more personal touches that make them feel like a home or mini neighborhood. Traditional nursing homes are distinct from assisted living centers, which are meant for people with more independence. Nursing home residents are typically recovering from illness or injury, or need help managing chronic health issues such as cardiovascular disease, diabetes, or dementia. Many of the homes are equipped with oxygen tanks, dialysis machines, and other medical equipment that isn't normally found at assisted living centers.
Quick Tip: Trying to decide whether a nursing home or in-home care is a better fit for your loved one? Visit our nursing homes vs. home care guide to compare them side by side.
Regardless of the style and feel, a nursing home cares for all of a senior's needs — medical, nutrition, fitness, and social. Exact offerings vary, but here are some commonly provided services:
24/7 supervision and on-site assistance
On-site medical services (may be limited depending on the facility)
Assistance with activities of daily living like dressing and bathing
Shared or private rooms depending on availability and your budget
Meal service, laundry service, and housekeeping
Social activities like book or cooking clubs, crafting, game nights, and movie nights
Outdoor and/or indoor senior-friendly exercise opportunities
On-site religious services if you choose a religiously affiliated home
Assistance with staying in touch with loved ones through video calls and visits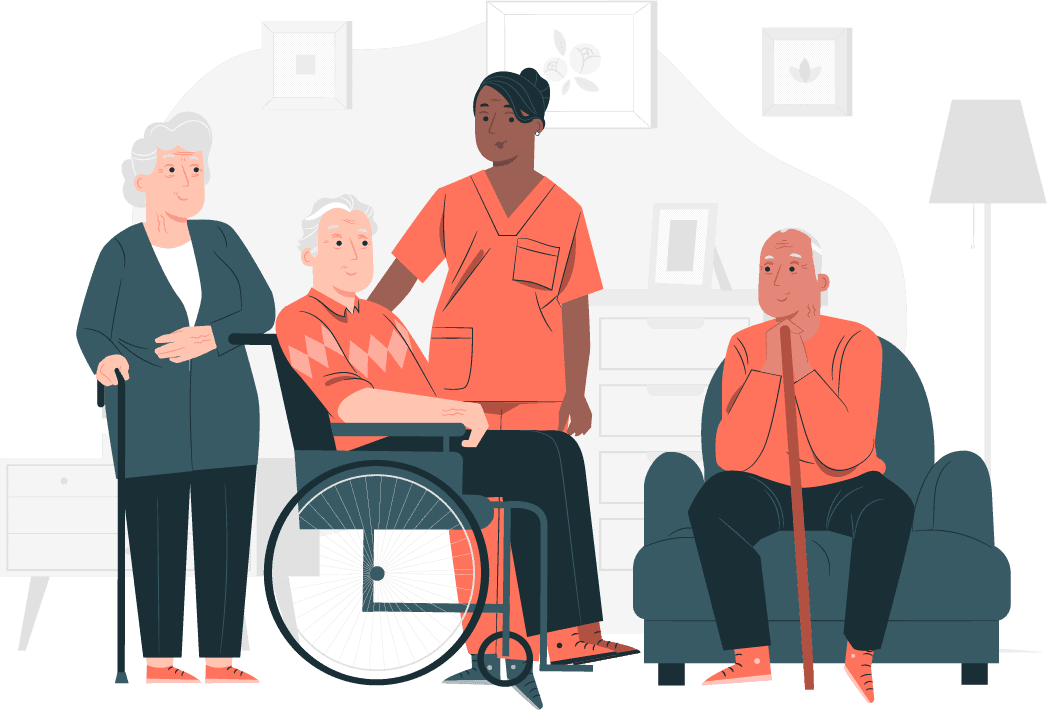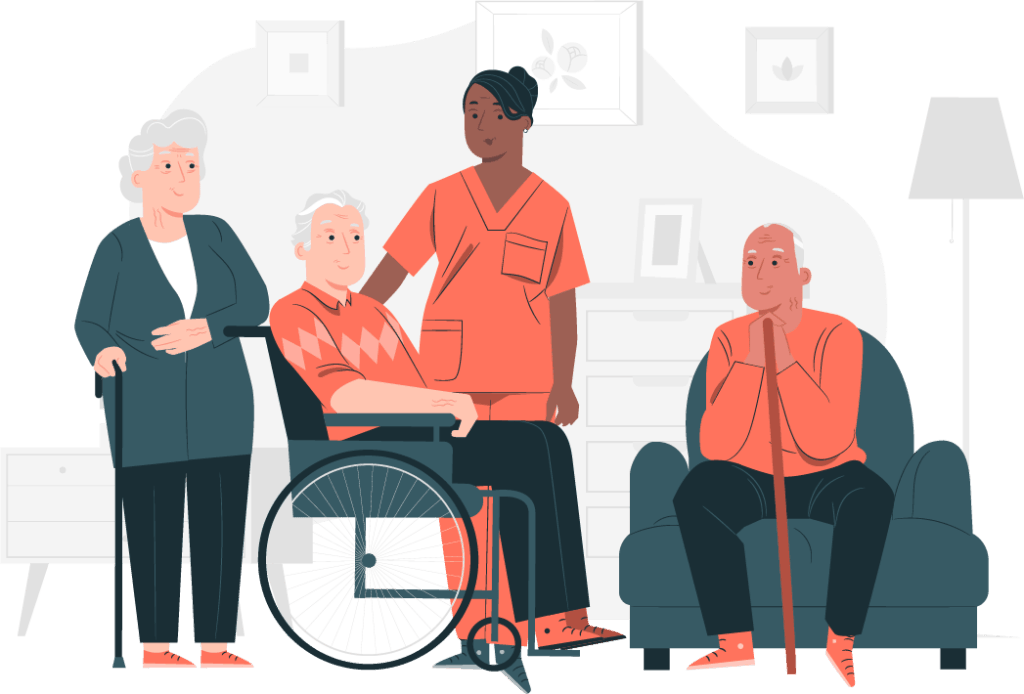 Types of Nursing Homes
All nursing homes offer 24/7 supervision, personal care assistance, and on-site medical care. That said, some nursing home types provide additional levels of care. These typically cater to specific needs for various disabilities and illnesses.
Skilled Nursing Facilities
It's common to hear the terms "nursing home" and "skilled nursing facilities" used interchangeably. They aren't quite the same, though. A skilled nursing facility is a nursing home that provides a higher level of medical care and assistance. For example, skilled nursing facility residents might be bed-bound or need dialysis, whereas a nursing home resident just needs medications dispensed.
At a skilled nursing facility, you can expect:
A regular nurse and physician's presence
In-house rehab services like speech, occupational, and physical therapy
More medical resources
Memory Care
Memory care facilities specialize in monitoring and caring for individuals with Alzheimer's or another type of dementia. Some nursing homes have memory care or Alzheimer's units. They are designed to meet the needs of individuals at any stage of dementia.
At a memory care facility or in a memory care unit within a nursing home, you can expect:
A more home-like atmosphere designed for people with dementia
Structured schedule and more routines
Staff members trained to work with dementia patients
Therapy and activities that relieve dementia symptoms
Secured grounds to keep wandering seniors safe
Visit our nursing home and memory care comparison guide for a closer look at the differences between these two types of care.
At What Age Do Seniors Move into Nursing Homes?
Nursing homes don't often have age restrictions. Anyone who needs supervision, help with daily activities of living, and medical care can stay at a nursing home. That said, it's more common for older adults to live in a nursing home. Nearly all nursing home residents are ages 65 and up, with almost half being 85 or older.2
How Long Do People Stay in Nursing Homes?
Nursing home stays vary significantly, depending on your needs and reason for becoming a resident. For example, a quarter of all nursing home residents stay for three months or less. These short-stay residents are usually individuals who need hospice care or rehabilitation following a surgery or hospital stay.
Other residents stay longer. About 50 percent of nursing home residents remain for at least one year, and 21 percent stay for about five years. Older adults who need to stay longer might face a long recovery or simply need ongoing supervision and support.
How Do You Know When It's Time for a Nursing Home?
When your loved one needs more care than you can provide, it may be time for a nursing home. Caregivers and adult children should carefully evaluate their loved one's health, happiness, and safety as they make decisions about care.
Signs It May Be Time for a Nursing Home
Caregiver signs
Senior signs
Other signs

Your own health starts failing
You're the sole caregiver and feel burnt out
You worry about your loved one's well-being constantly
You're neglecting to care for yourself, your children, and/or your partner because of caregiving responsibilities

Declining health
Frequent accidents or injuries at home
Feelings of isolation and loneliness
Requiring rehabilitation services
Unable to do a majority of tasks without additional support
Expressing a desire to age amongst their peers

A nursing home is cheaper than the needed at-home care services
The doctor or care team suggests a move into a nursing home
Selecting the Right Nursing Home
The Initial Search
Before you do a lot of leg work, ask around for recommendations. To get started:
Ask your doctor, family, friends, neighbors, and clergy what experiences they have with nursing homes.
Ask a hospital's discharge planner or social worker for recommendations, especially if you are or were recently in the hospital.
Contact a social service agency and talk to the case manager about nursing home choices.
Contact your local Agency on Aging for recommendations.
After you've asked around and have some homes that sound promising, go for a visit. Before choosing a nursing home for a loved one, visiting more than once is recommended. For example, one day you could observe afternoon activities. Another day you could visit for dinner and see how the community winds down for the night. Sharing a meal with residents and staff can be an especially valuable way to get insights into the facility.
While touring a nursing home, you'll note generalities such as the cleanliness of the rooms and hallways and how kindly (or not-so-kindly) people interact with one another. You might also find that one facility is more fitting than another in ways that matter to your loved one — for example, it might have gardens, a therapy dog, or bilingual caregivers. Below are several questions to consider as you tour the facility.
Quality of Life
Is the staff respectful and friendly?
Is the nursing home clean and easy to navigate?
Do they offer social, recreational, religious, and cultural activities that interest you?
Can you choose your waking, bed, and bathing time?
Can you get food and drinks anytime? How's the food quality and variety of meal options for different diets?
Can you have visitors over anytime?
Can you have a pet?
Is transportation provided?
How much privacy is there?
What are the quiet hours?
Can you decorate your room how you like?
Is the temperature comfortable?
Is there good natural lighting?
Do you have a telephone and TV in the room?
Quality of Care
To be a certified Medicare/Medicaid provider, a nursing home must meet 150 requirements ranging from safe storage of food to protecting residents from physical and mental abuse. The State Survey Agency performs an inspection to rate the nursing home on these requirements. Ask to see a copy of this inspection report.
Will you get a copy of your care plan? Your care plan is based on your health information and must be assessed in the first 14 days and at least every 90 days thereafter.
Who are your doctors? Can you see your personal doctor?
What improvement goals is the nursing home working on?
Staffing
Federal law states there must be enough staff to care for the residents. But what is enough? There must be at least one RN for at least eight straight hours, seven days a week. There must be either an RN or LPN (Licensed Practical Nurse) on duty 24 hours a day.3
Does the staff wear name tags?
Does the staff know the residents by name?
Do they knock on residents' doors before entering?
Is there a licensed doctor on staff daily?
Questions to Ask the Nursing Home Director
Here are specific questions to ask directors at nursing homes and similar facilities:
How many residents live at the nursing home? If the population is large, are residents separated into smaller communities?
What is the ratio of caregivers to residents? Are particular caregivers assigned to particular residents?
What is the staff turnover rate? If worker satisfaction is low, it can affect the residents' quality of life.
Does the facility provide three balanced meals daily? Do residents have choices at each meal?
Can residents personalize their rooms with art and other belongings? What furniture is provided?
When can residents spend time outdoors? Is the nursing home near other things that you like to do?
What safety precautions are in place for residents with Alzheimer's disease or other types of dementia? Nursing homes might have secure perimeters, for example, or require certain patients to wear electronic bracelets.
Does the nursing home provide transportation for medical appointments and help residents with errands?
What social activities are sponsored by the home? Can residents choose from more than one activity calendar? Generally, the larger the nursing home community, the more diverse the offerings.
What special services are available? Examples are tailored memory care, sensory therapy rooms, and hairdressing.
What sources of payment are accepted? Some facilities limit their numbers of Medicare and Medicaid patients because they're permitted to charge more when billing privately.
What are the move-out criteria? When might a senior be asked to leave against their will? Knowing the answer to this question is especially important if dementia becomes an issue, as some dementia patients tend to disrupt community life.
How to Pay for Nursing Home Costs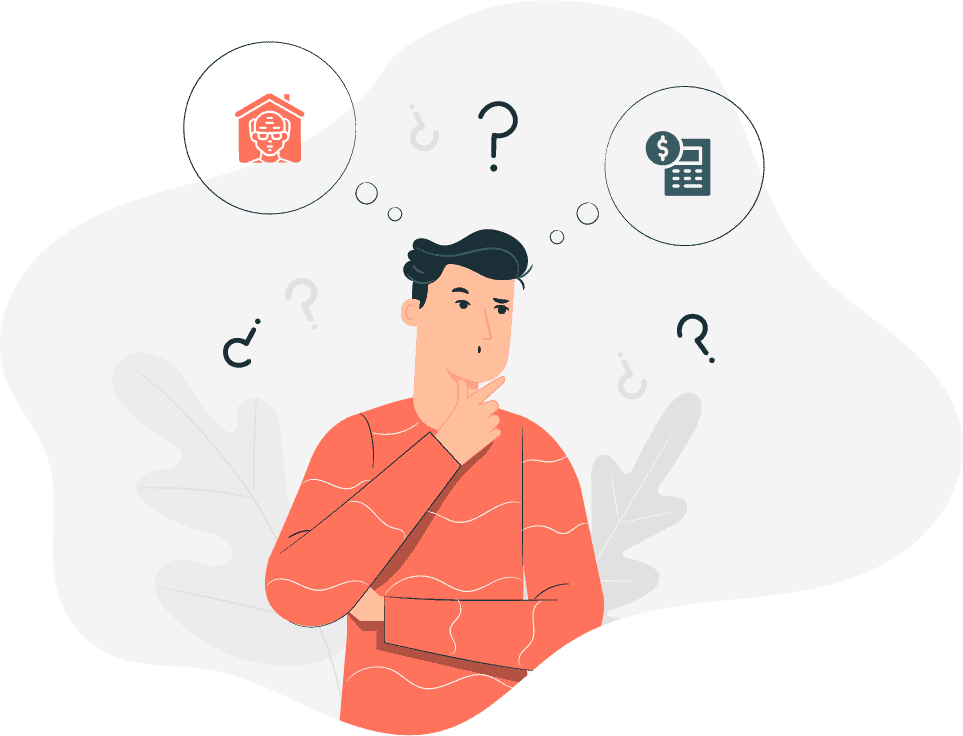 We'll just cut to the chase. Nursing homes are expensive. The exact cost depends on a few factors like room type or location. In the U.S., the median cost for a semi-private room is $8,390 per month, while a private room costs $9,584 per month, according to a Genworth Cost of Care Survey. There are several ways to pay for nursing home costs, including long-term care insurance, Medicare or Medicaid, and VA benefits. Some life insurance policies will allow you to use your policy to pay for nursing home care. Be sure to contact your insurance carrier to learn more.
Want to learn more about the costs of nursing homes? Watch the video below with Jeff Hoyt, SeniorLiving.org's Editor-in-Chief.
What Is the Difference Between a Nursing Home and a Care Home?
When you start looking for nearby nursing homes, you might come across facilities called care homes. It can be confusing to know what each term refers to, especially when they sound so similar.
Care Homes
Care homes differ from nursing homes in a few key ways. They're usually small facilities with up to 20 residents and care home staff only assist residents with personal care and meals. You won't usually find medical assistants, nurses, or medical care on-site. So, when you see "care home," think personal care.
A care home is best for seniors who:
Need help with personal care
Do not require medical care
Feel isolated only having in-home care
Nursing Homes
Nursing homes focus more on providing medical care and services, which is why individuals who live in a nursing home usually need temporary or ongoing medical care and supervision. Residents might also receive needed rehabilitation services on-site like speech therapy or occupational therapy. Like at a care home, nursing home residents get help with personal care and three meals per day.
A nursing home is best for seniors who:
Need round-the-clock supervision
Need ongoing medical assistance
Are recovering after a hospital stay or surgery
Have Alzheimer's or dementia and need specialized care
Nursing Homes Near Me
As you continue learning about nursing homes and making decisions about your loved one's care, it's helpful to research local facilities. Then you can ask specific questions, learn more about the cost, and find out if it's a good fit for your family member.
Find nursing homes near you by talking to your loved one's doctor or calling your insurance company or the VA. You can also check out our nursing home directory to see a list of nearby facilities. Local pharmacies, community centers, and libraries may also have resources about nearby nursing homes.
Read About Our Panel of Experts
As Editor-in-Chief of the personal finance site MoneyTips.com, Jeff produced hundreds of articles on the subject of retirement, including preventing identity theft, minimizing taxes, investing successfully, preparing for retirement medical costs, protecting your credit score, and making your money last…
Learn More About Jeff Hoyt