If you're an older adult looking to downsize or on the hunt for a new home, you have lots of new options because of your age. It's just one of the many perks of our golden years! First, on your 50th birthday, a small percentage of resort-style retirement communities start competing for your housing dollars. Then when you reach ages 55, 62, and 65 you become eligible for retirement communities with more traditional age restrictions, and for senior long-term care facilities. In this guide, we'll take a look at all of your senior housing options, from retirement communities to long-term care facilities.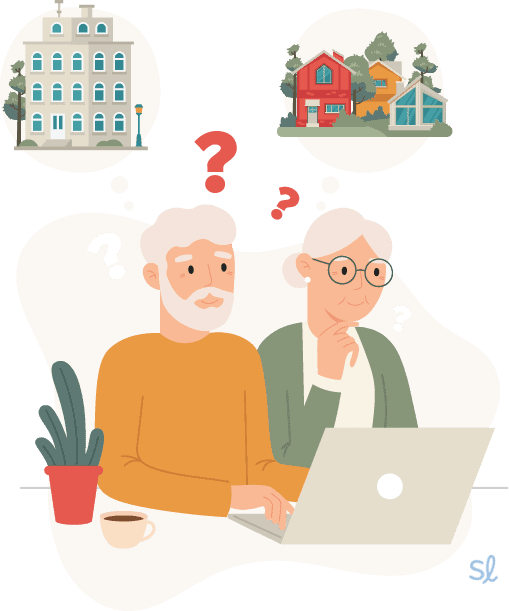 Before we get started, you might be wondering: What's the difference between a retirement community and a long-term care facility?
Retirement communities are meant primarily for healthy and active adults, but some are also designed for people with less independence. The latter are also called continuing care retirement communities.
Long-term care facilities are for people who need personal care support and/or medical care. Included are assisted care facilities and nursing homes, as well as continuing care retirement communities.
Retirement Housing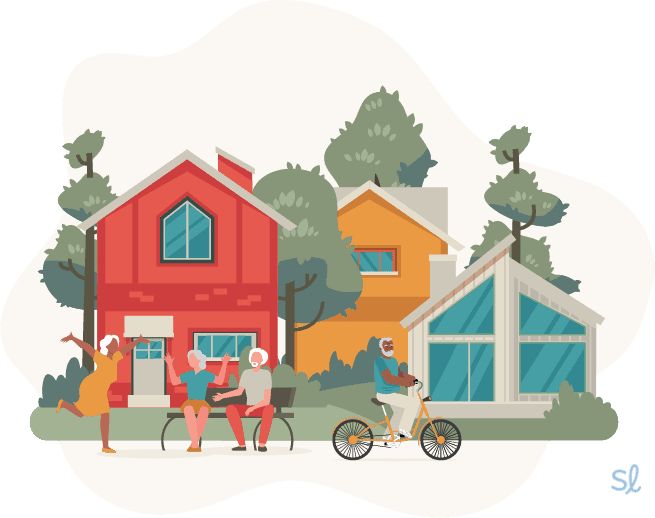 Retirement communities are an ideal solution generally for healthy people ages 55 and up, but note these exceptions:
Not all retirement community residents live independently.
Not all retirement communities are restricted to ages 55+.
Not all residents are people. (They're pets!)
Within a retirement community, aging adults live in their own homes within a group of homes set aside for members. This setup allows older adults to take advantage of one of the most-needed aspects of a senior lifestyle — socialization.
According to The Whitney Center, seniors need social contact just as much as any other age group. In fact, being social allows older adults to live a happier and more fulfilled life. In retirement communities, older adults have the opportunity to socialize in a variety of ways. They can congregate with other members of their community. In addition, retirement community managers provide social activities, such as game nights, church services, or arts and crafts, for seniors to interact socially. Seniors living in a retirement community can also socialize with the staff and medical teams that work within the community.
At the same time, within a retirement community, seniors maintain varying degrees of autonomy. In some retirement communities, seniors are able to come and go as they please, as long as they respect quiet hours. For older adults who are just entering retirement age or still living an active life, this is an optimal setting for them. It allows seniors the freedom to continue living life in a similar manner to how they lived prior to retirement. Now let's look at some of the most common types of retirement communities.
See below to learn more about traditional retirement housing and a new alternative called cohousing.
Senior Apartments
Senior apartments are the most popular type of senior-specific housing. Their common benefits are dining halls, social calendars and transportation. Some properties have additional shared amenities such as courtyards, swimming pools and optional housekeeping services. Get an overview with these questions and answers…
1. How do people pay for a senior apartment complex?
Our independent living guide explains apartment payment options for different situations:
Private payment solutions
Section 8 housing vouchers
Section 202 federal housing (Supportive Housing for the Elderly)
2. How old are the residents?
Age restrictions for senior apartments vary.
On the private market, senior apartments tend to be strictly limited to residents 55+ or 62+.
With Section 202 senior apartments, a minority of tenants may be non-seniors. This lets seniors live with younger relatives; plus it permits younger tenants to rent their own units.
3. What pets are allowed?
Pet policies are varied. When apartments are advertised as pet-friendly, generally they include indoor cats and small or medium-sized canine companions.
With persistence you can find senior apartments that accept big dogs. Each dog might need to pass an "interview."
Most apartment complexes prohibit large fish tanks because these involve a water damage risk.
4. How healthy are the residents?
Most adults in senior apartments are fit to live independently. If in-home support is needed, it's arranged separately.

Retirement Communities
Retirement community housing choices range from small condo units to freestanding single-family homes. Sometimes retirement community housing can be rented, but typically the residents are owners. Owners pay fees to support a clubhouse, transportation service, landscaping and other amenities. Long-term care is sometimes available on-site as explained below.
1. How do people pay for retirement communities?
People pay for retirement communities with private funds, not with federal or state assistance.
2. How old are the residents?
Senior retirement communities aren't necessarily seniors-only. Most allow younger guests and some allow younger residents.
3. What pets are allowed?
Pet policies differ from community to community. Homeowners might be restricted to keeping dogs of a certain size or breed, especially when living quarters are close. They might also need to follow policies about fish tanks, exotic pets and outdoor cats.
4. How independent are the residents?
Residents in retirement communities have different levels of health and independence.
Standard retirement communities are especially meant for what the industry calls active adults. Anyone needing special care must arrange for it privately.
Continuing care retirement communities have on-site care in case residents temporarily or permanently need home health care, personal care support or other in-home care.
Senior Cohousing
Senior cohousing involves owning a private home — not living with strangers — yet getting benefits of somewhat communal living. Generally, it lets residents enjoy a high quality of life for less money than they'd spend traditionally, making it an affordable housing option for low-income seniors. Cohousing communities typically consist of homes that form neighborhood blocks or are clustered around pools, ponds, gardens, or parks.
Homeowners together pay for a shared house and various amenities/services ranging from yard maintenance to in-home care. You are responsible for paying the utilities, taxes, lawn care, cable TV, internet, phone, etc., which are at the typical rate in the geographical area of the senior co-op community. Essentially you are paying to live in a house governed by a homeowner association, but that HOA consists of all of the seniors living in that community. Senior cooperative communities offer affordable housing and provide a low level of care in that these do not typically feature assisted living or 24/7 medical care.
1. How do people pay for senior cohousing?
Generally people finance their cohousing just like regular home purchases (e.g., with savings, investment returns and loans). Additionally each community makes its own rules about contributing for shared expenses.
2. How old are the residents?
Senior cohousing isn't necessarily for seniors only. Each community makes its own rules. Some are intergenerational to support seniors who are partners or guardians of younger individuals.
3. What animals are allowed?
Generally a senior cohousing community is very friendly to cats and dogs. Some allow chickens, goats, horses and other farm animals.
4. How independent are the residents?
Senior cohousing helps people age in place. Communities have various arrangements to share costs for physical therapy and other in-home care if/when it becomes needed.

Long-Term Care Facilities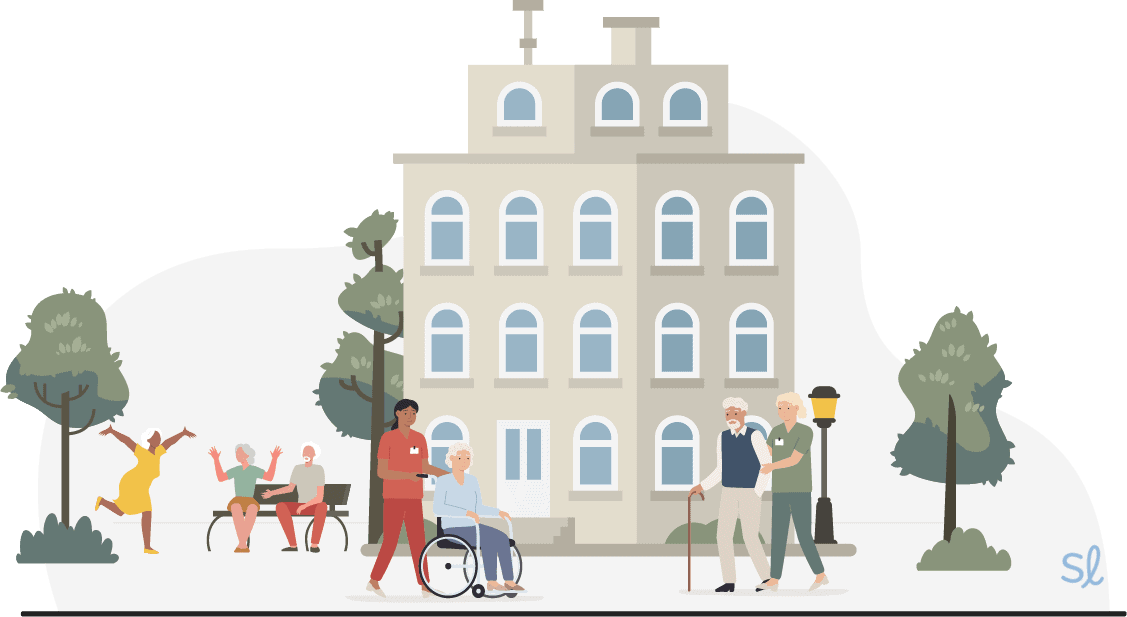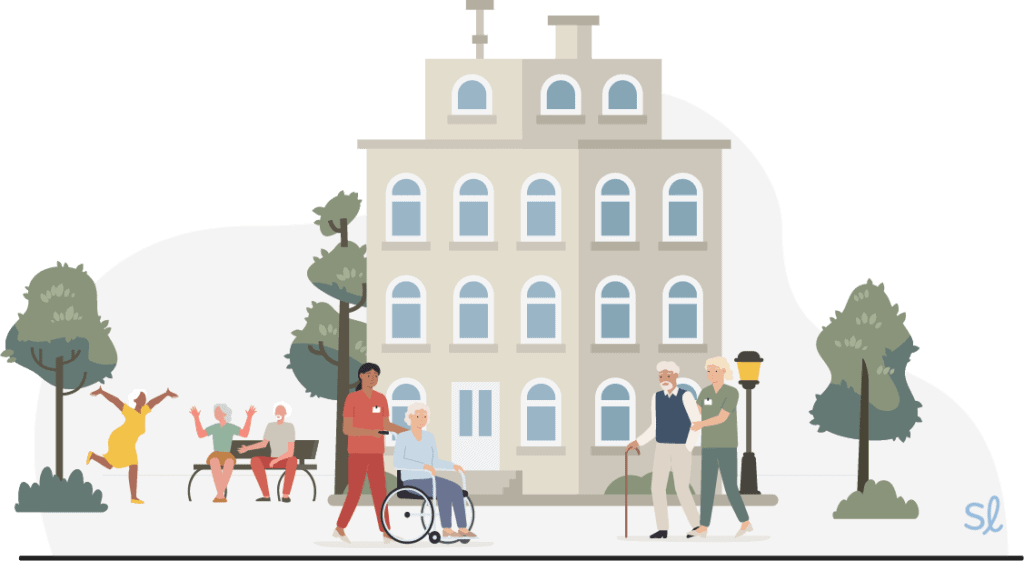 Long-term care is for people who need daily living assistance and/or skilled medical care. The main types of long-term care facilities are assisted living centers and nursing homes. Long-term senior care is also integrated with residency in select retirement communities.
Assisted Living Communities
Assisted living communities are also called personal care homes. Traditionally they're for people who don't need skilled nurses, but do need help with personal care tasks such as brushing their teeth and showering. Memory care (specialized caregiving for dementia patients) is available in some personal care homes. Some of these facilities are combined with nursing homes to provide what's called "a continuum of care." Nursing homes add skilled medical care.
1. How do people pay for assisted living?
People tend to pay for assisted living with more than one funding source. Spending a few hours with a geriatric planner (or estate planner) could be very valuable.
2. How old are the residents in an assisted living community?
People of all ages might need assisted living, so assisted living centers have different population profiles. Some personal care homes operated by the Veterans Affairs, for instance, are multigenerational and serve soldiers as young as 18. State laws provide age guidelines for assisted care centers meant especially for older adults. Common age minimums are 55, 62 and 65.
3. What pets are allowed?
Finding an assisted living center that accepts pets is tricky, but an increasing number of assisted living centers are pet-friendly, especially to cats and small dogs. Some offer pet care services such as grooming and dog walking.
4. How independent are the residents of assisted living centers?
Residents of assisted living centers generally need support with two or more activities of daily living (ADLs) such as getting out of bed, using the toilet or taking a bath. In facilities tailored for memory care, patients get 24-hour supervision for safety against wandering and other dementia-related risks.
Want more information on assisted living? Check out the video below with our Editor-in-Chief, Jeff Hoyt!
In-Home Senior Care
At the beginning of the senior years, the most common goal for families is to help their older loved ones stay in their own home. This is a way to save money and help the senior retain their autonomy and familiar surroundings. In-home senior care can meet minimal to moderate level of care needs, ranging from basic health checks to 24/7 in-home nurses. However, as the level of care increases so does the price tag for providing in-home health services for seniors.
A major concern with in-home care is that caregivers often become overburdened or stressed with the situation, especially if they do not have previous experience as home care providers. This is why most senior citizens transition out of in-home senior care and into a retirement community or other senior housing option. There is the option of using adult day care or respite care services. Yet when a senior becomes isolated, depressed, in danger due to security threats, or loses their mobility, then it is time to transition to another type of senior living.

Active Senior Housing
For seniors who are living an active lifestyle and want to continue working or being active in their own community, active senior housing is the way to go. This type of retirement community is open to seniors over age 55, which is younger than the typical demographics of assisted living or nursing homes. In active senior housing, you are provided with an apartment, townhouse, condo, or single-family dwelling. The major selling point of this housing option is the services and amenities. You are provided with a wealth of programs, such as on-site exercise classes in a full-sized gym, an Olympic size swimming pool, cafeteria dining with a meal plan, and regularly scheduled senior activities.
In addition, the active senior housing management will routinely provide transportation and arrangements for off-site activities, such as shopping, hiking, skiing, or going to museums. The goal is to provide active seniors with plenty of activities and amenities to satisfy their energetic lifestyle.
The price of an active senior housing community is more costly simply because of the all-inclusive lifestyle offerings. You can expect to pay into the mid-six figures for entry into such a community, coupled with approximately $3,000 a month for rent and amenities. Another important factor here is that this is for active older adults, and this type of community has a low level of care. Therefore, if you are no longer able to be active, i.e., you lose mobility or become bedridden, you will be required to transition to another type of senior housing.

Independent Living Communities
In an independent living community, you are not expected to have a certain activity level. In fact, this type of senior housing offers some on-site medical care as needed by residents. As such, independent living offers a low to medium level of care for patient needs.
The housing style of an independent living facility ranges from apartments or condos to single family homes or senior co-ops. You have full privacy with a living arrangement just for you and, in some instances, a spouse who meets the senior living requirements. However, you also gain from community-based services and facilities, such as a community entertainment space, meeting room, and community garden.
You also gain extra surveillance and security to ensure your safety while living in this kind of senior living arrangement. In addition, the basic tasks of keeping a house, such as lawn care, changing light bulbs, and housekeeping are provided for seniors. This helps to ease the burdens of seniors, while still giving them their own space for as long as possible.
The cost of an independent living community for seniors is on par with similar types of retirement communities, such as religious communities or active living senior centers. In fact, most of the retirement communities overlap to include independent living services for seniors. Independent living facilities are a transitional type of housing that is often followed by assisted living or nursing home care.

Continuing Care Retirement Communities
A continuing care retirement community, or CCRC, is a combination of various senior care and living options. It may include independent living, active senior, assisted living, and nursing home services for a single senior. That is because this is the ultimate transitional community for seniors. When you invest in a CCRC, you receive senior housing based on your current level of care.
If you are 55 and entering early retirement, you are likely to move into an active senior apartment. If you fall and break a hip and lose your mobility, you may transition to a nursing home for rehabilitation and then to an assisted living community when you regain some motor function. The facilities and services provided can range from publicly to privately owned, and determined according to the stipulations of the community demographics and geographic location of the CCRC.
A CCRC is a retirement community that is aimed at middle to upper-income households. According to Human Good, older adults who enter a continuing care retirement community typically sell their primary home to pay for the cost of the CCRC. If a senior couple is interested in a CCRC, they can generally live together even if one of the seniors has a more advanced level of care than the other. This is one of the highlights of choosing this type of senior living community.
According to Kiplinger, expect to pay a sizable entry fee that averages around $320,000. You'll also need to pay for monthly fees that range from $2,000 to $7,000. Ways to save money on a CCRC are to avoid selecting a larger living unit and prepay for your care.

Congregational Retirement Communities
Several religious groups offer congregational retirement communities. Lutheran, Baptist, Anabaptist, Presbyterian, and nondenominational churches also provide religious communities for seniors across the U.S. To find a religious retirement community for you, start with your local church or browse our religious-based listings.
Keep in mind that the underlying structure of these communities is based on religious beliefs and often involve regular church services, religious counseling, and prayer during meal times. This is an ideal situation for older adults who want to live in a faith-oriented community surrounded by like-minded seniors. The level of care provided at congregational retirement communities will vary, but in most instances, it will be minimal.
The cost of a religious-based retirement community depends on several factors. For starters, if the community is supported by the church, the cost may be reduced or you may be eligible for low-income assistance according to the organization. If the religious retirement community is private, then the cost may be higher.

Nursing Homes
Nursing homes are named after the skilled nurse services that they provide. This is a step up from the medical care available in assisted living centers. With assisted living a resident can get basic medical care such as wound dressing and blood pressure monitoring, but only with nursing home care will they have daily access to the skills of more advanced practitioners such as registered nurses and occupational therapists.
1. How do people pay for nursing homes?
People combine private and public funds in many different ways to pay for nursing home care. Options depend on state law and a person's financial profile.
As with planning for any type of senior housing, when arranging payment for a nursing home it's valuable to consult with a trustworthy geriatric planner.
2. How old are nursing home residents?
People of all ages need temporary or long-term nursing home care, so some nursing homes serve people of all ages. Many nursing homes have age restrictions to keep their populations primarily or exclusively for older adults. Common minimum entry ages are 55, 62 and 65.
3. Are pets allowed?
Pet-friendly nursing homes aren't found in all parts of the U.S., but they do exist and are becoming more common. Some nursing homes offer pet care services such as dog walking, litter scooping and pet grooming. Much more common though are nursing homes with their own dogs and cats (and possibly other kinds of animals) for all residents to love.
4. How independent are the residents?
Nursing home residents generally are in medical recovery or have chronic health conditions that need daily medical attention. Compared with residents of assisted living centers they have lower activity levels on average. Also compared with assisted living residents, a higher percentage of nursing home residents have advanced Alzheimer's disease or other serious mental health conditions.
So what's the cost of nursing homes? According to the Genworth Cost of Care Survey, private rooms cost an average of $297 per day or around $108,405 annually. For semiprivate rooms, you're looking at a slightly lower cost per day of around $260, which adds up to roughly $94,900 per year. For more details, head to our nursing home costs page.
Specialized Care Types in a Facility
For seniors who require 24/7 medical attention, constant supervision, or specialized care for health issues, a senior living facility is a primary choice. A senior living facility includes a nursing home, respite care, hospice care, and memory care. These types of centers differ from retirement communities in that seniors are not able to have the freedoms they do in an independent living or active senior apartment. In a facility, there are statistically more seniors who are bedridden, near the end of their life, or living with debilitating diseases. Here is a breakdown of the different types of specialized care facilities for seniors.
Respite Care
Caregivers who are in need of assistance or a bit of respite when caring for a senior should look into respite care. According to the National Institute on Aging, respite care is a short-term senior living option that includes adult day care, in-home care, or senior care at another location, such as a nursing home. This is not a full-time housing arrangement, and while the cost is covered by Medicare you can only receive up to five days of coverage.
Adult Day Care
For seniors who need someone to care for them throughout the day, such as when a caregiver is at work, consider adult day care. This service is not covered by Medicare, but seniors with Medicaid can receive full coverage. Adult day care is a more affordable option compared to full-time care or housing for seniors. According to Genworth, costs range from $35 to $156 for a day of care depending on location. In addition, some adult day care centers also offer evening care that extends into the evening hours. Keep in mind adult day care does not provide a high level of care, such as for individuals without mobility.
Memory Care Facilities
Seniors who suffer from dementia or Alzheimer's disease are dealing with degenerative brain loss. This results in a loss of memory and ability to think clearly. Seniors who are diagnosed with dementia or Alzheimer's need to live in a senior housing facility that offers specialized memory care.
While these brain diseases cannot be cured, there are treatments that specialized facilities can provide to slow the progression. More importantly, seniors living in memory care housing are aided with basic tasks, such as remembering to take medication and cooking meals. Generally, memory care is available for seniors who are living in a nursing home or assisted living community. For this higher level of care, you can expect to pay additional monthly fees on top of basic housing costs.

Hospice Care
At the end stage of life, hospice care is commonly utilized by caregivers and seniors. You can opt for hospice care in a facility, such as a nursing home, or in the senior's home. The goal of hospice care is to provide the senior with dignity and support, whether emotional, physical or with pain management.
The National Hospice and Palliative Care Organization states that hospice care workers are on call 24/7 and also provide scheduled visits according to the level of care of the patient. A hospice team includes nurses, social workers, clergy members, physicians, and home health aides that work together to provide a caring environment for the end of life. Medicare, Medicaid, and most private insurance plans cover hospice care whether in a facility or in the home.
If you're still trying to find housing or care in your area, visit our senior housing finder tool to help narrow down your options.