What if you need help with daily living as you age? This is a question many seniors, and their adult children, are re-evaluating in recent weeks as the health care and senior living industries are disrupted due to COVID-19. With more than three million 1 home health care aides, 28,000 2 assisted living communities, and 15,000 nursing homes in the U.S., it is important for seniors to think about how and where they want to receive care. It is also important for seniors to understand what long-term care (LTC) insurance offers and that it pays the same benefits if the insured stays at home as it does if they lived in a facility.
SeniorLiving.org Survey on LTC Insurance
We asked adults ages 50 and older during the week of March 22nd-28th about their plans for LTC insurance. We asked potential customers (those who do not currently have a policy) about their perceptions of LTC insurance, including affordability, coverage, and whether they plan to purchase in the future. The big takeaway is that the industry can do more to educate customers on the true costs and coverages of service.
Key Findings
Only 19 percent of in-market customers ages 50 and up believe LTC insurance is affordable.
In-market customers ages 50 and up don't have a good idea of how much LTC insurance costs. Estimates of cost varied widely from under $1,000 to over $5,000 per year for coverage.
In-market customers often don't have a good idea of coverages. More than 40 percent believe a skilled nurse providing in-home care would not be covered under LTC plans. Seventy percent believe home modifications would not be covered.
The Facts About Long-Term Care Insurance
The statistics tell us that planning ahead for care expenses is crucial. Most seniors will need LTC at some point and the costs can be devastating to savings and assets.
70% of U.S. adults who live to 65 end up with LTC needs 3
25% will need care for two or more years 3
48% of U.S. seniors will pay for care at some point 3
$7,500 is the average cost of one month in a nursing home 4
$4,400 is the average cost for one month of a home health aid 4
For those who want control over what aging looks like for them, LTC insurance is an option to consider. It can minimize the burden on seniors and their loved ones when LTC is needed, keep some savings to pass on, help keep friends and family from taking on caregiver burdens, and give much more choice when it comes to services and facilities for LTC.
Still, LTC insurance is not for everyone. Each person's age, health, and budget need to be considered. LTC insurance policies have a maximum age for enrollment, and premiums get more expensive the older a person is when they purchase. Also, existing health conditions can cause a person to be turned down. Only 21 percent of applicants aged 50-59 were turned down by LTC insurance last year, compared with over 50 percent of those 75 and above.
What Will It Cost?
Cost, or should we say, "perception of cost," is probably the biggest deterrent for LTC insurance. Just 18 percent of adults inclined to buy a policy said they believe it is affordable, though they do think it is worth the cost as 79 percent say it is at least "somewhat good value" for their money. For those who have not and do not plan to purchase LTC insurance, only two percent rated LTC insurance affordable.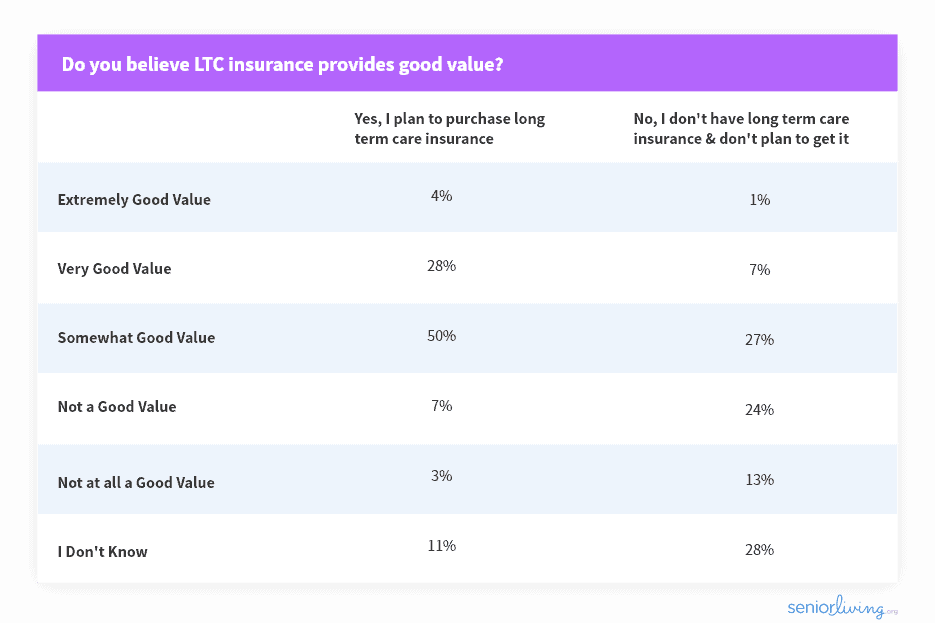 Average costs of LTC insurance do vary widely, but a single female age 55 could expect to pay an average of $2,700 per year, and a couple who are both 55 would pay $3,050 combined. With the average annual cost of a semi-private room in a skilled nursing facility reaching $90,000, LTC can provide peace of mind.
Contrast this with what adults believe the cost of LTC to be. Half of the adults who are not inclined to purchase LTC believe it to cost $3,000-$5,000 per year, or more.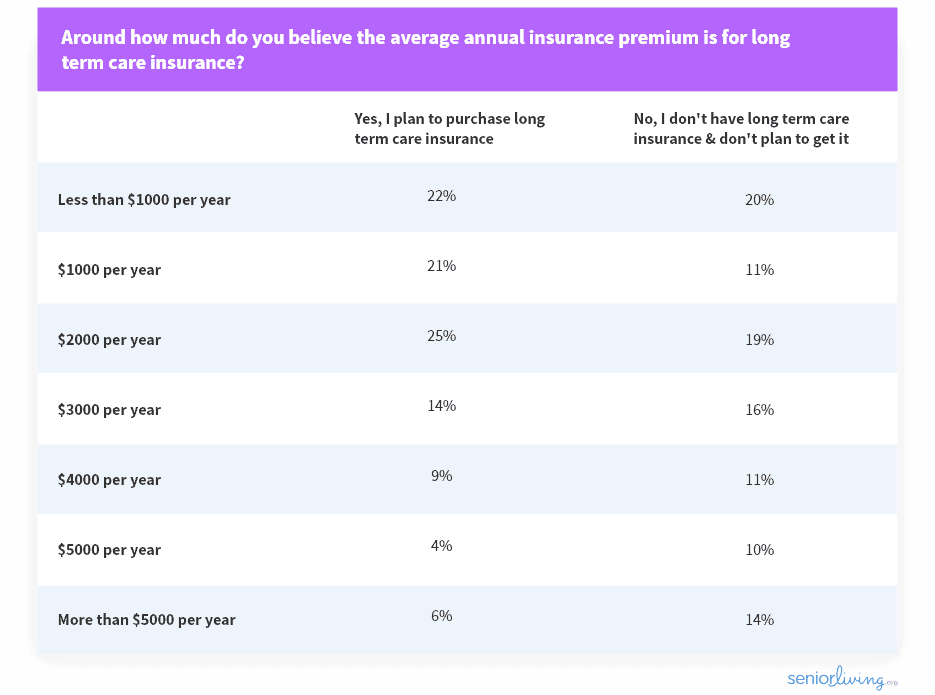 When Do Benefits Kick In?
LTC insurance policies paid out over $10B in claims in 2018 5. Claims will typically be paid when a senior needs help performing two of the essential activities of daily living such as bathing, toileting, dressing, and eating, or if he/ she becomes cognitively impaired. Policies may have a waiting period of up to 90 days before coverage starts so policyholders will need to choose a plan so that they could cover the expenses during that period. A shorter waiting period may mean higher premiums. Some policies have zero waiting period for in-home care, but 60 or 90 days for other types of care.
LTC Insurance Can Be Used for In-Home Care
Our survey responses showed a lot of uncertainty when it comes to what is covered with LTC insurance. Only 53 percent assumed that in-home nursing care would be covered, but over half of LTC insurance claims start for in-home care. Since three out of four seniors have expressed a strong desire to age in their own homes, this is important to note. Few people knew that LTC policies typically cover in-home physical therapy (44 percent) and occupational therapy (33 percent) as well. These policies pay the same benefits whether for home care, assisted living, a nursing home, hospice care, or adult daycare.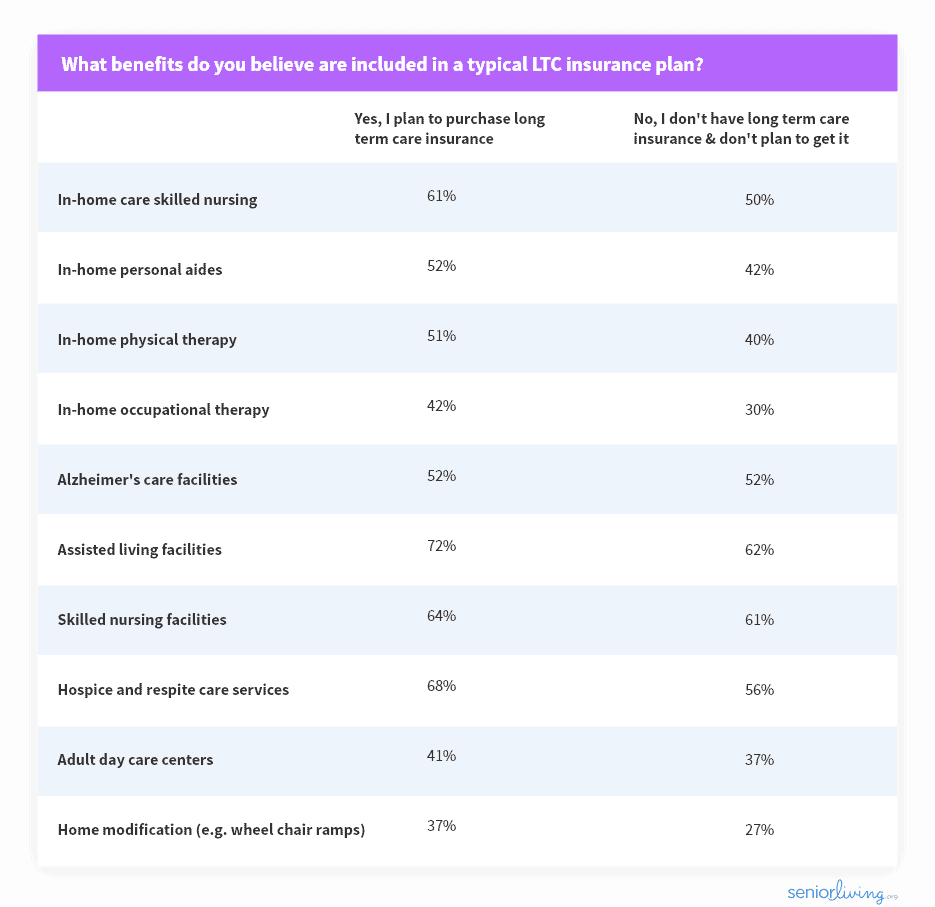 The largest percentage of LTC insurance claims paid out are for a home health aide, but most plans also cover home modifications like ramps, grab bars, etc., that can help seniors stay in their homes longer. A policy will include services to assist in finding care, but the choice of care and setting it up is the policyholder's decision.
Having LTC insurance can empower seniors to spend their final years as they want. Knowing that LTC insurance can be used for home health might make it an intriguing resource for those planning ahead. We found that seniors believe LTC insurance to be unaffordable but are also unaware of many of the coverage benefits. There is an educational opportunity for seniors to better understand their care financing options.
About SeniorLiving.org and Our Data
SeniorLiving.org is where seniors and their loved ones can find and compare housing options for seniors, including assisted living, in-home care, and everything in-between. We publish research on issues facing assisted living and aging, and cover governmental programs, and economic and social issues facing seniors. Data for this report was from a survey of more than 500 adults ages 50 and up about their perceptions of cost and coverage of LTC insurance, and whether they currently plan to purchase in the future.
BLS
CDC
US Dept. of Health and Human Services, ASPE
Genworth Cost of Care survey 2019
American Association for Long Term Care Insurance – 2019 report