Faith-Based Care Guides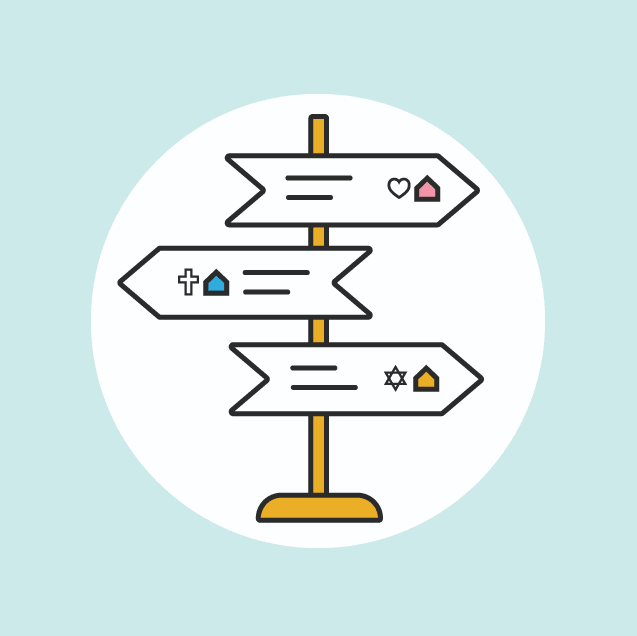 If you're looking for a faith-based senior living community to fulfill your spiritual needs, we've researched senior housing across the country for several major religions.
---
Studies show that older generations, particularly seniors, are more likely to identify with a particular faith or religion and participate in activities that help strengthen their faith.1 Additionally, older adults who align themselves with their faith can help improve their overall quality of life.2 If religion is important to you, finding a community and care that aligns with your beliefs can contribute to your overall wellbeing and happiness.
A faith-based senior living community is ideal for older adults who view religion as an important part of their daily lives. In addition to offering compassionate care, a religious-based senior care facility focuses on providing faith-based services for residents, such as on-site chapel services, Bible studies, or spiritual guidance from a pastor. These spiritual amenities help older residents stay connected to their faith and receive the personalized care they're looking for.
In this guide, we'll talk about the benefits of joining a close-knit senior community that upholds and honors people of all faiths. We'll also explore what faith-based communities may offer.
What Is a Faith-Based Retirement Community?
A religious or faith-based senior living community provides many of the same services and amenities you'd find at a non-faith-based community, including personal care, 24/7 supervision, and access to amenities such as dining services and transportation.
Did You Know? According to studies, more than 90 percent of seniors consider themselves spiritual or religious and participate in regular religious or spiritual worship services.3
Faith-based senior communities differ from traditional senior living, as they go a step further by offering religious and spiritual care. For example, a Christian assisted living community may provide an on-site chaplain, a chapel for residents to practice their faith, and the chance to participate in Bible studies or prayer circles with other residents. Additionally, living in a faith-based facility allows residents to build community with other older adults who share their beliefs and values.
Here are some of the common amenities and religious services these facilities may offer:
On-site chapels
Bible (or other religious text) studies
Mass or worship services
Observance of important religious holidays
Exercise groups
Pool and lounge areas
Social events
Community library
Yard and building grounds maintenance
Free utilities (electricity, gas)
Customized wellness plans
24/7 supervision from trained staff
Weekly laundry
Transportation
Assistance with activities of daily living
Keep in mind that services will vary by community, so it's best to reach out to individual facilities to learn more about the amenities and care offered.
Did You Know? According to recent polling from the Pew Research Center, 65 percent of U.S. adults identify as Christians, compared to 77 percent of U.S. adults who identified as Christians back in 2009.4
Benefits of Faith-Based Senior Living
There are many benefits associated with living in a faith-based senior community. For example, it may be easier for seniors to share and express their faith with residents who share similar values and traditions. For seniors, practicing their faith can help strengthen their purpose and give them activities to look forward to. It can also be a great opportunity to help older adults get involved in their community through volunteer activities or fun events with other residents. Whether it's prayer circles, a church choir, or singing hymns, a senior can participate in many religious activities on campus.
Additional benefits of living in a faith-based community include the following:
Enhanced mental and physical health
Reduced feelings of isolation or seclusion
Close-knit community with a shared faith
Sense of purpose
Opportunities to get involved in recreational and spiritual activities
Can help seniors grappling with illness or loss
Are Religious Senior Living Communities Open to All Faiths? 
Typically, religious senior living communities are open to all faiths and backgrounds. You don't need to be of a certain faith in order to be admitted to a faith-based senior living community; all faiths are welcome. Just know that if you choose a faith-based community, there will be religious events and services offered, and many residents will likely share the same faith. Some communities even offer amenities for multiple faiths. For instance, a Catholic senior living community might also offer kosher meals and transportation to local synagogues for Jewish residents.