Transportation for Seniors
As people age, they have a harder time getting around independently. This is especially the case if medical issues requiring special attention are involved. The good news is, there are plenty of ways for seniors to travel locally, nationally, and internationally. They certainly have a lot to make up for once COVID-19 eases in 2021.
The most common transportation choice is for seniors' children or other relatives to drive them. If family isn't around, though, there are still plenty of other options for transportation. Examples include public transportation, paratransit programs, volunteer services, and senior shuttles. Depending on the community an older individual lives in, there may be taxi voucher programs, too.
Expert Insight on Senior Mobility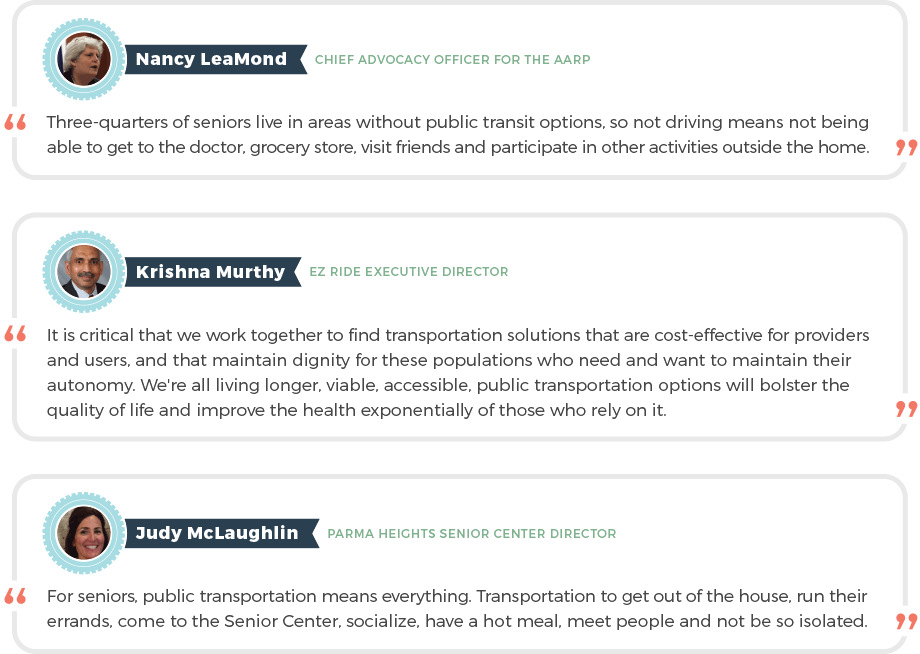 Is It Time to Stop Driving?
Driving helps everyone stay mobile and independent. However, visual impairment is common among seniors and often causes motor vehicle accidents. People need good vision to make safe decisions while driving. Nighttime driving is an even bigger challenge with limited light.
FYI: Along with good eyesight, good hearing is essential for safe driving. If you have hearing loss, check out our list of the best hearing aids for seniors. With the right devices, you can keep your hearing sharp and listen for important sounds like sirens or car horns.
Generally speaking, seniors take longer to register things such as flashing brake lights. Seniors also react more slowly. These delays could pose a major safety hazard for everyone on the road.
According to the Centers for Disease Control and Prevention, older adult drivers face their share of challenges.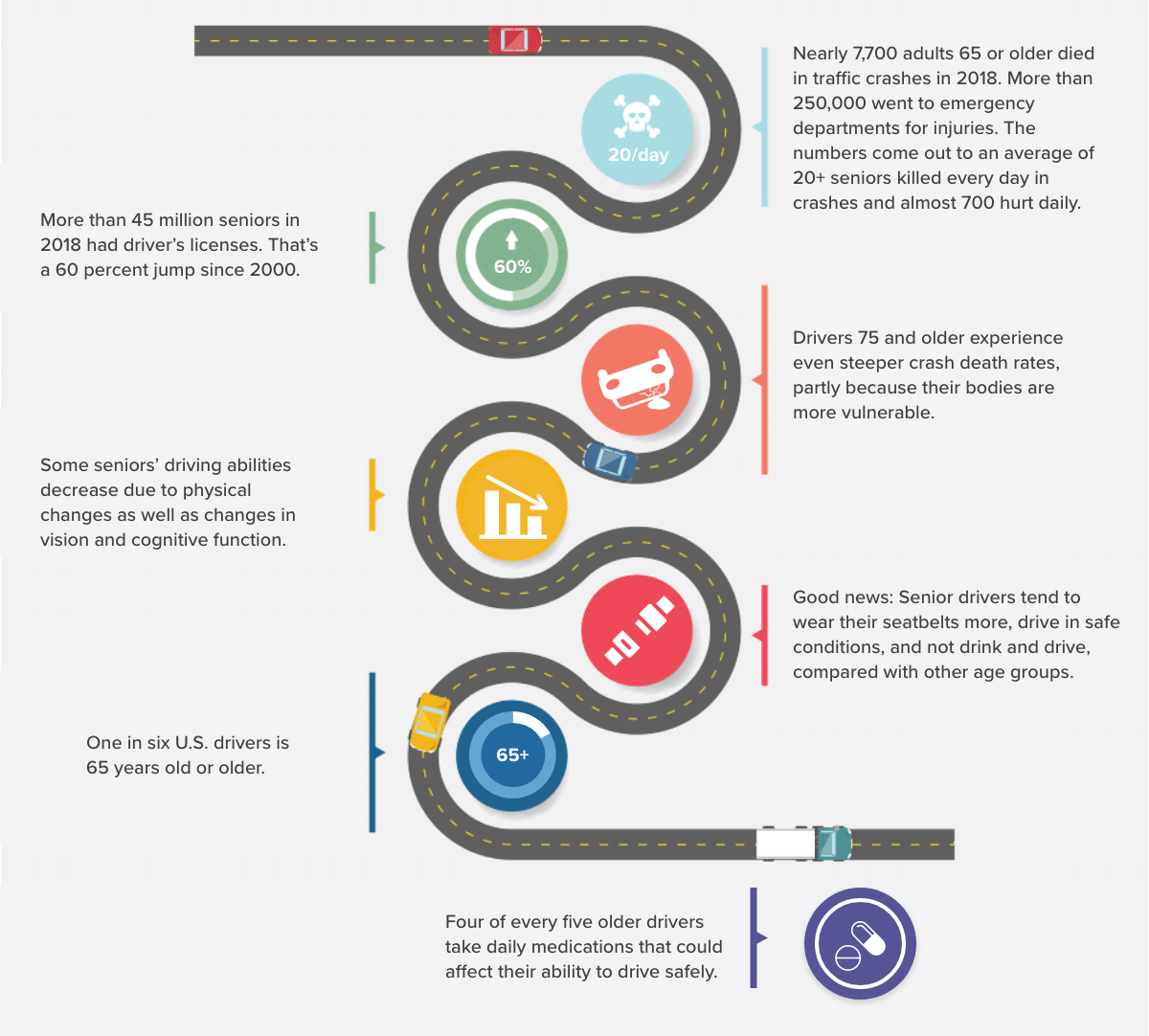 Seniors who are unsure whether it's time to stop driving should consider other options for getting around.
Common Forms of Transportation for Seniors
Giving up driving can be tough but is often for the best when you are sensory-challenged. Loss of mobility can play a big role in a person's emotional well-being, so it is essential to learn about the transportation alternatives in towns and cities of all sizes.
Quick Tip: If it's still safe for you to drive, but you want extra protection on the road, we'd recommend a mobile medical alert system. You can take these wearable devices wherever you go and call for help if you experience a medical emergency or accident while driving. Visit our guide to the best medical alert systems for more details.
Try to find all possible options before committing to a particular service or form of transportation. Friends and loved ones are good resources for finding hidden gems. They can also tell you about delivery options. For instance, you may be able to get groceries and meals delivered to your home for a small fee. These options give you more flexibility with transportation since you may not need rides as often.
Family Members
Family members could be an excellent alternative to driving yourself. Your loved ones are probably already familiar with your routine and the places you like to go. You also know your relatives' driving skills. Another bonus is that you don't have to wait for a shuttle or bus, and you can give your family members gas money or assistance with other errands in exchange for their help.
Caregivers & Home Care Aides
If family members aren't an option, caregivers or home care aides might be. The cost of hiring a caregiver will vary depending on your location. However, they cost less if they provide only homemaker services such as cooking and laundry (and driving, in this instance). There are also caregivers that specialize in transporting seniors.
It's a good idea to hire through local home care agencies rather than on your own so the agency can run background checks and screen employees.
Public Transportation
Public transportation is a popular way of getting around, especially in cities such as New York City and Chicago. Depending on where you are, you may have access to buses, light rails, subways, ferries, shuttles, and trams.
A perk is that local transportation systems often offer senior discount fares or coupons. The exact cost may vary depending on where you are and where you need to go.
Buses typically can accommodate wheelchairs and mobility scooters. Some even allow you to bring a person without a disability at no charge.
Public transportation is a great choice if you live where it's efficient. Unfortunately, not all cities and suburbs have good public transportation. Also, depending on your mobility, you may find it a hassle to make it to the nearest bus stop or train station in the first place.
Volunteer Transportation Programs
These programs are usually run by religious organizations or nonprofits with a network of volunteers offering transportation for seniors to shop, visit the doctor's office, and more. Reservations are required, but usually, the transportation costs very little, if anything. A donation is always appreciated for volunteer services.
Paratransit Services
Paratransit services are somewhat similar to public transportation but on a smaller scale. If you have mobility issues or any qualifying disability, you'll be in good hands with paratransit because it is designed to accommodate seniors.
Private agencies provide transportation via minibuses or small vans, which are equipped to handle wheelchairs and the like. Paratransit must be scheduled in advance but picks up passengers at their homes and is more flexible with stops.
Not everyone qualifies for paratransit services, though. Be sure to check out the eligibility requirements in your locality. Most agencies follow guidelines from the Americans with Disabilities Act. Generally, you qualify if your mobility issues prevent you from taking regular public transportation.
Carpooling
If you know someone who lives nearby, perhaps a neighbor you trust, look into carpooling. For example, you could set up a date that works well for both of you to do grocery shopping or run similar errands together. Carpooling is a great way to save on gas, time, and money.
Taxis & Rideshare Services
Ridesharing tends to be more economical compared with taxis. You do need basic phone knowledge and the ability to maneuver the service applications for companies such as Uber and Lyft, though. If you have a loved one familiar with how ridesharing works, you can have that person set up rides for you as needed.
If you would rather not deal with that, then a taxi may be the better option. The cost varies greatly depending on factors such as your location, distance traveled, and peak times.
Senior Transportation: Things to Consider
There are many things to consider when picking the best transportation mode for yourself or your loved one. These things depend largely on factors like where you live and your destinations. Below are some questions to ask when weighing transportation options.
Questions to Keep in Mind
Where am I going?
Depending on the location, destination, and distance, cost and convenience can both play significant roles. For example, if you are looking to travel far or into a major city, fares may be pricey.
Do I qualify for disability services?
If so, paratransit may be a promising mode of transportation.
Will a loved one be able to transport me?
Having a family member or friend drive is usually the most comfortable, convenient, and efficient method.
What is my budget for transportation?
Setting a monthly budget for transportation every month is important. It helps determine which transportation option is most realistic.
Did You Know? Trying to figure out how transportation will fit in your monthly budget? Visit our guide to finance for tips on how to save and build your budget.
Essential Factors
Cost
Costs can vary wildly. For example, taxis are more expensive than ridesharing services. Public transportation is generally cost-efficient, and having a family member take you places could be free for you.
Service Location
You may or may not have to walk far to a bus or train stop with public transportation. Unfortunately, seniors with mobility issues may find it hard or impossible to walk long distances.
On the other hand, if you're able to spend a little more money to get around, you get the luxury of convenience. For instance, taxis cost more than public transportation but can pick up passengers at their front doors.
Safety & Comfort Level

Getting into a stranger's car may feel uncomfortable for some seniors.
If you are in an unfamiliar area, making transfers and taking public transportation can be scary.
Have a disability? Not all transportation options are equal if you rely on a walker or wheelchair to get around.

Schedule Flexibility
Public transportation can be a great and cost-efficient way to get places. However, if you need to be somewhere at a specific time, public transportation might not be the best option. Schedules can be sporadic depending on where you live.
If this is the case, look into other options like having someone drive you. Ridesharing services tell you exactly on their phone applications when you can expect the driver to arrive.
Local transportation services can be good choices, too. However, you may have to schedule a pickup in advance. That restricts spur-of-the-moment decisions.
Evaluating a Transportation Provider
Once you have an idea of the transportation providers you would like to move forward with, dig a little deeper. Knowing certain nuggets of information ahead of time saves you the hassle and headache of needing to figure answers out on the spot. Here are some questions to think about:
Is there a membership fee? If so, what are the terms and costs?
Is a reservation needed? If so, how far in advance?
Are discounts available for seniors?
Are rides provided on holidays, weekends, and evenings?
Are there requirements to qualify for the service? If so, what are they?
Can family members tag along? If so, is there an additional charge?
What is the service area?
Will the driver help with bags, wheelchairs, etc.?
Is the service door-to-door?
Is the transportation provider wheelchair-friendly and good for people with disabilities?
If other people ride at the same time, what is the maximum time for pickup and drop-off?
Does Medicaid or my insurance help pay for rides?
Useful Resources & Apps for Getting Around
With technology being so prevalent, even among seniors, here are some popular apps and tools you may find beneficial:
Medical Transportation Choices
Getting around to complete errands, visit a friend, or go see a movie is one thing, but making it to doctor's appointments is another. It's especially critical to show up for the sake of your health and well-being.
Unfortunately, public transportation is not always reliable when it comes to medical situations. Some insurance providers do include transportation for medical purposes. In such cases, a vehicle picks you up at home and takes you to the appointment. Call your insurance company to see if it provides this service, and if so, what the limitations are. Medicaid generously covers most medical transportation costs.
If your insurance does not cover transportation, look into local organizations that provide low-cost, non-emergency medical transportation to seniors who don't drive or who have limited mobility.
Seniors staying at an assisted living facility may have access to transportation services depending on the facility. Some places offer discounts, and a certain amount of service may be included in monthly rent.
Going the Distance
You might have local travel covered, but what about long-distance travel? Traveling abroad can be a challenge for anyone, let alone seniors. That doesn't mean it's impossible. You may want to visit a loved one, tend to an emergency overseas, or simply wish to explore the world.
If you are thinking about traveling far, let your doctor know. You two can discuss any potentially challenging medical issues. Doctors may also be able to give you recommendations on how to travel or what you can do to make the trip as swift as possible.
Seniors with mobility issues may want a companion to go with them. This person would ideally be familiar with the senior's medical history and capable of helping in an emergency.
Flying
Traveling by air can be stressful, but advance measures reduce the hassle. For example, let the airline know about dietary restrictions, wheelchair use, or other needs to ensure efficient accommodation.
Road Tripping
There are many benefits to traveling by car. Your schedule may be more flexible, you can make as many stops as you please, and you can travel with several people without worrying about extra costs. However, sitting in a confined space for hours or even days straight can be tough. Schedule bathroom and stretch breaks so that you can move and get fresh air. Prior to leaving, get the car checked and make sure everything is good to go.
Final Thoughts
Just because you are getting older doesn't mean you have to stop moving. You may not be able to drive, but there are ways to get around. They can take some getting used to, but staying active promotes independence.
Explore options such as public transportation, ride-sharing, and family drivers to get you to medical appointments, movie dates, and grocery stores. There's something to suit different needs, budgets, and lifestyles.