According to SAGE, the National Resource Center on LGBTQ+ Aging, it is estimated that there are over 3 million LGBTQ seniors in the U.S., with that number doubling by 2030.1 Regardless of sexual orientation, gender identity, and race, we all deserve to be our authentic selves! As gay, lesbian, bisexual, and transgender individuals move into their retirement years, the demand for LGBTQ retirement communities continues to expand. And with that, LGBTQ older adults have a greater choice of an inclusive place to call home.
In this article, we'll discuss LGBTQ senior living options and essential questions to consider as you search for a place to spend your golden years. We'll also detail LGBTQ-oriented retirement communities across the United States and top cities embracing LGBTQ elders.
Table of Contents
LGBTQ Senior Living Options
Knowledge is empowering, so let's explore how to make the most of LGBTQ senior living. From housing and medical care to location and amenities, there are quite a few key factors to evaluate. The bottom line? LGBTQ retirees are entitled to live comfortably without unjust discrimination.
LGBTQ Retirement Communities and Villages
An LGBTQ retirement community is ideal for active older adults living independently. These locations are generally designed for those over the age of 55 and can be rich in amenities like fine dining, housekeeping, and outdoor activities. LGBTQ retirement communities and villages can be found in urban, suburban, and rural settings. Later in this article, we'll share 10 LGBTQ retirement communities to explore.
Assisted Living Communities
Those who live in an assisted living community can still live on their own with a bit of help. Staff assist residents with activities of daily living (ADLs) like bathing, dressing, and medication management when needed. There are limited options across the U.S. for dedicated LGBTQ assisted living facilities, so take time to interview leadership and staff to ensure the location is welcoming to all people, including same-sex couples.
Nursing Homes
It is estimated that upward of 5 percent of people living in long-term care communities identify as LGBTQ.2 Nursing homes are long-term residential care facilities for individuals who need more medical care than an assisted living facility can provide. As the employees will be in close contact with residents, it's imperative to confirm the nursing home is LGBTQ-friendly, as dedicated gay nursing homes are not common.
Memory Care
For LGBTQ adults with Alzheimer's disease or other forms of dementia, finding an LGBTQ-friendly memory care facility is crucial. It's common for LGBTQ individuals with dementia to face additional challenges. When visiting local memory care facilities, ask if the staff has the experience and extensive training to meet the specific needs of LGBTQ individuals with memory loss. This is especially crucial in states without anti-discrimination laws for LGBTQ people.
From the Experts: Our in-depth memory care guide explains how to choose the best memory care facility for your loved one.
LGBTQ Retirement Communities and Cities
Choosing where to retire can be overwhelming, so as you explore the lists below, take time to consider what will tick off your dream location boxes!
LGBTQ Retirement Communities
You'll find a range of LGBTQ retirement communities across the country. Whether you're looking for a stand-alone home, cohousing, apartment, or place to park your RV, the choice is yours! We've compiled a list of 10 LGBTQ retirement communities across the United States offering varying levels of care, housing options, and locations.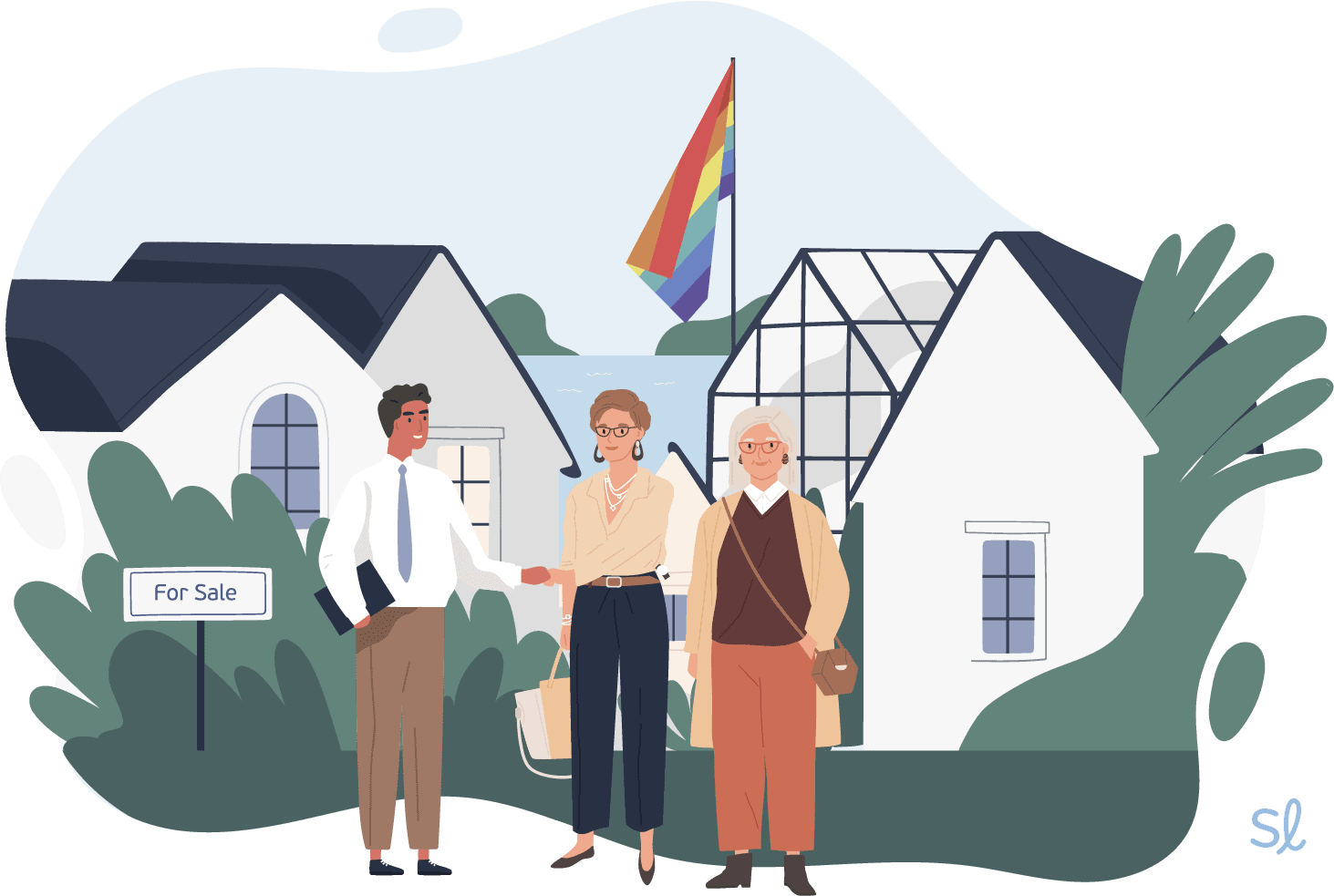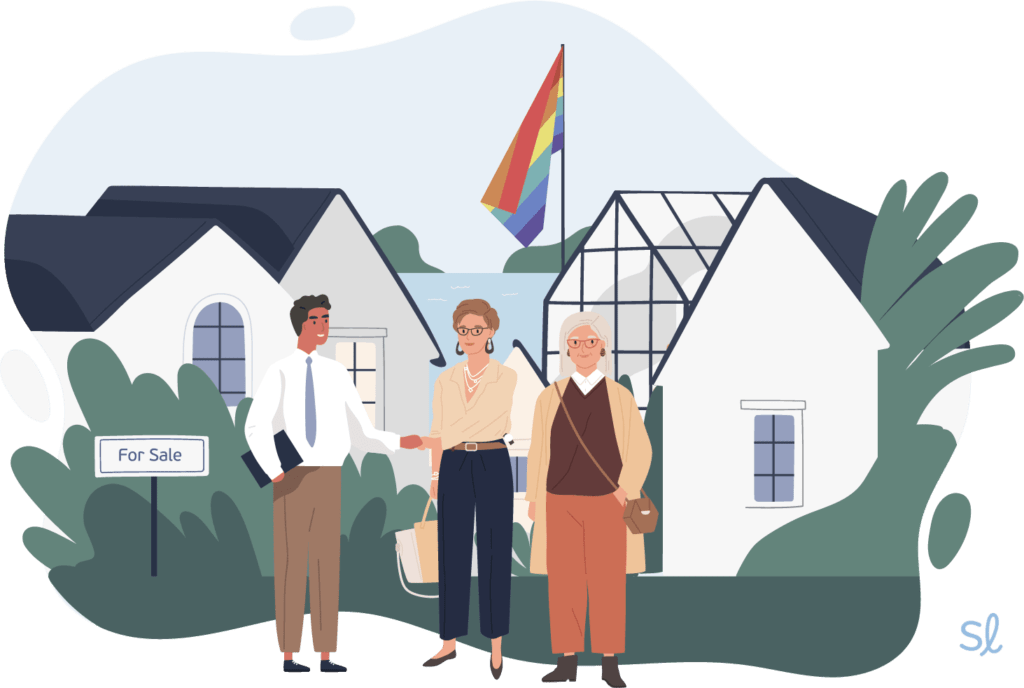 US Cities for LGBTQ Retirees
Whether you're a fan of all four seasons or dreaming of a tropical breeze, there are plenty of places across the country for LGBTQ seniors to settle down. While an LGBTQ retirement community is ideal, the surrounding city should be just as welcoming. Below are five U.S. cities known for embracing the LGBTQ population. When choosing these cities, we factored in the Municipal Equality Index report on how inclusive city services are for members of this population.
San Francisco, California: California has the largest LGBTQ population in the U.S., with 2.7 million, according to an analysis by the Public Policy Institute of California (PPIC).

3

San Francisco offers balmy weather, a rich arts and culture scene, and a thriving LGBTQ community.
Austin, Texas: This diverse city is a hot spot for retirement (especially for music aficionados!). The surrounding Austin area is home to a large (approximately 100,000 to 118,000) and vibrant LGBTQIA+ community, supported by many influential organizations and activities.

4

Atlanta, Georgia: Known as the LGBTQ capital of the South, Atlanta has a vast array of dedicated arts, culture, and entertainment. It has a strong government presence dedicated to protect and advance LGBTQ rights.
Philadelphia, Pennsylvania: The birthplace of our country includes a well-established LGBTQ community. Philadelphia's LGBT Elder Initiative (LGBTEI) plays a critical role in ensuring lesbian, gay, bisexual, and transgender older adults have the opportunity to live vibrant, creative, and mutually supportive lives.
Orlando, Florida: Orlando has been a pioneer in LGBTQ inclusiveness dating back to the original Gay Days in 1991.

5

This magical city is packed with entertainment and outdoor activities.
Essential Questions to Ask When Choosing an LGBTQ Retirement Community
As you search for the best retirement community to spend your golden years, it's important to consider how well the staff and residents embrace LGBTQ older adults. Think about how the retirement community and surrounding area feels. Below are five key points to help you make an informed decision:
Have all employees been trained in LGBTQ inclusion and equity?
Does the retirement community have an anti-discrimination policy?
Are there dedicated on-site LGBTQ clubs and events?
Does the retirement community's website and brochures include LGBTQ representation?
If the retirement community offers long-term care, is proper medical care available for HIV-positive older adults?
Legislative Triumphs for LGBTQ Older Adults
Federal, state, and local agencies have implemented much-needed modernization of regulations to support and protect the LGBTQ community, including:
In August 2013, the U.S. Department of Treasury and Internal Revenue Service ruled that same-sex couples will be treated as married for federal tax purposes if they are legally married in jurisdictions that recognize their marriage.
In June 2015, married same-sex couples became eligible for coverage under the same Medicare and Medicaid rules as married opposite-sex couples in all states. Where the couple lives or when or where they were married makes no difference.

6

In June 2015, same-sex partners became eligible for Social Security survivor's benefits

7

.
In February 2021, the U.S. Department of Housing and Urban Development (HUD) released new anti-discrimination guidelines for the Fair Housing Act. Discrimination based on sexual orientation and gender identity is prohibited.

8

In the fall of 2022, the Social Security Administration is removing the requirement that transgender people show proof of identity (like a doctor's note) to update their Social Security gender information. This will significantly improve transgender individuals' experiences accessing their retirement benefits and obtaining health care.
LGBTQ Senior Challenges
All older adults experience life changes and challenges as they age. These obstacles can be magnified for LGBTQ seniors. And while we celebrate the victories outlined above, it's clear there's still critical work to be done.
An AARP study found that 61 percent of LGBTQ Americans ages 45 and over were concerned about experiencing physical or verbal harassment in a long-term care facility.

9

Despite our nation's progress towards full equality, LGBTQ Americans still lack full non-discrimination protections in 29 states.

10

 Laws from state to state vary widely concerning LGBTQ communities. For example, in Alabama, there are no laws to protect against discrimination based on sexual orientation when it comes to housing, insurance, and employment.
In some senior living communities, LGBTQ seniors are openly discriminated against and ostracized.

11

One Journal of Palliative Medicine study found that nearly one in four senior health care providers had witnessed "inadequate, disrespectful, or abusive care" towards LGBTQ patients.

12

A study by the Williams Institute at UCLA School of Law showed that senior gay and lesbian couples have higher poverty rates than married heterosexual couples.

13
In the video below, Jeff Hoyt, editor-in-chief of Seniorliving.org, shares insider tips for touring senior living communities. Don't miss these tell-tale signs to look out for when exploring community options.