If you or a loved one need custodial care, get prepared by understanding its costs. As you look into options for custodial care, it's important to plan ahead so you can get the best care for your needs. In this article, we'll cover how much custodial care costs, factors that affect custodial care costs, how to pay for it, and whether the costs are tax deductible.
How Much Does Custodial Care Cost?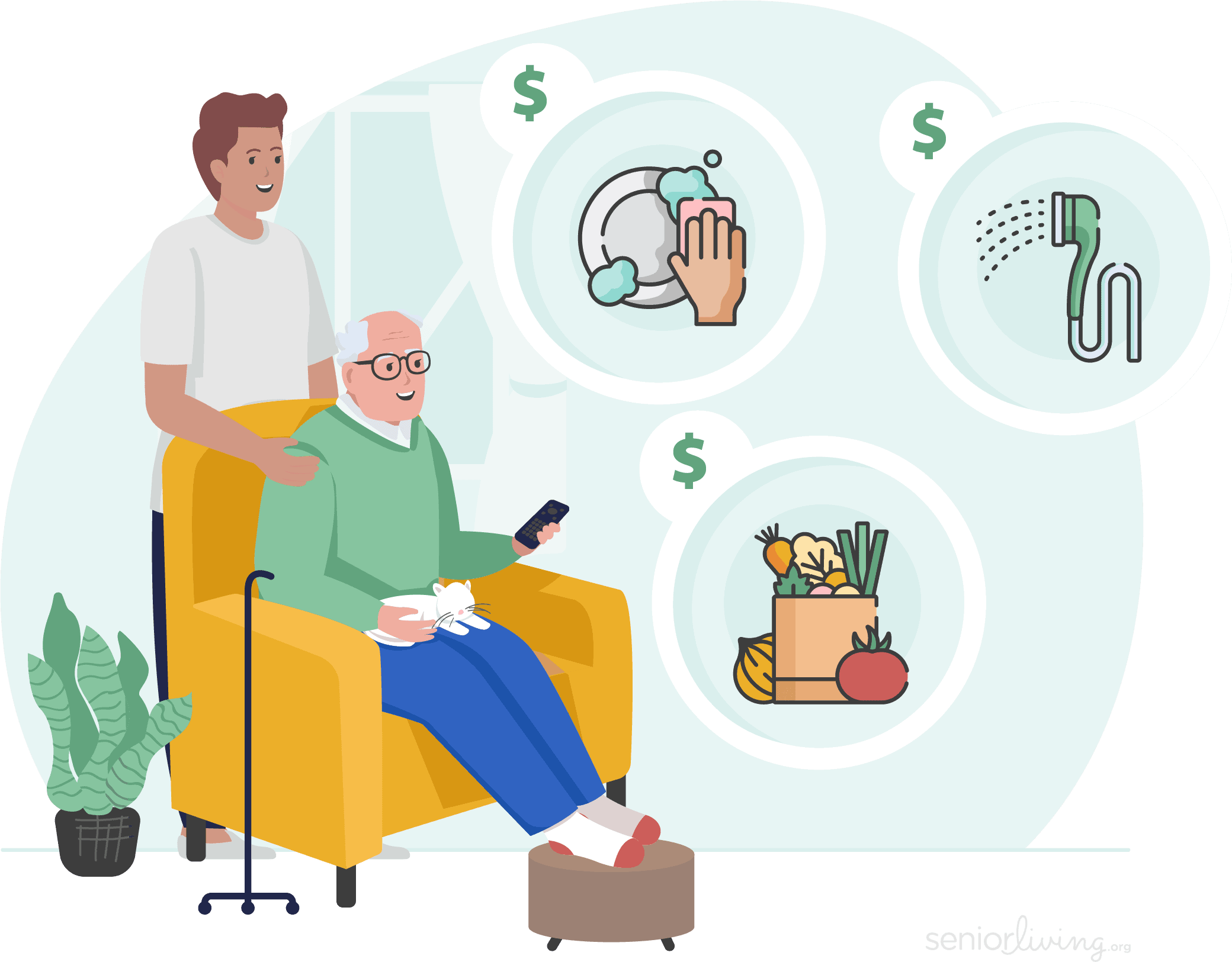 To plan for custodial care, you'll need to know how much it costs. Custodial care costs vary by location. Below are 2020 national averages for the estimated costs of nonmedical custodial care.1
Homemaker services: $4,481 per month
Home health aides: $4,576 per month
Adult day health care: $1,603 per month
The cost of nonmedical custodial care is lower than skilled nursing care, which includes professional medical care. Custodial care helps individuals with activities of daily living and basic care needs, while skilled nursing care helps people recover from short-term medical issues. Below are estimated 2020 national averages for the costs of skilled nursing care.
Semi-private room nursing-home care: $7,756 per month
Private room nursing-home care: $8,821 per month
Factors That Impact the Cost of Custodial Care
Once you decide custodial care is the best option for you or your loved one, you'll need to know what affects the care's cost.
Time needed for care: Determine whether you or your loved one need part-time or full-time care.
Location of care: Decide whether you or your loved one need in-home care, adult day care, or assisted living care. Costs will vary by facility type and location.
Method of hiring: Consider whether you'd like to hire a caregiver through an agency or by yourself. Agencies make sure you employ only qualified caregivers, but they cost a bit more.
City of residence: If the cost of living is higher in your area, care is likely to cost more.
Specialized care: Do you or your loved one have a memory disorder, mobility issue, or other condition that requires in-depth caregiving?
How to Pay for Custodial Care

Medicare
Medicare doesn't typically cover custodial care, but it may if it includes medical care at a skilled nursing facility.2 Medicare covers care in a skilled nursing facility for up to 100 days. To qualify, you or your loved one must be admitted to the skilled nursing facility within 30 days of leaving the hospital and for the same condition or illness related to your hospital stay.
Medicaid
Medicaid provides aid to people with limited resources, and your qualification for Medicaid is based on income.3 The program covers care for approved facilities such as nursing homes or assisted living facilities. The amount of aid you receive varies from state to state, so check the benefits in your state to see what you qualify for.
Long-Term-Care Insurance
Long-term-care insurance covers custodial care, and it's likely one of your best options. You can use it with Medicare to pay for custodial care costs. Most policies cover home care, assisted living care, nursing care, and adult day care.4 Many policies limit the period of time or amount they cover. Some cover long-term care for two to five years, while others cover care for as long as you live.
Is Custodial Care Tax Deductible?
Custodial care qualifies for tax deductions in specific instances.5 You can count nursing home costs as medical expenses in the following instances:
You are in a nursing home mainly for medical care.
You are in a nursing home for nonmedical reasons, but you're receiving medical care. In this case, only the medical care itself qualifies for tax deductions.
Custodial care may also qualify for tax deductions under the Child Tax Credit.6 To receive tax deductions under this credit, a family caregiver must claim you as a dependent. There are additional requirements to qualify for this credit:
You must be a U.S. citizen, national, or legal resident.
Your caregiver's income must fall under that tax year's cutoff amount ($4,300 in 2021).
You live with your caregiver, who pays for more than half of your living expenses.
If your caregiver is not a relative, then you must have lived with your caregiver for a full year.
You are not a dependent of another taxpayer.