If paying for your prescription medications is a struggle, you're not alone. In the U.S., 7.5 million seniors are unable to afford the medicine prescribed by their doctor.1 This has led to some older adults skipping or rationing their medication,2 which can be detrimental to your overall health.
Luckily, there are several ways to lower the cost of your prescription medications, one of them being a prescription discount card. Keep reading to see which cards are the best for seniors. Plus, we'll answer common questions older adults have about prescription discount cards, so you can decide if signing up for one is right for you!
Best Prescription Discount Card Reviews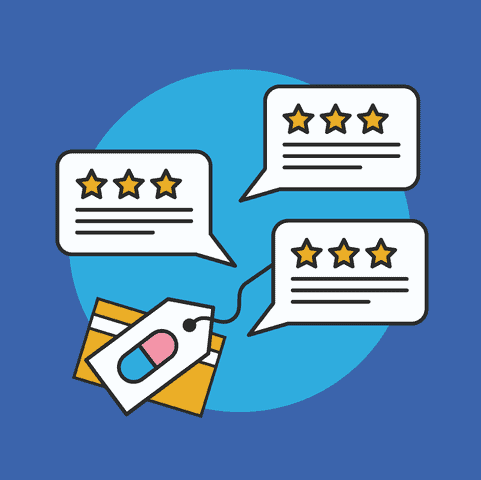 We've tested out the best prescription discount cards on the market to help you get the best deal on your medications.
---
What Is a Prescription Discount Card?
Prescription discount cards provide consumers with significant savings on their medications. You can think of it as a Sam's Club or Costco membership card –– but for medicine instead of giant packs of toilet paper. Also, there is no enrollment fee! Keep in mind that some drugs aren't discounted at all, while others could be discounted up to 85 percent. All you have to do is flash your card (or your cell phone) at the pharmacy to receive the discount.
Similar to coupons, these discount cards are free and have no additional fees when you use them. The prescription discount card companies make a profit by charging the participating pharmacies in their network a small fee for each transaction. So, it's all savings for you!
How Do Prescription Discount Cards Work?
Seniors can start saving on their prescription medications in three simple steps.
Sign up for a prescription discount card on the company's website. Usually, all you have to enter is your name and email address. If you want the card texted or mailed to you, then you'll need to enter your phone number and/or mailing address.

Scam watch: We are passionate about protecting seniors from scams and fraud. A legitimate prescription discount card company will never ask for your health insurance information, Social Security number, Medicare information, or other sensitive information.

Next, you'll use the company's search tool (either on their website or mobile app) to find the lowest prices for your medication. It'll show you which pharmacy in your area has the best deal on your specific medication. Score!
Once you've selected the pharmacy you want to purchase from, you'll call your physician and have them send your prescription there. When you pick up your medicine, just show your membership card to the person ringing up your purchase. You can download the membership card to your phone or print it out and take it with you.
Do I Need a Prescription Discount Card?
Since these cards are free, there is no reason not to consider a prescription discount card to help combat rising drug prices.3 Whether you take multiple medications a day or just need a prescription filled a few times a year, having one of these cards handy can keep money in your pocket. Discount cards are especially useful if you have a high-deductible plan or one of your medications isn't covered by your health insurance.
Pro Tip: As an older adult, you have access to discounts on more than just prescriptions. Check out our list of over 100 senior discounts for more ways to save every day.
In addition to saving you money on your drugs, many prescription discount cards have perks for users to keep them living a healthy lifestyle, which is oh-so-important as we age!
These are some prescription discount card features:
Free mail delivery
Medication reminders
Grocery and nutrition guidance
Manufacturer coupons
Mobile app
Pill identifier
How Much Can I Save With a Prescription Discount Card?
As mentioned above, discounts vary greatly by prescription and pharmacy. Some medications are not discounted at all, while others may be discounted up to 80 percent (we've even seen 95 percent on some!). These savings can be significant, especially if you're among the 36 percent of seniors who take multiple medications per day.4
Can You Use Prescription Discount Cards With Insurance?
It's important to remember that prescription discount cards aren't a replacement for insurance. So, don't go dropping your Medicare Part D plan! You'll choose between your insurance or discount card at the time of checkout –– whichever one offers you the lowest out-of-pocket cost. If you choose to use the prescription discount card, keep in mind that the cost won't go toward your insurance plan's deductible.
Pro Tip: Your insurance or Medicare copays may not be the lowest price. When you show the pharmacist your prescription discount card, ask them to compare your copay with the discount card price. They will give you the lower of the two.
Top-Rated Prescription Discount Cards
Now that you know how prescription discount cards can help you save, let's take a look at popular providers who offer them!
GoodRx
GoodRx is one of the most widely known prescription discount card programs, accepted at more than 70,000 pharmacies across the U.S. Though you can save up to 80 percent on medications using the free GoodRx card, they have a subscription option for $5.99 per month called GoodRx Gold that unlocks even steeper discounts. Their mail-order option, pill-identifier features, and mobile app are all great perks as well.
WellRx
WellRx has some of the best wellness tools we've seen for a prescription discount card program, which speaks to their mission of keeping consumers healthy! Things like medication reminders, drug side-effect tracking, and grocery guidance can all benefit your overall wellness. Not to mention, the card is accepted at over 65,000 drugstores, saving you up to 80 percent on your medications.
America's Pharmacy
Despite its name, America's Pharmacy isn't actually a pharmacy. It's a prescription discount card that can be used at 62,000 pharmacies nationwide. We were impressed with the company's easy-to-use mobile app, an excellent feature for smartphone-savvy seniors. You can use the app to compare medication prices and show the pharmacist your digital discount card, saving you up to 80 percent on your medications.
FYI: Once you use your prescription discount card at a pharmacy, they will keep your membership details on file. So, you don't need to worry about bringing it with you for future drug purchases at that pharmacy.
Choice Drug Card
With savings up to 85 percent on prescriptions, Choice Drug Card is a great "choice," if you ask us! Though the company doesn't have a mobile app like some other discount cards on our list, the savings on prescriptions are just as good. Choice Drug Card is accepted at the majority of pharmacies. By logging on to their website, you can print out a card or have one emailed or texted to you.
SingleCare
SingleCare, a prescription discount program partnered with 35,000 pharmacies nationwide, can help you save up to 80 percent on your medications. The company's Drug Basket feature is ideal for older adults who take multiple medications. The feature allows users to find which single pharmacy offers the best price on all of their prescriptions at once. So, you don't have to drive around to five different pharmacies to get the best price on each prescription!
ValpakRx
Launched in 2020 by Valpak, an industry leader in local print and digital marketing, the ValpakRx medication discount card saves users an average of $61 on each prescription. The card is valid at over 35,000 pharmacies across the country. ValpakRx also has a simple mobile app for seniors who prefer to use their smartphones to compare medication prices.