Medicare and Medicaid play an important role in the long-term health care of many adults, but do they provide companion care coverage? If you're enrolled in one (or both) of these benefits and considering companion care, it's essential to understand the options available. Below, we'll cover where companion care falls under Medicare and Medicaid benefits, whether it's covered, and how to find quality care in your area. Companion care comes at a cost, so we'll also discuss common ways to pay for quality home care.
What Is Companion Care?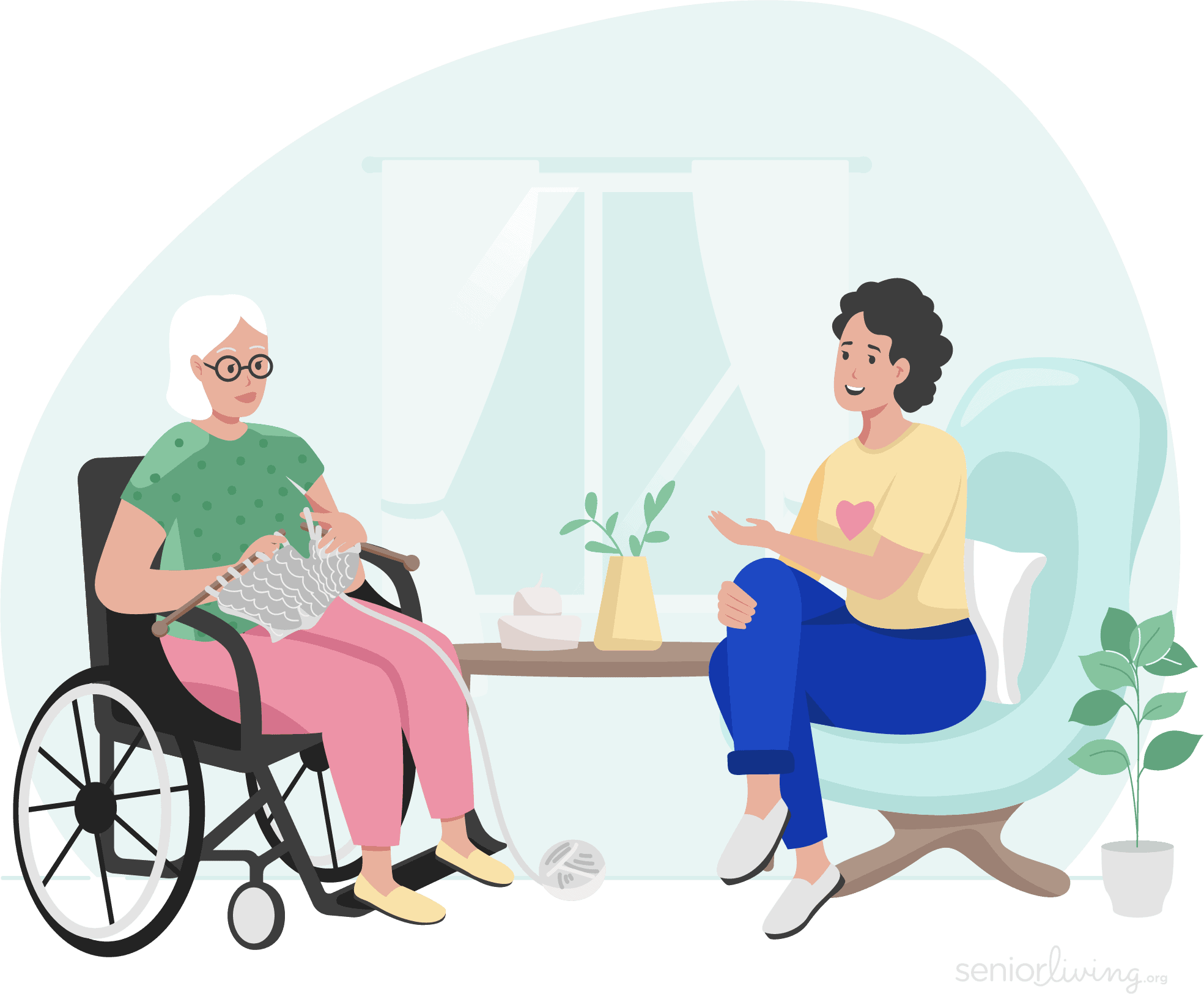 As we age, it's common to need extra social and emotional support or help with nonmedical care such as housekeeping and errands. It may be challenging to find when family or friends aren't near, or busy schedules get in the way. Companion care is an excellent option for older adults who want to remain independent but need a helping hand.
According to Pew Research Center, 27 percent of adults aged 60 or older live alone in the United States, and 46 percent share their home with only a spouse or partner.1 This can lead to isolation and depression. Companion care helps create an engaging and supportive environment. From conversations to keep your brain healthy and active to assisting with challenging activities of daily living, the benefits of companion care are abundant!
Does Medicare Cover Companion Care?
Medicare provides health insurance coverage for over 55 million beneficiaries aged 65 or over. Some home health services are eligible under Medicare Part A or Part B, but many older adults are surprised to find that Medicare doesn't pay for a homemaker or home health care when it is the only care you need.
That means Medicare doesn't pay for:2
24-hour care at home
Stand-alone homemaker services such as shopping, cleaning, and laundry
Stand-alone personal care such as bathing, using the toilet, and help getting dressed
What Are the Requirements for Medicare to Cover Companion Care?
Medicare may cover part-time or occasional home health aide services, including personal care, if the services are needed to maintain your health (or treat an illness or injury).3 Medicare won't cover home health aide services unless you're also getting skilled care, such as:
Speech therapy
Continuing occupational therapy (if you don't need any of the services above any longer)
Does Medicaid Cover Companion Care?
Medicaid provides health coverage to over 7 million low-income seniors also enrolled in Medicare. Through Medicaid's Home- and Community-Based Services (HCBS) programs, people have access to in-home care benefits not covered by Medicare, such as:4
Home health services
Personal care
Caregiver and client training
Transportation to medical care
What Are the Requirements for Medicaid to Cover Companion Care?
The first step in exploring companion care through Medicaid is to qualify for Medicaid benefits. Unsure if you are eligible? Requirements and income levels vary from state to state, so complete your application by contacting your state Medicaid office.
Medicaid's HCBS programs also vary by state — as do some in-home care benefits — so it's important to confirm eligibility before starting companion care.
Where Can I Find Medicaid and Medicare Companion Care Near Me?
If a home health agency accepts Medicare or Medicaid, it must be certified by the Centers for Medicare and Medicaid Services. Medicare's Find and Compare tool allows you to search for home health care providers near you, and review their services, quality, and patient ratings.
The Programs of All-Inclusive Care for the Elderly are run by Medicare and Medicaid to help people meet their health care needs in the community rather than in a nursing home or other care facility.5 Find a qualifying program in your area by visiting the PACE website.
USAging (formerly the National Association of Area Agencies on Aging) supports family caregivers, as well as people with chronic illnesses and dementia and those who want to age well at home.6 For an in-depth look at all the program offers, visit our Area Agency on Aging report.
The U.S. Administration on Aging's Eldercare Locator connects older adults and their caregivers with trustworthy local support resources nationwide, such as meals, transportation, and home care.7
Quick Tip: If your care needs don't involve help with activities of daily living, such as dressing or getting to the toilet, then a senior sitter or elderly companion may be an excellent option.
Curious about adult day care companion care? More than a quarter-million Americans enjoy the wide range of social and recreational activities found at adult day care centers. In the video below, Jeff Hoyt, editor-in-chief of SeniorLiving.org, talks about the types, costs, and benefits of adult day care.
How Much Does Companion Care Cost?
We've talked about Medicare and Medicaid's companion care benefits and what is (and isn't) covered. The elephant in the room is the cost, and it can be high. According to a study at the Center for Retirement Research at Boston College, over one-third of retirees won't have the resources to pay for even the minimal level of long-term services and support as they age.8 Let's take a look at the financial impact of companion care.
Genworth's most recent Cost of Care Survey reports the monthly median cost for homemaker services is $4,957. Employing a home health aide comes at a median monthly price of $5,148. Falling in line with in-home care costs is an assisted living facility (median cost of $4,500 per month). Nursing home facilities come with a much higher price tag of $9,034 each month for a private room. Keep in mind, these figures are based on the national monthly median, and the cost will vary based on your location and needs.
How Else Can I Pay for Companion Care Without Medicare or Medicaid?
There are many different ways to pay for companion care, but finding the best option for your needs requires a hard look at your finances — especially if you're on a fixed income and living solely on your monthly Social Security payments.
After you've reviewed your savings and assets, consider which of these five popular options fit into your budget:
Out of pocket
Home equity line of credit
Reverse mortgage
Senior Living is an online lead generator that helps connect consumers with licensed insurance agents. MEDICARE ADVANTAGE AND PDP: This site provides referrals to representatives of Medicare Advantage organizations and stand-alone PDP prescription drug plans that have Medicare contracts. Enrollment in any plan depends on contract renewal. The plans represented do not discriminate on the basis of race, color, national origin, age, disability, or sex. To learn more about a plan's nondiscrimination policy, please contact the plan. For a complete list of available plans please contact 1-800-MEDICARE (TTY users should call 1-877-486-2048), 24 hours a day/7 days a week or consult www.medicare.gov. Generally, Medicare is available for people age 65 or older, younger people with disabilities and people with End Stage Renal Disease. You must have both Part A and B to enroll in a Medicare Advantage plan. Members may enroll in the plan only during specific times of the year. Some Medicare plans are not available in all areas, and costs, coverage, and benefits vary by location. MEDICARE SUPPLEMENT: Medicare Supplement insurance is available to those age 65 and older enrolled in Medicare Parts A and B and, in some states, to those under age 65 eligible for Medicare due to disability or End-Stage Renal disease. Medicare Supplement insurance plans are not connected with or endorsed by the U.S. government or the federal Medicare program. PRIVATE SITE: This is a non-government website, and is not endorsed by the Centers for Medicare & Medicaid Services (CMS), the Department of Health and Human Services (DHHS), or any other government agency. The purpose of this communication is to connect individuals with a licensed insurance agent. Contact will be made by an insurance agent or a phone representative who can connect you to a licensed insurance agent. AGREEMENT TO TERMS: If you use submit your information through this website, you agree to the Privacy Policy and Terms & Conditions linked below, and to be contacted by a licensed insurance agent or a phone representative who can help connect you to a licensed insurance agent in your area to help review your coverage and options. NOT ALL PLANS OFFERED: The licensed agent to whom you are connected may not offer all plans in your area. Any information provided is limited to those plans the licensed agent does offer in your area. To explore all plans, please contact Medicare.gov or 1-800-MEDICARE.
MULTIPLAN_QM2022110DLWB_M