Choosing the Best Home Security System for You
No one wants to feel unsafe in their own home. If you're an older adult who lives alone, a home security system is a great way to be more secure and live each day with greater peace of mind. But it's important to remember that no two home security systems are exactly alike. You'll want to compare a few different providers to find the best one for your needs and budget. If you're currently in the market for a new home security system, check out the best providers below.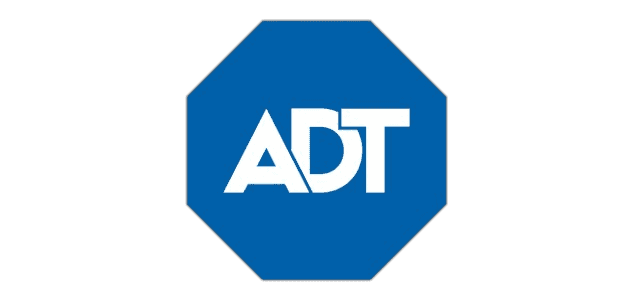 If you're among the majority of seniors who would like to stay in their home as long as possible, installing a home security system adds a layer of invaluable safety and peace of mind. The good news is, the rate of burglaries in the U.S. is decreasing.1 Regardless of trends, older adults are more vulnerable to crime than the rest of the population. A home security system can keep you, along with your home valuables, protected.
When it comes to home security systems, there are a plethora of options to choose from. Systems, services, upgrades, and features will all factor into the price you pay. To properly protect you and your assets, you'll want to make sure you choose a system that is best for you and your lifestyle. It is definitely not a decision to be taken lightly! Luckily, we've got the lowdown on the top systems, the latest features, and things you'll want to consider before making a purchase.
Why Do Seniors Need a Home Security System?
Older adults can become an easy target for home invasions, since thieves perceive them as presenting little physical threat. But you don't have to be defenseless! Modern home security systems give you digital eyes and ears to guard your home and prevent invasions before they happen.
Did you know that homes with an installed security system are less likely to be invaded? That's right, 83 percent of would-be burglars say they check to see if a security system is installed before attempting a burglary, and 60 percent say they find a new target if they observe a system is present.2 If home security systems can deter burglars, we say they are worth the investment!
What Types of Home Security Systems Are There?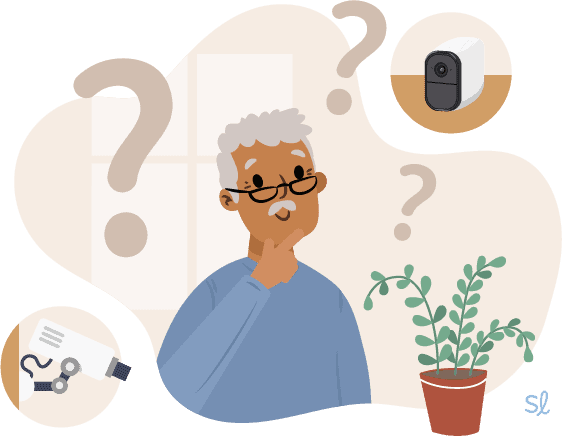 Wireless
Wireless systems are exactly what they sound like: security systems without wires! These systems are the most popular nowadays and are available from the majority of home security providers. The systems use radiofrequency technology to monitor your home. Home invaders can't cut wires to disable the system, which is a definite plus. Usually, wireless systems include detectors, sensors, cameras, alarms, and the main control panel.
You may want to consider a wireless system if
You're looking for an easy setup. Typically, wireless security systems can be easily set up by the user. All that is required is placing your control panel, security camera (if you opt for one), and window and door sensors.
You plan to move. If you plan to relocate in the foreseeable future, a wireless system can be taken with you. You'll be able to reinstall it in your next home.
You want to use a smartphone with your system. If you're a tech-savvy senior, wireless systems easily integrate with smartphones, smart speakers, tablets, and laptops for simple monitoring and convenient alerts when you're away from home.
Keep in Mind: Most wireless systems run on batteries. If you find it challenging to stay on top of changing batteries, a wireless system may not be for you.
Wired
Wired systems are extremely reliable. They use your landline to monitor your home and connect to a monitoring center in the event of an emergency. These systems typically have more powerful technologies and are rich in features. The high-tech monitoring and reliability comes at a higher price tag and requires professional installation.
You may want a wired system if
You are staying put for a while. Since wired systems are professionally installed, they are cumbersome to move to a new home. Some providers may not let you move a wired system.
You don't mind paying a little extra. Professional installation can cost hundreds of dollars. But if you're not up for a DIY job, it may be the best option.
You live in a large home. Wireless systems often struggle to cover large homes and could take multiple add-ons to gain coverage. Wired systems equip users with more robust coverage for bigger dwellings.
FYI: If you move into a home that already has a wired home security system installed, you're a lucky duck. It just takes a simple phone call to the provider to get your system activated. The best part is, you won't have to pay for installation!
Home Security Monitoring: Self-Monitored, Professionally Monitored, and Unmonitored Systems
When selecting a home security system, you'll usually be presented with a few options. First, you'll choose between a wireless or wired system (like we touched on above). Some companies, like ADT and Xfinity, offer both. Others, like SimpliSafe, only have a wireless option.
Second, you'll choose between a professionally monitored, self-monitored, or unmonitored system. Some providers allow you to choose, while others only offer one option. What exactly is the difference between these monitoring options? We'll break it down below!
Professionally Monitored Systems
Professionally monitored systems alert a call center in the event of a home invasion, fire, or other emergency in your home. The 24/7 call center will contact you via phone to confirm the emergency and deploy emergency services if needed. To deactivate the system, you'll need to provide the operator a code over the phone. If you don't answer your phone, it is standard protocol for the center to activate emergency services.
Pros About Professionally Monitored Systems
Emergency services are contacted for you.
The system doesn't require a smartphone to operate.
Coverage is 24/7, even when you're not around.
Cons About Professionally Monitored Systems
Professional monitoring can cost $10 to $50 per month.
Companies often require you to enter into a contract for monitoring services.
Keep in Mind: If your mobile phone is turned off and you miss the call from the monitoring center, emergency services will still be deployed. If the home security system was triggered by accident, you may be charged for a false alarm depending on where you live.
Self-Monitored Systems
When a break-in or fire is detected in your home, a self-monitored system will alert you via an alert or phone call to your smartphone. It is then up to you to contact emergency services. For seniors who don't have a smartphone or who don't use their phone very much, a self-monitored system isn't the best option. But if you're looking to avoid a monthly service fee, self-monitored systems only require you to pay a one time equipment fee which runs $100-$500.
Pros About Self-Monitored Systems
Self-monitored systems are cheaper than professionally monitored systems.
There are no contracts.
Cons About Self-Monitored Systems
You need your smartphone on you at all times to be alerted in case of an emergency.
It may not be an ideal system for seniors who are uncomfortable learning new technology.
Unmonitored Systems
An unmonitored system is a bare bones, yet still effective, home security system. When an invasion is detected, loud sirens sound inside and outside the home. Unlike the two systems above, no one will be alerted via a phone call or text message. You or a neighbor will need to call emergency services when the sirens are heard. If you're away from your home when the alarm is triggered, the sirens may scare away the invaders, but you will not be alerted. For seniors who are homebodies and don't want to mess with mobile devices, this could be an ideal monitoring option to try.
Pros About Unmonitored Systems
It is economical.
It may scare off home invaders.
Cons About Unmonitored Systems
Emergency services will not be contacted.
If you're away from home, you won't be notified that the system has been triggered.
What Is the Average Price for a Home Security System?
A home security system is an investment, but when you consider what's at stake, we think it is a small price to pay. With dozens of systems on the market, the price range is wide. You can pay $50 for basic equipment or up to $1,000 for a system with all the bells and whistles.
Factors That Impact the Price of a Home Security System
Monitoring: If you opt for professional monitoring, it costs anywhere from $10 to $35 per month.
Installation: If you'd like a professional to install your system, you can expect to pay about $100 to $200.
Equipment: The equipment cost depends on the system you purchase and whether or not you add on additional features such as video monitoring and extra sensors. You can expect to pay anywhere from $50 to $500 for equipment. Some providers roll your equipment fee into your monthly service fee.
Taxes and permits: Don't forget to add the sales tax. Plus, depending on where you live, some local governments require you to obtain an alarm permit to activate and operate a home security system. This may run you $30 to $50 depending on where you live.
Money-Saving Tip: Some home insurance providers offer a discount on home security systems, or they will lower your home insurance rates for installing one. Contact your insurance provider for specific details.
Home Security Features for Seniors
Every home security provider has impressive features and upgrades you can add to boost the protection your system provides. Of course, whether you choose to add them on or not is up to you. It is dependent on your needs and lifestyle. We will give you a quick rundown on some of the most popular features and why you might want to consider them.
Feature
What it does
Why it is useful for seniors
Cost
Smart lock
It rids the need for a key by allowing you to lock/unlock your door via a PIN. You can unlock your door via a smartphone app as well as track when it is opened and closed.
Seniors who have limited dexterity may find that unlocking their door via a PIN pad or smartphone is easier than manipulating a key. Plus, if you forget the key to your home, the PIN is a great backup.
$150-$300
Glass-break sensor
It detects the sound of glass breaking and sounds the alarm when it senses glass has been shattered.
If an intruder breaks a window to enter your home, the glass-break sensor will alert you. These sensors can also be placed on glass cases that display valuable keepsakes.
Most are bundled with a home security package, but on their own a sensor may cost $14-$70.
Security camera
It streams video footage inside or outside home to your laptop or smartphone.
If you're a traveling senior, checking on your home via your smartphone can provide peace of mind. To view multiple areas of your home, you'll need multiple cameras. Some cameras even store footage for 30 days so you can go back and review footage if needed.
$40-$200
Motion detection
A sensor alerts you when motion is detected.
Seniors can activate the motion sensors before they leave their home or before going to bed in the evening. They are alerted of any motion detected inside or outside the home.
These are usually included in home security packages but can run between $20-$50 individually.
Environmental monitoring
Flood, smoke, and carbon monoxide levels are monitored via smart sensors. If a pipe bursts in your basement or a gas leak occurs, you are notified, even if you're away from your home.
Carbon monoxide poisoning accounts for over 4,000 hospitalizations each year.

3

Seniors benefit from knowing that if anything is out of the ordinary or unsafe in their home, they will be alerted.
These may be included in some home security packages. On their own, they could cost $100-$200.
Video doorbell camera
You can view who is at your door via your smartphone or tablet. You're also notified when there is activity outside your door. A two-way speaker allows you to chat with your visitor and remotely unlock the door.
For seniors who live alone or have limited mobility, being able to remotely view and communicate with whomever is waiting at their door increases safety and convenience.
$80-$250
Professional monitoring
Your home is monitored by a professional monitoring center. In the event that your security system detects an emergency, the professional monitoring center will call and alert you. They will deploy emergency response services as well.
For seniors who aren't always attached to their phone, professional monitoring is beneficial. You can rest assured that if anything happens in your home, the monitoring center will be in touch and contact emergency services on your behalf.
$10-$50 per month
Mobile app and alerts
Check your security system and get alerts via your smartphone.
Seniors who are away from their home often will enjoy the convenience of being alerted through their smartphone if anything out of the ordinary occurs when they are gone. Great for avid travelers!
Included in home security system packages
Important Things to Consider About Home Security Systems for Seniors
Contracts
If you opt for professional monitoring, you will probably have to sign a two- to three-year contract. You could face some hefty fines if you bow out before the contract expires. If you plan to stay put for a while, entering a contract shouldn't be worrisome.
Professional vs. Self-Installation
Professional installation can cost you $100 to $200. With professional installation, you can guarantee that everything is set up correctly, which we think is worth the money. But if you want to try setting up your home security system yourself, most companies have a self-install or do-it yourself DIY option.
Extra Fees
Keep in mind that home security providers often tack on extra fees. Equipment fees, activation fees, and shipping should be kept in mind when you're budgeting for your system. When you're shopping around, ask your representative to clearly outline all fees you will incur so you'll know what to anticipate paying when it's all said and done.
Customer Service
Just like any technology, home security systems can have glitches or can malfunction. Making sure your home security provider has a good reputation for customer service is important when comparing options. In our opinion, it's worth it to pay a little more for service knowing that a helpful and friendly representative is available if you have questions or need assistance.
Home Security Systems vs. Medical Alert Systems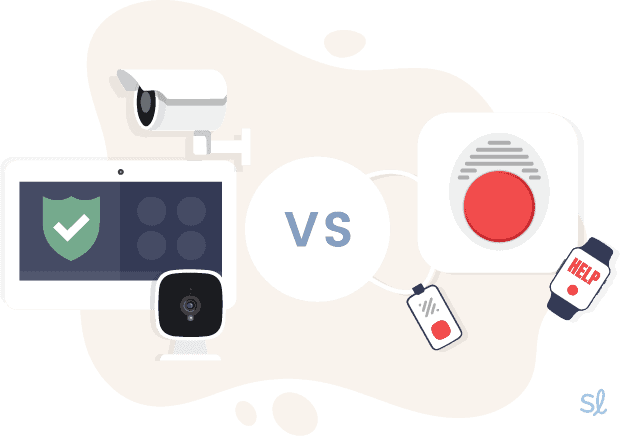 Medical alert systems and home security systems have a lot in common. But it's important to understand their differences to decide if one is better suited or you, or if you may benefit from having both systems.
Medical Alert Systems
Medical alert systems are designed with seniors in mind and are often easy to use – even for older adults who are less tech savvy. The main goal of medical alert systems is to protect the wearer during health emergencies or accidents, whereas a home security system is designed to protect your home and property. If you're a senior with a history of falling, have a serious medical condition, or live alone, a medical alert system is ideal for protecting yourself.
Home Security Systems
Home security systems are typically more complex than medical alert systems. With cameras, sensors, alarms, control panels, mobile apps, and more, it can be a lot to learn. If you live in a neighborhood with frequent crime and home invasions; you travel frequently; or you are highly concerned with flooding, fires, or carbon monoxide; a home security system may be your best bet.
Do Seniors Need Both?
If you are an older adult who is concerned with your physical safety and the safety of your home and property, both systems may provide the comfort and peace of mind you are looking for. There are plenty of options out there, but if you're looking for a bundled option, ADT and Frontpoint offer home security systems with add-on wearable "panic" buttons that are ideal for seniors.
Home Security Companies Seniors Should Consider
ADT
ADT, an industry leader, has made a name for themselves owing to its great support, fair pricing, and ADT Health medical alert systems. They offer professionally installed and monitored systems with options for wired or wireless installation.
Vivint
Offering innovative technology and optimal home protection, Vivint is great for seniors who want top-quality equipment and service. Their state-of-the-art systems come with a higher price tag than competitors, but if you're willing to take the leap, we don't think you'll be disappointed.
SimpliSafe
With no long-term contracts, SimpliSafe provides quality home protection with no strings attached. A money-back guarantee, top-rated customer service, and affordable prices makes SimpliSafe a top contender for budget-conscious seniors.
Protect America
For seniors who live in a rural area where cell service is spotty, Protect America can monitor homes via landline connections. By entering into a three-year contract with Protect America, equipment fees are waived. Plus, their systems are easy to install yourself, so you won't have to hand over extra cash for professional installation.
Frontpoint
Frontpoint allows seniors to customize their home security packages. Ranging from $130 to $1,000, choosing a system and monitoring service that fits your lifestyle and budget is possible with Frontpoint. Their systems also have medical alert capabilities, which is a plus in our book!
FAQs About Home Security Systems for Seniors
More Security-Related Topics
Interested in finding more ways to keep yourself and your home protected? Check out the resources below!