Years ago, my grandmother began experiencing significant health issues. When it was clear she could no longer live alone, my grandmother moved into my aunt's house. From then on, my family members took turns helping her with everyday basic activities. What I didn't realize at the time was that these tasks – which included helping her get dressed and groomed and providing transportation – were considered custodial care.
You may be wondering what would happen if you or a family member needed basic care assistance. To what extent would that care be, and even more importantly, who would pay for some, or all, of it? Medicare and Medicaid can often be seen as a welcome respite. But how much do they really cover? In this guide, we'll explore what custodial care is, how it differs from skilled nursing care, and how to determine if Medicare or Medicaid will cover it.
What Is Custodial Care?

Custodial care is actually considered one of two types of long-term care. The other is skilled care. The basic difference? Custodial care consists of support services offered to those seniors who don't need the assistance of medical personnel. Skilled care refers to services offered by licensed health professionals.1 While custodial caretakers are often recommended by a medical professional, they're not required to take formal training or earn a specialized certificate. In fact, many of these non-licensed caregivers are actually unpaid family and friends who help with everyday activities (also known as "activities of daily living" or ADLs), such as bathing, grooming, and mobility assistance. These activities can also extend to household services, such as cooking and doing laundry. Care can take place in a variety of settings, including adult day centers, nursing homes, assisted living facilities, as well as in the home of the person being cared for.
Does Medicare Cover Custodial Care?
Medicare is a federal insurance program serving people primarily 65 years and older (regardless of income), young people with disabilities, and dialysis patients. While the program doesn't usually cover custodial care, it may consider coverage for a short stay (100 days or less) as long as: 1) it's combined with skilled medical care that is prescribed by a physician, such as in a skilled nursing facility (see our guide to custodial care for more on this) or 2) in limited circumstances when a person receives home health services through a Medicare-approved agency.2 Depending on certain circumstances, Medicare can also be used in conjunction with private insurance. Generally speaking though, the program doesn't pay for stays in long-term care facilities or for custodial care costs except as noted above.
Did You Know: If your doctor recommends more services than Medicare covers, you may have to pay for some or all of the costs. Make sure you understand why your doctor is recommending certain services and find out if Medicare will pay for them. Check out Medicare's guide to home health services for more information.
Does Medicaid Cover Custodial Care?
Medicaid is a federal and state assistance program that helps with health care costs if there's a medical need for care. The stipulation is that the individual must meet their state's eligibility requirements. According to the Centers for Medicare and Medicaid Services, Medicaid may cover custodial care costs as long as care is provided in an approved facility, such as a nursing home setting, but not at home.3 However, the financial requirements can be strict. As with Medicare, state-administered service is limited and subject to specific situations and conditions. When it comes to Medicaid laws, there's no "one size fits all" since every state has different Medicaid regulations. It's important to check your state for care costs requirements.
What Are the Requirements for Medicaid to Cover Custodial Care?
In addition to meeting strict financial requirements, individuals must receive care within an approved facility. While benefits vary by state, some will cover adult day care and homemaker services for seniors who qualify. Note that Medicaid coverage typically begins once the beneficiary has exhausted their out-of-pocket private savings and assets. When determining whether you qualify for long-term care services, most states use a specific number of custodial care and other service needs to qualify for nursing care or home and community-based services.4 Go to Medicaid's website or visit your state's medicaid agency for more information.
Did You Know: According to AARP, more than 75 million Americans were enrolled in Medicaid, as of April 2021, including nearly 11 million who've signed up during the COVID-19 pandemic.5
Where Can I Find Medicaid And Medicare Custodial Care Near Me?
You can find a host of online information and resources on Medicare- or Medicaid-approved facilities near you that provide care coverage. Further, our senior living directory offers an excellent comprehensive database of additional resources, data, reviews, and tips on senior care complexes in your area. You can also check out the U.S. Administration on Aging's Elder Locator for extensive information on everything from senior housing to elder rights. And don't forget to contact your local senior community activity center for more support service assistance.
Did You Know?: The Program of All-Inclusive Care for the Elderly (or PACE) is a Medicare and Medicaid program that provides comprehensive medical and social services for certain participants, which enables them to continue living in the community instead of going into a nursing home.
How Much Does Custodial Care Cost?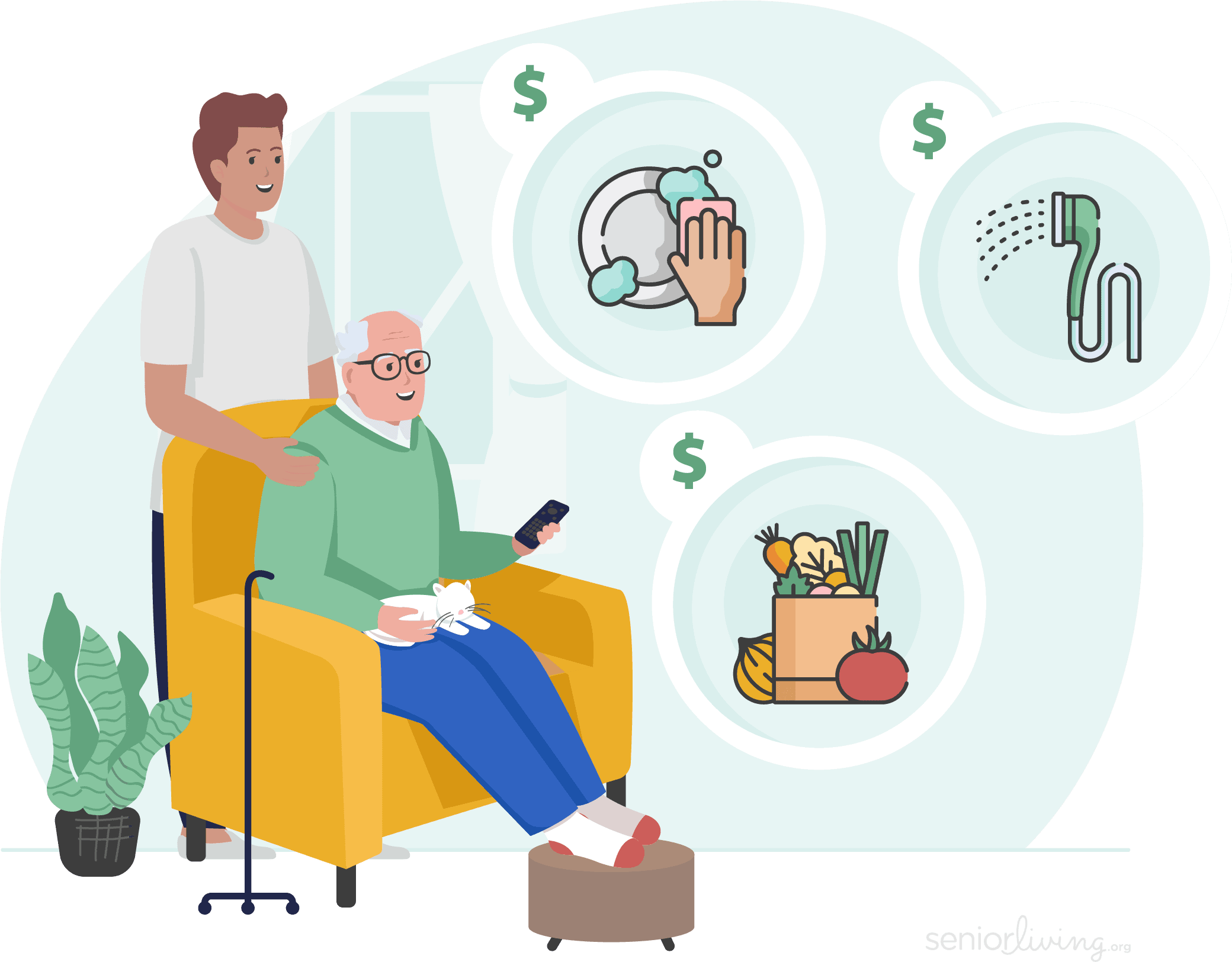 As noted earlier, many non-licensed caregivers are actually unpaid family members and friends. For others, however, custodial care costs can be pretty expensive and vary, depending on the service provided. Typically, you can expect to pay between $1,600 to $4,500-plus per month. However, a number of factors need to be considered before making a final decision. These include: the type of care required (part-time, fulltime, or as needed); whether you'll want in-home assistance or a facility; your area's cost of living; and your level of impairment and mobility.
How Else Can I Pay for Custodial Care Without Medicare or Medicaid?
Although Medicare and Medicaid only provide custodial care coverage in limited circumstances, the good news is that there are still other options you can explore. In fact, because of costs, many people choose a variety of payment methods for care. For instance, if there's still sufficient time before the need arises, you could buy an insurance policy that can be used for qualified home-care expenses through cash value or an accelerated death benefit. When used as a type of long-term care insurance, this is a popular – albeit expensive – way to pay for custodial care.
One benefit of this type of insurance is that, depending on circumstances, it can be combined with a Medicare supplement to extend coverage. Other potential sources include traditional health insurance plans, personal savings, pensions, investments and annuities. Many homeowners also consider taking out a reverse mortgage or home equity loan to help with costs. If you're a veteran, you may also be eligible for programs provided by the Department of Veterans Affairs.
Senior Living is an online lead generator that helps connect consumers with licensed insurance agents. MEDICARE ADVANTAGE AND PDP: This site provides referrals to representatives of Medicare Advantage organizations and stand-alone PDP prescription drug plans that have Medicare contracts. Enrollment in any plan depends on contract renewal. The plans represented do not discriminate on the basis of race, color, national origin, age, disability, or sex. To learn more about a plan's nondiscrimination policy, please contact the plan. For a complete list of available plans please contact 1-800-MEDICARE (TTY users should call 1-877-486-2048), 24 hours a day/7 days a week or consult www.medicare.gov. Generally, Medicare is available for people age 65 or older, younger people with disabilities and people with End Stage Renal Disease. You must have both Part A and B to enroll in a Medicare Advantage plan. Members may enroll in the plan only during specific times of the year. Some Medicare plans are not available in all areas, and costs, coverage, and benefits vary by location. MEDICARE SUPPLEMENT: Medicare Supplement insurance is available to those age 65 and older enrolled in Medicare Parts A and B and, in some states, to those under age 65 eligible for Medicare due to disability or End-Stage Renal disease. Medicare Supplement insurance plans are not connected with or endorsed by the U.S. government or the federal Medicare program. PRIVATE SITE: This is a non-government website, and is not endorsed by the Centers for Medicare & Medicaid Services (CMS), the Department of Health and Human Services (DHHS), or any other government agency. The purpose of this communication is to connect individuals with a licensed insurance agent. Contact will be made by an insurance agent or a phone representative who can connect you to a licensed insurance agent. AGREEMENT TO TERMS: If you use submit your information through this website, you agree to the Privacy Policy and Terms & Conditions linked below, and to be contacted by a licensed insurance agent or a phone representative who can help connect you to a licensed insurance agent in your area to help review your coverage and options. NOT ALL PLANS OFFERED: The licensed agent to whom you are connected may not offer all plans in your area. Any information provided is limited to those plans the licensed agent does offer in your area. To explore all plans, please contact Medicare.gov or 1-800-MEDICARE.
MULTIPLAN_QM2022111DLWB_M