Starting Fresh After 50
Of all of the places in which Americans can retire, one of the most popular and often stereotyped is Florida. The U.S. Census Bureau projects that the senior population in the Sunshine State will double by 2030. While Florida may be the most well-known and quintessential retirement destination, it's definitely not the only option for Americans looking to relocate during their golden years.
We examined a decade of migration data to learn where Americans move once they hit the age of 50. While people in this age group don't move across state or city lines at the same rate as Americans in their 20s, they are still moving into new homes from California to New York.
Whether you're considering retirement relocation or are interested in migration trends in the U.S., read on to see which metropolitan areas have seen the greatest change in the number of people aged 50 and older who've migrated over the last 10 years.
Migration Map
When looking at domestic migration patterns of people aged 50 and older, the most popular states for relocating to included Florida, Arizona, and Texas. In fact, these states have tax benefits that are especially helpful to this particular age bracket. Texas and Florida have no state income tax, and Arizona does not tax Social Security income.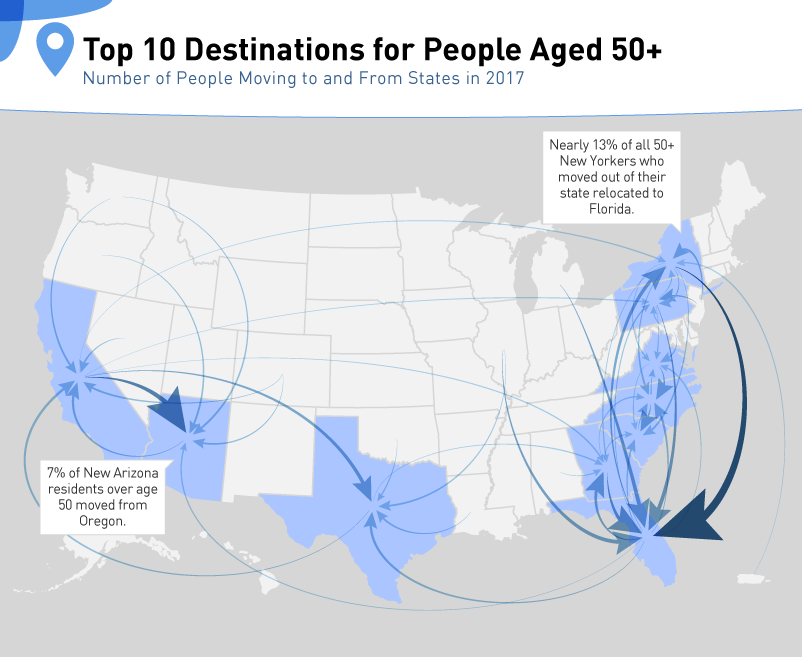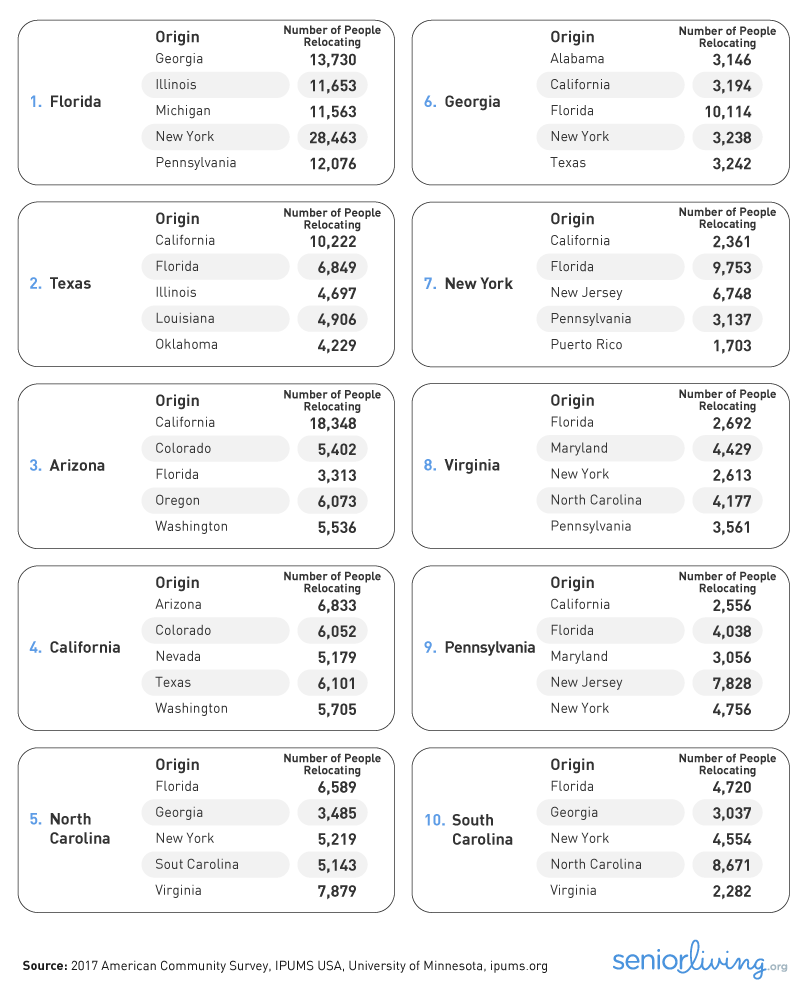 According to the American Community Survey, these states had the most residents aged 50 and older who migrated from out of state in 2017:
Florida: 222,475
Texas: 90,571
Arizona: 85,541
California: 85,289
North Carolina: 64,922
Georgia: 52,454
New York: 44,055
Virginia: 44,034
Pennsylvania: 42,273
South Carolina: 42,255
Relocations along the East Coast were also common. Florida and Georgia topped the list of places to retire because of their affordability and climate. Check out the interactive map above to compare movement patterns for Americans aged 50 and older.
Popular Places to Move at Any Age
The U.S. Census Bureau reports that moving is at an all-time low. In fact, recent relocation numbers show that moving rates from 2015 to 2016 fell to 11.2% nationwide. We found that the rate of moving for those aged 50 and older was much lower than for younger Americans. Younger people may be more open to picking up their life and moving for jobs, education, relationships, or to experience new things. This is a steep decline from 20.2%, the rate of domestic relocation in 1948 when the U.S. government began tracking this data.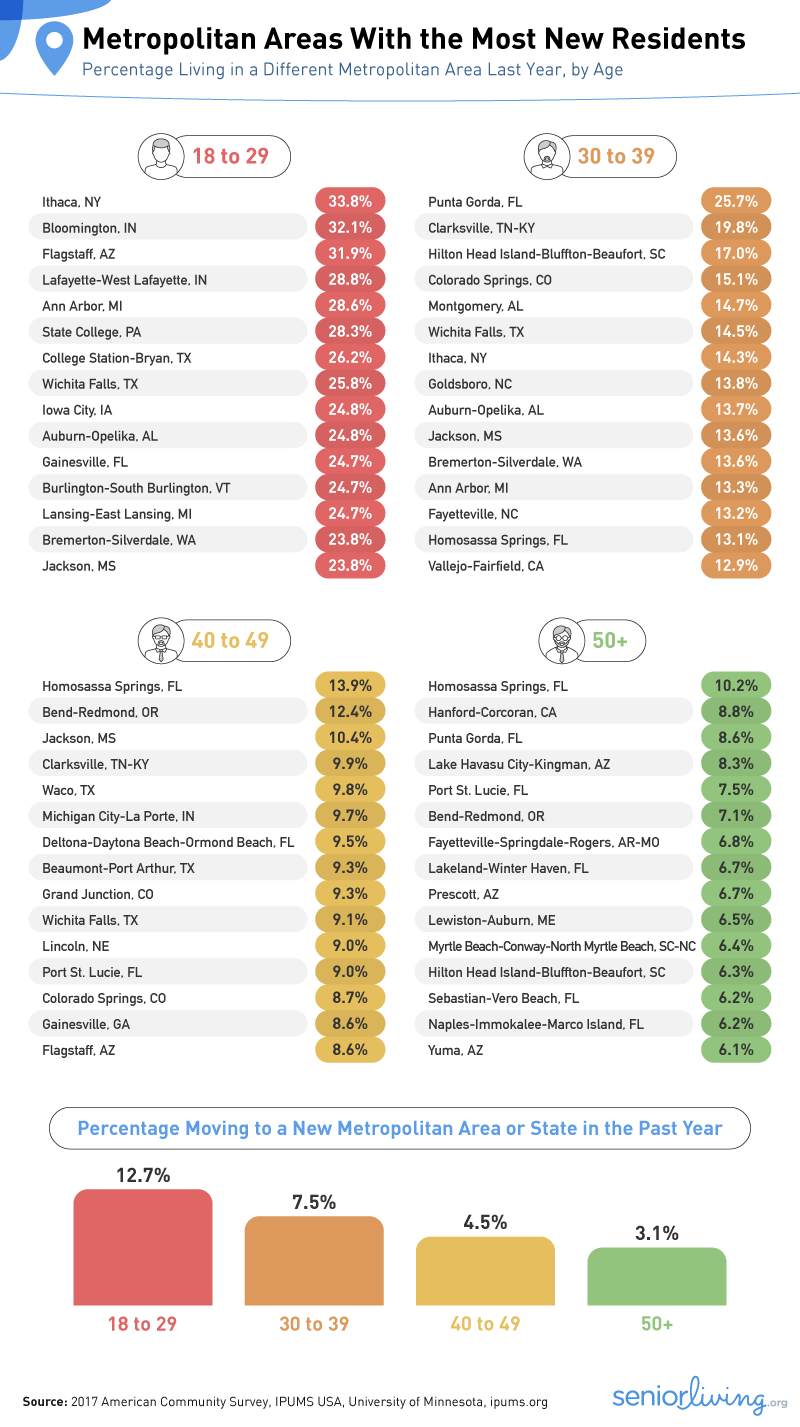 Our exploration of the data revealed that where Americans moved varied based on their age. For example, some of the metropolitan areas with the most new residents aged 18 to 29 were major college towns like Ithaca, New York; Ann Arbor, Michigan; State College, Pennsylvania; and Gainesville, Florida. This reflects a nationwide trend: Across the country, public university students are less likely to be state residents than in the past.
Different areas seemed to appeal to the older generations of Americans. Six out of 15 of the metropolitan areas with the most new residents aged 50 and older were in Florida, and another three were located in the South. And around 10% of these residents in Homosassa Springs, Florida, were new to town. This historic area is now one of the nation's premier fishing locations.
According to the most recent American Community Survey, these metropolitan areas had the highest overall concentrations of residents aged 50 and older in 2017:
Punta Gorda, FL: 62.8%
Homosassa Springs, FL: 58.9%
Prescott, AZ: 54.3%
Sebastian-Vero Beach, FL: 54.3%
North Port-Sarasota-Bradenton, FL: 53.1%
Barnstable, MA: 52.8%
Lake Havasu City-Kingman, AZ: 52.7%
Naples-Immokalee-Marco Island, FL: 51.1%
Ocean City, NJ: 48.7%
Ocala, FL: 48.3%
Cape Coral-Fort Myers, FL: 48.2%
Myrtle Beach-Conway-North Myrtle Beach, SC-NC: 47.5%
Port St. Lucie, FL: 47.5%
Deltona-Daytona Beach-Ormond Beach, FL: 46.9%
Palm Bay-Melbourne-Titusville, FL: 46.8%
Santa Fe, NM: 45.9%
Pittsfield, MA: 45.7%
Salisbury, MD-DE: 45.2%
Hilton Head Island-Bluffton-Beaufort, SC: 45.2%
Johnstown, PA: 44.6%
Fastest-Growing Cities for Residents Aged 50 and Older
Although Midwestern states may not be on your radar for retirement, don't discount them just yet. Many Midwestern states have seen great increases among the older demographic. Sheboygan, Wisconsin, for example, reported 8.2 times more older transplants during 2017 than in 2007.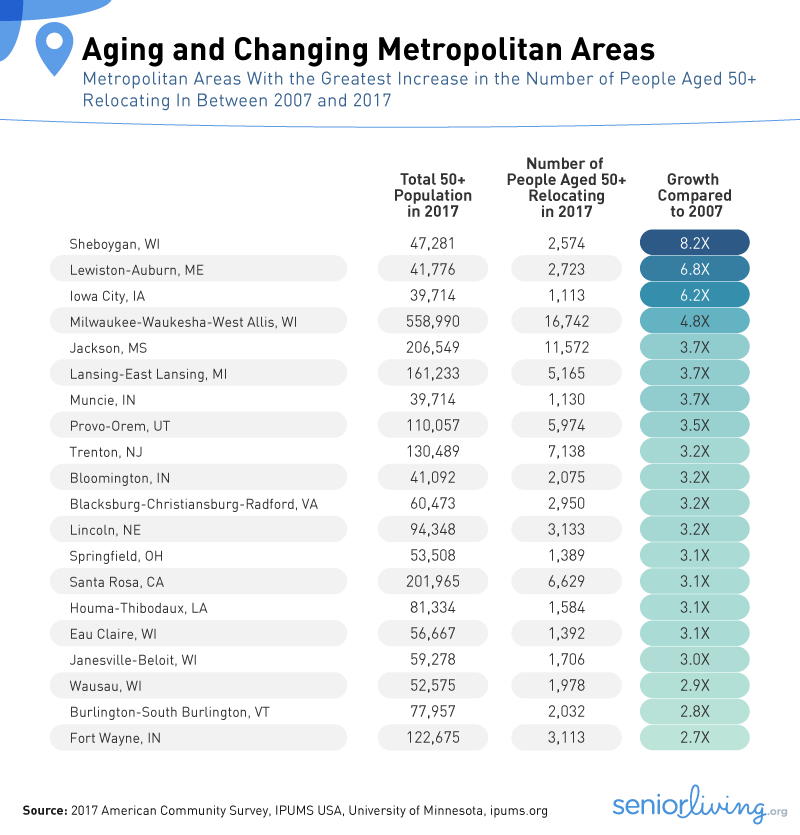 For many retirees, cost is an essential factor when deciding where to settle. The St. Louis Business Journal also says home prices and mortgage rates are lower in the Midwest than in other regions, an appealing quality shared with transportation and grocery costs.
Even though health care costs in the Midwest might be higher, the savings opportunities in other areas of life are numerous. This trend is attracting attention: Without international migration, New York City's population would decrease due to people moving from the Northeast.
Popular Places for Retired Americans
In 2017, the most recent year data was available, around 41% of people aged 50 and older who moved to a new city or state were unemployed. Choosing where to retire is one of the most important decisions you can make and shouldn't be taken lightly.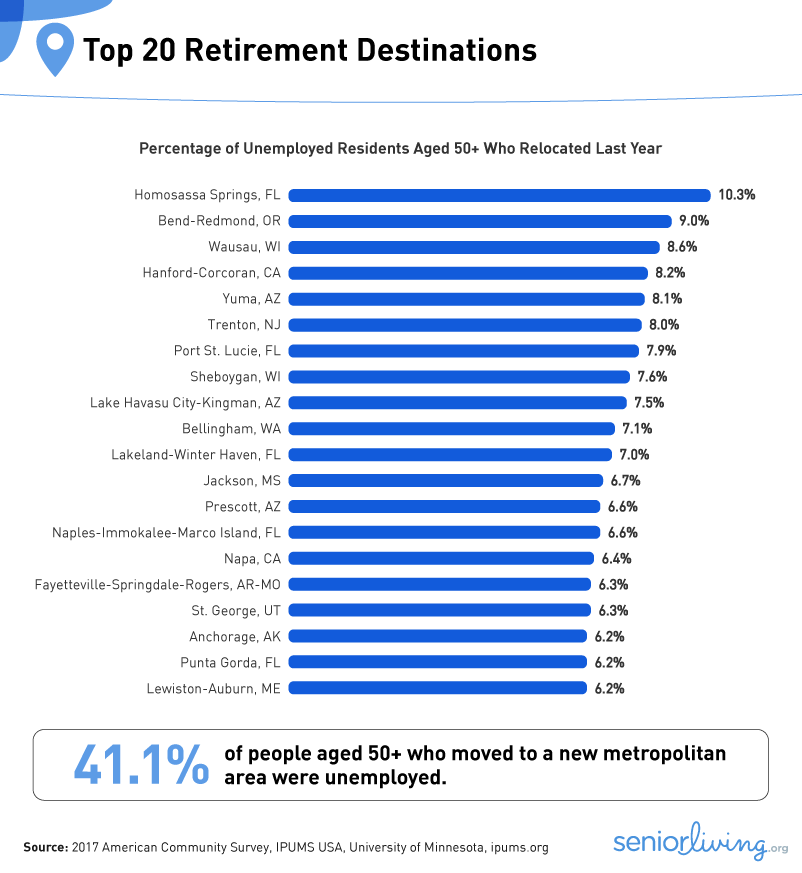 Multiple Florida cities landed at the top of the list and are already popular destinations for the retired or otherwise unemployed crowd. Places like Oregon and Wisconsin are also attractive to unemployed Americans.
In 2017, the Bend-Redmond, Oregon, metropolitan area had one of the highest rates of unemployed transplants aged 50 and older. In addition to the influx of older people moving from out of town, the entire county surrounding Bend has one of the fastest-aging populations in the state. Although Oregon has a higher-than-average cost of living, it might be a great option for retirees who are looking to make the most of what nature has to offer.
Conclusion
Retirement is a phase of life that many Americans spend decades preparing for. With consideration for changes like decreased income and more free time, transitioning into a retiree can be difficult.
Business Insider suggests factoring in finances, health care needs, the standard of living, and specific retirement goals, while also remembering to be flexible. Also, be prepared for things like your social life and daily experiences to change. Planning for retirement is not one-size-fits-all, so be sure to choose the best city for your lifestyle and goals, whether it topped our list of popular retirement locales.
Methodology
For this study, we analyzed data from the 2007 and 2017 American Community Surveys (ACS) through the Integrated Public Use Microdata Series (IPUMS) maintained by the University of Minnesota. With this information, we explored the rates of people who'd moved since the previous year's survey.
The ACS is a 1-in-100 national random sample of the population. The data include people in group quarters. The sample data are weighted so that they are representative of the United States population.
We used the MIGRATE1 variable for much of our analysis in this campaign. This variable reports "whether the person had changed residence since a reference point 1 year ago." Participants also indicated the city, state, or country in which they lived the previous year. For many of our visualizations, we grouped respondents who'd reported moving between states, cities, or countries. We did not count individuals who moved within a town or remained in the same household.
Limitations
Cities with fewer than 5,000 total residents were not included in the analysis titled, "Aging and Changing Cities."
No statistical testing was performed, so the claims listed above are based on means alone. As such, this content is purely exploratory, and future research should approach this topic in a more rigorous way.
Fair Use Statement
Retirement is an important issue to discuss, no matter how old you are. We want to share valuable resources with you so that you can share them with your friends and loved ones for noncommercial purposes, but please don't forget to reference this article when talking about what you've learned.