What Is the Alzheimer's Association Helpline?
The most common form of dementia, Alzheimer's disease, is a progressive illness that causes gradual mental decline, including memory loss, wandering, and trouble taking care of the normal activities of daily living.
Caring for someone with Alzheimer's can be exhausting, lonely, and overwhelming. The Alzheimer's Association Helpline is a 24/7 service that connects seniors, their caregivers, and their loved ones with master's-level clinicians who are qualified to give advice on a wide range of Alzheimer's-related topics. Whether you're an adult child with questions about dementia, a caregiver struggling with burnout, or an older adult wondering if you're experiencing Alzheimer's symptoms, this 24/7 hotline is an excellent resource to have on speed dial.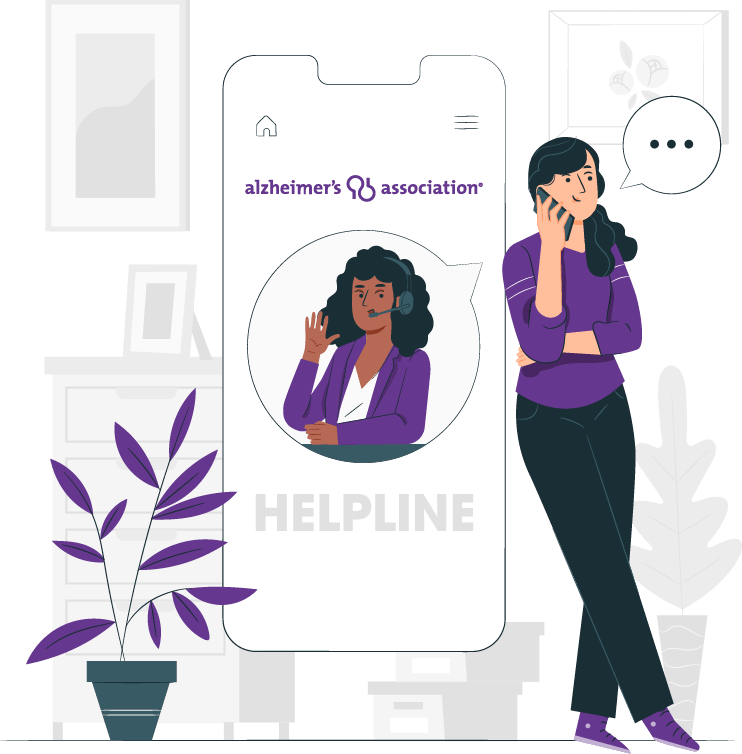 What Services Does the Alzheimer's Association Helpline Provide?
The helpline is there for families in crisis, those who are feeling confused or overwhelmed, and those trying to make complex caregiving decisions. For example, you might call to discuss:
Treatment options
Legal documents, such as power of attorney forms
General information about the disease and its typical progression
Safety concerns
Caregiver stress and burnout
If appropriate, the helpline can connect you to local resources in your area, such as community programs for people living with Alzheimer's disease.
Who Is the Alzheimer's Association Helpline Useful For?
The helpline is designed for anyone living with Alzheimer's, caring for someone with Alzheimer's, or simply wanting to learn more about the disease. Whether you're concerned that your memory lapses could be an early sign of the disease or you are looking for a safe living arrangement for a relative with advanced Alzheimer's, the helpline is always a great place to start.
How Do I Contact the Alzheimer's Association Helpline?
There are three different ways to contact the Helpline:
Call (800) 272-3900 anytime, 24 hours per day, 365 days per year. Or dial 711 for a TRS operator if you have hearing loss.
Live chat from the main Alzheimer's Association Helpline website (available 7 a.m. to 7 p.m. CST, Monday through Friday).
Send an email; someone will get back to you within 24 hours.
About the Alzheimer's Association
Founded by a group of family caregivers in 1980,1 the Alzheimer's Association has evolved into the premier voluntary organization for supporting Alzheimer's patients and caregivers while driving research to help end the disease. The Alzheimer's Association website is an extremely valuable resource for people living with Alzheimer's and their loved ones, providing information on the disease and online tools to help families find local resources.
The Warning Signs of Dementia
To learn more about dementia, Alzheimer's, and the warning signs to look out for, watch the video below. Geropsychologist Abby Altman, Ph.D discusses symptoms and how loved ones can tell the difference between typical memory decline and dementia.