The Buying Experience With Mint Mobile
Like its virtual towers, Mint has no actual physical brick-and-mortar stores, so purchasing your plan is done online. But even if you like getting help from a live human, like we did when we reviewed T-Mobile, don't stress just yet. Getting set up with Mint is actually a piece of cake. Their website is a breeze to use.
That isn't to say that getting set up with Mint doesn't take a few steps. It does. So I'm going to start at the very beginning with a few quick pre-purchase checks you'll want to make before you enter your credit card information.
Checking Mint Coverage in Your Area
As you can see from the map above, Mint has pretty good coverage. Still, it's better on the East Coast, and could be spotty in the rural West. When I typed in my ZIP code — I'm on the East Coast but not in a big city — I was good to go. I recommend you do the same.
Did You Know: 5G connections can reach speeds of 10 gigabits per second (download). That's 100 times faster than 4G!
Mint Mobile is a mobile virtual network operator (MVNO), which means it piggybacks off the infrastructure of another mobile provider; in this case, T-Mobile. In other words, when you make a call with Mint, you're actually connecting to one of T-Mobile's towers.
Running the Mint Phone Compatibility Checker
Rather than pushing new phones with multi-year contracts on new customers, Mint Mobile lets you bring your own phone. Personally, I love this. Or, rather, I love my iPhone.
So I was relieved that I didn't have to buy a phone through Mint to use their service. (You can if you want. More on this below.) I just brought my own phone, or BYOP, as they say at Mint Mobile. But first, I had to make sure it was compatible and unlocked.
Unlocked phones, by the way, are just phones not tied to any particular carrier. For instance, if I had signed a three-year contract with Verizon for my iPhone, I couldn't have taken that phone and started using Mint. That phone would have been locked. Mine was fine. One check down.
The final check — phone compatibility — was easy with Mint's phone compatibility checker (see below). I just typed in my brand and model, and voilá. Now I was ready to select a Mint plan.
Purchasing Your Mint Mobile Plan
Mint's plans are prepaid, so you need to pay for your minutes (and data) in advance. Purchasing my package was easy. I just clicked "shop plans," chose my plan (the Unlimited Plan for $30 per month), and gave Mint my credit card details. I was now on Team Mint. Or almost. I still had to wait two to three days for Mint to deliver my 3-in-1 SIM kit. Then I had to activate it. Next-day air delivery was an option, too, for an extra $15.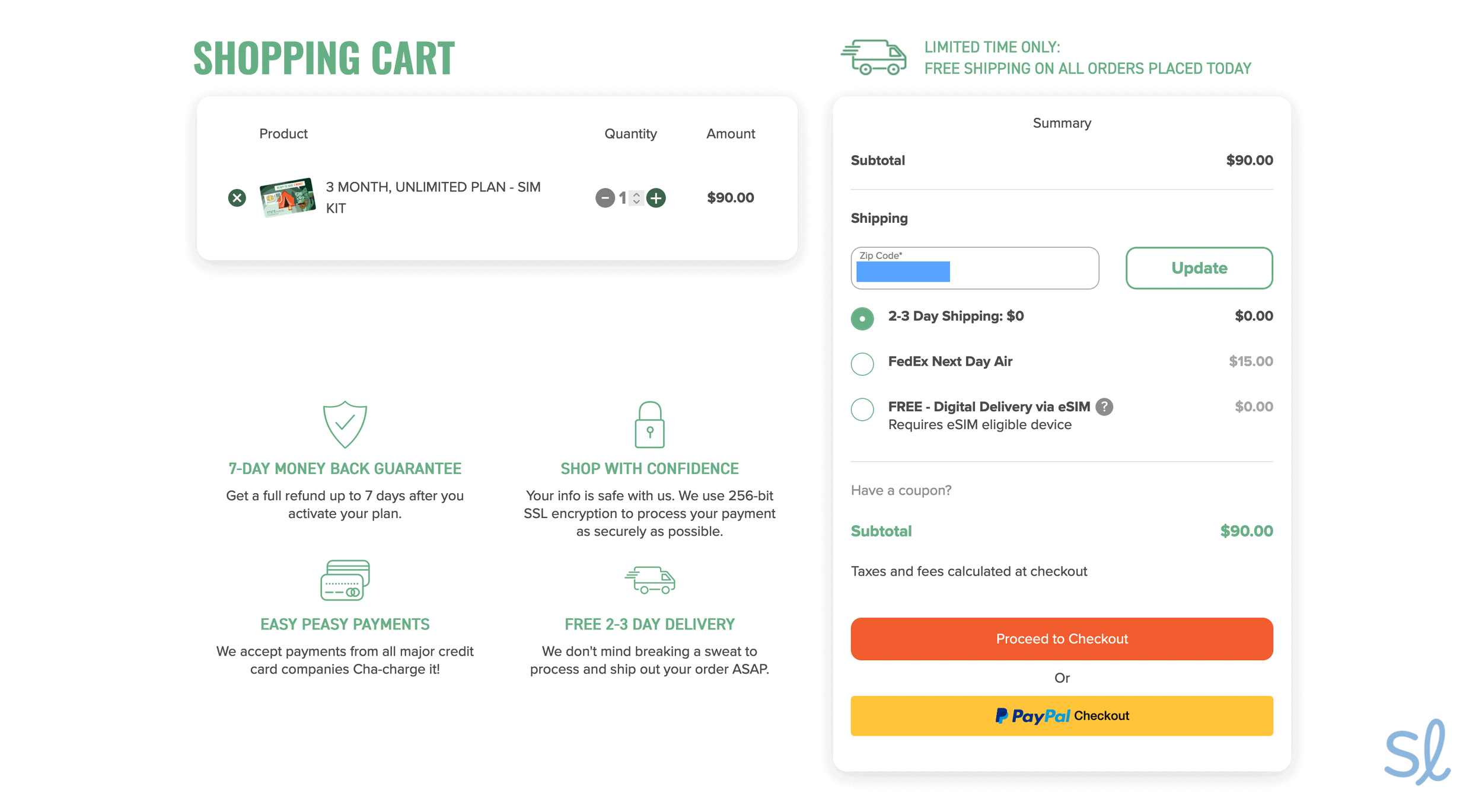 Buying in Bulk Can Help You Save
Keep in mind that when you sign up for Mint, you're selecting a three-month plan with a new customer rate. After the first three months, you'll have the choice between committing for a three-month, six-month, or 12-month period. The longer you commit, the cheaper the monthly rate will be. Not bad. We'd recommend buying in bulk (12-month periods) for the best rates.
Beware of the Data Cap
One thing to note is that Mint's Unlimited Plan isn't actually unlimited. However, unlike some other mobile carriers, they're not trying to hide this. If you exceed 35 GB of data — your monthly allowance — you'll experience lower 2G speeds with 480p video until the end of your billing period.
Just for the record, 480p video, while technically standard definition, won't disrupt your mobile experience. 2G speeds could be a pain, say, if you're on your way to visit the grandkids in Topeka and Google Maps is still back in Kansas City.
But there are plenty of ways to save data so this never happens. You can use Mint's Wi-Fi Calling and Text feature when you're at home or on trusted networks.
Activating Your Mint Mobile Plan
When my SIM kit arrived in the mail, making my iPhone usable involved two main steps: entering my activation code and transferring my phone number. Like the purchasing process, the SIM activation process is handled online via the Mint Mobile website. My only caveat? Pay attention when you're activating your SIM because this involves your phone number and you don't want to create any headaches for yourself there. Ready?
First, I clicked the "Activate" tab at the top-right corner of the Mint website (just to the left of "Log In").
Pro Tip: When it's time to activate your new Mint SIM, don't forget to have your account login info (username and password) from your current carrier handy!
Next, I located the card Mint sent me in the mail (the one with my SIM stuck to it), flipped it over, and found my activation number. It's the 11-digit number on the top right. I typed that number into the website, double-checked it (always double-check!), and hit enter.
Next, I was on the "New or Existing Number" screen. I wanted to keep my existing number, as most of us do, so I clicked "Transfer an existing number." (If I wanted a new number, that would have been easy, too. I'd just have clicked "Get a new number.")
This is the point where I needed the login info from my current carrier. I had to enter it here — along with my phone number and a few other details — so Mint could take over my phone number.
After that, I was pretty much done. I just popped open my SIM tray and inserted my new SIM. Then I waited 24 hours for my confirmation text. (It actually arrived in about 10 hours.) Now, I was officially on Team Mint!
Toolbox: Once you insert your SIM and activate your plan, you still might need to configure your data settings so that you can use your mobile data. With Mint, this is easy. If you've got an iPhone, just text "Mint" to the number 6700, and they'll send you the settings via text. If you've got an Android phone, you'll get that message automatically.
As far as setups go, Mint's is pretty straightforward. But if you zoned out when you saw "activation code," check out Mint Mobile's activation tutorial. It's got a cute little fox and plenty of visuals to keep you focused.