In 1998, adults ages 55 and older represented 12 percent of the American workforce. Twenty years later, this group represents 23 percent of the workforce, the largest labor force share of any age group. By 2028, nearly one in three people between the ages of 65 and 74 are expected to remain in the labor force, and more than 12 percent of people 75 and older will still be working, roughly tripling the rate at which the oldest Americans were working two decades ago.
The growing economic devastation wrought by COVID-19 has impacted older adults as the unemployment rate for workers age 55 and higher jumped from 2.6 percent in February to 13.6 percent in April.  As the economy reopens in the coming weeks and months, the lasting impacts are likely to disproportionately impact seniors for two reasons.  First, many seniors are not in jobs that take advantage of trends in remote work.  Second, older adults may be encouraged by health authorities not to return to jobs that are unable to social distance.
Take bus drivers for example, where over 45 percent of this profession are age 55 and up, or ushers, where more than 25 percent are at least 55 years old. This report looks at the jobs that are most common for seniors, how have their labor force participation rates changed over time, and what impacts might arise from the COVID-19 crisis. We also compare the labor forces of each state.
Key Findings:
In all 50 states and the District of Columbia, at least 20 percent of adults ages 65 to 74 are in the workforce.  In seven states, more than 30 percent are working.
Since 2013, 46 of 51 had seen increases in workforce participation of 75-and-older residents.  Seven states posted 20 percent gains, including Vermont, West Virginia, Maine, Georgia, Michigan, Rhode Island, and Connecticut.
Seniors represent significant portions of the workforce for many professions that require close contact with others, including bus drivers, ushers, ticket takers, taxi drivers, street vendors, chiropractors, dentists, barbers, and many more.
Following the Great Recession, it took an average of nine months for unemployed adults ages 51 to 60 to find a job compared to six months for younger workers.
Senior Jobs & COVID-19
The economic impact of COVID-19 continues to unfold, and unemployment has risen sharply for seniors at 13.6 percent in the Bureau of Labor Statistics (BLS) April report.
Overall, about one in five workers are employed in the sectors that have been most heavily affected by the coronavirus slowdown — industries like restaurants and bars, entertainment, travel and transportation, personal services, retail, and manufacturing, according to a BLS analysis.
Older adults make up a large percentage of many of the jobs in these industries. For example, nearly half of bus drivers are older than 55, while almost 1 in 5 ticket takers and ushers are 65 or older. And although the BLS didn't specifically call them out, farmers have also been impacted by the toll of the virus, with both prices of commodities and consumption declining. The median age of farmers and ranchers in the U.S. is 56.1 years old.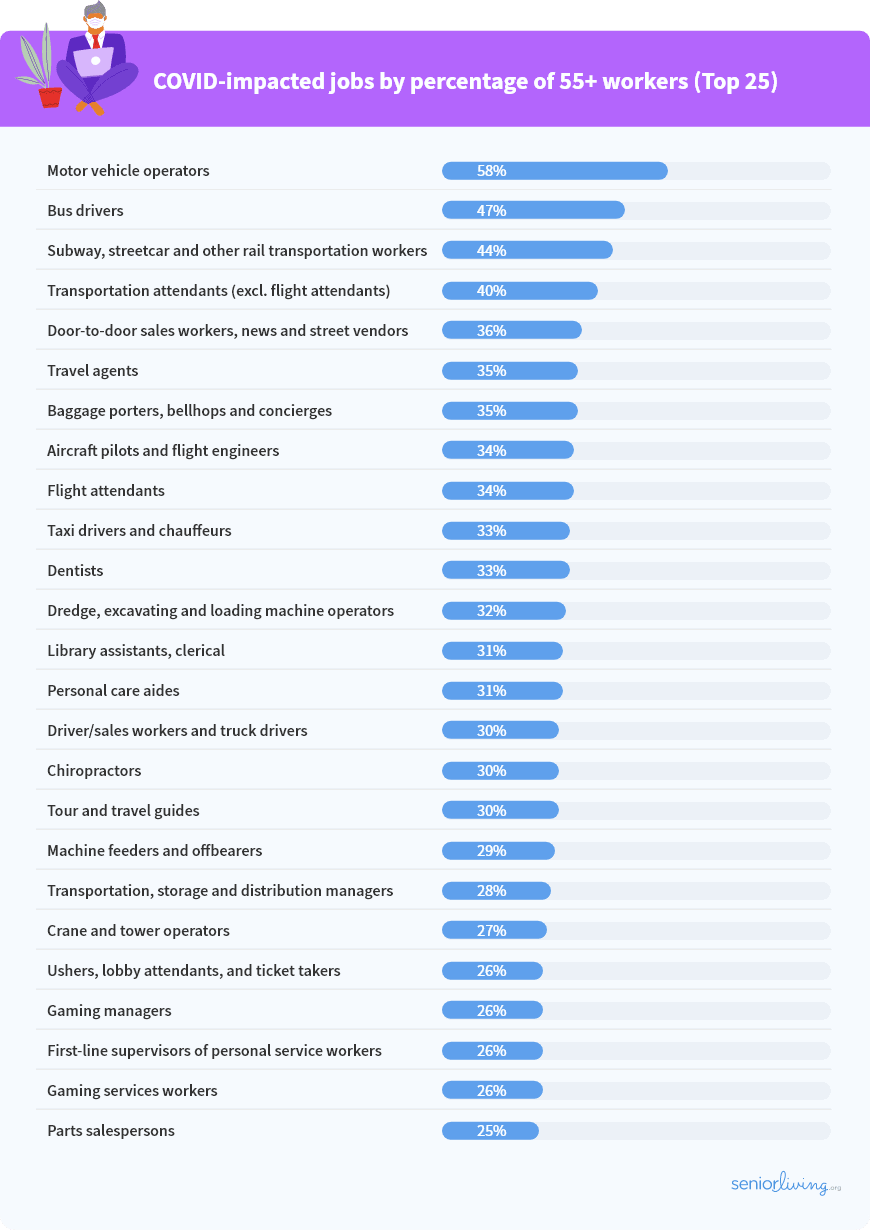 In addition to the shedding of millions of jobs in the short term, it's likely that older workers will have a more difficult time finding new jobs once life gets back to normal — or close to it. In the Great Recession of 2008, about half of those between 25 and 34 who lost their jobs had found new ones within six months. But for people between 51 and 60, the average time spent unemployed as a result of recession-related job loss was nine months.
Other Typical Jobs for Seniors
Given that they are at or near the end of their working careers, seniors are often employed in management roles and jobs that require extensive training and certification, but older workers tend to be employed in all sectors of the economy, from professional services to transportation to farming.
For example, about one in five people employed in architecture and engineering are between the ages of 55 and 64, according to data from the BLS, and roughly the same percentage of those in management occupations are in that same age group. Similarly, nearly 13 percent of individuals employed in legal occupations are 65 or older, reflecting the importance of experience and training in these types of jobs.
When it comes to specific job titles, a few roles are much more common for older adults than for others. For example, nearly 80 percent of funeral service managers are 55 and older, compared to much more physical roles like fence builders (7.3 percent) or lifeguards (5.8 percent).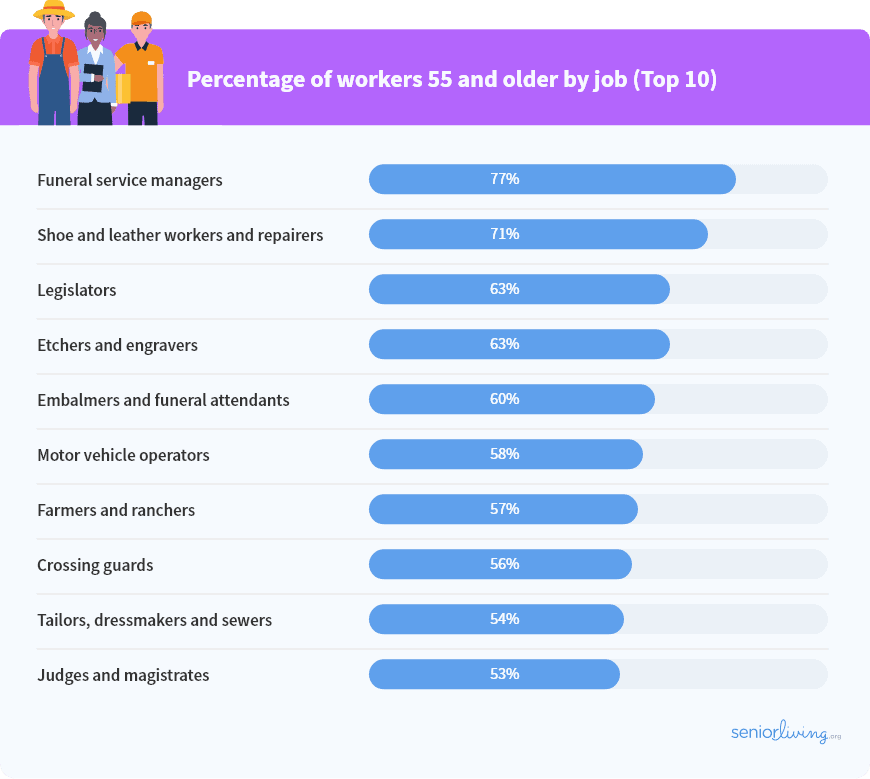 Notably, when breaking the age group down into more detail, interesting differences emerge. For example, 37 percent of legislators are 65 and older, and about one in four nuclear engineers are in that same age group, while those between 55 and 64 account for 48 percent of financial examiners.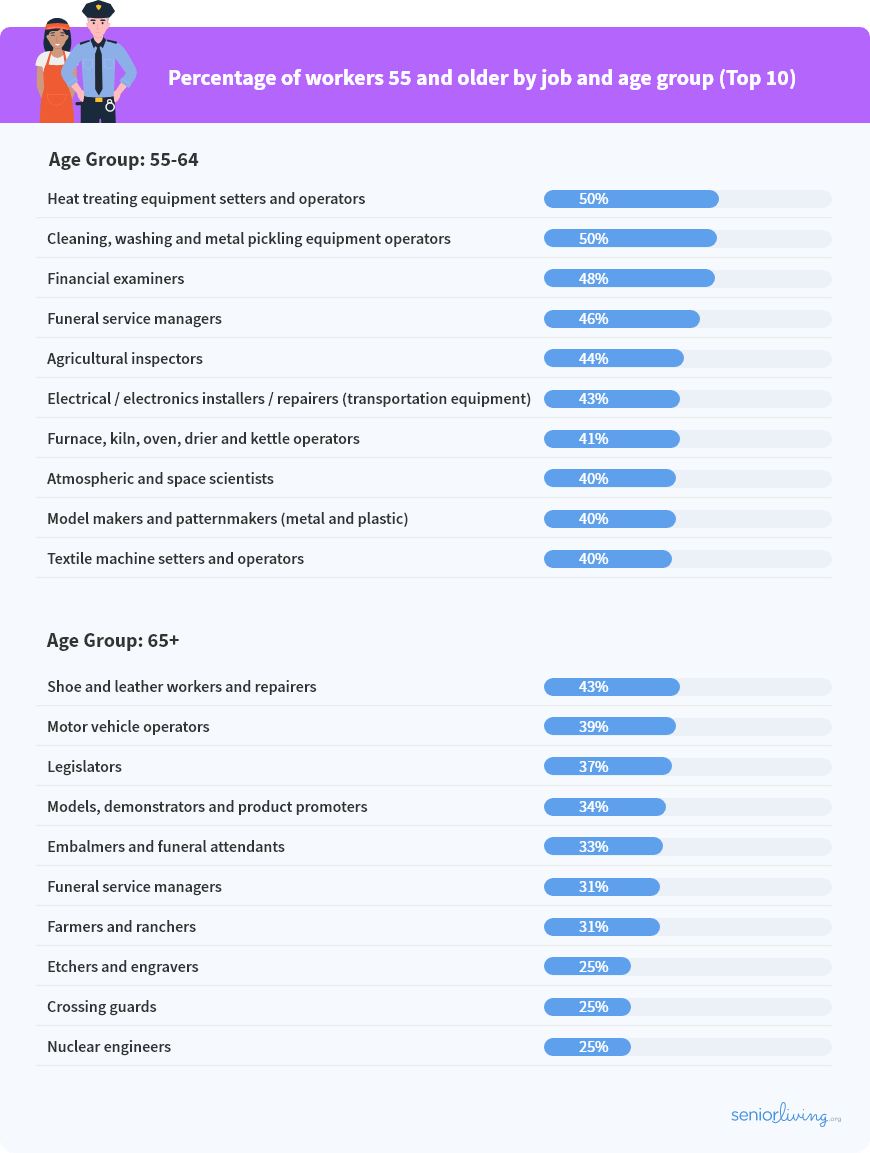 Where Does Your State Stand?
Overall, about 24 percent of those 55 and older are actively participating in the labor force, meaning that if they're not currently employed, they are looking for a job and/or collecting unemployment. But those numbers drop considerably for the oldest workers.
To give perspective on the growth of older adults in the workforce, this chart shows the steady rise since 1998.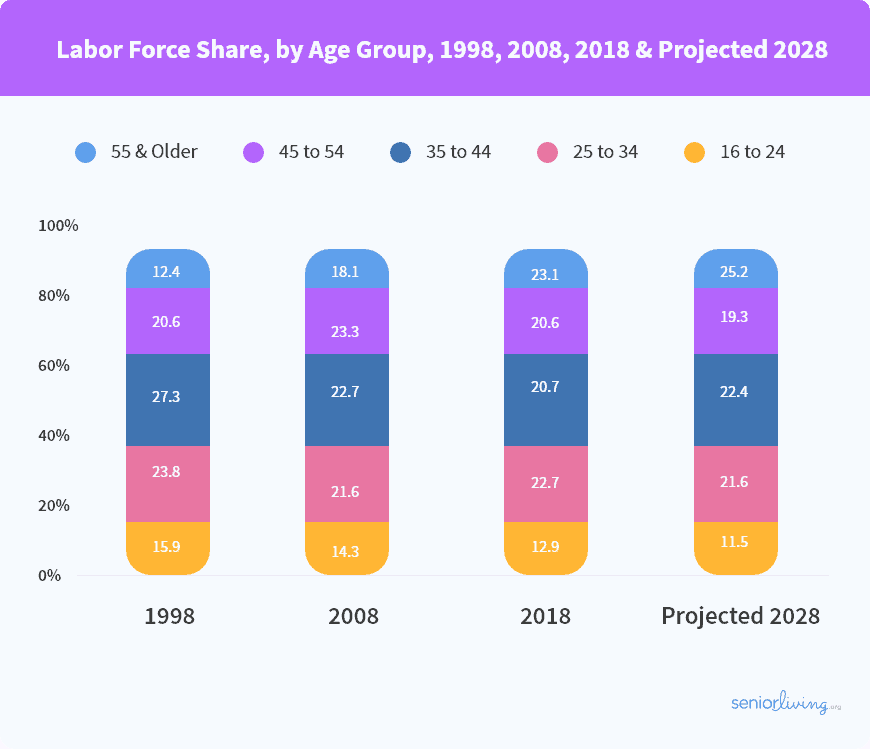 About two in three of those between 55 and 64 — in other words, pre-retirement — are in the labor force compared to only about nine percent of those 75 and older, according to data from the U.S. Census Bureau. But those numbers vary by the state, with nearly three-quarters of Nebraskans in the 55 to 64 age group remaining in the workforce and more than one in 10 D.C. residents 75 and older still working.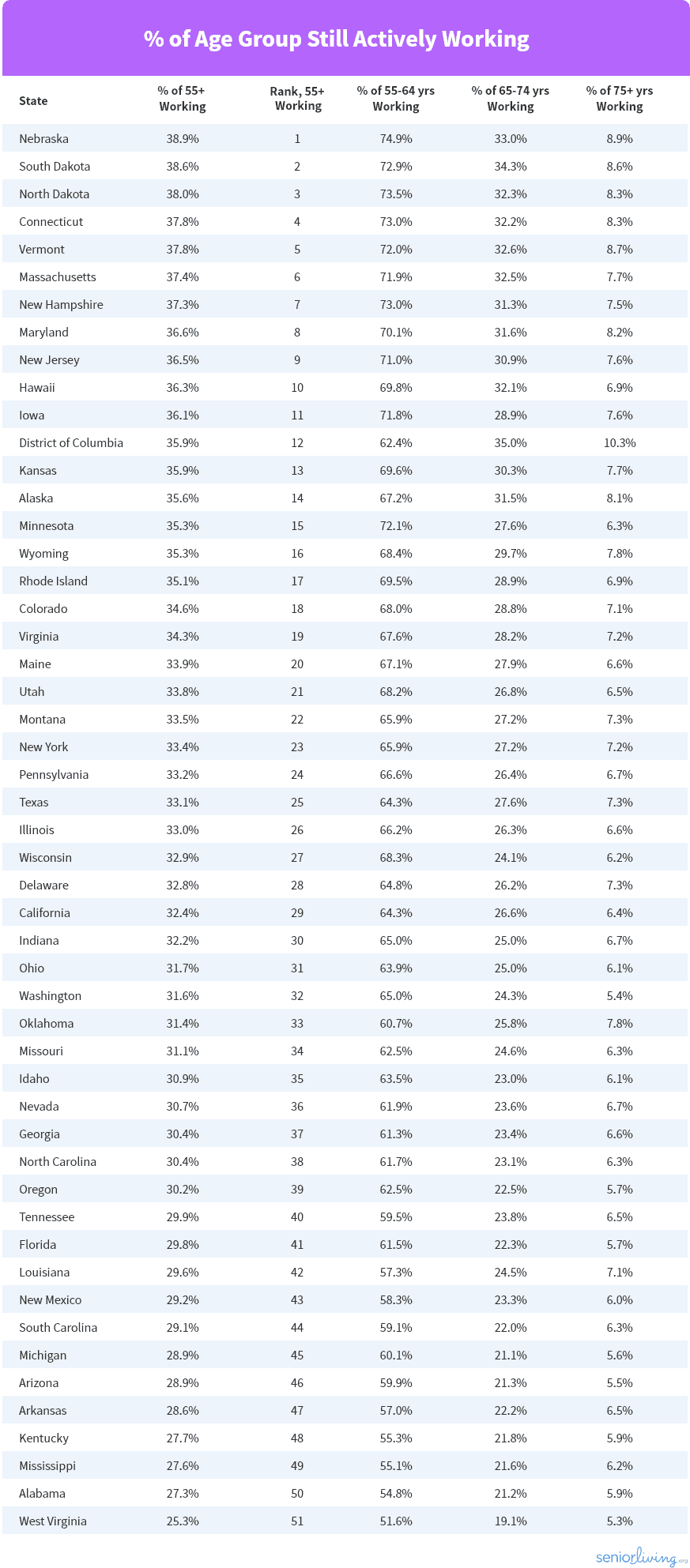 In most states, the percentage of adults 75 and older still in the workforce has risen over the past several years, with Vermont leading the nation thanks to a 24.3 percent increase in this rate between 2013 and 2018, according to five-year Census estimates published in those years. Only four states have seen labor force participation by this age group decline in that time.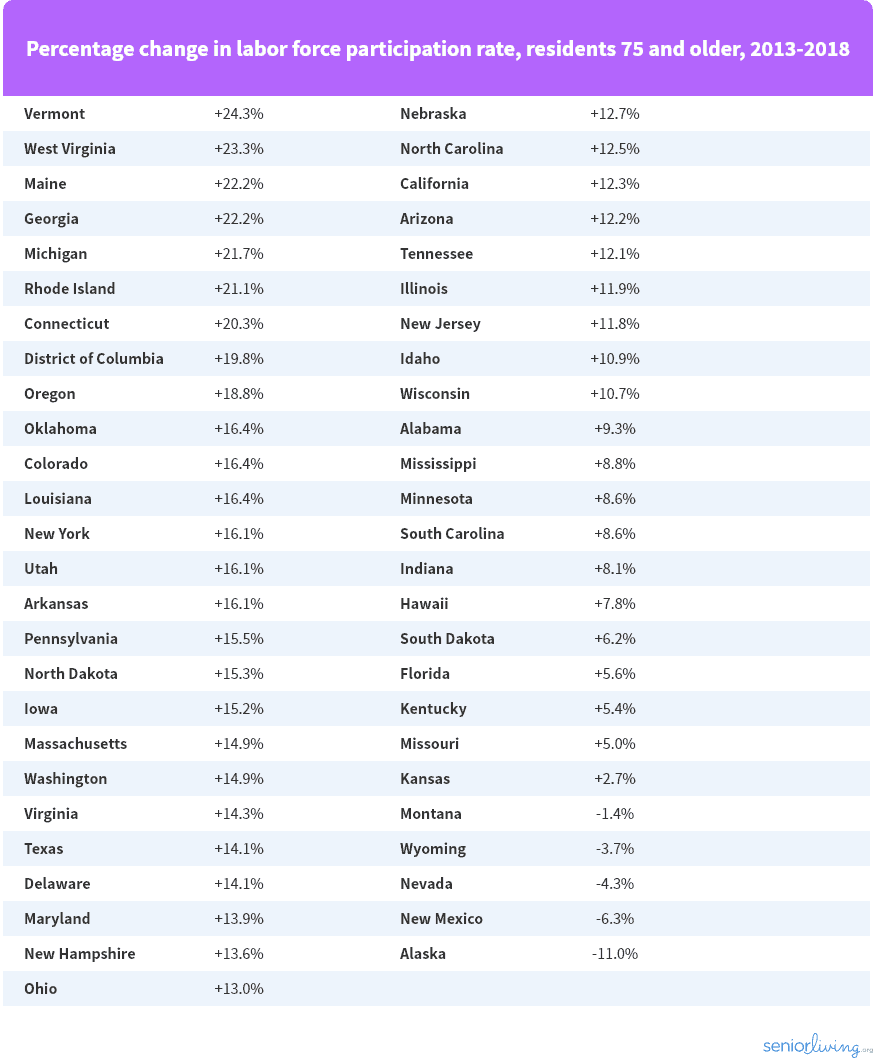 Conclusion
Even before the coronavirus crisis, the possibility of a relaxing retirement free from labor depended on a huge range of factors, and many workers assumed they would need to maintain part-time employment in retirement — about 65 percent of non-retirees in a 2020 study (conducted pre-crisis) said they expected they'd need to continue working in retirement. The uncertainty created by the coronavirus crisis creates a new challenge – finding a job that is safe and secure.
About SeniorLiving.org Research
SeniorLiving.org is where seniors and their loved ones can find and compare housing options for seniors, including assisted living, in-home care, and everything in-between. We publish research on issues facing assisted living and aging, and cover governmental programs, and economic and social issues facing seniors. Data for this report is from the Bureau of Labor Statistics from 2013-2018, the United States Census Bureau and the Department of Labor.  See also our accompanying research on financial confidence of seniors.