From the very beginning of the COVID-19 pandemic, evidence was clear that those in higher age brackets were at elevated risk of becoming seriously ill or even dying from coronavirus. Further evidence suggested that people living in close proximity to others were also at increased risk of contracting and spreading the virus.
There's one group of people who overlap both of those conditions — residents of nursing and long-term care facilities. Recent figures indicate that more than a million Americans live in such places, and a New York Times analysis found that almost two in five COVID-19 deaths have been of nursing home residents and staff members.
COVID-19 infections and deaths have risen and fallen across the country throughout the spring and summer, sometimes with conflicting evidence to suggest a cause. As coronavirus deaths began to surge in April, nursing homes and long-term care facilities across the country instituted policies barring visitors.
The research team at industry-leading location-data company X-Mode supplied us with de-identified visit data to nursing homes across the country from a sample of tens of millions of de-identified users so we could study changes in patterns of people visiting nursing homes during three specific weekends in March, April, and June. We chose the weekends of March 8th, April 12th, and June 28th to represent travel patterns prior to the economic shutdown, in the midst of the shutdown, and as the economy has been mostly reopened with social distancing.
Our major findings:
Nationally, visits to nursing homes fell by 53 percent between March and April. Because data is de-identified, we consider this total "traffic" to nursing homes, inclusive of staff, vendors, and visitors.
Between April and June, visits to nursing homes rebounded substantially, but visits during the weekend of June 28th were still down 33 percent compared to March.
The data also showed how many other locations people visited on the days they visited nursing homes.  The average nursing home visitor went to 4.6 locations in March, 3.3 locations in April, and 4.5 locations in June.
We had statistically meaningful data for 26 states. In all states but California, nursing home visits rose between April and June.
How Did Nursing Home Visits Change?
The first period in our data set was the weekend of March 8, which was before the first lockdowns began. States and cities began putting stay-home orders in place, generally starting in late March, which halted many aspects of daily life.
Most of these restrictions lasted through the end of April, though a handful extended into May. In addition to orders to stay home unless travel was necessary, mask-wearing became much more common and, most importantly to our analysis, nursing homes began tightly restricting visitors. For many, that meant cutting off visits entirely.
The data shows a huge drop in visits to nursing homes as well as a decline in the number of locations visited per trip. Comparing the weekends of March 8 and April 12, visits to nursing homes fell by more than half (53 percent, to be exact).
Further, the average number of places each person visited during the same day in which they also made a visit to a nursing home fell, though not as dramatically as overall visits. This number declined by 29 percent.
In every state where adequate data was available, the number of people visiting nursing homes fell between March and April.
By June, states had begun phasing in a return to normal economic function, though there was a patchwork of what was open and what was closed, and many states re-shuttered portions of their economies in the ensuing weeks. Our data shows people definitely took advantage of relaxed restrictions to visit nursing homes.
Between the weekends of April 12 and June 28, visits to nursing homes rebounded significantly, although the average number of visitors was still down by 34 percent. Average locations visited by each nursing home visitor on those weekends declined significantly in April, but June and March had similar patterns.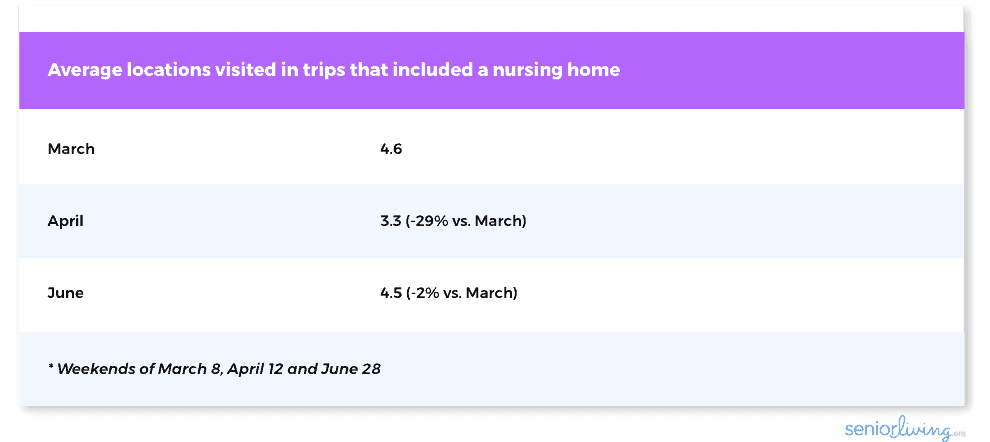 Because of how death data from nursing homes were reported to federal health authorities, it's not clear on a national level how many COVID deaths in March were among residents or staff members of nursing homes. The Centers for Medicare & Medicaid Services, which maintains this federal database, did not begin reporting this data until mid-May. So it's not possible for us to use the available data to compare and contrast nursing home deaths alongside the changes in nursing home visit data.
That said, current estimates of the percentage of coronavirus deaths connected to nursing homes, using all death data reported so far, indicates a range of between 17 percent (in Nevada) to 81 percent (in New Hampshire) of all COVID-19 deaths.
Nursing Home Visits by State
Every state where data was available had a double-digit decline in the number of nursing home visits between March and April. Conversely, all but two states saw nursing home visits rise between April and June.
The biggest decline between March and April was in Alabama, where nursing home visits fell by nearly two-thirds, while Georgia was a close second. California had the biggest drop in nursing home visits between April and June. Between March and June, visits to nursing homes in California fell by a total of 71 percent.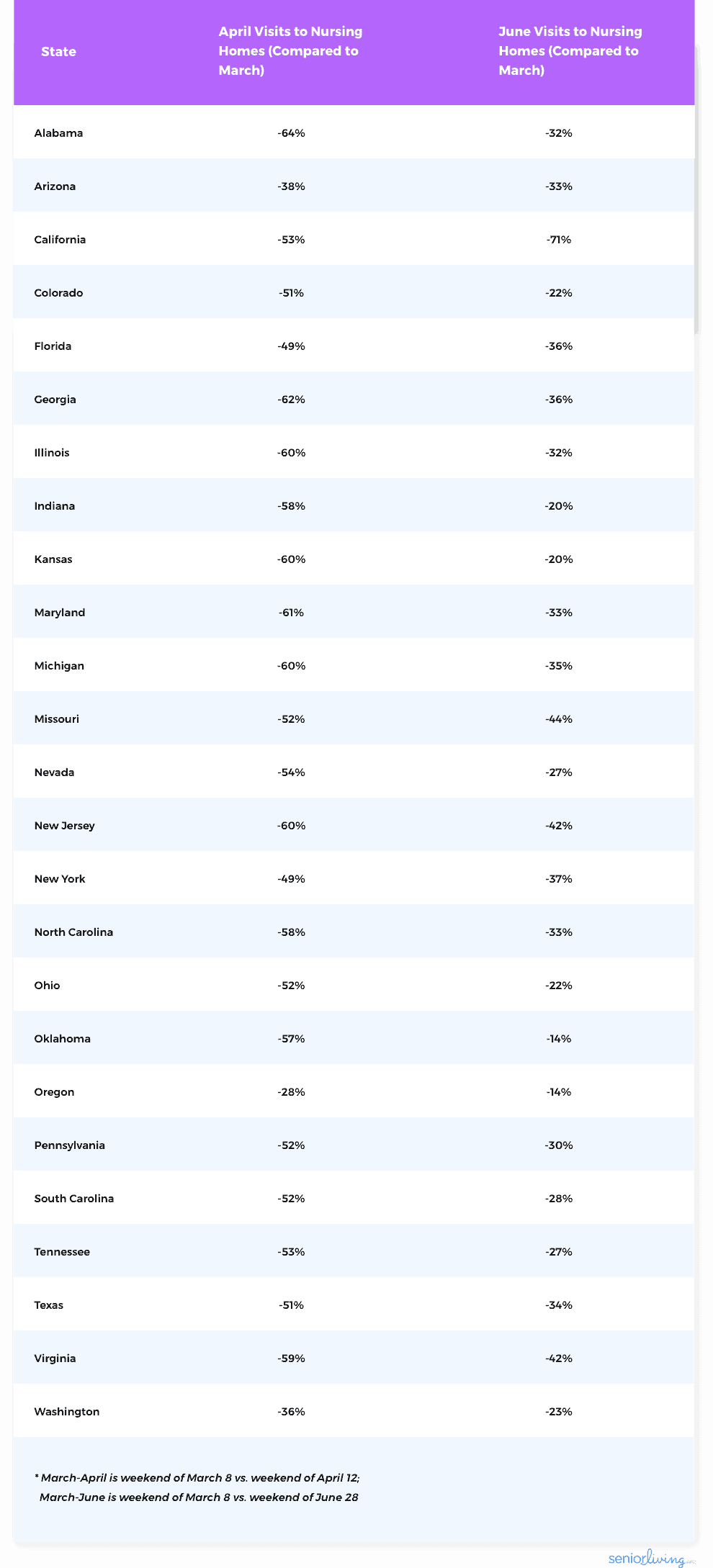 Conclusion
De-identified location data clearly shows that across the country, people were very serious about limiting their in-person contact with those in nursing homes during the very early stages of the pandemic. As the economy reopens and more people are allowed into nursing homes (albeit with stronger protocols), this warrants continued studying.
About SeniorLiving.org Research
SeniorLiving.org publishes research on issues facing assisted living and aging and covers governmental programs, and economic and social issues facing seniors. Location-based data company X-Mode provided us with anonymized geolocation data for tens of millions of Americans across three weekends over late winter through summer: March 8, April 12, and June 28. Data included visits to nursing homes and other locations as identified through lat/long coordinates.