Does Medicare Cover Memory Care?
There are 61 million Americans enrolled in
Medicare,

1
and many use Medicare as their primary health insurance. Medicare covers
some
memory care services, not all, and the out-of-pocket costs can be significant. When it's time to seek memory care treatment, enrollees may be unaware of Medicare's lack of coverage. Memory care falls under Medicare's long-term care (also known as custodial care). Unfortunately, Medicare and most health insurance, including Medicare Supplement Insurance (Medigap), don't pay for long-term
care.

2
Memory Care Services Covered by Medicare
Original Medicare (Part A and Part B) may cover some memory care services, including these:
Cognitive impairment assessment, diagnosis, and person-centered care planning services
Annual wellness visits (12 months after your enrollment in Medicare Part B)
Inpatient hospitalization to treat an injury or illness
Up to 100 days of skilled nursing care (must meet Medicare requirements)
Durable medical equipment (DMEs)
Home health care
Hospice care costs for pain relief and management in end-stage dementia
Inpatient care for clinical research studies
Additional Memory Care Coverage Options
Original Medicare comes with out-of-pocket costs such as deductibles, copayments, and coinsurance. Prescription medications are not covered under Original Medicare. Before you begin imagining a pile of medical bills, know that Original Medicare isn't your only option. Medicare also contracts with private insurance companies. These Medicare-approved private policies may aid in reducing out-of-pocket expenses.
Medicare Part C (Medicare Advantage Plans): Medicare Part C includes Part A, Part B, and often Part D coverage. Some Medicare Part C plans also provide dental and vision benefits.
Medicare Part D (Prescription Drug Plans): Medicare Part D is a prescription drug plan.
Medicare Special Needs Plans (SNPs): Medicare SNPs offer the same benefits as Medicare Part C plans. However, they may cover extra services tailored to the special groups they serve, including dementia patients.

3

Medicare Supplement Insurance (Medigap): Medicare Supplement Insurance helps fill in the gaps that Original Medicare doesn't cover.
Learning Center
Deciding if a Medicare plan from a private insurer is the best fit for you or your loved one's memory care needs can be overwhelming. Take an in-depth look at these four resources to learn more:
Pro Tip: Knowledge is power! Head over to our in-depth Medicare enrollment guide to find out when you can make necessary health care changes or additions to your Medicare plan (without facing late enrollment penalties).
Does Medicaid Cover Memory Care?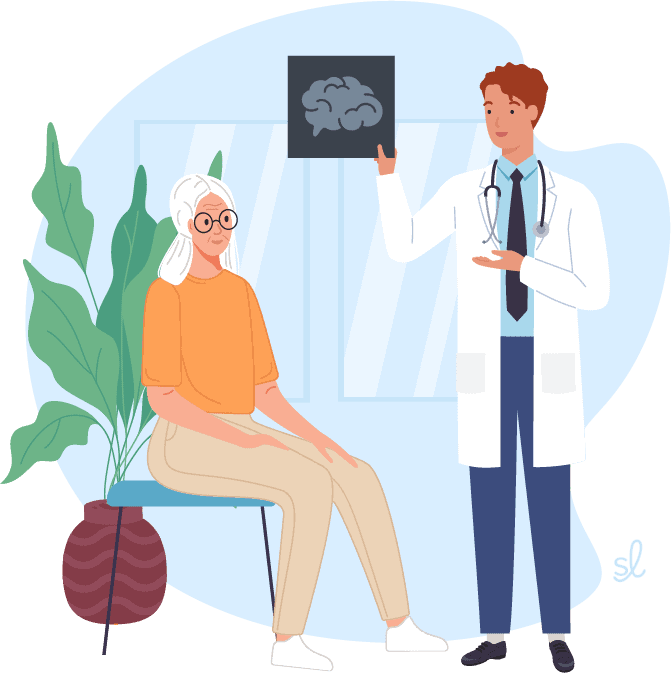 Over 80 million people in the U.S. receive Medicaid
benefits.

4
Medicaid aids low-income individuals with limited financial resources. Your age, disability status, and family size may also factor into Medicaid approval. Memory care falls under Medicaid's nursing facility services. Nursing facility care is covered under Medicaid, so memory care is as well. How memory care is delivered may vary by state, though. For example, some states may provide long-term nursing care in the home or within Medicare-approved senior living facilities, while other states may only provide one option.
From the pros: Don't rule out your Medicaid eligibility! In fact, 12 million people are "dually eligible," meaning they're enrolled in both Medicaid and Medicare.5 When in doubt, contact your State Medicaid Agency for clarification (even if you've received a denial in previous years).
Memory Care Services Covered by Medicaid
As Medicaid is a joint federal and state benefit, certain Medicaid benefits are federally mandatory. In addition to these mandatory Medicaid benefits, states have the option to provide extra benefits. Check with your State Medicaid Agency to take advantage of all memory care benefits available to you or your loved one. Mandatory Medicaid memory care services include the
following:

5
Nursing facility services (including memory care)
Inpatient hospital services
Outpatient hospital services
Early and periodic screening, diagnostic, and treatment services
Home health services
Physician services
Prescription drugs
Federally qualified health center services
Laboratory and X-ray services
Transportation to medical care
How Do I Pay for Memory Care?
There are many pieces in the memory care puzzle, so it's essential to ask for help from your hospital discharge planner, care coordinator, or social worker. They often have resources for programs or facilities that work with those who can't afford memory care's out-of-pocket costs. Since only a portion of memory care is covered by Medicare and Medicaid, older adults must find supplemental ways to pay for memory care costs. The Alzheimer's Association recommends exploring these resources:
Long-term care insurance or other private insurance
Personal savings and assets
Social Security Disability Insurance (SSDI)
Supplemental Security Income (SSI)
Interested in learning more about the benefits of long-term care insurance? Jeff Hoyt, our editor-in-chief, explains how to shop for and choose the right long-term care insurance in the video below.
What if I Can't Afford Memory Care Coverage?
Older adults living on a fixed income may not have the personal savings to supplement mounting memory care costs. No matter your situation, check with these Medicare and Medicaid programs to see if you qualify for additional financial aid:
Inside tip: Our memory care guide shares everything you need to know about memory care services and facilities, and our guide to memory care costs takes you through the various costs of memory care and common ways to pay.
Where Can I Find Medicaid and Medicare Memory Care Services Near Me?
As you begin your search for a memory care facility, remember that some facilities choose not to accept Medicaid or Medicare. It's essential to confirm the facility is a Medicare- or Medicaid-approved center for memory care services. Your care planning team through Medicaid or Medicare is an excellent resource to help you find the right memory care facility for your own or your loved one's needs. You can contact Medicaid or Medicare directly for confirmation of coverage to ensure you have the latest memory care coverage information.
Medicaid recipients: Contact your State Medicaid Agency.
Medicare recipients: Call 1-800-MEDICARE (800-633-4227). TTY users call 877-486-2048.
Through
Medicare's Find & Compare search tool
, you can also review ratings for local nursing homes and health agencies, and obtain estimates for doctors' costs in your area. You will need to have (or create) a secure Medicare account to use this search feature.
From the experts: Dr. Abby Altman, a geropsychologist and senior mental health expert, walks you through all of the considerations for choosing a memory care facility.
Senior Living is an online lead generator that helps connect consumers with licensed insurance agents.
MEDICARE ADVANTAGE AND PDP
: This site provides referrals to representatives of Medicare Advantage organizations and stand-alone PDP prescription drug plans that have Medicare contracts. Enrollment in any plan depends on contract renewal. The plans represented do not discriminate on the basis of race, color, national origin, age, disability, or sex. To learn more about a plan's nondiscrimination policy, please contact the plan. For a complete list of available plans please contact 1-800-MEDICARE (TTY users should call 1-877-486-2048), 24 hours a day/7 days a week or consult www.medicare.gov. Generally, Medicare is available for people age 65 or older, younger people with disabilities and people with End Stage Renal Disease. You must have both Part A and B to enroll in a Medicare Advantage plan. Members may enroll in the plan only during specific times of the year. Some Medicare plans are not available in all areas, and costs, coverage, and benefits vary by location.
MEDICARE SUPPLEMENT
: Medicare Supplement insurance is available to those age 65 and older enrolled in Medicare Parts A and B and, in some states, to those under age 65 eligible for Medicare due to disability or End-Stage Renal disease. Medicare Supplement insurance plans are not connected with or endorsed by the U.S. government or the federal Medicare program.
PRIVATE SITE
: This is a non-government website, and is not endorsed by the Centers for Medicare & Medicaid Services (CMS), the Department of Health and Human Services (DHHS), or any other government agency. The purpose of this communication is to connect individuals with a licensed insurance agent. Contact will be made by an insurance agent or a phone representative who can connect you to a licensed insurance agent.
AGREEMENT TO TERMS
: If you use submit your information through this website, you agree to the Privacy Policy and Terms & Conditions linked below, and to be contacted by a licensed insurance agent or a phone representative who can help connect you to a licensed insurance agent in your area to help review your coverage and options.
NOT ALL PLANS OFFERED
: The licensed agent to whom you are connected may not offer all plans in your area. Any information provided is limited to those plans the licensed agent does offer in your area. To explore all plans, please contact Medicare.gov or 1-800-MEDICARE.
MULTIPLAN_QM2022116DLWB_M
Memory care is a key factor in providing specialized aid to older adults living with dementia or Alzheimer's disease. If you or your loved one need memory care, understanding your health care coverage options, your medical rights, and how to pay for out-of-pocket costs is an important part of the process. As you begin this journey, know that you're not alone. There are many resources to help you along the way. Let's examine what Medicare and Medicaid cover (and what they don't) for memory care.