HelloFresh for Seniors
SeniorLiving.org is compensated when you click on the provider links listed on this page. This compensation does not impact our ratings or reviews. Read our Editorial Guidelines here to learn more about our review process and to learn more about how we are compensated.
Meal Kit Subscription Service
No Contracts
3-5 meals per week
Variety of meal plan options
SeniorLiving.org is compensated when you click on the provider links listed on this page. This compensation does not impact our ratings or reviews. Read our Editorial Guidelines here to learn more about our review process and to learn more about how we are compensated.
Subscription-based meal kits are popular for people of all ages. Meal kits that include step-by-step recipes and all necessary ingredients take the guesswork out of meal planning. Many older adults appreciate the convenience that meal-kit companies like HelloFresh provide.
HelloFresh was founded in Germany in 2011. With over a billion meals served in 2021, it has earned its title as the most popular meal kit in the world. If you're interested in trying HelloFresh, read on to learn about our experience purchasing and cooking its meal kits.
Pros About HelloFresh
Affordable
Variety of meals
Clear and easy packaging and instructions
Options for all types of dietary preferences
Different levels of difficulty and cook times available
Cons About HelloFresh
Premium Picks cost more
Your credit card will be charged weekly when you sign up, and meals will be selected for you unless you opt out
No substitutions are allowed
What Is HelloFresh?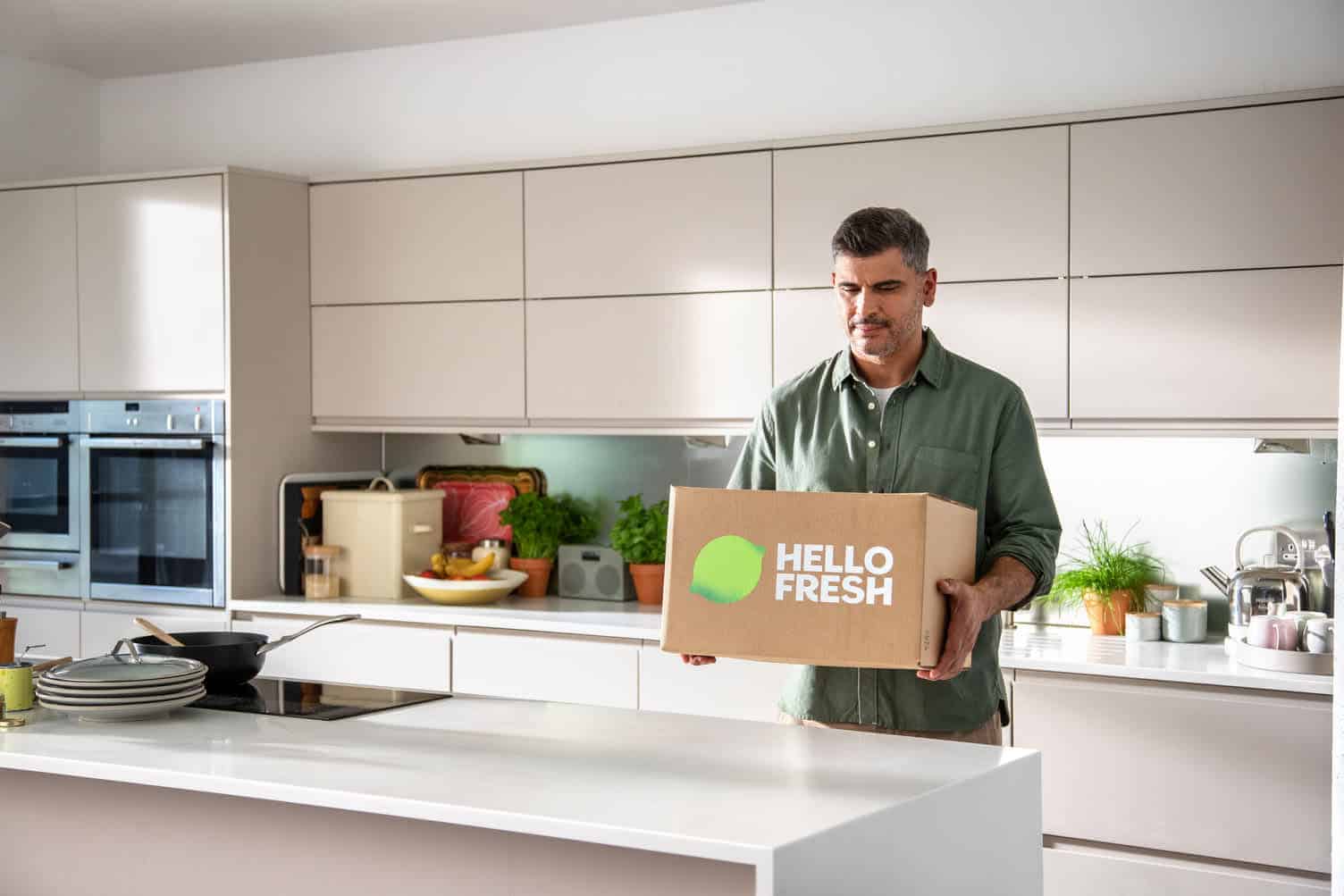 HelloFresh is a well-known meal-kit delivery service. When you sign up, you choose a plan with the number of meals and portions you want each week. You can customize it for you and your family's dietary preferences. The meal kits include all the preportioned ingredients to cook a delicious chef-designed meal. Recipes are easy to follow, but levels of difficulty can be chosen and range from easy to hard. Many older adults enjoy cooking but want to worry less about finding good recipes and shopping for all the ingredients. HelloFresh makes cooking less of a chore and more of an activity.
HelloFresh Pricing
HelloFresh pricing varies according to the number of meals per week and the number of portions. One popular option is three meals per week for two people. The total for these six servings is $70.93. If you choose to order three meals per week for four people, the price increases to $112.87. The more meals you order per week, the lower the price per meal is. You will receive a heavily discounted box for your first order, which is a great way to try the service if you are unsure.
HelloFresh is priced competitively with other meal-kit boxes. Blue Apron costs $59.94 plus $9.99 for shipping for three meals for two people. HelloFresh, at $70.93, costs about the same. Home Chef, another popular service, costs slightly less, at $53.94 plus $9.99 for shipping. Marley Spoon, on the other hand, is more costly, at $75.93.
Take a look at HelloFresh's plans and pricing. Keep in mind that you'll receive a large discount on your first box.
| Plan size | Price per serving | Box total |
| --- | --- | --- |
| 2 meals per week for 2 people | $12.49 | $60.95 |
| 3 meals per week for 2 people | $9.99 | $70.93 |
| 4 meals per week for 2 people | $9.79 | $89.31 |
| 2 meals per week for 4 people | $9.79 | $89.31 |
| 3 meals per week for 4 people | $9.49 | $124.87 |
| 4 meals per week for 4 people | $9.29 | $159.63 |
HelloFresh's meal choices include Premium Picks, which cost extra. Plenty of options, however, fit within the original affordable pricing.
There is no contract with HelloFresh. Meals are delivered once a week, and you can skip weeks or cancel the service completely as long as it's done five days before your scheduled delivery.
Pro Tip: HelloFresh offers a senior discount of 10 percent off each box. Other companies, such as Home Chef, do not offer a senior discount, so this is a great perk.
Signing Up and Selecting a Plan
Before you sign up, you can peruse the meal options for upcoming weeks under "Our Menus" on the HelloFresh website. There is a wide selection of appetizing meals of all difficulty levels to choose from each week.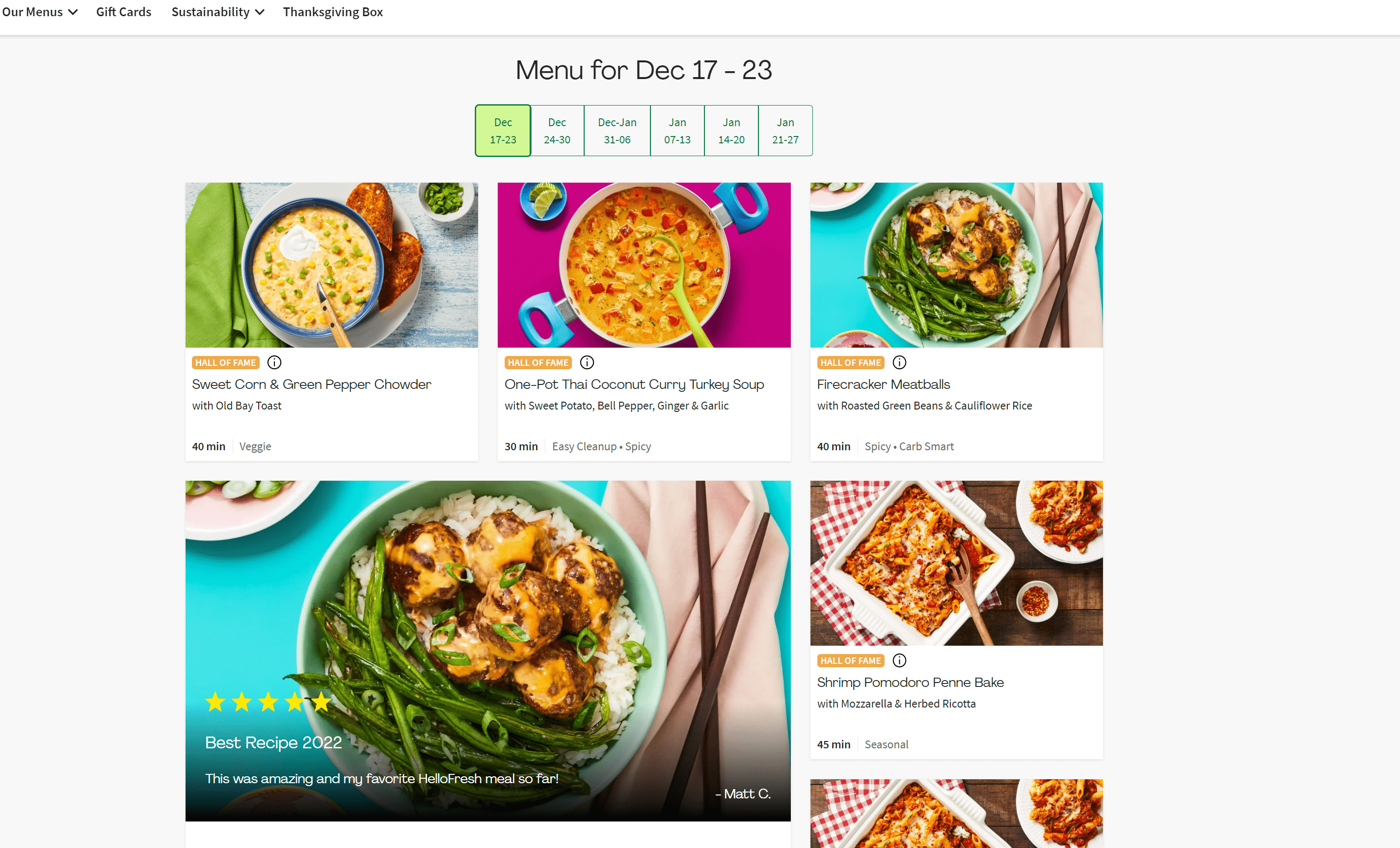 Signing up for HelloFresh is easy to do on a desktop computer or on a tablet or phone using the app. You'll start by choosing your preferences. You can select what is most important to you. I chose "Meat & Veggies" and '"Fit & Wholesome." I also prefer meals with faster cook and prep times, so I selected "Quick and Easy." I then selected the number of servings for each meal (two) and the number of meals per week (three). You can see below that the selection process is clear and user friendly. The cost, which was heavily discounted for my first box, is also shown.
After you select the plan that's best for your family, hit the green "Select this plan" button. You will move on to "Register," where you will input your email, address, and payment information. Once you have signed up, you can select the meals you want included in upcoming orders. You can modify them or even skip weeks, as long as it is five days before the weekly scheduled delivery.
There are many meal options for all dietary preferences, and allergy information is readily available. There are also Premium Picks that cost slightly more, so pay attention to the price difference if you choose a meal in this category.
How to Cancel HelloFresh
Canceling HelloFresh is easy. You'll need to do it at least five days before your next scheduled delivery, which means you can pause or cancel the service after one week if you're unsatisfied. You can always reactivate your account later if you want. Here's how to cancel:
Log in to your account.
Click on your name in the upper-right corner, and then click "Account Settings."
Under the "Status" section, click "Cancel Plan."
Follow the prompts for your cancellation. You will be prompted with a message confirming your account has been canceled.
Our Experience With HelloFresh
Ordering and Unboxing
When I signed up, I was excited to see 21 meal choices for the week. Only three meals were "Premium Picks" that cost extra, and they were clearly marked.
When I unboxed my package, all the ingredients were clearly marked and separated by meal. The directions have detailed and helpful notes, such as "make first."
Did You Know? In a survey of adults ages 50 to 80, 71 percent said they enjoyed cooking and 86 percent prefer cooking with basic ingredients.1 Cooking at home can be a creative hobby, while also making meal times enjoyable.
I ordered three meals: ginger lime salmon, pork chops with zesty green onion salsa, and Frank's red hot spiced crispy chicken cutlets.
Cooking the Meals
Each recipe included all the necessary ingredients, but you, as the chef, are required to prepare them. You'll likely need to chop several ingredients. In my experience cooking all three meals, I used both the stovetop and oven. The recipes were easy to follow, and I had almost everything I needed. A couple recipes called for a zester, which I didn't have, but I was able to make do without.
FYI: Food delivery is just one way technology can improve older adults' day-to-day lives. Visit our guide to tech for seniors to learn more.
I even learned some tips from the recipes that were useful for cooking future meals. I learned, for example, to save a scoop of the water I boiled the potatoes in to add back in while mashing them. I tried some new things while cooking my HelloFresh recipes, such as adding chili to roasted broccoli, which was very tasty!
The Results
I found all three meals delicious. All the ingredients were fresh and tasty. I never felt that the recipes took too much work, and each meal was worth the amount of time put in. All the meals took longer than the times listed, but that's common for all the meal services I've tried. Plan to spend a bit longer in the kitchen than the recipe says.
You can watch the video below for my full experience with HelloFresh.
Final Thoughts on HelloFresh
HelloFresh is a convenient option for people who enjoy cooking quality meals but don't know where to start. The meal kits have received rave reviews, and the clear recipes with pre-portioned ingredients make cooking a restaurant-style meal accessible to all. Many seniors will enjoy the opportunity to get creative in the kitchen. People with lots of cooking experience may opt for difficult-level meals, while others may choose easy-level meals and still find their experience very satisfying.
Besides being convenient, HelloFresh offers nutritious options that appeal to all types of dietary needs. It's common for older adults to experience a loss of appetite as they age, which can lead to nutritional deficiencies and unwanted weight loss.2 HelloFresh meal kits can be a great way to encourage trying delicious, nutrient-dense new foods.
HelloFresh is the world's most popular meal-kit delivery subscription for a reason. The prices are competitive, and the meals are delicious!
Frequently Asked Questions About HelloFresh
Read About Our Panel of Experts
As Editor-in-Chief of the personal finance site MoneyTips.com, Jeff produced hundreds of articles on the subject of retirement, including preventing identity theft, minimizing taxes, investing successfully, preparing for retirement medical costs, protecting your credit score, and making your money last…
Learn More About Jeff Hoyt