By SeniorLiving.org Research | Last Updated August 20th, 2020
An estimated 30 million older adults are dealing with hearing loss, according to the most recent estimates from federal health officials.
While many products have been developed to help mitigate hearing loss, most prominently hearing aids, many of these devices are quite expensive, and there's no single standard across the country for whether hearing aids are covered by health insurance.
The expense of prescription hearing aids is well-established, even leading to the passage of legislation in 2017 aimed at making over-the-counter hearing aids more widely available. The Food and Drug Administration is expected to release requirements for companies planning to bring these products to market later this year, but in the meantime, prescription hearing aids remain unaffordable for millions of Americans.
We wanted to understand how seniors with hearing loss are managing to cope with their diagnoses, including how many wear hearing aids or use other assistive devices, as well as the reasons behind why someone who has hearing loss might choose not to wear hearing aids.
Read on for our full study, but check out the high-level results here:
At least 30 million American seniors have hearing loss.
Fifty-eight percent of those 55 and older who have hearing loss don't use hearing aids.
More than 38 percent of older adults with hearing loss who don't use hearing aids labeled cost as the biggest reason for avoiding the devices. That equates to about 6.6 million people.
More than 4 million seniors with hearing loss haven't been prescribed hearing aids, meaning they could benefit from the devices being available over-the-counter.
Almost 78 percent of hearing aid users said the devices are too expensive.
Hearing Loss in Older Adults
Using data from the National Institutes of Health and the U.S. Census Bureau, we estimate that upwards of 30 million Americans 55 and older have hearing loss. We asked nearly 650 adults age 55 and up about their hearing, including nearly 200 adults that have been diagnosed by an audiologist as having hearing loss.
Just over two in five respondents in our survey with hearing loss said they used hearing aids, with 58 percent saying they don't. Our survey found that hearing aid use generally rises with age, and this would seem to track with NIH data that shows hearing loss becomes more common the older a person gets. It's important to note that our survey was limited to those who have been diagnosed with hearing loss, which is not necessarily the same as having hearing loss, as many people with hearing trouble either don't realize it or don't seek help for it.
Still, our survey found that while just over one in five of those in the youngest age bracket of adults diagnosed with hearing loss are using hearing aids, it's about three times more common for those 85 and older to say the same.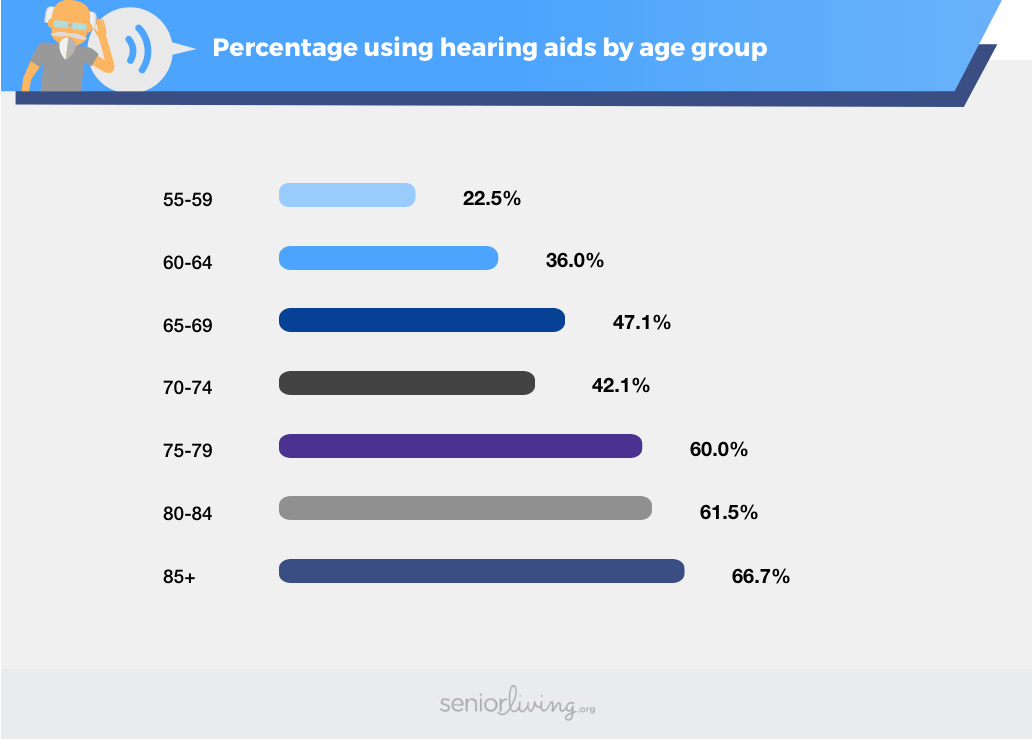 Similarly, our survey found that men were more likely than women to report hearing aid use, and this also largely tracks with health data indicating that men are more likely than women to suffer from hearing loss in the first place.

Hearing Aids & Cost Perceptions
A majority of respondents in our survey don't use hearing aids despite being diagnosed with hearing loss. What's stopping them? Aside from their belief that they are doing well without one, cost was the most commonly cited reason, with almost 40 percent of people saying the devices are too expensive.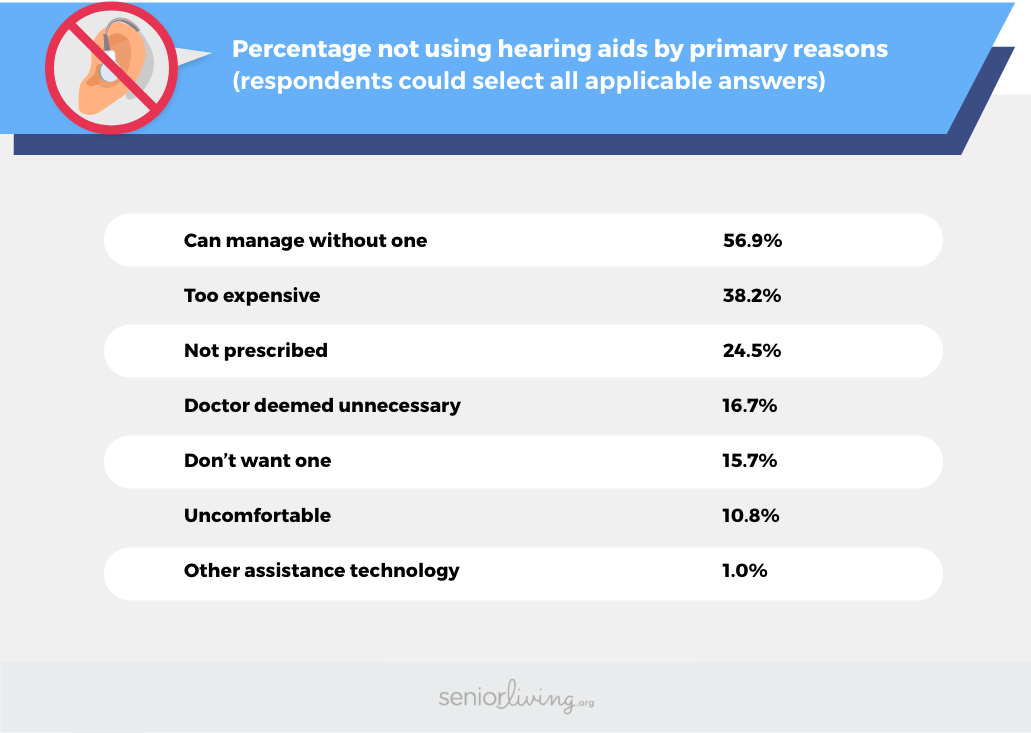 Using the estimate of about 30 million older adults with hearing loss, which we believe to be conservative based on the age of Census and NIH data, our data shows that about 6.6 million seniors who believe they would benefit from using hearing aids are unable to do so because of the expense involved.
The third most common response was that hearing aids had not been prescribed yet by their doctor, which indicates that as many as 4 million seniors would potentially benefit from widespread availability of over-the-counter hearing aid devices.
The average cost of prescription hearing aids is about $4,700 (for two), but over-the-counter models tend to be much lower, more in the range of $600 to $1,000, according to estimates.
That's not a surprise to our respondents. Among hearing aid users, the devices are considered very expensive, with more than three in four users (77.8 percent) saying the cost is too high.
Only about 4 percent rated hearing aids as well under their budgets, while about 18 percent said they were fairly priced.
For nearly one in three hearing aid users, price was the single biggest (or only) factor driving their purchase decisions, while about 22 percent said it wasn't a factor. Another big reason why allowing over-the-counter sale of hearing aids is important is because even among seniors who are on Medicaid, hearing aid-related services may not be covered. Medicaid covers hearing aid-related costs only under a narrow set of parameters, and most plans provide no coverage for hearing tests or other tests related to hearing aids.
Impact of Hearing Aids & Assistive Technology
We know from a broad set of medical studies that hearing aids and other assistive technologies are incredibly important for the physical and emotional health of those dealing with hearing impairment, including age-related hearing loss.
A Johns Hopkins University study determined that even mild hearing loss can be devastating. Researchers there found that mild hearing loss doubled the risk of dementia and that severe hearing loss increased the risk of dementia five-fold.
The hearing aid users in our study indicated that without their hearing aid, the impact on their lives was major when compared to those who don't use hearing aids. In fact, among hearing aid users, only 18 percent said that they'd be able to hear conversation in a crowded restaurant without their devices, compared to almost 40 percent of non-users.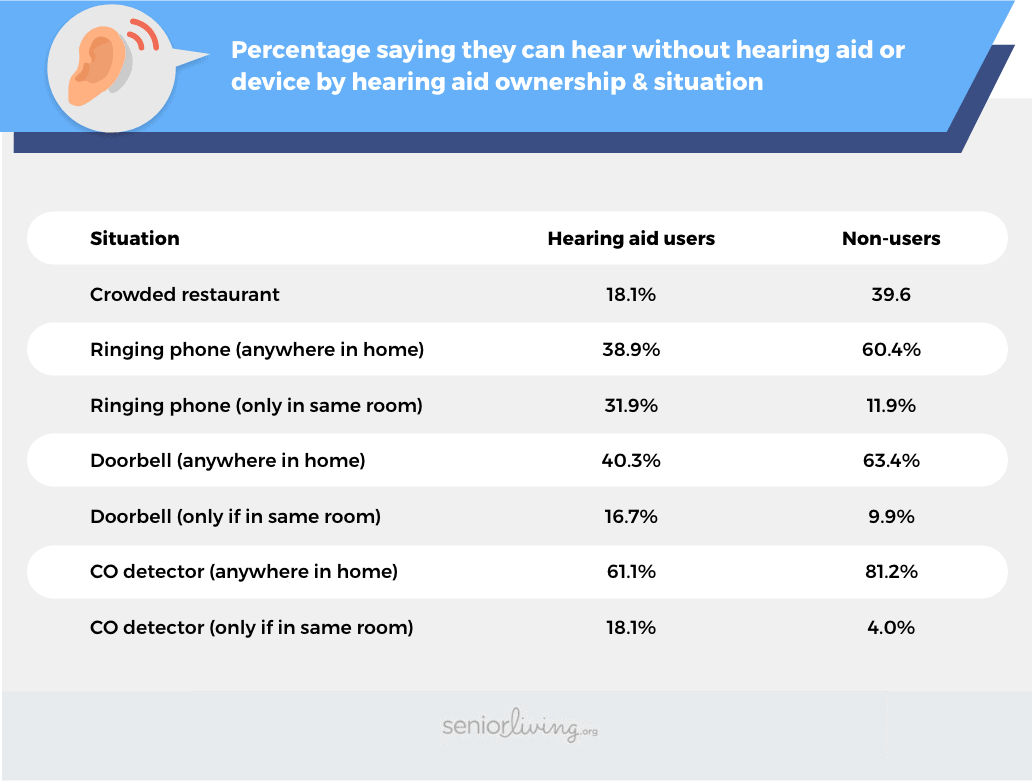 Conclusion
Our research indicates that more than 17 million adults who have been diagnosed with hearing loss don't use hearing aids or similar devices. While many say it's because they don't need one, it's tough to know how opinions might change if the expense of these notoriously pricey devices dropped.
About this Report
SeniorLiving.org is where seniors and their loved ones can find and compare housing options for seniors, including assisted living, in-home care, and everything in-between. We publish research on issues facing assisted living and aging, and cover governmental programs, and economic and social issues facing seniors. We surveyed 644 adults age 55 and older about their hearing, including 176 adults who have been diagnosed by an audiologist with hearing loss. Our survey was conducted in July 2020.