Today, as many as 50 million Americans receive in-home care from either family members or professionals. Most of those receiving this care are over the age of 65, a population group that is expected to grow to 73 million by 2030.
The massive expansion of the older adult population means that demand for in-home care services will continue to surge, and this rising need is reflected in the federal government's projections for employment of home health and personal care aides. This occupation is expected to grow by approximately 34 percent by 2029, one of the fastest growth rates of all jobs in the United States.
But recently, $400 billion in proposed funding for the home care workforce was cut from the recently passed infrastructure bill.1 Without this funding, it will be even more difficult to increase wages and improve working conditions for home health and personal care aides. Without these improvements, the home health workforce may not be able to grow fast enough to keep up with our aging population. And those ripple effects will be felt far beyond the industry itself.
Without a massive investment, home health care for the people who need it most, our seniors, may fail.
Key findings
To understand exactly how the nation stands to fall short in addressing the massive need for in-home care, we analyzed data from the U.S. Bureau of Labor Statistics, the U.S. Census Bureau, and other sources, as well as our years' worth of survey data from caregivers, and the facts could not be more stark: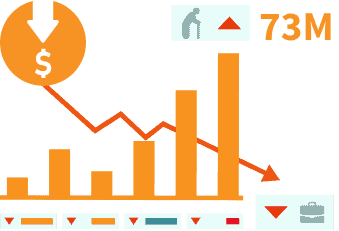 Today, the U.S. senior population stands at 58 million, but in just 10 years, that figure will rise to 73 million.
The aging population will create a strain on many healthcare professionals, leading to surges in job openings for these individuals. Home health and personal care aides are expected to see jobs increase by 34 percent, which analysts partially credit to an increase in demand.
But we think a 34 percent increase in employment may be wishful thinking, given that home health aides are routinely overworked and, according to our analysis, are massively underpaid in most states. The combination of those two factors leads to high turnover rates, among the highest in the healthcare industry. Shortages and waiting lists are already the order of the day, and in many states, including heavily senior states like Florida, ratios of caregivers to seniors are already uneven.
So, the only course of action to address the already wide and growing home health care gap is an investment in making home health care jobs attractive and dignified for the people in them, which will lead to better care for seniors and their loved ones. Plus, spoiler alert, we believe investing tens of millions in home health infrastructure will have a net positive effect on the entire economy, as millions of family caregivers can reenter the workforce, safe in the knowledge that their loved ones are receiving proper care.
The system, in fact, is already failing. And as millions more people grow into the age bracket most likely to need in-home care, those cracks will deepen and the crisis will worsen. Without a sizable investment, home health care for the people who need it most, our seniors, may fail.
---
Table of contents
---
Between 20M and 50M Americans currently receive in-home care
Almost five million Americans receive professional in-home health and personal care services,2 while as many as 15 million receive informal care services from people like spouses, children, and other loved ones.3 An AARP study places the number of family caregivers at closer to 50 million.4 While not all of the individuals who receive in-home care are older adults, the fact is that as people age and develop chronic conditions, they are far more likely to require in-home services like meal preparation, housekeeping, wound care, and health monitoring.
---
U.S. population growth will slow, but aging will accelerate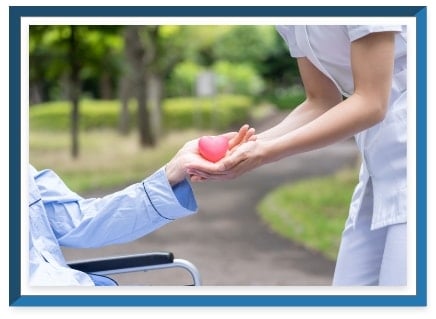 There are an estimated 58 million Americans today over the age of 65, but over the course of the next decade, as the youngest Baby Boomers reach that age, the ranks of older adults will swell to more than 73 million. By 2034, the number of older adults will outnumber children for the first time in the country's history, and by 2060, almost one in four Americans will be over the age of 65.5
Between 2020 and 2030, the nation will grow by about seven percent overall, but the number of people 65 and older will grow by several times that rate (about 30 percent).
---
Home health aide job projections are high, but industry's issues run deep
Through the end of this decade, only five jobs will see more rapid expansion than home health and personal care aides, as these roles swell by 34 percent.6 That's more than nine times the average growth projections for all jobs in the American economy (four percent) and equates to more than one million new jobs for home health and personal care aides.
That's an undeniably high growth rate, and it compares favorably with the expected expansion of the senior population. But it fails to take into account that even with the current senior population and home health aide employment levels, waiting lists for care are lengthy and most agencies are experiencing massive staffing shortages.
Michael Stair, the CEO of a home health agency in Maine, told NPR the ongoing staffing crisis in his industry is the worst he's seen in two decades: "The bottom line is it all comes down to dollars — dollars for the home care benefit, dollars to pay people competitively."7
---
Why the Industry Needs Investment Now Rather Than Later
Whatever the eventual outcome for the proposed $400 billion home health infrastructure investment, the industry is already in crisis, and millions of dollars are needed today. Aides will not join or remain in the workforce if conditions do not improve.
The turnover rate for home health aides was nearly 37 percent in 2020, and about 25 percent pre-pandemic in 2019.8 Nationally, turnover rates tend to hover around 14 percent to 18 percent for all jobs.9
What's driving this turnover? Despite their low wages, home health aides across the country often face excessive workloads. In multiple states, there have been allegations of agencies forcing home health aides to work long hours in order to meet demand for their services. In fact, a class-action lawsuit over unpaid hours worked by home health aides allows some agencies in New York to pay for 13-hour shifts but actually require professionals to work 24-hour shifts, with many people putting in 72 hours per week.10 And in Wisconsin, another home health agency faces allegations of not paying overtime for workers, including home health aides, personal care aides, nursing assistants, and others.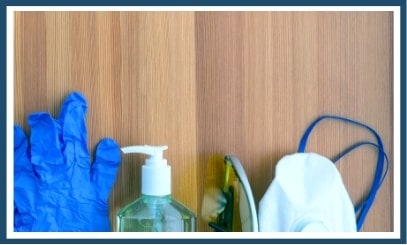 And the ongoing pandemic has shed light on the poor working conditions faced by home health and personal care aides. As they cared for their elderly patients, many faced the risk of contracting COVID-19, often without an adequate supply of personal protective equipment (PPE). An investigation by the Kaiser Family Foundation and the Guardian found that nearly 3,000 U.S. healthcare workers died from COVID-19 in 2020, many of them home health aides and about one-third involving a lack of PPE.11
Those carrying the professional in-home care burden tend to be women and people of color. Communities of color are chronically underserved in wages, housing, healthcare, and many other areas. Approximately 85 percent of home health/personal care aides are women, 60 percent are people of color, and more than half are over the age of 45. Additionally, 28% of home health and personal care aides immigrated to the U.S., compared to just 14% of the general U.S. population.12
Most home care aides don't earn a living wage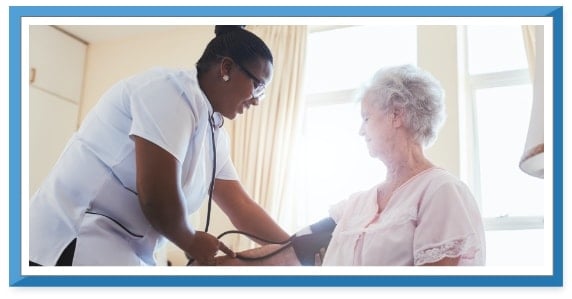 With a median hourly wage of just over $13, a home health/personal care aide working full time (2,080 hours per year) would earn about $27,000 per year. That's less than half the median annual wage for American workers.13
Wages may need to become more competitive in order to grow the home health and personal care workforce. Only four states (Alaska, North Dakota, South Dakota, and Wyoming) have median annual wage levels for home health and personal care aides that's at or above the liveable wage for the state, according to our analysis, which uses data from the U.S. Bureau of Labor Statistics and MIT's Living Wage Calculator. An estimated 37 percent14 of home care workers live near or below the federal poverty line and one in four15 have children at home.
Elevating all home health and personal care aides to a living wage in their state would cost $106 billion per year, or $51 million per hour, according to data from the MIT Living Wage Calculator. Ensuring all home care workers earn a dignified wage would incentivize more people to join the industry and help reduce high turnover rates.
The current median hourly wage for home health and personal care aides ranges from a low of $9.04 in Louisiana to a high of $16.66 in Alaska, with an overall national median of $13.02. In many places, this is barely more than what a fast-food worker earns.
Some states are poorly positioned to be able to elevate home health aides' wages based on what they earn now and how much the average person needs to make to earn a living wage. For example, Hawaii's median hourly wage for home health/personal care aides is just above the national median, but because the state is one of the most expensive places in the country, Hawaii has the highest difference between its hourly wage for home health professionals and the living wage for a single adult.
---
Difference between hourly median wage for home health/personal care aides and MIT living wage for state, 10 biggest gaps
State
Current median hourly wage
Living wage for single adult
Difference
Hawaii
$13.35
$19.43
$6.08
Virginia
$10.69
$16.61
$5.92
District of Columbia
$15.04
$20.12
$5.08
Louisiana
$9.04
$14.06
$5.02
California
$14.05
$18.66
$4.61
Alabama
$9.58
$13.77
$4.19
Georgia
$11.17
$15.36
$4.19
North Carolina
$10.74
$14.72
$3.98
Texas
$10.11
$14.01
$3.90
New York
$14.86
$18.62
$3.76
Table Reference16
---
Basic benefits are hard to come by
Not only are wages low for home health aides, but they often lack employer-provided health insurance, which can take even more money out of their pockets. In fact, only 38 percent of home care workers receive coverage through their employer or union. For comparison, more than 60 percent of workers in the industry who are employed by nursing homes receive health insurance coverage at work. An estimated 16 percent of home care workers have no health insurance coverage at all.17
To extend employer-provided health insurance to each home health and personal care aide would cost an additional $19 billion today, based on a Kaiser Family Foundation analysis of average employer-paid health insurance premiums for individuals.18 Providing this benefit could go a long way in attracting workers to the field and retaining existing aides.
---
Home health jobs will surge, but not enough to change status quo
It's true that the nation is projected to see rapid growth in home health/personal care aide employment, but that growth is unlikely to be enough to do anything but maintain a failing status quo.
Through the end of this decade, only five jobs will see more rapid expansion than home health and personal care aides, as these roles swell by 34 percent.19 That's more than nine times the average growth projections for all jobs in the American economy (four percent) and equates to more than one million new jobs for home health and personal care aides.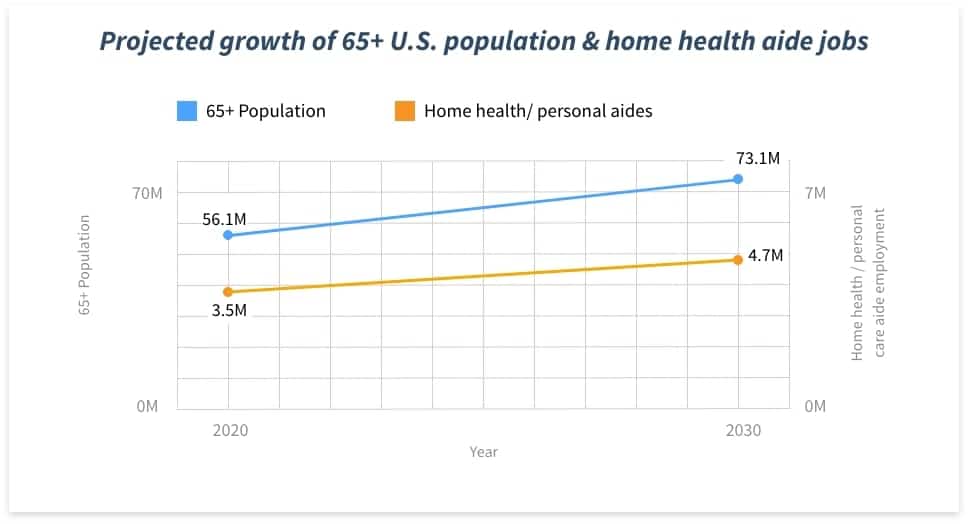 The projected ratio of seniors to home health aides in 2030 will remain around 16:1, the current nationwide ratio. But not all states are equal when it comes to senior population projections. Around 1.2 million new home health/personal care aide openings are expected by the end of the decade, but some states will need more drastic staffing increases than others.
Home health aides increases needed today to meet national average ratio of seniors to workers, 10 highest
State
Current number of home health and personal care aides
Total aides needed to meet national average ratio of seniors to aides (16:1)
Difference
Florida
72,680
281,137
208,457
Georgia
42,050
95,200
53,150
North Carolina
62,700
109,433
46,733
Tennessee
26,560
71,185
44,625
Michigan
68,510
110,401
41,891
Illinois
91,130
127,835
36,705
Ohio
91,910
127,722
35,812
New Jersey
56,630
92,192
35,562
Alabama
20,300
53,395
33,095
Virginia
53,190
84,896
31,706
More than 35 states fall below the average national ratio of home health aides to adults over 65 (16:1). Taking into account how states' populations of older adults will change, by 2030, another 10 states will fall short of the ratio.
Increase in home health aide employment needed to keep up with projected population of people age 65 or older, 10 highest
State
Projected 65+ population in 2030
Number of home health/personal care aides needed in 2030
Percent increase in aides needed by 2030
Florida
7,769,452
485,591
568%
South Dakota
185,064
11,567
273%
Tennessee
1,417,708
88,607
234%
Nevada
797,179
49,824
232%
Alabama
1,039,160
64,948
220%
New Hampshire
352,786
22,049
196%
Georgia
1,907,837
119,240
184%
Oklahoma
757,553
47,347
155%
South Carolina
1,134,459
70,904
150%
Kentucky
903,450
56,466
139%
To see how the senior population will shift over the next ten years in all fifty states, see our data appendix.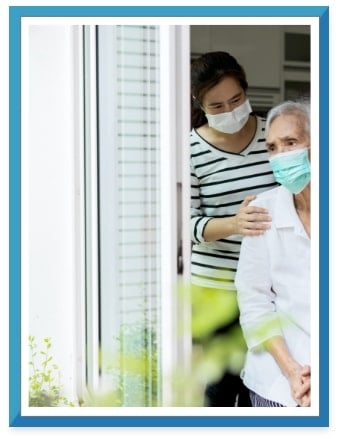 Unpaid Caregiving: The Ghost Home Care Economy
---
More than one in five Americans provide unpaid caregiving, according to an analysis by AARP, and the number has risen by 22 percent in just the past few years.20 With the massive expansion of seniors projected, that number will only keep growing. Unpaid caregiving creates economic drain by taking people out of the workforce, and it creates emotional strain on families. Even for those who feel proud to help care for aging loved ones, making home care more accessible would give them the option. Many families today simply don't have the choice.
Investing in the professional home health economy would make it easier for family caregivers to shift that burden to hired help, and additional return on investment would have knock-on effects across the economy.
Unpaid caregiving is already rising & will keep expanding as nation ages
---
Our survey of caregivers found that 51 percent of them provide care for someone over 60 with no additional assistance, and 77 percent provide unpaid care multiple times per week.
Expanding the ranks of home health aides would allow family caregivers to spend more time at their jobs and less time doing unpaid work, creating a huge economic impact. AARP estimates that letting more family caregivers over 50, such as those who care for a senior spouse, stay in the workforce would add nearly $2 trillion to the national GDP in 2030.
Sixty-three percent of the caregivers we surveyed are women, and other research has indicated that women bear the brunt of unpaid family care. Enabling more women to remain in the workforce or take part in it more fully would generate millions in economic impact every year.
Unpaid caregiving creates emotional & financial strain
---
Family caregivers, particularly those who are sole caretakers, are more likely to lose sleep, experience depression, and express financial strain than those who have additional help caring for aging loved ones.
Reported difficulties experienced as caregiver
Difficulty
Sole caregivers
1+ others
Loss of sleep
48%
40%
Depression
38%
33%
Financial strain
33%
20%
Need more help but don't want to ask
29%
17%
Caregivers were also more likely to report emotional, financial, and physical strain the longer they'd been caring for a loved one, which is of particular concern as the nation continues to age and Americans live longer than those in previous generations.
Reported caregiver difficulties by length of time providing care
Difficulty
5 years or fewer
More than 5 years
Balancing caregiving with the rest of my responsibilities or desires
48%
74%
Emotional stress
46%
67%
Physical demands
39%
45%
Depression
33%
43%
I feel obligated to help because no one else will
33%
38%
Setting boundaries with how much time I commit to caregiving
29%
36%
Financial strain
25%
31%
One in three family caregivers said they experienced financial strain in caring for a loved one, and 85 percent indicated that finances would likely be a barrier to hiring caregivers like home health and personal care aides.
---
Conclusion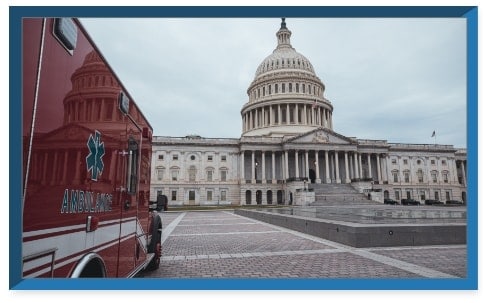 Ensuring that America's seniors receive the type of care that will let them age with dignity in their own homes is possible, but it requires policy makers, providers, and families to consider what it will take to deliver this care effectively.
That means not only what is effective for seniors and their families but the professionals hired to provide this care and family members and loved ones providing unpaid care. There is no other option as a wave of Baby Boomers enters retirement age with Generation X, the oldest of whom turn 56 this year, right behind them.
Not only is providing this in-home care critical to ensuring seniors can age with dignity, but investing in home health care means those working in the industry earn a decent wage and family caregivers are able to fully participate in the workforce. Put another way: The U.S. cannot afford not to make this investment.
---
Our Data
In 2021, SeniorLiving surveyed 202 caregivers of people aged 60 or older. "Caregiver" was defined as someone who provides support to another individual by providing financial aid, managing medical appointments, cooking, cleaning, running errands, helping with bill payments, tracking medication schedules, or assisting with other day to day living responsibilities. Further research should be conducted on this population.
In addition we analyzed data from several other sources to calculate the cost of the home care economy in the United States:
We also explored the 2019 American Community Survey via ipums.org to find demographic information on home health and personal care aides including sex, age, race, ethnicity, and immigration status.
To determine the number of home health aides and individuals aged 65 or older between 2020 and 2030, we began with projections for both populations for 2020 and 2030. Then we assumed a constant growth rate between the dates.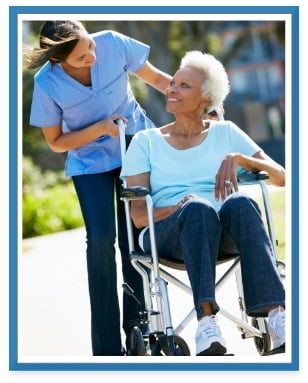 Data Appendix
Take a closer look at the data underlying this analysis:
---
Projected 65+ population by state, 2019-2030
State
2019 population (65+)
2030 projection (65+)
Percentage change in senior population
Arizona
1,307,241
2,371,354
81%
Florida
4,498,198
7,769,452
73%
Nevada
498,219
797,179
60%
New Mexico
377,730
555,184
47%
California
5,834,998
8,288,241
42%
Wyoming
98,789
138,586
40%
Alaska
90,588
127,202
40%
New Hampshire
253,147
352,786
39%
Vermont
125,201
173,940
39%
Texas
3,738,727
5,186,185
39%
Virginia
1,358,336
1,843,988
36%
New Jersey
1,475,075
1,959,545
33%
Rhode Island
187,155
246,507
32%
Maine
285,978
374,017
31%
Montana
207,909
269,558
30%
Mississippi
486,804
634,067
30%
Maryland
959,887
1,235,695
29%
Washington
1,207,685
1,563,901
29%
Wisconsin
1,019,896
1,312,225
29%
Minnesota
921,491
1,193,124
29%
Louisiana
742,194
944,212
27%
North Dakota
120,177
152,358
27%
Utah
365,198
460,553
26%
Connecticut
629,032
794,405
26%
Georgia
1,523,192
1,907,837
25%
Arkansas
524,237
656,406
25%
Delaware
189,638
237,823
25%
Idaho
288,617
361,033
25%
Massachusetts
1,172,293
1,463,110
25%
Tennessee
1,138,965
1,417,708
24%
North Carolina
1,750,935
2,173,173
24%
Kansas
477,996
593,091
24%
Missouri
1,057,943
1,301,714
23%
Alabama
854,312
1,039,160
22%
South Carolina
935,538
1,134,459
21%
Hawaii
269,470
326,957
21%
Pennsylvania
2,388,218
2,890,068
21%
South Dakota
153,799
185,064
20%
Kentucky
754,559
903,450
20%
Nebraska
312,295
375,811
20%
Iowa
553,575
663,186
20%
Oklahoma
635,222
757,553
19%
New York
3,295,968
3,916,891
19%
Michigan
1,766,409
2,080,725
18%
Illinois
2,045,361
2,412,177
18%
West Virginia
367,400
426,443
16%
Oregon
767,496
881,957
15%
Ohio
2,043,548
2,357,022
15%
Indiana
1,084,472
1,231,873
14%
Colorado
845,378
956,278
13%
District of Columbia
87,537
58,238
-33%
Employment increase required to meet 16:1 senior-to-home health aide ratio, 2030
State
Current employment
Number needed by 2030
Percentage increase
Florida
72,680
498,042
585%
South Dakota
3,100
11,863
283%
Tennessee
26,560
90,879
242%
Nevada
14,990
51,101
241%
Alabama
20,300
66,613
228%
New Hampshire
7,440
22,614
204%
Georgia
42,050
122,297
191%
Oklahoma
18,560
48,561
162%
South Carolina
28,350
72,722
157%
Kentucky
23,630
57,913
145%
Wyoming
3,670
8,884
142%
Maryland
32,690
79,211
142%
Hawaii
9,020
20,959
132%
Rhode Island
6,970
15,802
127%
Virginia
53,190
118,204
122%
New Jersey
56,630
125,612
122%
North Carolina
62,700
139,306
122%
Arizona
69,060
152,010
120%
Montana
7,850
17,279
120%
Mississippi
18,570
40,645
119%
Arkansas
20,170
42,077
109%
Nebraska
11,890
24,090
103%
Utah
14,740
29,523
100%
Indiana
40,280
78,966
96%
Michigan
68,510
133,380
95%
Iowa
21,890
42,512
94%
Delaware
8,040
15,245
90%
West Virginia
15,400
27,336
78%
Oregon
32,120
56,536
76%
Washington
58,000
100,250
73%
Illinois
91,130
154,627
70%
Louisiana
36,020
60,526
68%
Colorado
36,610
61,300
67%
Ohio
91,910
151,091
64%
North Dakota
6,210
9,767
57%
Kansas
24,250
38,019
57%
Vermont
7,260
11,150
54%
Connecticut
34,060
50,923
50%
Maine
16,510
23,975
45%
Idaho
17,530
23,143
32%
Alaska
6,480
8,154
26%
Wisconsin
72,790
84,117
16%
New Mexico
31,090
35,589
14%
Missouri
73,510
83,443
14%
Texas
309,540
332,448
7%
Pennsylvania
197,570
185,261
-6%
California
597,500
531,298
-11%
Massachusetts
109,350
93,789
-14%
Minnesota
102,490
76,482
-25%
New York
469,370
251,083
-47%
District of Columbia
11,330
3,733
-67%
Employment increase required to meet 10:1 senior-to-home health aide ratio, 2030
State
Current employment
Number needed by 2030
Percentage increase
Florida
72,680
776,945
969%
South Dakota
3,100
18,506
497%
Tennessee
26,560
141,771
434%
Nevada
14,990
79,718
432%
Alabama
20,300
103,916
412%
New Hampshire
7,440
35,279
374%
Georgia
42,050
190,784
354%
Oklahoma
18,560
75,755
308%
South Carolina
28,350
113,446
300%
Kentucky
23,630
90,345
282%
Wyoming
3,670
13,859
278%
Maryland
32,690
123,570
278%
Hawaii
9,020
32,696
262%
Rhode Island
6,970
24,651
254%
Virginia
53,190
184,399
247%
New Jersey
56,630
195,955
246%
North Carolina
62,700
217,317
247%
Arizona
69,060
237,135
243%
Montana
7,850
26,956
243%
Mississippi
18,570
63,407
241%
Arkansas
20,170
65,641
225%
Nebraska
11,890
37,581
216%
Utah
14,740
46,055
212%
Indiana
40,280
123,187
206%
Michigan
68,510
208,073
204%
Iowa
21,890
66,319
203%
Delaware
8,040
23,782
196%
West Virginia
15,400
42,644
177%
Oregon
32,120
88,196
175%
Washington
58,000
156,390
170%
Illinois
91,130
241,218
165%
Louisiana
36,020
94,421
162%
Colorado
36,610
95,628
161%
Ohio
91,910
235,702
156%
North Dakota
6,210
15,236
145%
Kansas
24,250
59,309
145%
Vermont
7,260
17,394
140%
Connecticut
34,060
79,441
133%
Maine
16,510
37,402
127%
Idaho
17,530
36,103
106%
Alaska
6,480
12,720
96%
Wisconsin
72,790
131,223
80%
New Mexico
31,090
55,518
79%
Missouri
73,510
130,171
77%
Texas
309,540
518,619
68%
Pennsylvania
197,570
289,007
46%
California
597,500
828,824
39%
Massachusetts
109,350
146,311
34%
Minnesota
102,490
119,312
16%
New York
469,370
391,689
-17%
District of Columbia
11,330
5,824
-49%
Living wage vs. hourly median home health/personal care aide wage by state
State
MIT living wage
Hourly median home health/personal care aide wage
Difference from hourly median to MIT living wage
Hawaii
$19.43
$13.35
$6.08
Virginia
$16.61
$10.69
$5.92
District of Columbia
$20.12
$15.04
$5.08
Louisiana
$14.06
$9.04
$5.02
California
$18.66
$14.05
$4.61
Alabama
$13.77
$9.58
$4.19
Georgia
$15.36
$11.17
$4.19
North Carolina
$14.72
$10.74
$3.98
Texas
$14.01
$10.11
$3.90
New York
$18.62
$14.86
$3.76
Maryland
$17.25
$13.51
$3.74
Oklahoma
$13.53
$9.80
$3.73
Delaware
$15.32
$11.65
$3.67
South Carolina
$14.58
$11.00
$3.58
New Mexico
$13.97
$10.52
$3.45
New Jersey
$16.20
$12.76
$3.44
West Virginia
$13.38
$9.97
$3.41
Florida
$14.82
$11.61
$3.21
Mississippi
$13.43
$10.25
$3.18
Kansas
$13.51
$10.97
$2.54
Colorado
$16.35
$13.83
$2.52
Oregon
$16.85
$14.33
$2.52
Tennessee
$13.25
$10.88
$2.37
Connecticut
$15.98
$13.62
$2.36
Arkansas
$13.29
$10.97
$2.32
Idaho
$13.95
$11.65
$2.30
Missouri
$13.72
$11.44
$2.28
Arizona
$14.94
$12.70
$2.24
Nevada
$13.67
$11.69
$1.98
Illinois
$15.37
$13.46
$1.91
Indiana
$13.44
$11.63
$1.81
Michigan
$13.63
$11.85
$1.78
Ohio
$13.16
$11.41
$1.75
Wisconsin
$14.02
$12.32
$1.70
Kentucky
$13.48
$11.89
$1.59
Utah
$14.52
$13.14
$1.38
Massachusetts
$17.74
$16.38
$1.36
Washington
$16.34
$15.14
$1.20
Maine
$14.92
$13.80
$1.12
Montana
$13.94
$12.82
$1.12
Pennsylvania
$13.39
$12.40
$0.99
New Hampshire
$14.47
$13.54
$0.93
Minnesota
$14.90
$14.00
$0.90
Nebraska
$13.57
$12.70
$0.87
Rhode Island
$14.79
$14.39
$0.40
Iowa
$13.62
$13.23
$0.39
Vermont
$14.93
$14.87
$0.06
Wyoming
$13.19
$13.35
-$0.16
South Dakota
$12.61
$13.08
-$0.47
Alaska
$15.06
$16.66
-$1.60
North Dakota
$13.08
$16.22
-$3.14
References
---