Consumer Cellular's GrandPad Review and Pricing
SeniorLiving.org is compensated when you click on the provider links listed on this page. This compensation does not impact our ratings or reviews. Read our Editorial Guidelines here to learn more about our review process and to learn more about how we are compensated.
$299 Equipment Fee
4G LTE Connection
$40/mo. Subscription
1920 x 1200 HD Display
SeniorLiving.org is compensated when you click on the provider links listed on this page. This compensation does not impact our ratings or reviews. Read our Editorial Guidelines here to learn more about our review process and to learn more about how we are compensated.
As SeniorLiving.org's resident tech expert, I've been trying out the best cell phones for seniors for years, but never a tablet designed specifically for older adults. I was excited to get my hands on the GrandPad and find out all that it has to offer for seniors.
The GrandPad, launched in 2014, is a first-of-its-kind tablet that makes all the best features available to older adults. It can take the place of a tablet or a cell phone that seniors can use at home and on the go to stay connected and entertained. This device offers a simple and safe way for users to enjoy all the benefits of a tablet using Consumer Cellular's service.
Read on to learn more about my experience testing out the GrandPad to find out if it's right for you or your loved one.
Pros About What We Like About the GrandPad
User-friendly with touch screen and large font
Affordable upfront fee and monthly rates
Family Circle feature allows a family admin to control apps and contacts on the GrandPad
No contracts or cancellation fees
Discount for AARP members
Several apps to keep users entertained
Includes a stylus for easy navigation
24/7 tech assistance available
Cons About What We Dislike About the GrandPad
Limited features compared to other tablets
Must turn the device off or close the case to turn off the screen
May be too heavy to hold for long periods of time
Overview of Consumer Cellular's GrandPad
The Buying Experience
Consumer Cellular makes purchasing a GrandPad simple and fast. You can call to order or purchase online. I found its website to be helpful, clear, and easy to navigate. If you want to purchase a GrandPad from Consumer Cellular's website, here's how:
Under "Choose a Device Type," I selected "Factory New."
Then, I chose a payment plan for the GrandPad itself. You can either select "Easypay Financing," which is $12 per month with $11 down, or click "Full Price Today" and pay the full $299.
I clicked "Add To Cart," which brought me to a new page.
Next, I decided whether I wanted to purchase Asurion protection for $5. If your tablet breaks or stops working, filing a claim with Asurion will get you a new or refurbished device. Since I'm a klutz with a reputation for damaging devices, I'm a big fan of this protection plan.
I selected whom I was shopping for.
Then I answered "Yes" when asked if I was an AARP member. If you are a member, you'll receive 5 percent off of your monthly bill.
I hit "Add to Cart."
I confirmed that the correct plan and device were in my cart, then I selected "Review Order."
I was prompted to enter my name, address, email address, and payment information. I also added my AARP Member ID here.
Lastly, I clicked "Place Order," and I was all set. Free priority shipping will have the GrandPad in your hands within three to five business days.
Pricing and Value
I found that Consumer Cellular's prices for the GrandPad are quite affordable, especially with the option to finance. The device itself is $299, or if financed, it's $11 down and $12 per month (with 0 percent interest). Considering an Apple iPad starts at around $449, the GrandPad is quite a deal. You can also purchase the GrandPad from other retailers, such as Amazon, but you'll get the best deal with Consumer Cellular. For comparison, the GrandPad costs $397 on Amazon, which is nearly $100 more than Consumer Cellular's price.
Did You Know? The number of seniors who use smartphones has increased over the years. Around 61 percent of all adults over 65 own a smartphone, a percentage that has risen by 8 percent since 20121.
You will also need to purchase the GrandPad service plan, which includes unlimited data. This will run you $40 per month, or a discounted $38 per month if you are an AARP member. Additionally, you may consider paying an extra $5 per month for the Asurion protection plan. Considering an unlimited phone plan from popular carriers like T-Mobile and AT&T starts at $40 and $60 per month, respectively, for one line, the GrandPad's service plan is pretty affordable.
Overall, I found the GrandPad to be well worth the total cost. The ability to easily stay in touch with family and friends alone makes it worth its value.
Contracts and Warranty
If you decide to finance, you will owe monthly payments of $12 for the device over 24 months. No contract is required, and if you decide that after 30 days you aren't satisfied, you can cancel and pay nothing. There is also a one-year warranty to cover any defects with the device.
Unboxing and Setup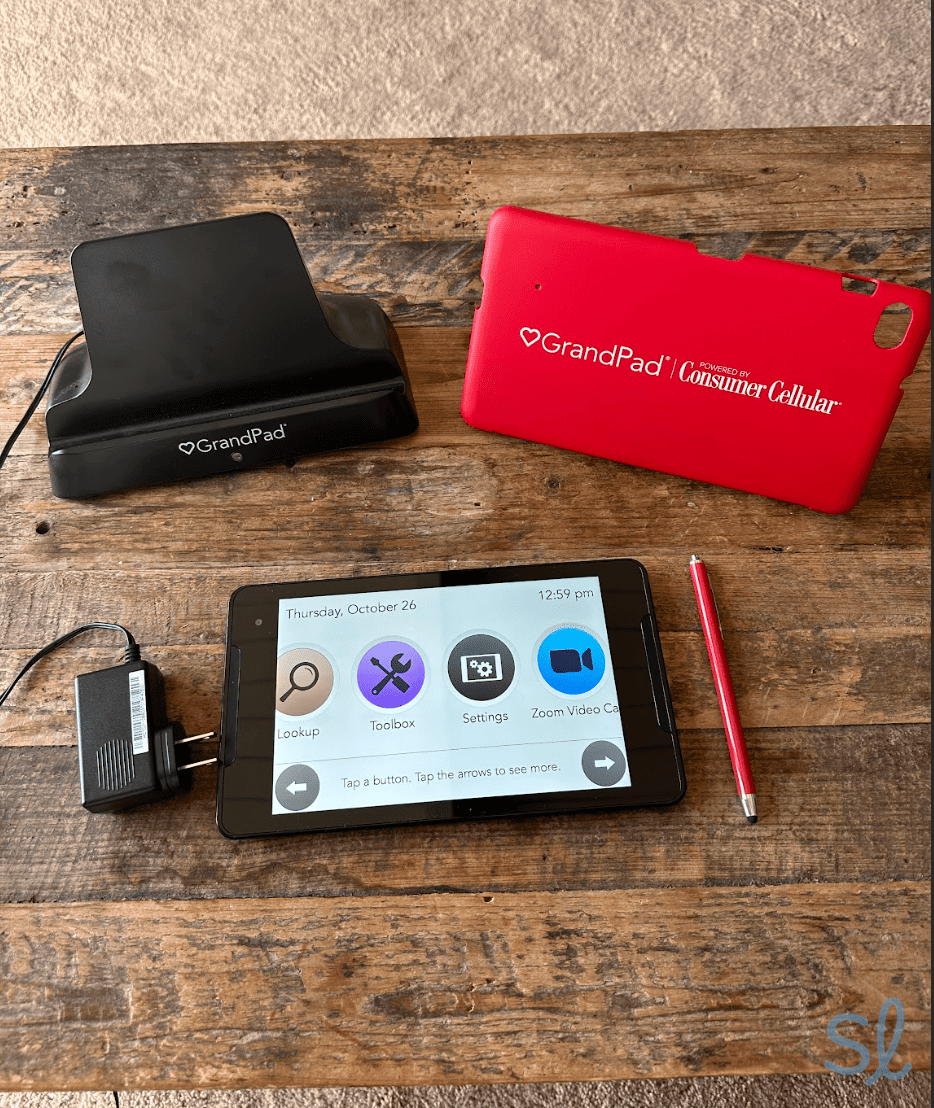 My GrandPad package came with everything I needed to get started:
The GrandPad tablet
A case for the GrandPad that can be folded into a stand
A charging cradle
A stylus
An instruction manual
The GrandPad worked right out of the box. All I had to do was press the power button, located on the side of the tablet, to turn it on. I didn't have to connect the GrandPad to Wi-Fi like you do with most tablets since it runs on a 4G LTE cellular connection. I love this feature for seniors, as connecting to Wi-Fi wherever you go is an added step that can be frustrating, especially if you don't know the network's password (though you can connect to Wi-Fi if you wish to). Plus, with a 4G connection, you can take the tablet on the go and use it wherever there is cellular service!
Once my GrandPad was on, I noticed that the battery life was at 30 percent, so I decided to charge it. I plugged the charging cradle into a wall outlet. Then, I set the GrandPad on the charging base. A light on the front of the base turned white, a charging message appeared on the tablet's screen, and the GrandPad made a chiming noise to indicate that the device was charging. These different indicators are very useful.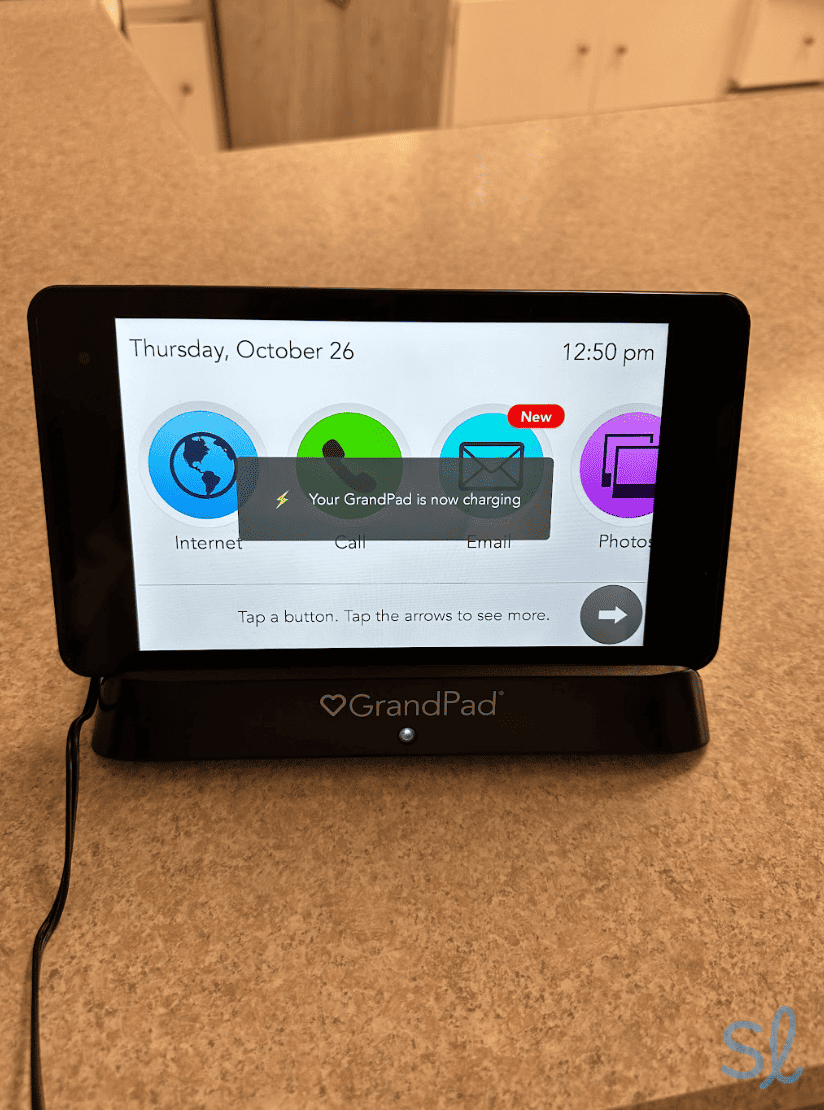 Once the GrandPad was fully charged, I removed it from the charging cradle. Another useful feature I noticed during setup is that the tablet automatically goes into standby mode to save power when you close the case over the front of the tablet. Then, when you open the case, the GrandPad will wake up and the screen automatically turns on again. It took me a little while to get used to this feature, as I'm used to clicking a button to turn off the screen of other tablets and phones, including iPhones and iPads. The GrandPad doesn't have this feature; its power button forces the tablet to turn off fully rather than putting it in standby mode. While it took some getting used to, I realized this feature is great for seniors who don't want to fiddle with small buttons whenever they want to turn the screen off or on.
Testing Out My GrandPad
The GrandPad is different from your average iPad or Android tablet. Its features are uniquely tailored to seniors who want a more straightforward way to stay in touch with loved ones. I'll cover my experience with my favorite GrandPad features below!
Navigating the Grandpad
One of the first things I noticed about the GrandPad is that using it is very intuitive. The home screen is clean and vibrant, with large, colorful icons and text that labels each icon. The GrandPad includes apps for phone calls, photos, music, games, the camera, email, internet, weather, articles, Zoom video chatting, moods, help, and the toolbox. They are large and easy to differentiate, making the GrandPad easy to navigate. I could swipe or use the arrows on the touch screen to scroll through the menu. I also like that the tablet comes with a stylus. You can use the stylus like a pen to navigate the GrandPad if that's easier for you.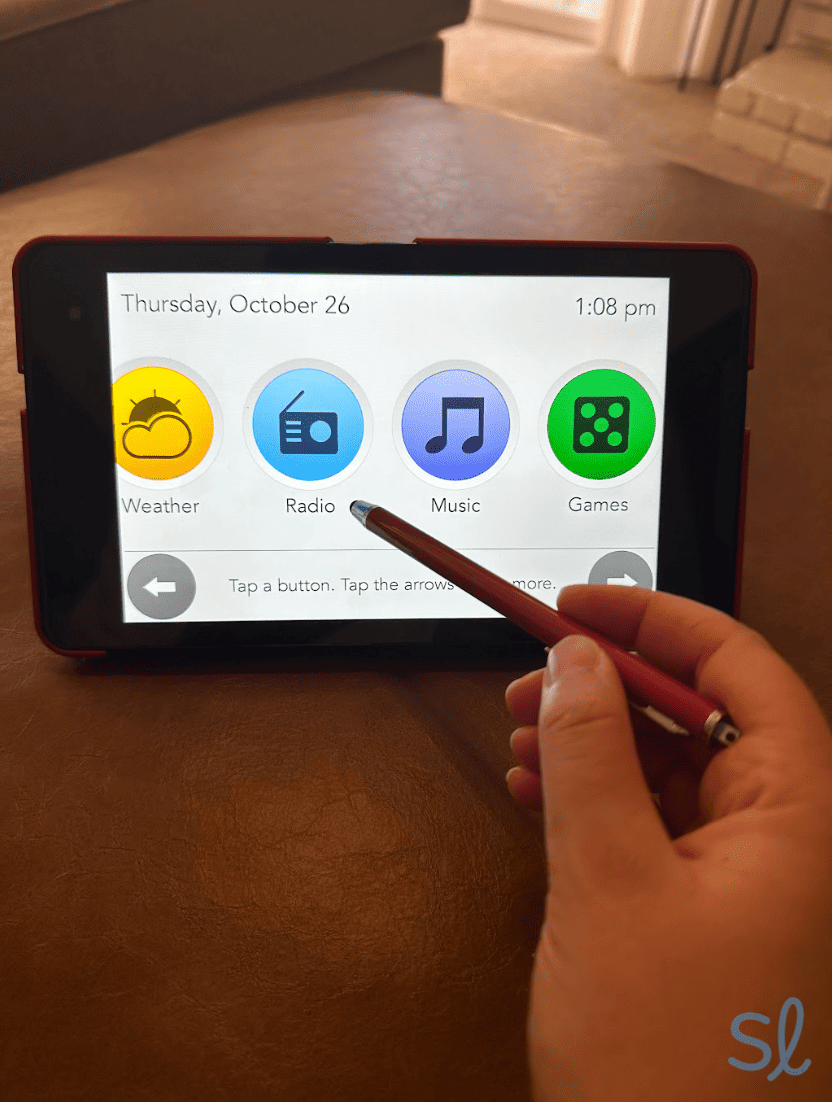 Family Circle
I found that the Family Circle is one of the GrandPad's most innovative features. It creates a safe and secure way to keep older loved ones connected to all their family and friends. The GrandPad online portal and companion mobile app allow the administrator of the account, such as a loved one or caregiver, to add approved contacts. This ensures that only family and friends are able to contact the GrandPad owner. During my testing, I was easily able to add approved contacts through the mobile app, which I downloaded on my iPhone. The contacts then showed up under the GrandPad contacts icon.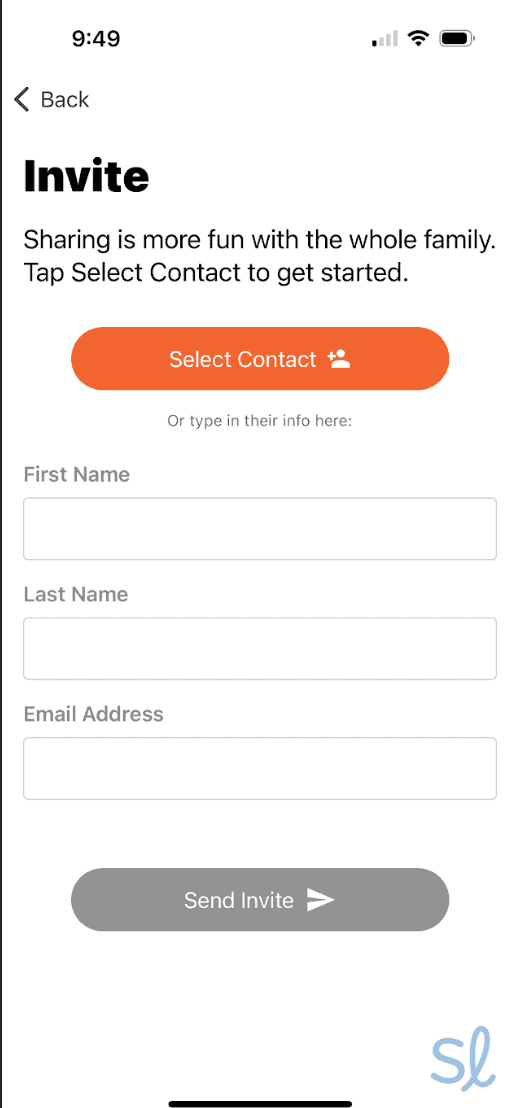 Did You Know? A study from USC found that older adults facing social isolation were more likely to be victims of financial exploitation2. The GrandPad can protect seniors through hand-picked content, preloaded contacts, and easier ways to connect.
The GrandPad's safety features prevent scammers or spammers from contacting those with a GrandPad. I could also send photos and messages to the tablet and even play live games with the user through the mobile app. I appreciate that the GrandPad helps seniors stay both protected and connected.
Making Voice and Video Calls
Voice and video calls are an excellent way for older adults to stay connected with family and friends. Whether you live near or far from loved ones, the stressors of work and life can make staying connected challenging. Unfortunately, many seniors face loneliness, and this feeling of social isolation can come with health risks3. Voice and video calls are a great solution for encouraging regular social connection.
Did You Know? Along with the GrandPad, Consumer Cellular offers a variety of cell phones and phone plans for seniors. Visit our Consumer Cellular review to learn more.
To make a voice call, I clicked the green phone icon on the GrandPad's home screen. My preapproved contacts were all clearly displayed so I could easily call friends and family. The GrandPad also comes pre-installed with the Zoom app so you can video chat with loved ones. I called my mom using Zoom, and it worked like a charm.
Taking Photos
The GrandPad features front and rear cameras, and you can take photos and videos. I took some photos inside and in my backyard and found that the camera quality was decent. I also love that the GrandPad includes clear instructions and icons for every step of the process. There are large buttons with clear labels so you know how to take a photo, flip the camera, turn on the flash, and save or delete images.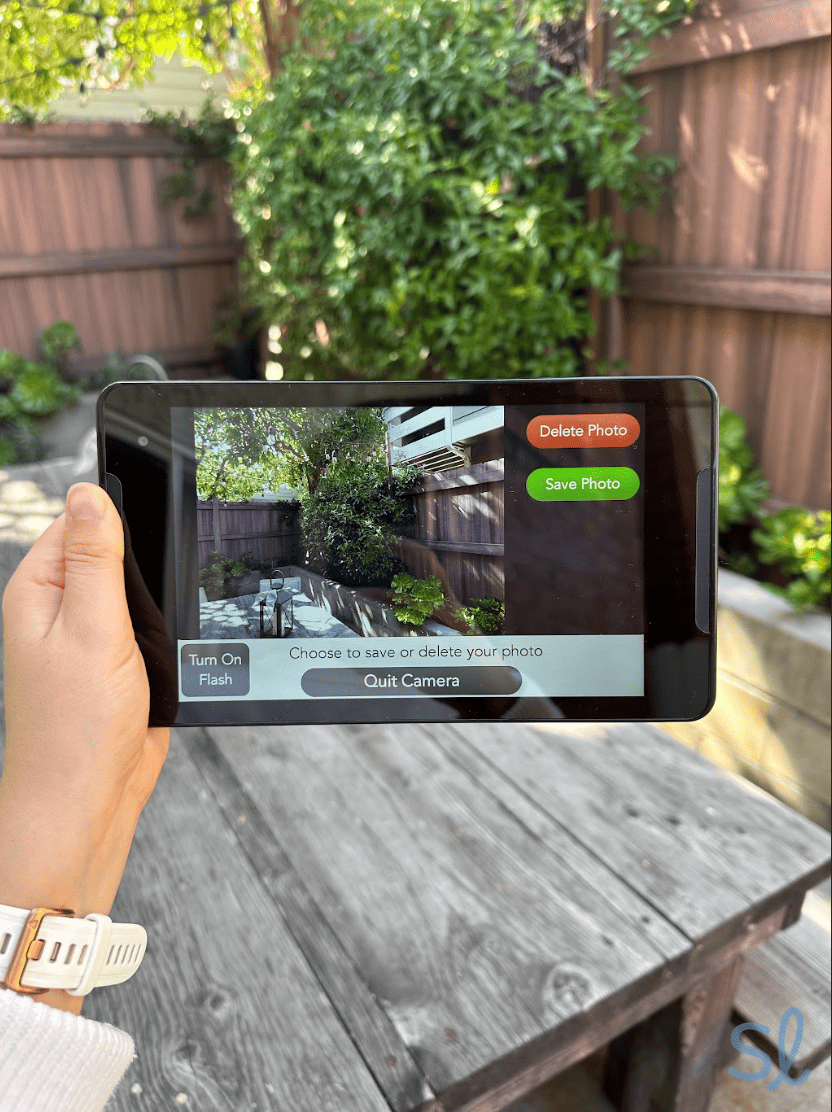 Once I took a photo, a screen popped up on the GrandPad asking if I wanted to share it with my family. I appreciate how easy the GrandPad makes it to stay in touch. This photo sharing goes both ways, as loved ones can send photos to the GrandPad. My mom sent a photo to the GrandPad, and I had the option to record a voice message to comment on the photo. My response was then sent to my mom, and she could also leave voice comments on photos I'd taken. This is especially helpful for older adults who find typing on a tablet challenging due to vision loss or mobility issues.
https://drive.google.com/file/d/1jHvrZMFOUT0d5_J_C6EIYad-j6M408WM/view?usp=drive_link
From my testing, I found that the cameras aren't the best quality, but they still get the job done. If you're looking for higher-quality cameras, I'd recommend a smartphone like an iPhone or Android phone.
One important thing to note about the GrandPad: It's much larger than a phone. While holding up the GrandPad to take photos, I realized it might be a bit too cumbersome or heavy for some users, especially if they have arthritis or mobility issues. Luckily, the GrandPad's cover folds into a stand, and you can also use the tablet while it's on the charging base, so you can easily use it without holding it. Still, if you're looking for a device that's easy to hold for longer periods of time, you might want to consider a traditional smartphone, which is smaller and lighter than a tablet.
Surfing the Web and Reading Articles
The GrandPad comes with an internet app, which is preloaded with safe websites like AARP and NPR for seniors to browse. I wasn't able to access any websites beyond the ones featured in the internet app. This has some pros and cons, as it keeps users secure while using the internet, but it also limits what you can do online. Before accessing the internet, I also had to scroll through a very lengthy notice about inappropriate content that may be on the internet. While this was a nuisance for me, it's beneficial for those who aren't as familiar with the dangers of the internet. Again, Consumer Cellular does everything it can to keep users safe online.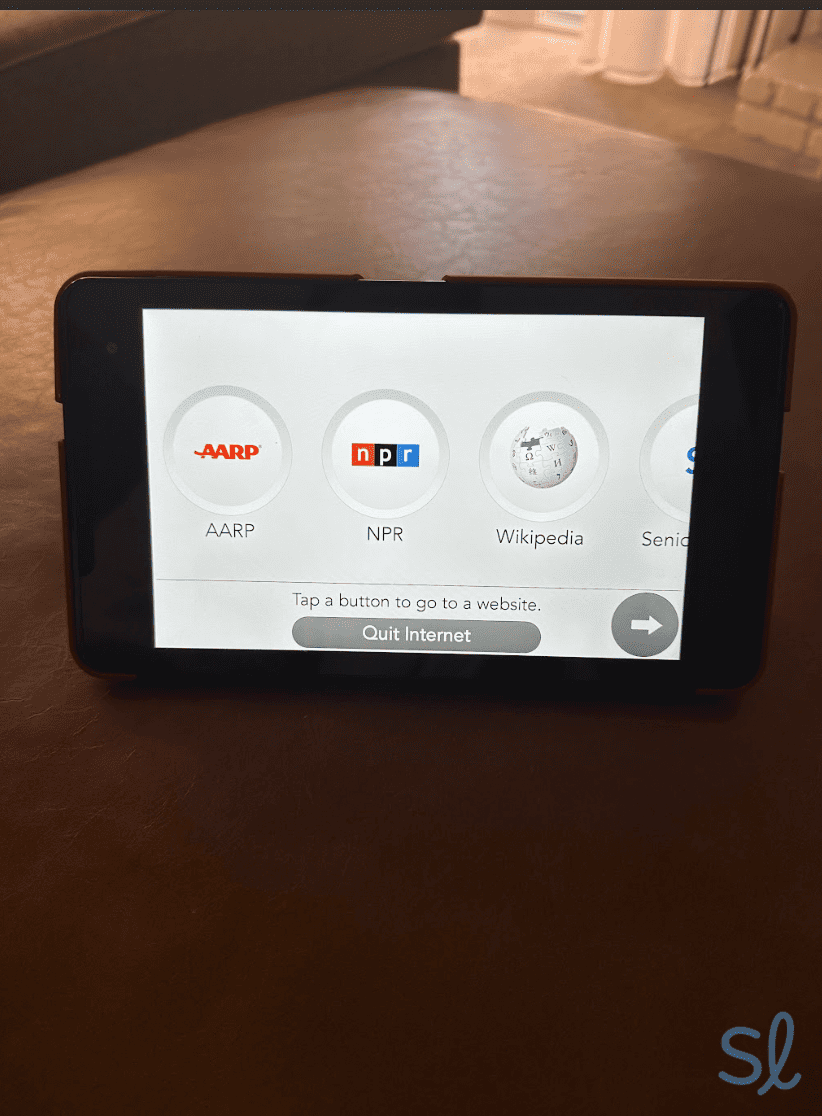 Along with the internet app, the GrandPad comes with an articles app loaded with a variety of pieces on topics like current events, antiques, and crafting. I even found articles about the GrandPad's featured cat and dog of the day. So cute!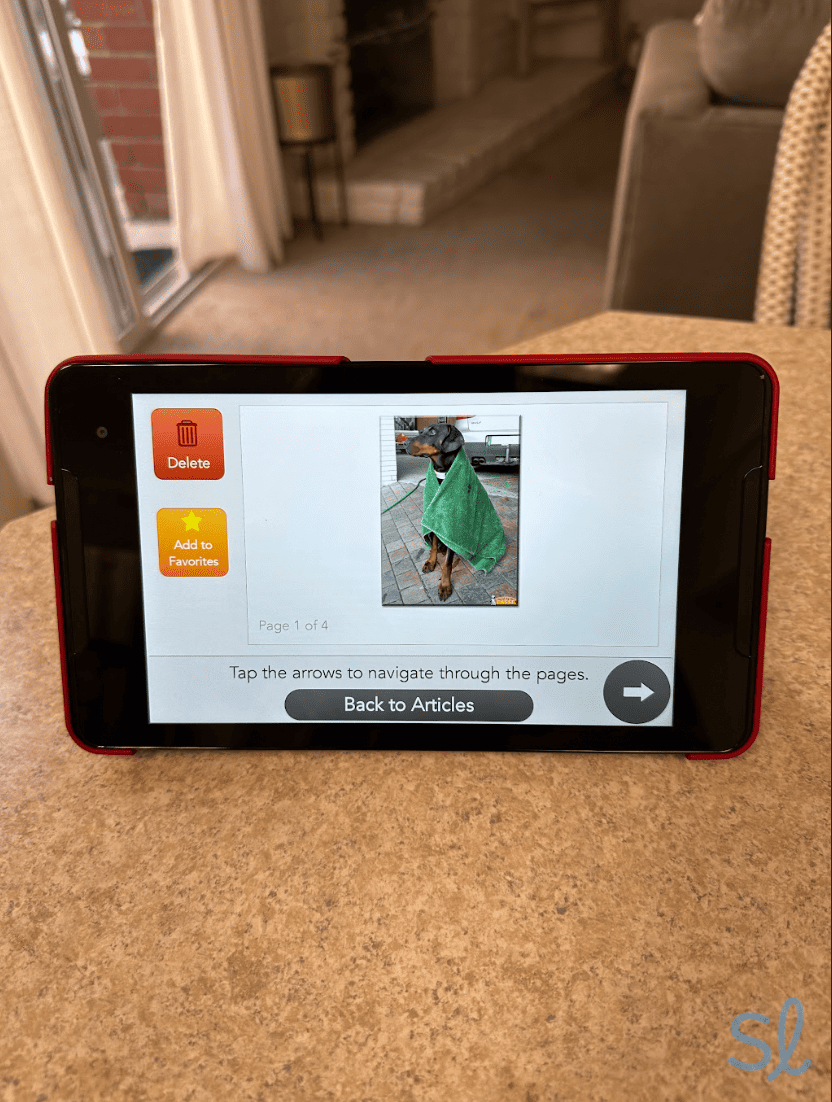 Because the GrandPad's internet app is fairly limited, you can't access streaming apps like Netflix or Hulu, which could be a drawback for some users. If you're looking for a tablet with unrestricted internet access, check out Apple's iPad or the Google Pixel tablet.
Customer Support
One of my favorite features for seniors is the GrandPad's help app. It has several training videos to help you learn how to use the tablet. You can also call customer support at any time, 24/7, and a live representative will answer any questions you have about using your device. This is perfect for older adults who are new to tech or just need a little extra help getting things set up.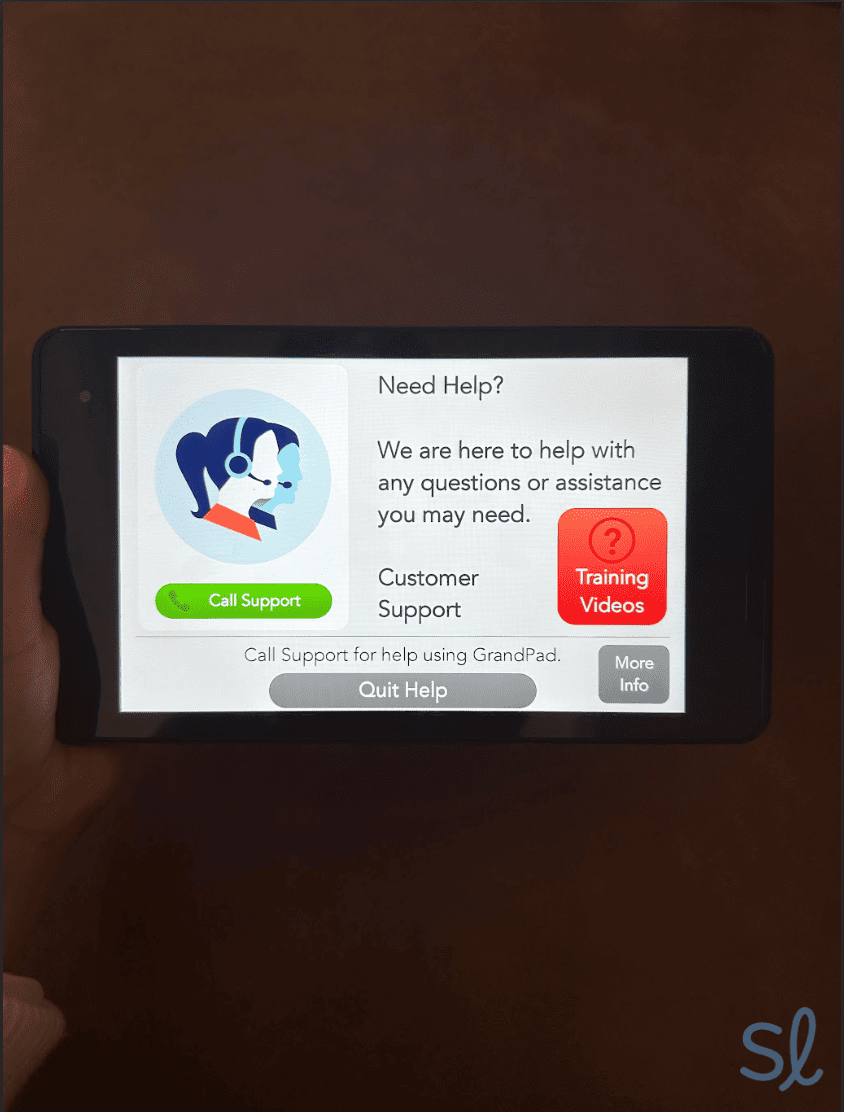 Playing Games
Another way GrandPad users can stay entertained and connected is through the games app. There are classic games like bingo and word scramble, card games like solitaire and blackjack, brain games like Sudoku and crossword puzzles, and multiplayer games you can play with friends and loved ones in real time. GrandPad added this multiplayer feature in 2022, and I appreciate that the tablet has evolved from previous releases to include fun features like this. I played chess with my mom on the GrandPad while she played from her iPhone. Even though I lost, I had a great time.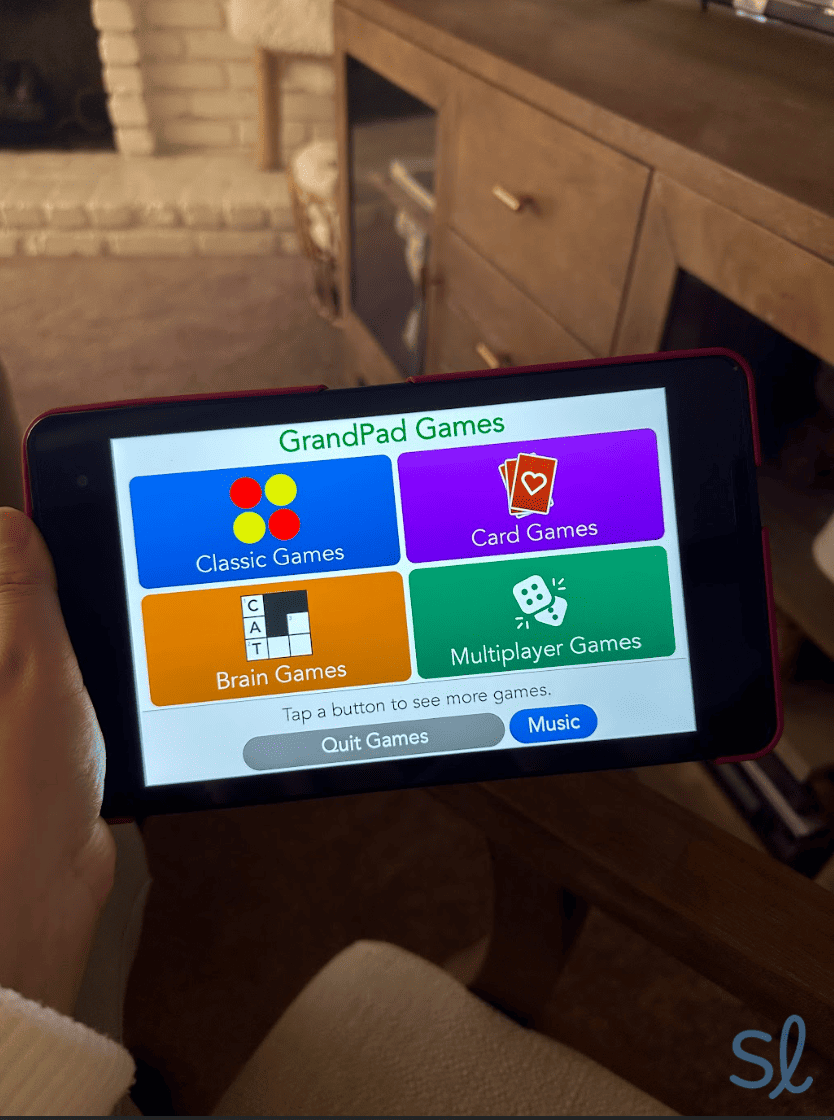 Consumer Cellular even hosts game nights. Users from all over can enjoy games like bingo and bridge together on their GrandPads. The company sends out emails with a list of the game night winners. I love this interactive feature.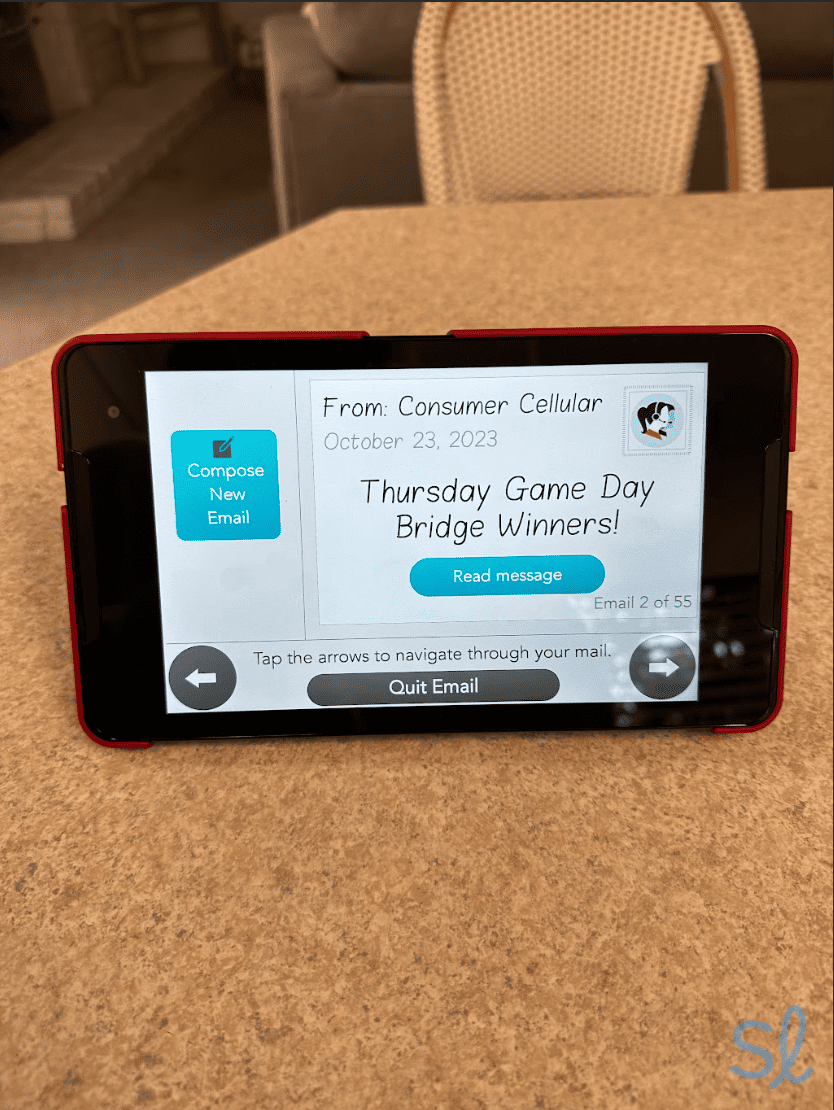 Other Useful Features
I found lots of other features to enjoy on the GrandPad, including:
Texting and email: Along with apps for making voice and video calls, the tablet has apps for texting and sending emails. I sent some texts back and forth with my GrandPad's approved contacts, and it worked just like texting on a normal cell phone.
Moods: The GrandPad has a moods app that comes preloaded with live footage of animals, beautiful scenery, and tons of other videos that are perfect for watching or throwing on in the background for the ambiance. I turned on a video of a crackling fireplace while I read a book. Talk about cozy!
Radio and music: The GrandPad has both a radio and music app, so whether you want to listen to your favorite FM station or a certain genre of music, you can. You can save your favorite stations, adjust the volume, and play music while you use other features on the tablet. I turned on a Big Band station in the music app while I made dinner. The speaker was powerful, and the station had so many of my favorite tunes.
The Bottom Line on the GrandPad
From my experience, I found that the GrandPad is an innovative tool for communication and entertainment. The company crafted the GrandPad very intentionally for older adults. I loved the tablet's variety of apps, safety features, interactive games, and useful tools, such as 24/7 customer support. The GrandPad allows older adults who struggle with the advanced tech of standard tablets and smartphones to access tools that can improve their quality of life.
Keep in mind that the GrandPad may not be right for everyone. The icons and tools are very simplistic, and while this is ideal for many older people, others might desire more freedom and advanced features on their devices. On the other hand, if you're looking for a device designed for older adults that is easy and intuitive to use, it might be just right for you.
To learn more about our experience with the GrandPad, watch our video with Jeff Hoyt, SeniorLiving.org's editor-in-chief.
Frequently Asked Questions About the GrandPad
Read About Our Panel of Experts
As SeniorLiving.org's tech expert and editor, Taylor has years of experience reviewing products and services for seniors. She is passionate about breaking down stigmas related to seniors and technology. She loves finding innovative ways to teach seniors about products and…
Learn More About Taylor Shuman