Why Getting Married and Moving to a City May Help Prevent Suicide
More than 47,000 Americans took their own lives in 2017. Suicide claims more lives in the United States than car accidents, breast cancer and murder. The U.S. has one of the highest suicide rates among wealthy countries, and the rate of Americans taking their own lives has risen almost every year since 2005.
Suicide has not been this prevalent in the U.S. since World War II. Today, suicide is the 10th leading cause of death in the United States, and suicide rates have been on the rise in nearly every state since the turn of the 21st century.
Understanding why suicide is becoming more common in such a prosperous nation is as difficult as understanding why a loved one would choose to end their own life. To be sure, there's no single cause that can explain why the U.S. is facing a suicide crisis, though our research indicates that not being married and living in a sparsely populated area could be factors.
The wounds of suicide run deep, both on society and on the families that are forever changed by a fateful decision. Bucking this trend means developing a better understanding of the statistics behind suicide. Where is suicide most common? Who is the most likely to take their own life? How do suicide rates across the country correlate with (or diverge from) other societal trends?
Where Are Suicide Rates the Highest?
Suicide claimed 47,173 lives in 2017, making it the No. 10 leading cause of death in the U.S. Suicide occurs at an age-adjusted rate of about 14 per 100,000 people, which is the highest rate recorded in the U.S. since 1942.
Over just the past 10 years, the U.S. suicide rate has climbed by more than 20%. Among wealthy nations, such as the United Kingdom, Japan and Germany, the U.S. suicide rate is one of the highest.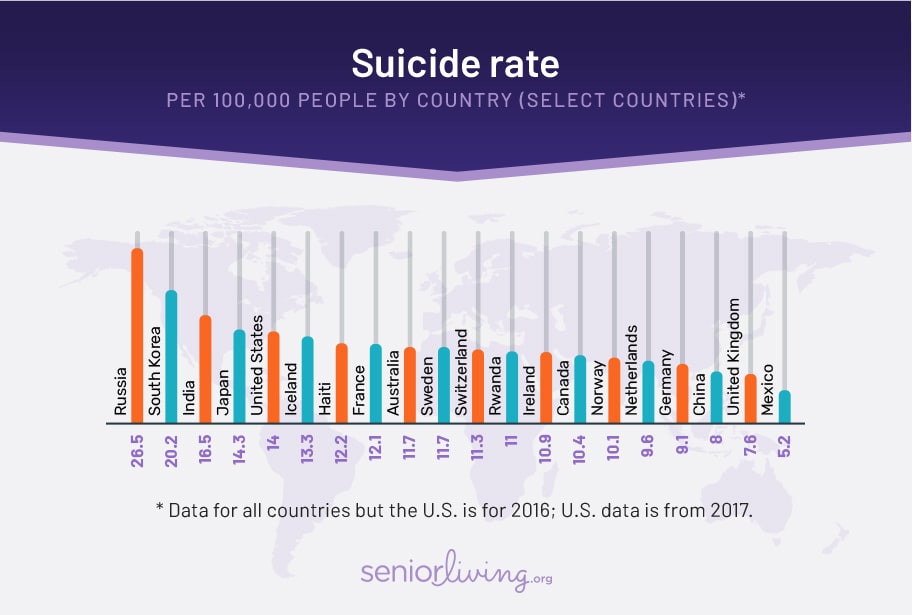 Among U.S. states, Montana has the highest suicide rate and the District of Columbia has the lowest.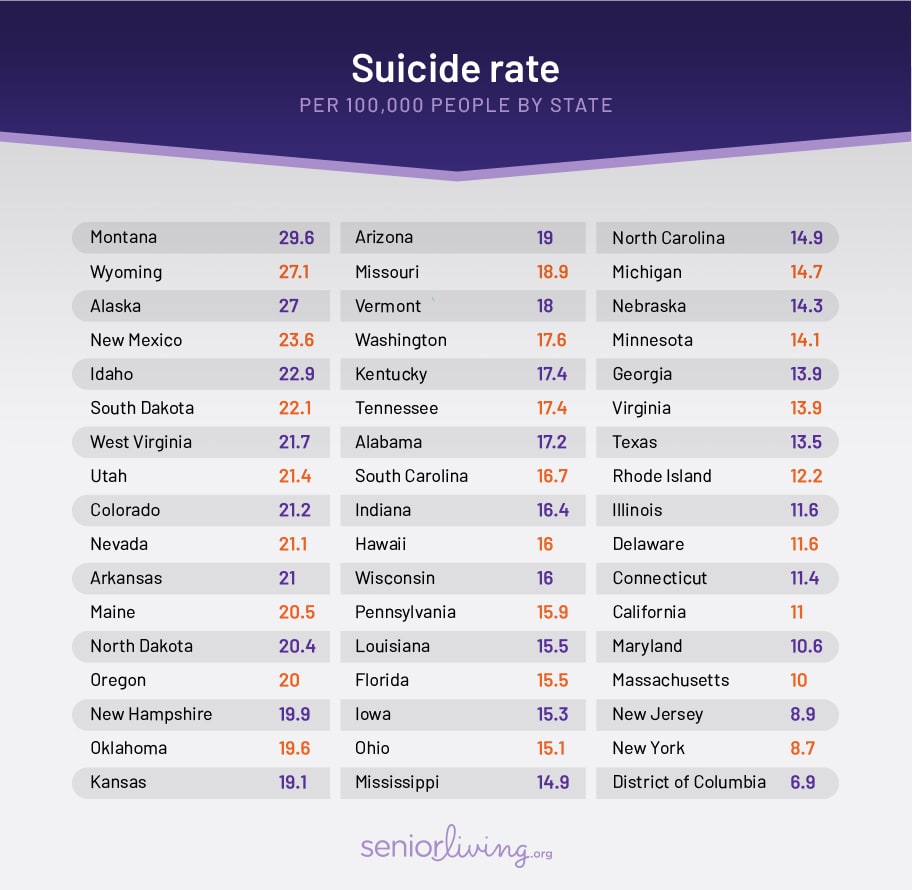 Every state except for one (Nevada) has seen the suicide rate climb since 1999. No state has seen the suicide rate fall over that same time frame.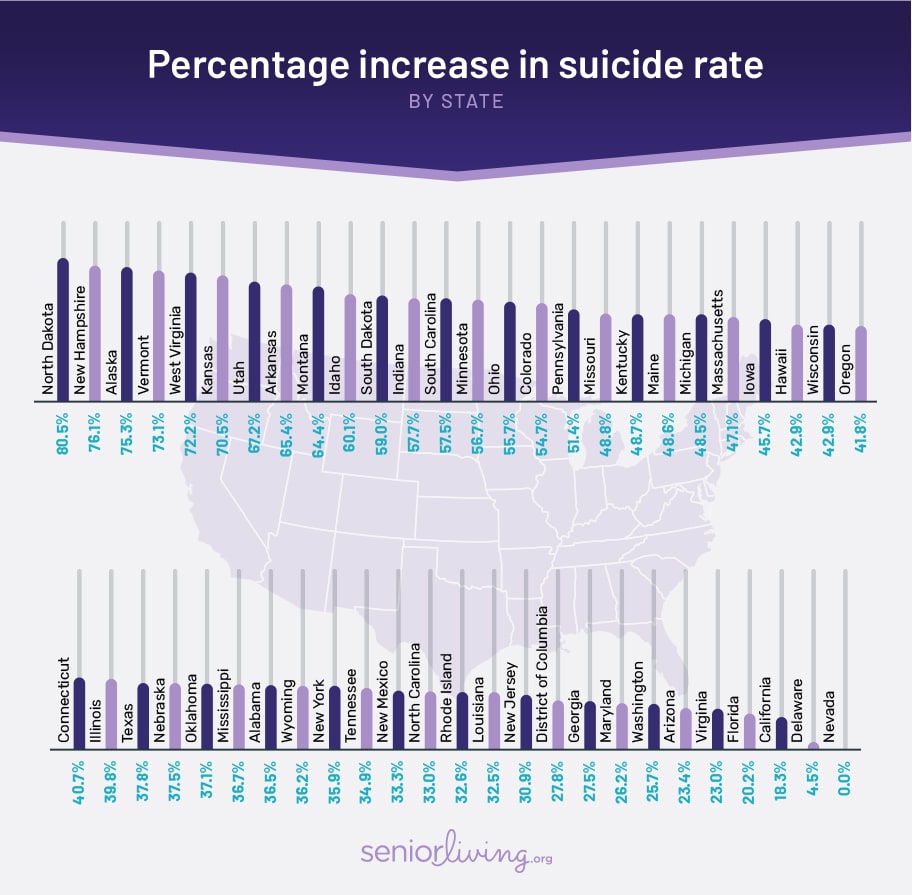 Among major metro areas, Reno and Colorado Springs have the highest suicide rates, though most major cities have seen their rates increase over the course of this century.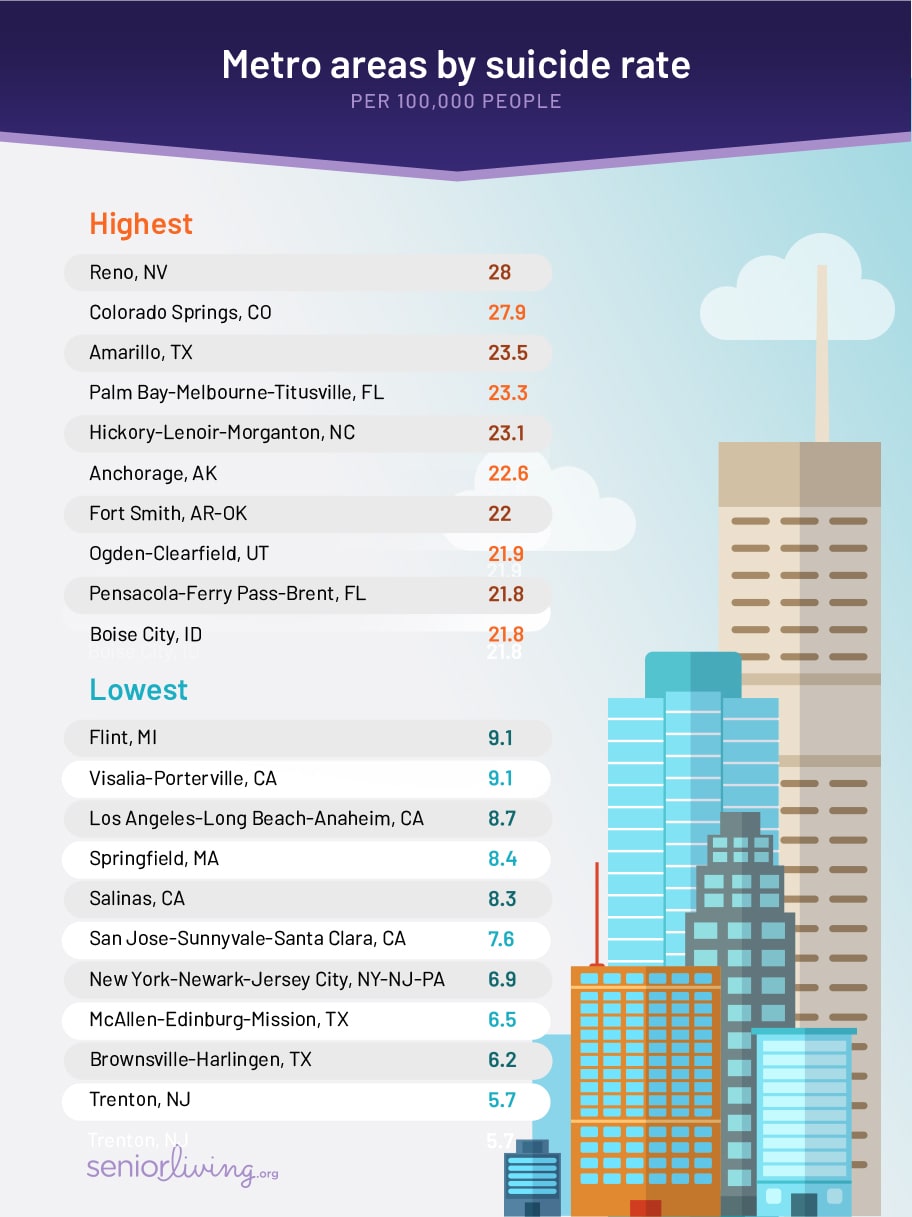 Several cities have seen huge increases in their suicide rates since 1999, led by Peoria, which has seen the suicide rate surge by more than 150%.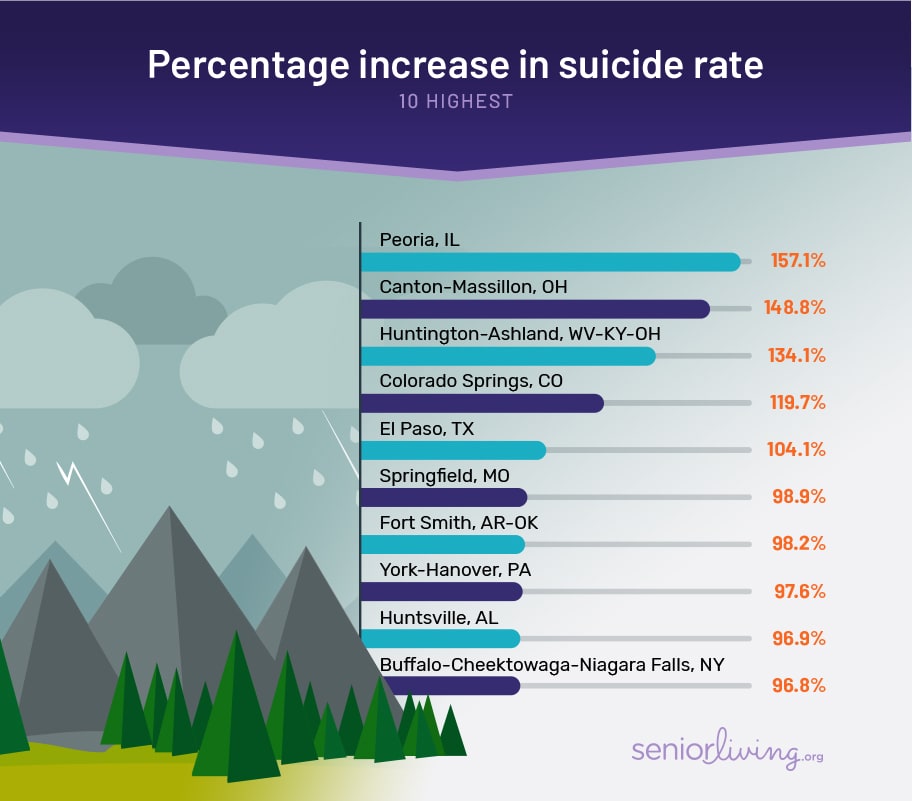 Less than a dozen cities have seen their suicide rates fall since 1999, with Waco and Raleigh both seeing their rates fall by nearly 20%.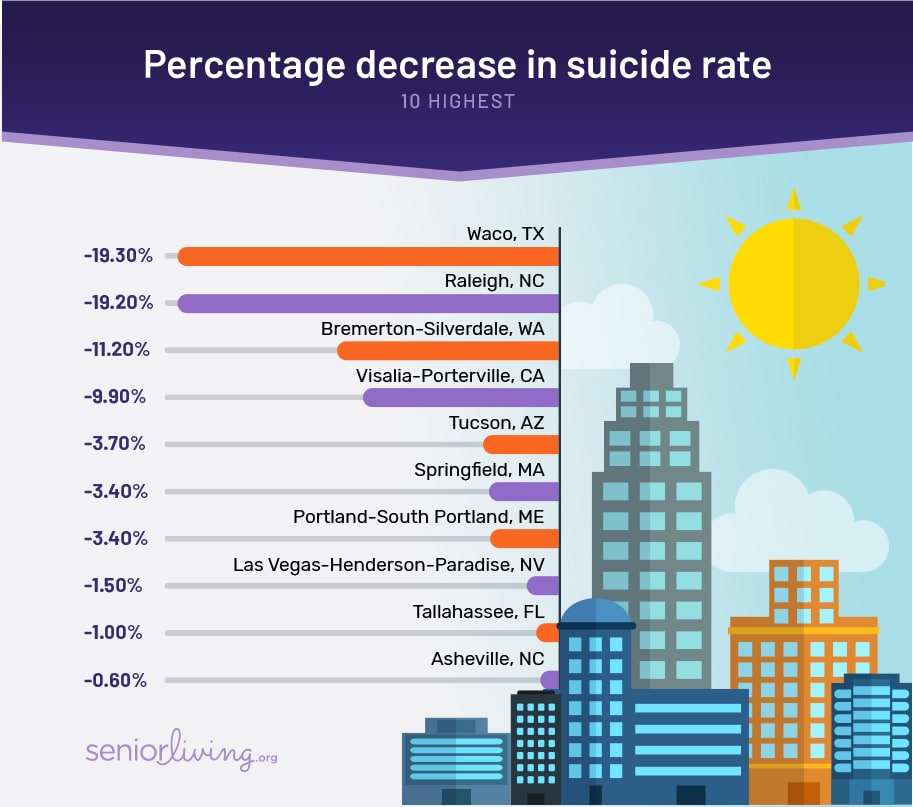 The Human Face of Suicide
While the stereotype of a person who takes their life is a white male, the truth is that suicide can impact all cultures across the U.S, and the data reveals some striking differences when considering sex, race and age.
Sex
Far more men commit suicide than women; on a national level, the suicide rate among men is nearly four times higher than the rate for women, and in no state do women take their own lives at higher rates than men.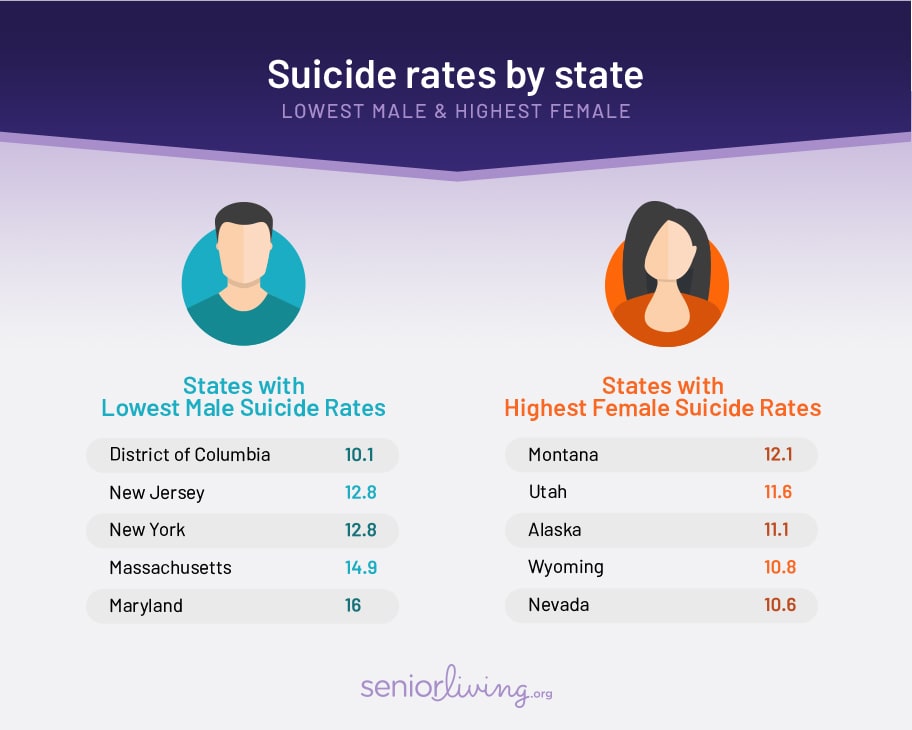 In addition to men being more likely to commit suicide, men and women also turn to different methods, with men more likely to use guns and women more likely to take pills.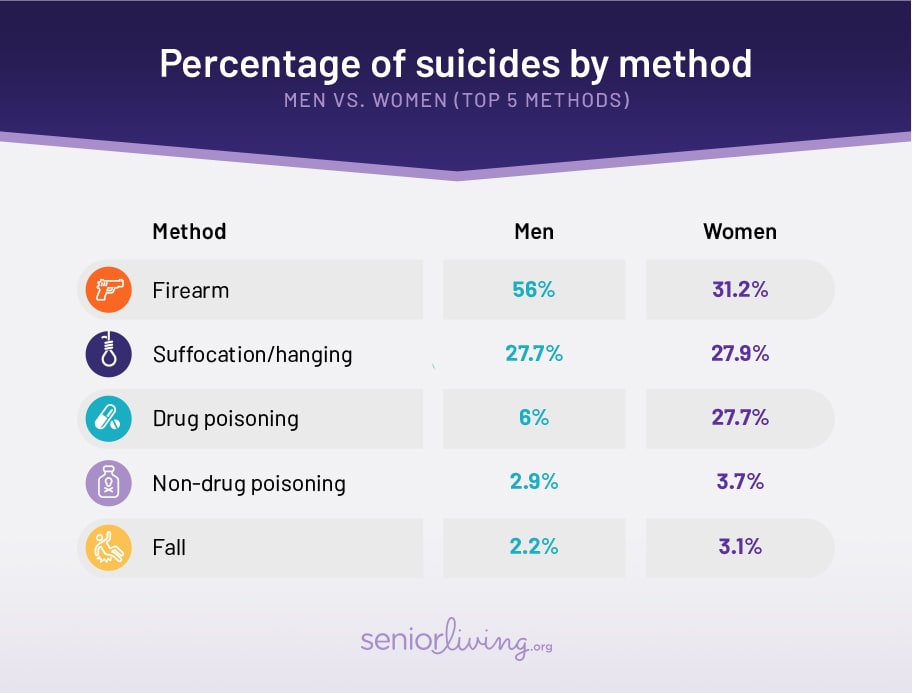 Race
White people accounted for more than 80% of all suicides in 2017, by far the most of any racial or ethnic group. And when removing those who identify as white and Hispanic, that number moves to nearly 90%.
But when accounting for differences in the representation of racial and ethnic groups in society, whites are not the group most likely to commit suicide.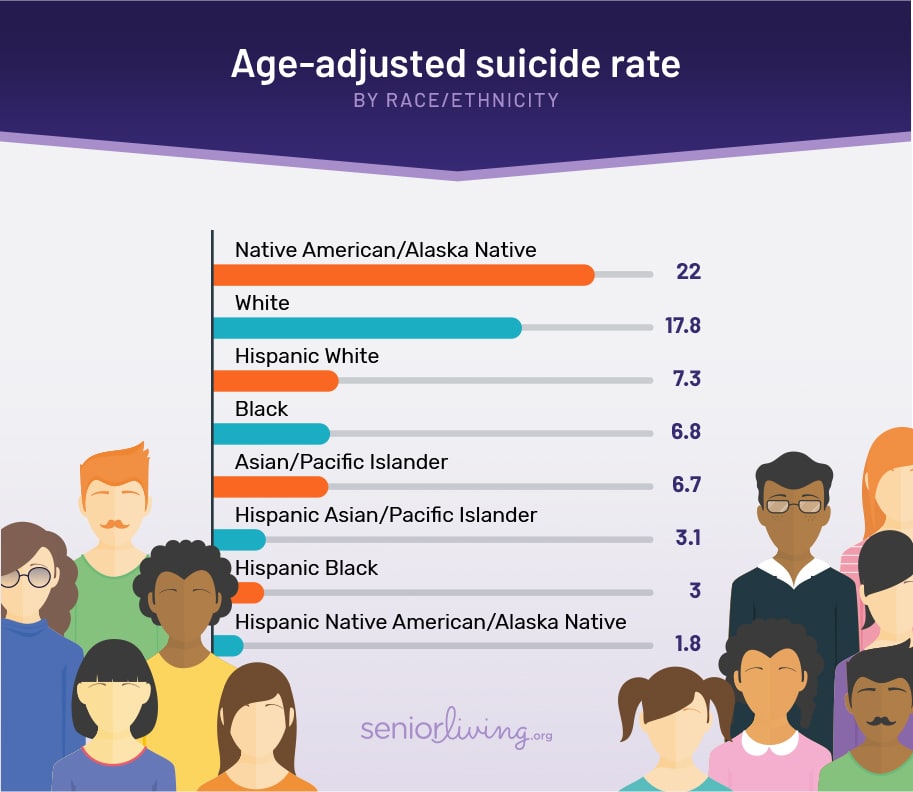 Both whites and blacks are most likely to use guns to take their own lives, while Native Americans and Asians are more likely to turn to suffocation or hanging.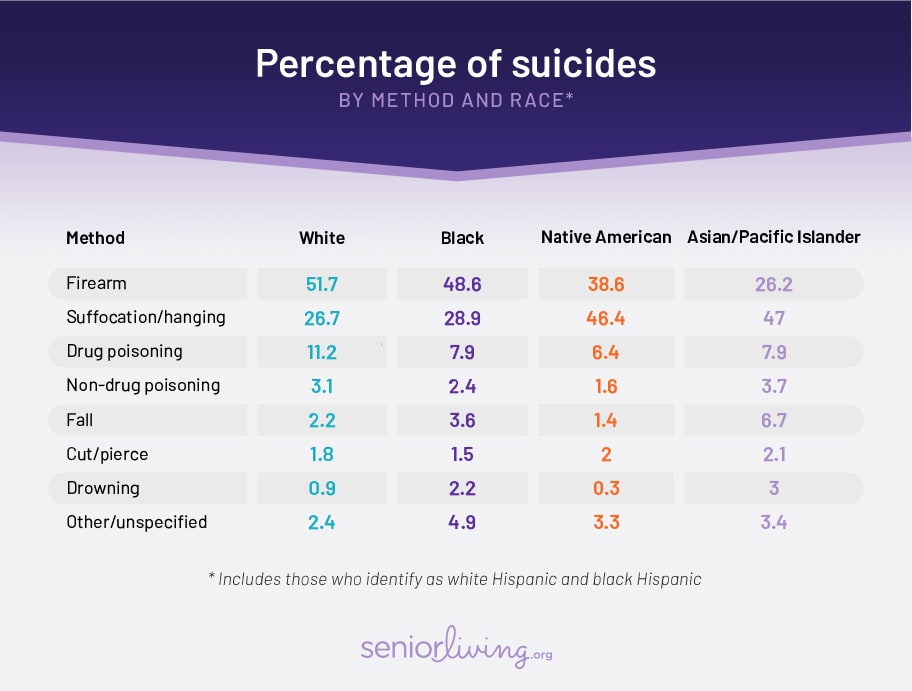 Age
Those between the ages of 45 and 69 accounted for more than 27% of all suicides in the U.S., and young people tend to take their own lives at lower rates than their older counterparts.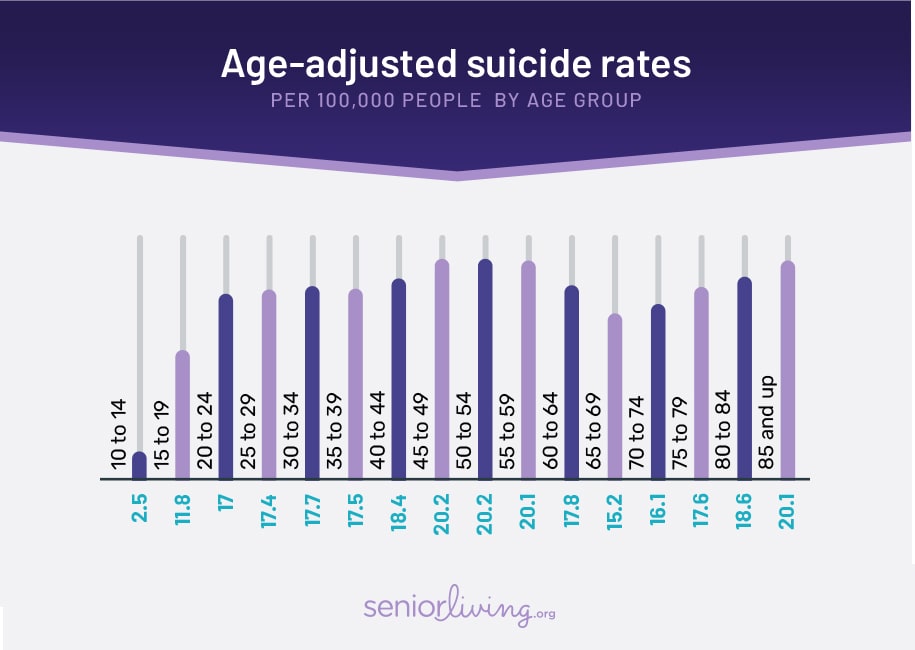 In no age group do women have higher suicide rates than men, but girls between 10 and 14 commit suicide at a rate that's more than half their male counterparts, the highest ratio among all age groups.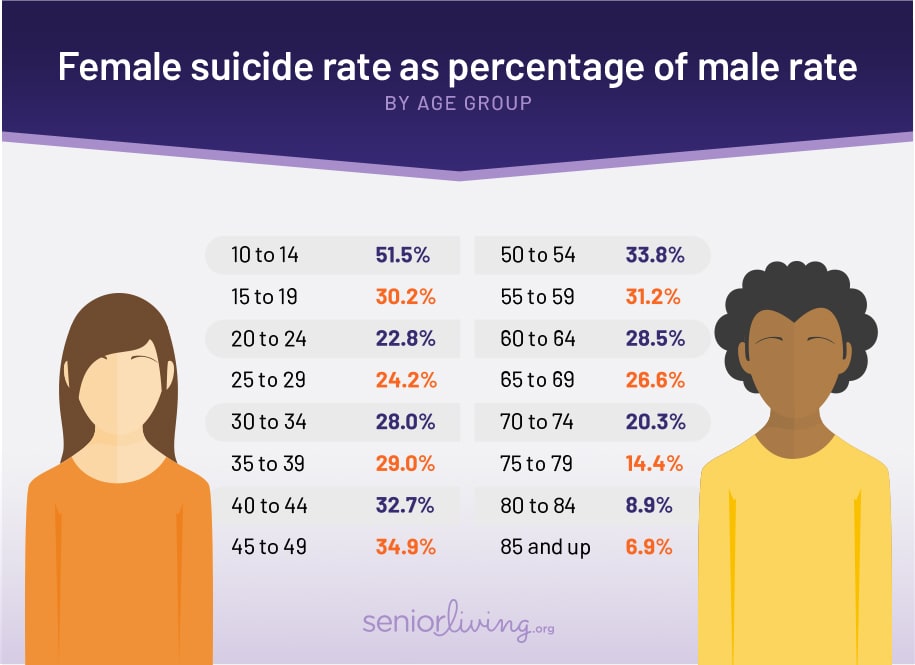 Why?
Understanding why a person would choose to take their own life is difficult, if not impossible, even for the people who are closest to them. Trying to explain why suicide is more common in some states than others is an even more elusive notion.
But interestingly, in our examination of what might tie certain states together, we did find a few statistical correlations that are intriguing, though it's important to remember that correlation is not causation.
We took the 10 states that currently have the highest suicide rates and four others that had suicide rate increases that were among the 10 highest to see if we could identify what they had in common, aside from suicide prevalence. What we found was pretty interesting: Two factors were most strongly correlated with suicide rates — marriage and population density.
To find commonalities in our group of states, we looked at the following data:
Median household income
Marriage rates
Population density
Poverty rates
Drug overdose deaths
Unemployment rates
For all but population density, we looked at the change in the respective rates between 1999 and 2017. We wanted to use official U.S. Census data for population density, and the most recent data available was from 2010, which provides a nice snapshot between 1999 and 2017.
In all categories, at least half of our states were either among those with the worst current-year rates, rates that exceed national rates or medians or rate increases that exceed the national median. For instance, nine of our states had poverty rates that either exceed the national median or are higher than they were in 1999, while 12 of our 14 states have jobless rates higher than the national median or ones that are higher today than in 1999.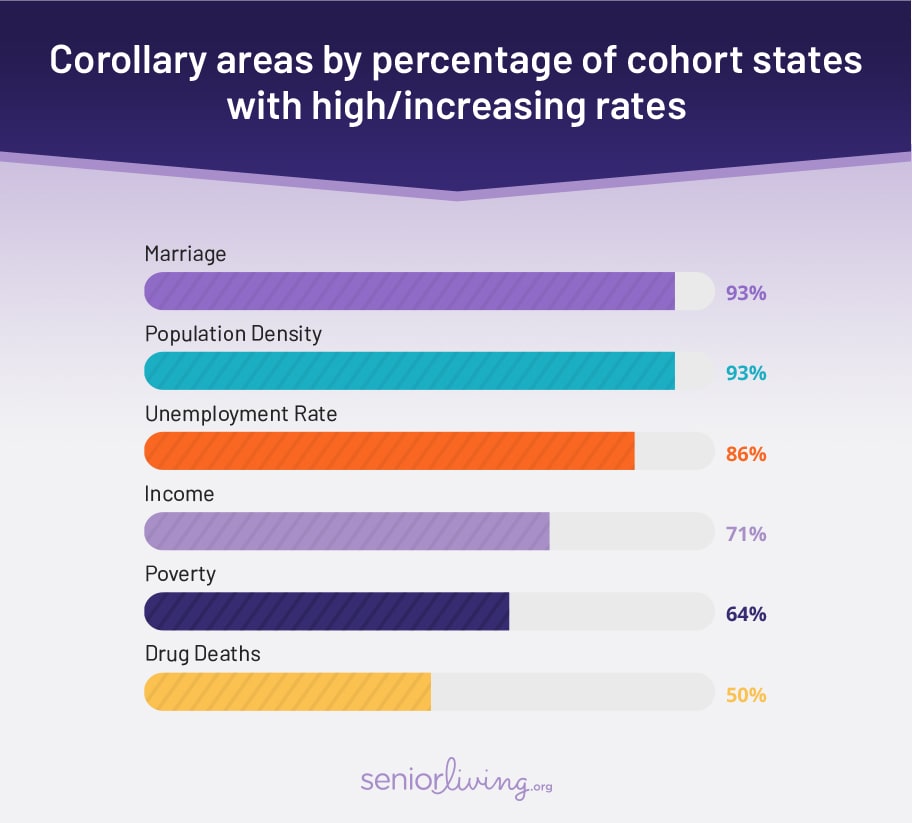 Marriage and population density are by far the most strongly correlated areas, according to our study. Importantly, our research suggests that not being married is correlated with higher suicide rates, as we looked at states with the lowest marriage rates or states where marriage rates have fallen the most. As mentioned, our population density figures are the only category in which a single metric was measured, and higher population density states tend to have lower suicide rates.
Though it's not the same state in both cases, 13 of the 14 states in our group have population density lower than 99 people per square mile (which is the national median, minus the District of Columbia) and marriage rates that either are falling or are below the national median.
Conclusion
Most people reading this right now would probably say they'd never commit suicide, but the data show that more and more Americans are falling victim to suicide every year. Those who are left behind should never blame themselves, but you may be able to help push someone in the right direction. If you know someone you think is struggling with suicidal thoughts, you should encourage or help them to call the National Suicide Prevention Hotline at 1-800-273-8255. Find more details and help here.
About This Story
While we've linked directly to data sources for much of the information we used to create this report, it may be helpful to see all our sources in one place.
Suicide rates by state and metro area: We used the custom table function offered through the Centers for Disease Control's WONDER tool.
U.S. suicide rates by year: These were compiled from several historic reports that you can access on this page.
Suicide rates by country: We consulted World Health Organization data for select countries, and, as noted, data for all countries except for the U.S. is from 2016.
Suicides by sex, race and age: To compare the rates of suicide between different groups, we used the CDC's WISQARS interactive tool, which allows users to dig deeply into data on fatal injuries that happen every year in the U.S. You can access it here.
Median household income: This information was taken from a U.S. Census Bureau report. We used the figures listed in 2017 dollars to ensure an apples-to-apples comparison.
Marriage rates: This information came from a CDC report you can check out here.
Population density: A Census Bureau report was the source of this information.
Poverty rates: The percentage of people currently living in poverty as well as the change in the poverty rate over time were taken from a Census Bureau report that you can see here.
Unemployment rates: Because unemployment rates are reported monthly, we used data from the U.S. Department of Labor's Bureau of Labor Statistics published in June 2017 and June 1999.
Fair Use Statement
The data and images on this page are free for noncommercial purposes. Feel free to share this information with your readers; if you wish to share it, please simply provide a link back to the URL of this page to give proper credit.