Exploring the Best Places For 55+ Residents
Imagine being able to go to bed whenever you want, wake up whenever you want, and dedicate as much time to your passions and hobbies as there are hours in the day. As you move toward retirement and your golden years, these are the kinds of leisurely pursuits that could await you.
And while being able to avoid rush-hour traffic and having time to get out and enjoy the fresh air might be added perks of getting to enjoy your advancing years, where you spend those years is sometimes equally as important as what you plan to do with them. Active-adult communities are becoming even more advanced and luxurious in the amenities they offer to ensure their residents don't have to look very far for the adventures they seek.
So where are these blissful communities and what makes them so special? To find out, we're breaking down where homes have increased the most in value for the 55-and-over community, the cities people most often seek out when buying these homes, and the financial advantage of investing in a retirement property. Read on for a closer look at what helps make these exclusive neighborhoods so enjoyable and some of the best places to live.y
Retirement as an Investment Opportunity
There are plenty of reasons why buying a home is a good investment, but just how good that investment is depends on the way you approach the home-buying process. As much as it's important to think about how you're paying for the home or the kinds of long-term expenses you can expect out of it, buying into a retirement community may not be different. Even though retirement communities often have age restrictions limiting who can purchase their property, looking for a desirable area in a popular market for retirees can help make your home a good investment at any age.
As we found, the median home value for people aged 55 and older has been lower than the general median home value since 2011. When their children have grown up and left the nest, retirees can start to think about downgrading the size of their property and reducing their cost of living. In 2017, the median home value among the general public was $200,000 compared to nearly $192,000 among the 55-and-over community.
Lower home prices and more potential for value growth could help explain why people aged 55 and older typically have much less mortgage debt remaining in contrast to the average person. When you think about enjoying your post-employment years, it's important to keep the cost of living and your regular income in mind to help make retirement as enjoyable as possible. In 2017, the average person had $127,000 remaining mortgage debt compared to less than $88,000 for people aged 55 and older.
Spend More to Get More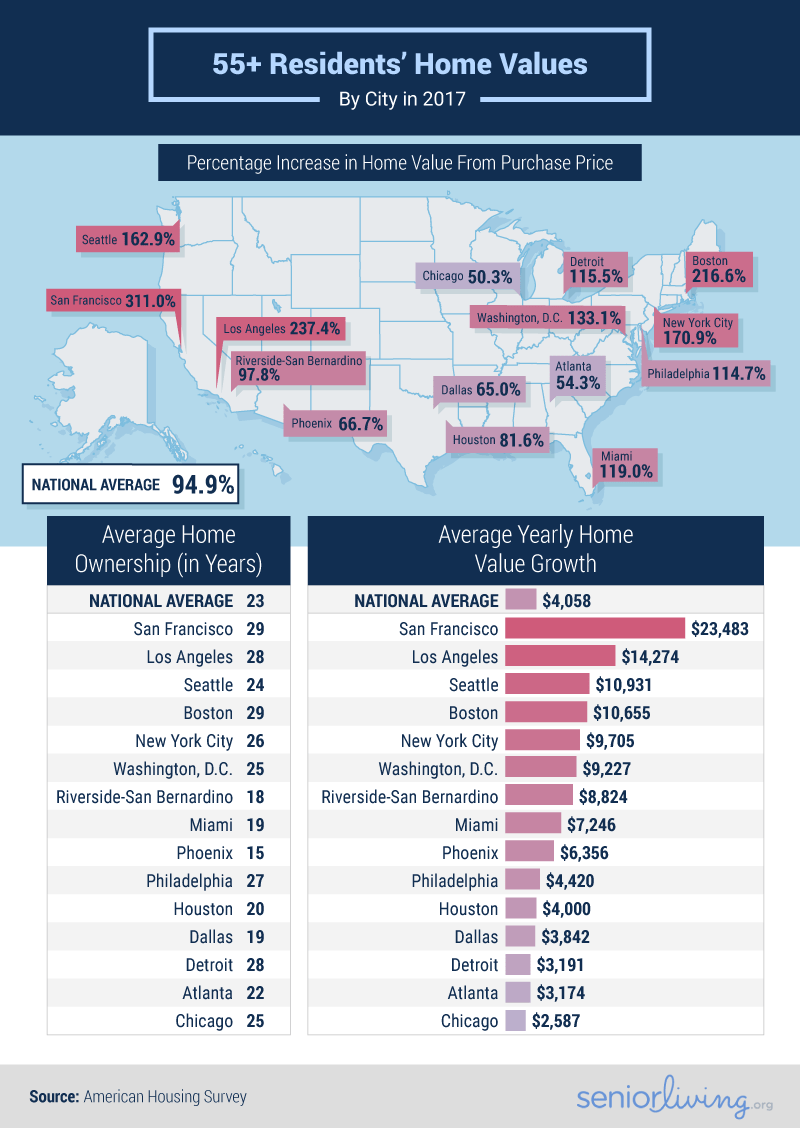 If you don't have to worry about school zones or your commute to work anymore, how do you decide on the best place to live? While the weather is often a key factor in the decision process, experts suggest retirees consider the social and political climate of their new neighborhood in addition to the entertainment possibilities. If you're hoping to turn a profit out of your retirement home, understanding the market and knowing which parts of the country attract people your age may also be an element to think about before landing on a location.
San Francisco might be one of the most expensive cities to live anywhere in the world, but it might also provide one of the best investment opportunities for people 55 and older. For residents aged 55 and older, the average home value increase in San Francisco is 311 percent (nearly $25,000 a year), with residents living in the same place for 29 years on average. And if the Golden State is where you think you might want to live out your golden years, Los Angeles offers similar advantages. With residents living in the same place for 28 years on average, homes in Los Angeles increased in value by nearly 238 percent, more than $14,000 a year.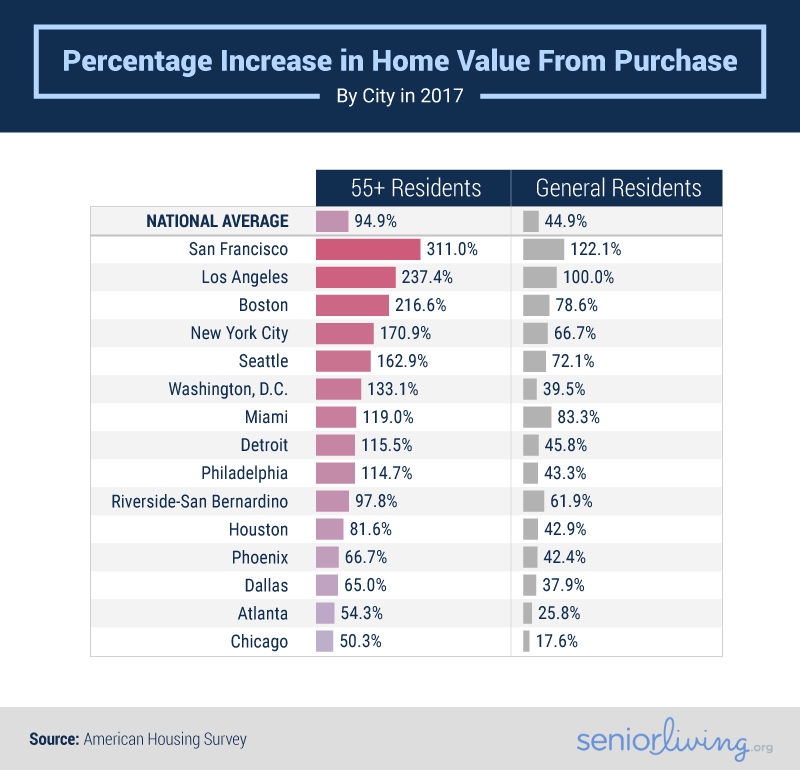 Warm weather and sunshine are often ideal climates for people thinking about retirement, but if you don't mind the occasional snowfall, Boston, New York, and Seattle might be some of the best cities to invest in property for people aged 55 and older. With home valuations increasing between 162 and 217 percent, your house might help you earn roughly $10,000 a year or more in equity.
Building a Better Budget
Most financial experts will tell you budgeting in retirement is essentially as important as saving for retirement in the first place. If you're planning on living off a fixed income, ensuring you don't overspend on your cost of living is imperative to enjoying all the perks retirement has to offer. Recognizing your pre-existing debt and minimizing any unnecessary expenses over time may actually be more important in retirement than at any other point in your life.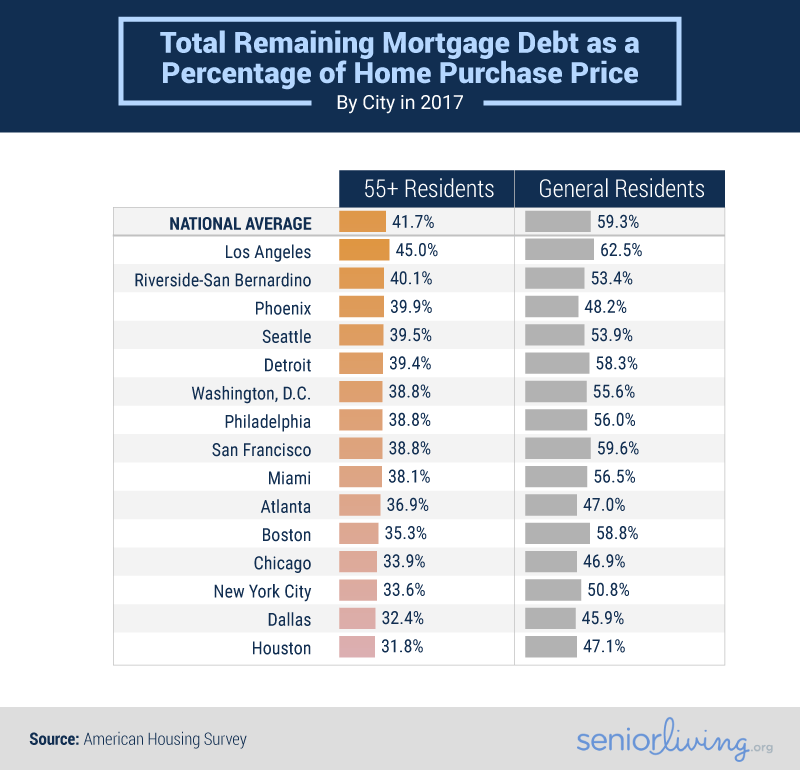 While Los Angeles might provide an opportune real estate market for retirees with its continual increase in home valuations, it also ranked as the city with the highest percentage of mortgage debt compared to the purchase price. With the average person aged 55 and older still owing 45 percent of their original mortgage, the expense of living in Los Angeles may outweigh the benefits of the market. Just east of Los Angeles, residents living in San Bernardino might be experiencing similar concerns. With residents still owing 40 percent of their mortgages on average, retirees in San Bernardino have to consider paying back a large portion of their housing expense as part of their retirement budgets.
More Than Dollars and Cents
Getting out of the snow and down to the beach shouldn't be your only considerations when thinking about where to live in retirement; you might also want to think about the age and condition of the house you'll be moving into. Buying an older home can feel quaint and charming, but that appeal comes hand-in-hand with a unique set of cost concerns. If you're investing in an older house to settle down in, don't forget that you might have to manage bigger energy bills, expensive roof repairs, electrical concerns, and expensive DIY repairs to get things into a more livable condition.
Across the country, 4.5 percent of people identify their homes as being either moderately or severely inadequate, but certain popular cities for retirees offer even higher levels of dissatisfaction. In New York City, 5.7 percent of people aged 55 and older identified their home as being in particularly bad shape, heightened perhaps by a higher likelihood of leaky pipes (3.5 percent) and rodent activity (13.3 percent).
Five percent or more of residents aged 55 and older also identified their home as being either moderately or severely inadequate in three other cities: Boston, Houston, and Chicago. In Chicago, the likelihood of finding mold was more than double the national average (1.4 percent to 3.1 percent) and nearly as high in Atlanta and Detroit (2.9 percent each).
Common Concerns
Like the age of your home and the general location of the neighborhood, crime rates in the surrounding areas play a similar role in both how much a home costs and how much it can be resold for when the time comes. Perhaps even more importantly, older adults are sometimes more likely to be targeted by crime and scams than younger adults.
According to the Department of Housing and Urban Development (HUD), roughly 5 percent of the 55-and-older community reported believing their neighborhood had a serious amount of crime. According to them, cities including Houston (9.9 percent), San Bernardino (7.7 percent), Chicago (7.6 percent), and Philadelphia (7.5 percent) had far more concerned residents. In Philadelphia, it's far more common for residents aged 55 and older to live near abandoned or vandalized buildings compared to the national average, 8.8 percent versus 5.1 percent, respectively. In San Francisco and Houston, we found residents aged 55 and older were more than twice as likely to see their neighborhoods as having an excess of trash compared to the national average. And in New York City, more than 1 in 5 residents aged 55 and older cited buildings near their homes as having bars on the windows.
Basking in Your Golden Years
For some people, the first year of retirement is really about managing expectations – from what you expect the newfound freedom to feel like to what actually happens and how much you get to enjoy it. Regardless of how well you might have prepared for life after work, the finances of retirement will continue to be an important element in getting to relish in your later years.
Escaping to a warm, sunny state may sound exciting, but there's still an opportunity to treat your retirement home as an investment. Certain major cities around the country (including San Francisco, Los Angeles, and Boston) may have high costs of living, but they also have much higher rates of home value growth compared to the rest of the country. Even if the weather is often balmy and summerlike for most of the year, you might want to avoid certain California hotspots where mortgage debt is higher, even if the weather is immaculate virtually all year long.
Methodology
We compiled data from the U.S. Department of Housing and Urban Development's (HUD) American Housing Survey. We were able to collect national data from 2011 to 2017. The cities we displayed were the cities that had 2017 data. The data were separated into age ranges. Since we wanted to analyze all people who were 55 and older, we had to combine the ages 55 to 64, 65 to 74, and 75 and older. In most cases, the total number of households from each section were added together. For dollar amounts, we took the average of the median value for each section.
Fair Use Statement
Are your readers thinking ahead to retirement? We'd love to see the results of this study shared with them for any noncommercial use. Be a good neighbor and make sure to include a link back to this page in your story so our contributors earn credit for their work too.