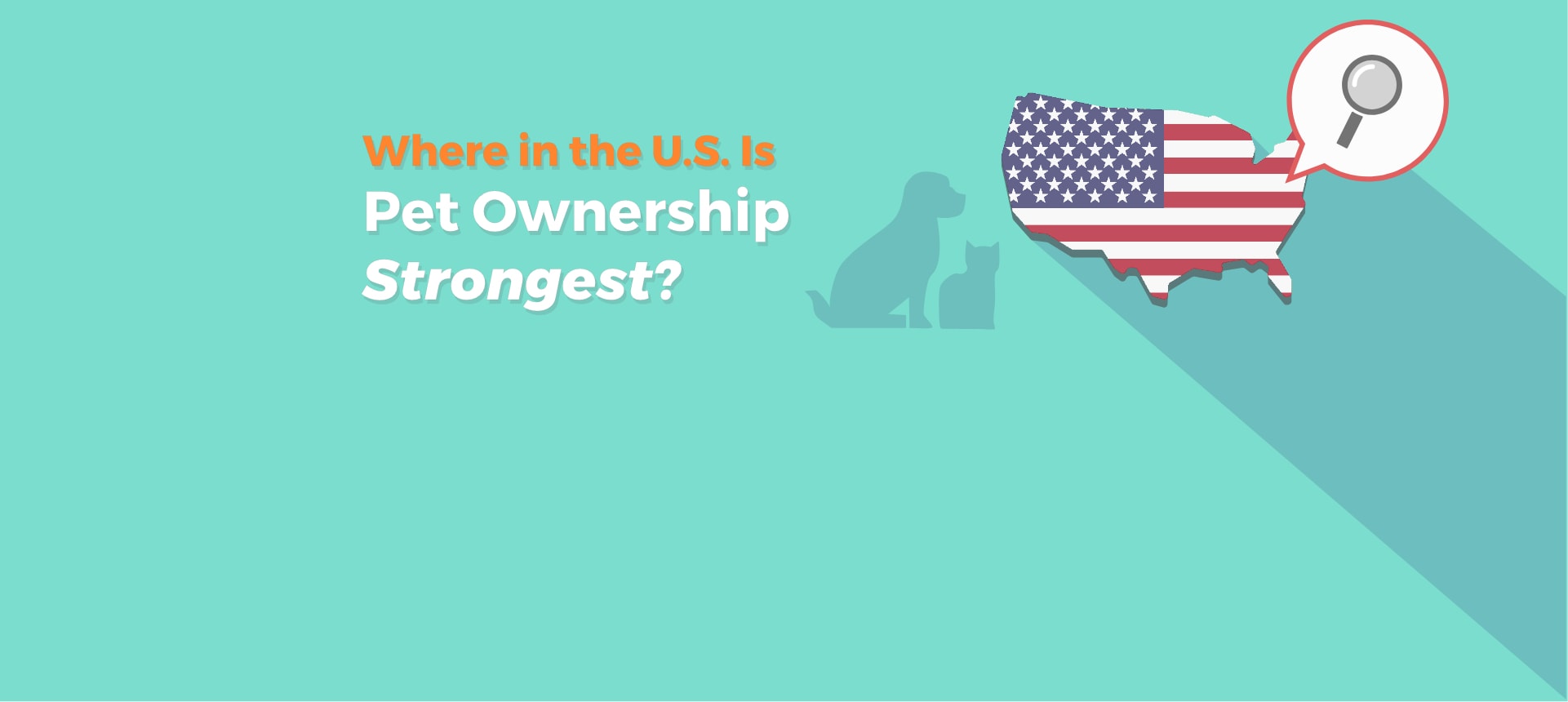 Where in the U.S. Is Pet Ownership Strongest?
Want to live a long, happy life? Get a dog. That's the advice from at least one recent study, which found that having a dog reduces a person's risk of heart disease by 11% and lowers their chances of death by 33%. Research has found similar benefits in people who live with cats, with one study showing a dramatic drop in the risk of heart attacks among cat owners.
They make you live longer and increase your happiness. They provide entertainment and companionship and can even protect your home from burglary. And who knows where social media would be without hilarious cat memes? For the majority of pet-owning households, our animal companions become much more than pets; they become family members.
Americans seem to have gotten the message that pets are good. According to the most recent analysis conducted by the American Veterinary Medical Association, the United States is home to more than 246 million domestic pets, from cats and dogs to birds, horses, fish, reptiles, rabbits and many more. The total number of household pets is not too far off from the number of humans who live in this country.
And Americans aren't alone in loving their pets. In fact, a Growth From Knowledge survey in 2016 found that about 1 in 2 people in the world have at least one pet.
Which states in the U.S. tend to be the most pet-loving? To quantify which states are the most strongly associated with pet ownership, we dug deep into the five-year AVMA study that was most recently updated in 2018. (You can read more about the study here.)
We created a ranking of the states, excluding Alaska and Hawaii, which were not measured in the AVMA study, across the following categories: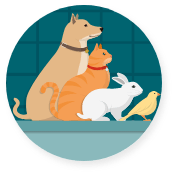 Percentage of households with any pets (includes all domestic pets, such as cats, dogs, birds, fish, rabbits, horses, chickens and other exotic animals)
Percentage of households with cats, the change in cat ownership over time and the average number of cats per cat-owning household
Percentage of households with dogs, the change in dog ownership over time and the average number of dogs per dog-owning household
Each state was assigned a ranking per category from 1-49 (lowest to highest) such that higher numbers equate to a stronger tie to pet ownership, and the states' rank in each category was added together to create a total figure for the 48 continental states and the District of Columbia.
Let's see how the states performed.
Pet Ownership Index
The biggest pet-loving state is Arkansas with a total ranking of 311. Arkansas found itself in the top spot thanks to placing in the top five for six of the seven categories we measured.
Mississippi and Indiana took the next two spots, while West Virginia and Nebraska rounded out the top five.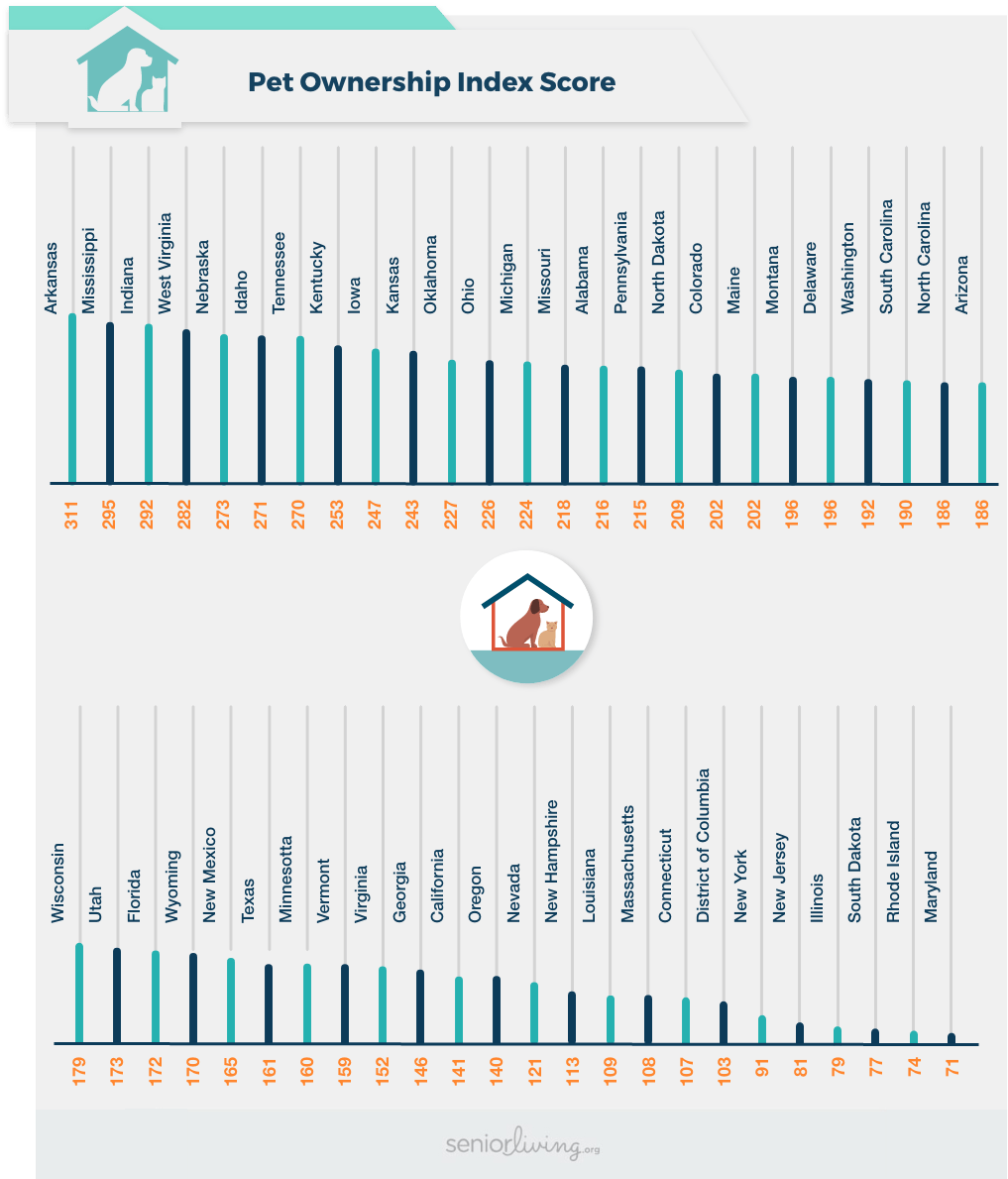 Maryland has the lowest score on the ranking, posting a 71 (compared to 311 for No. 1 Arkansas). Rhode Island, South Dakota, Illinois and New Jersey filled out the bottom five. Among all states, the average score was 181, and 24 states posted lower scores.
Let's take a closer look at how the top and bottom states got to where they are:
Top 10 Pet Ownership States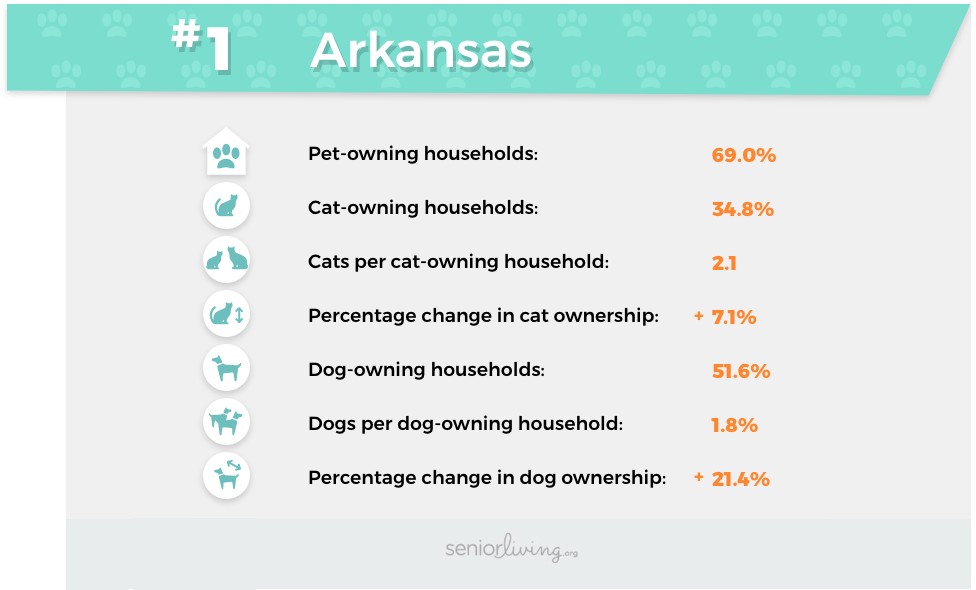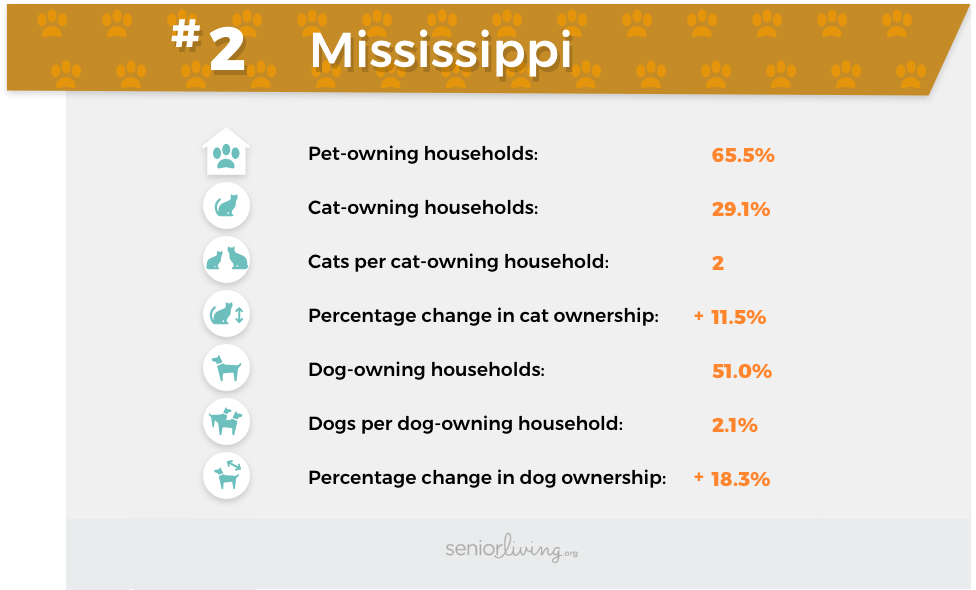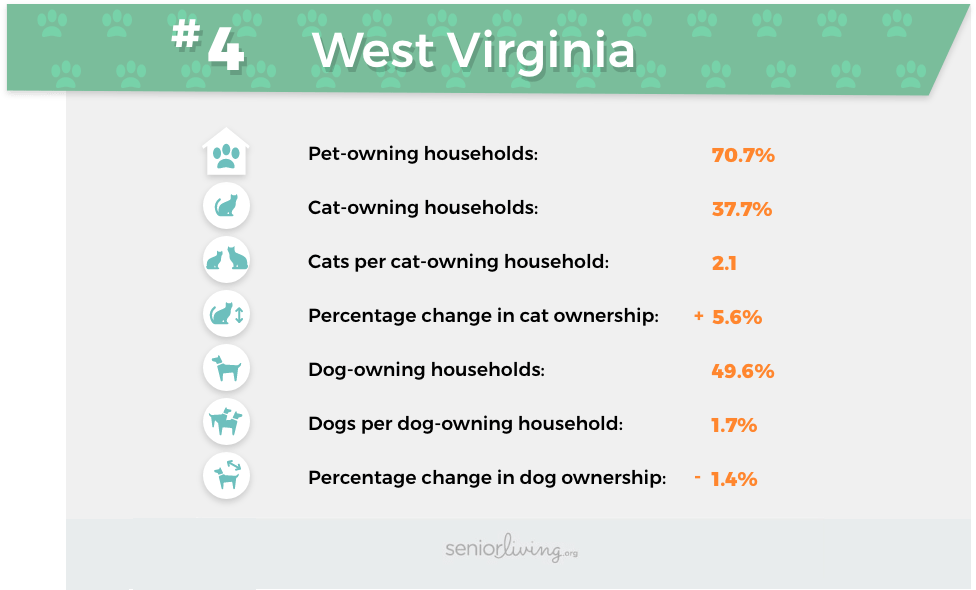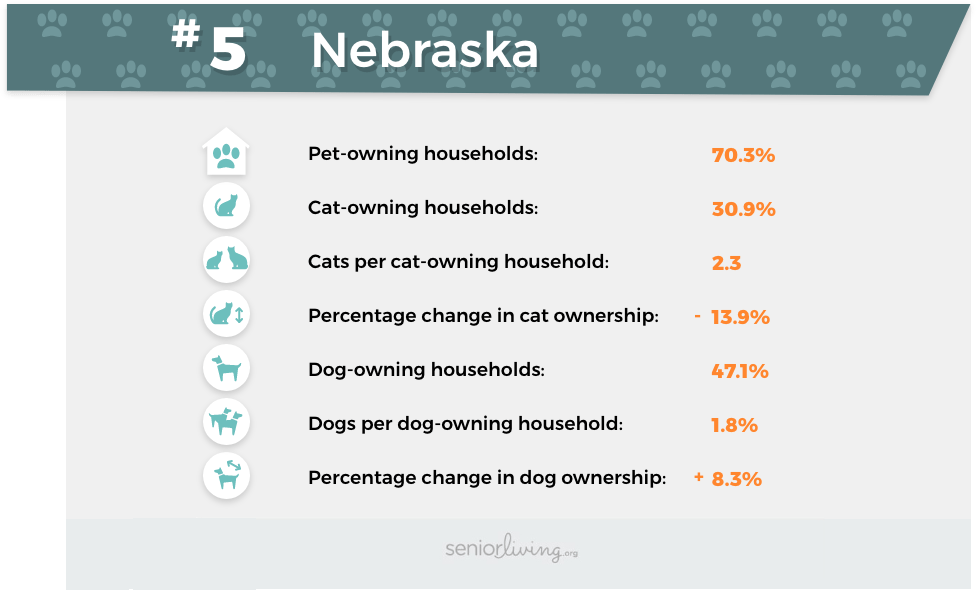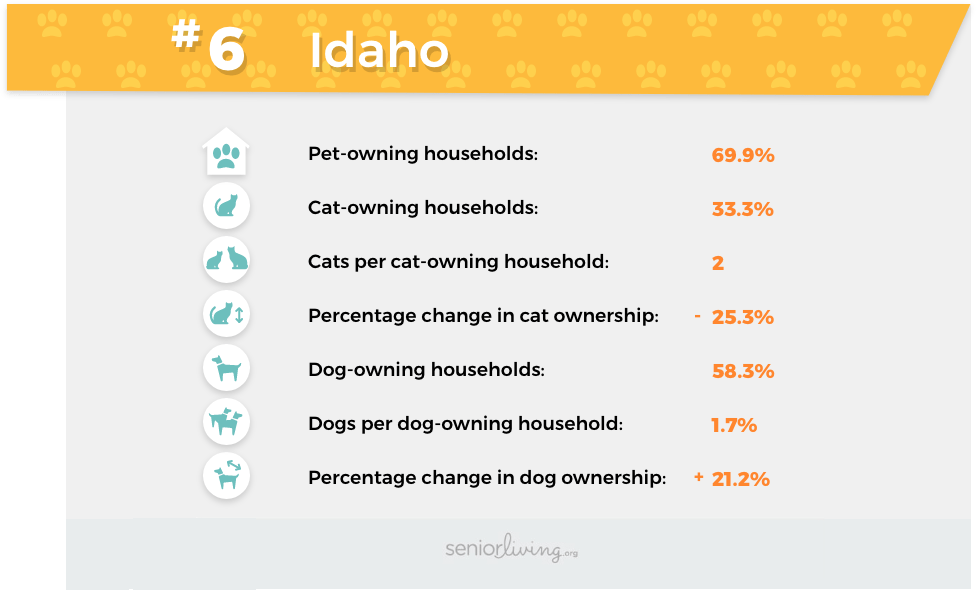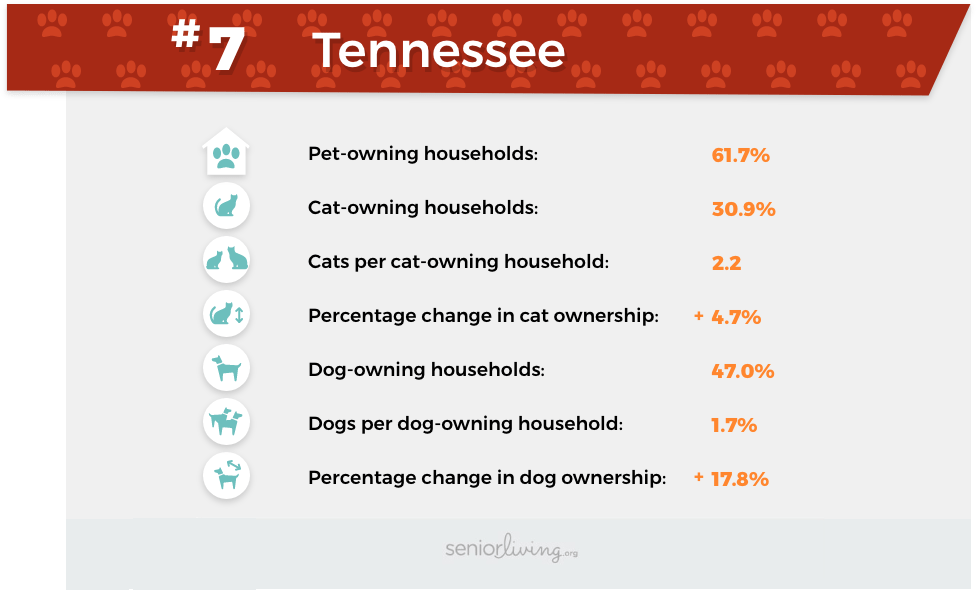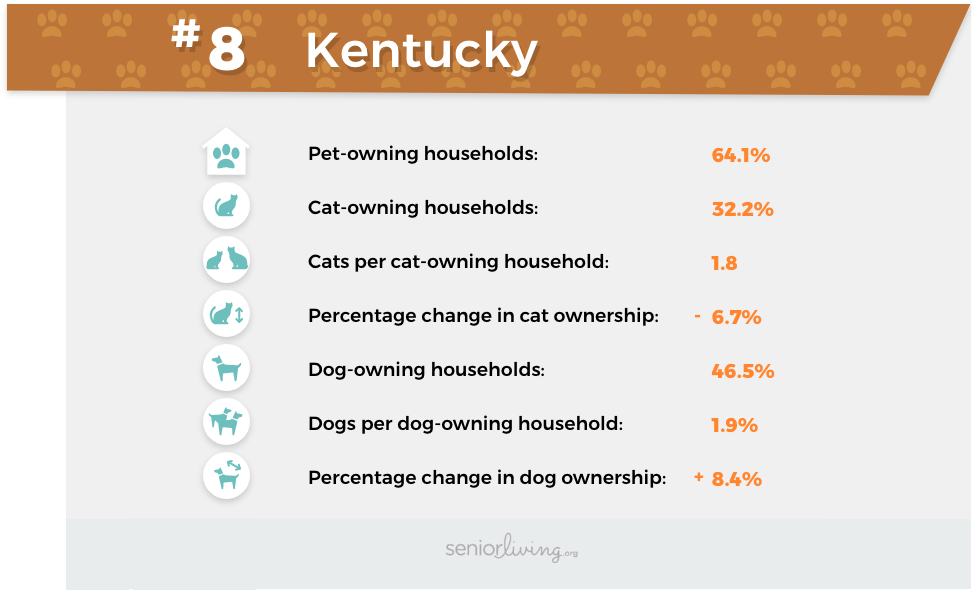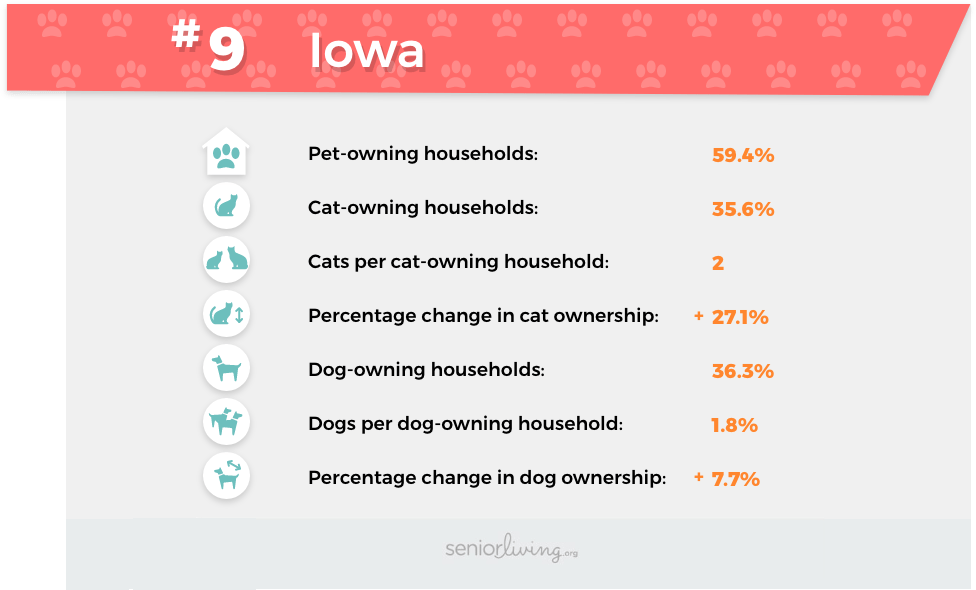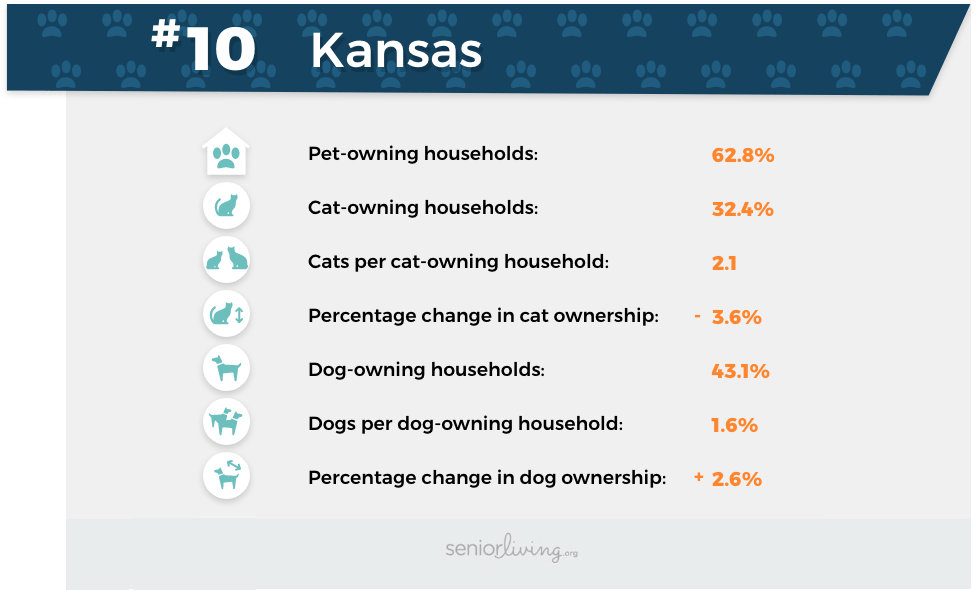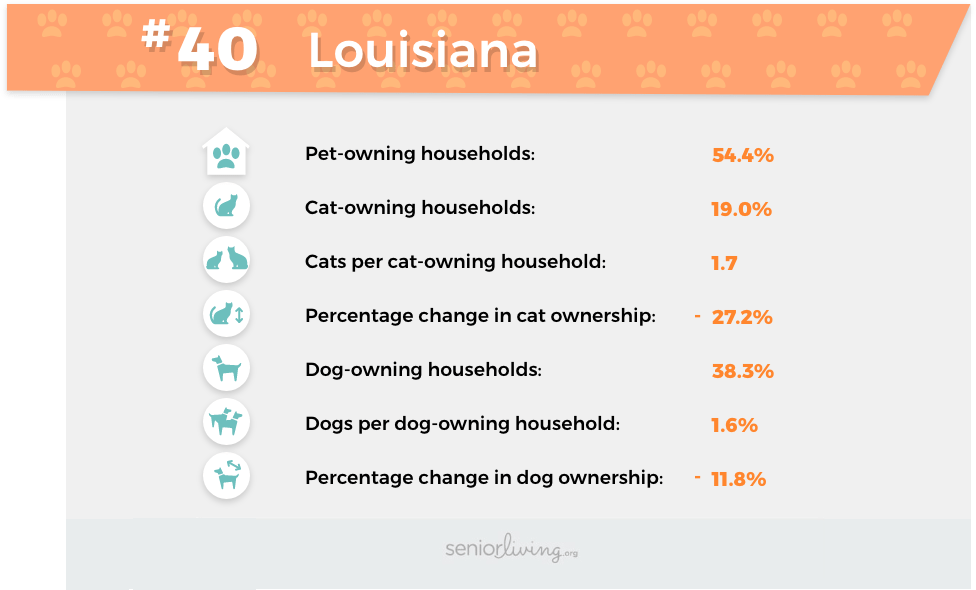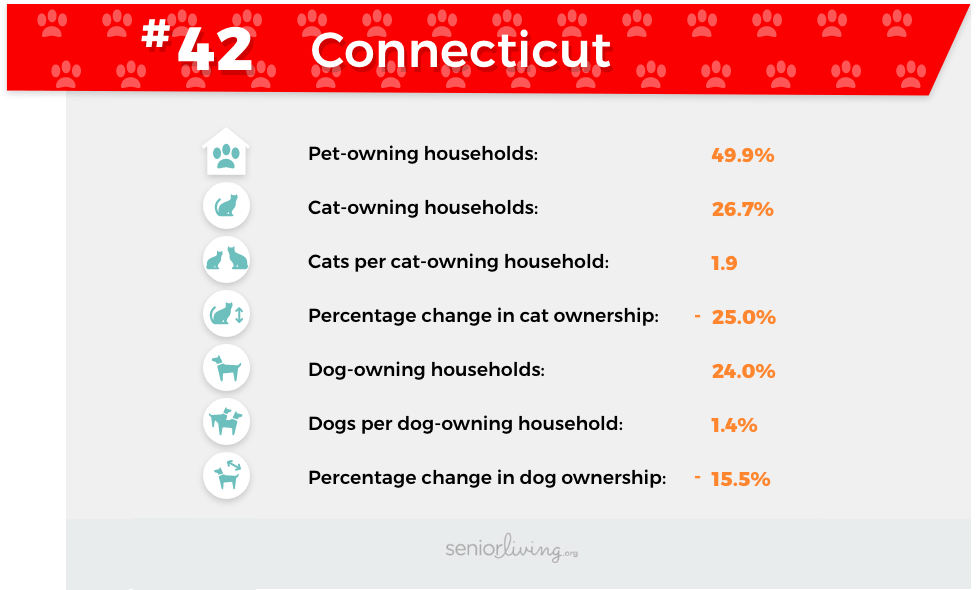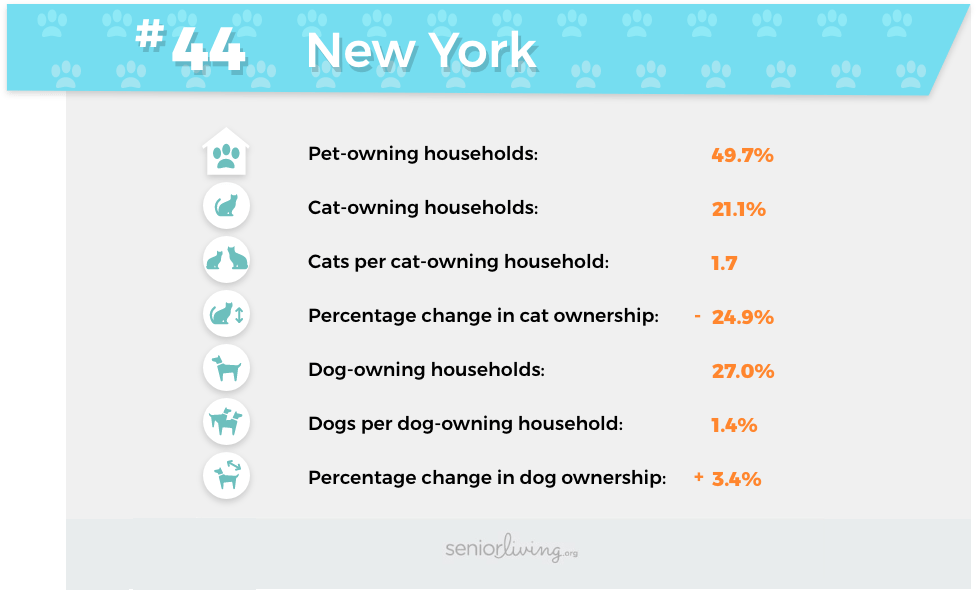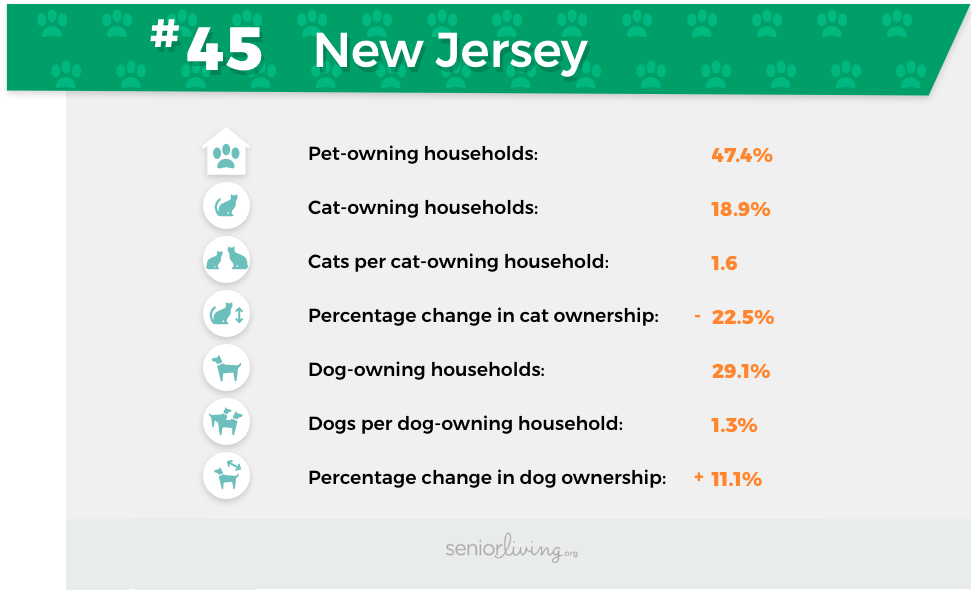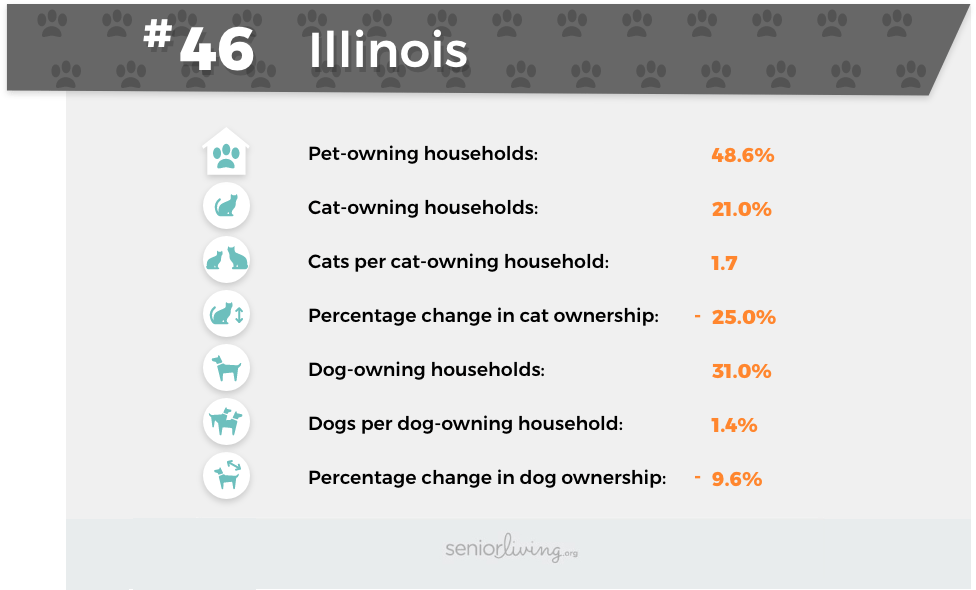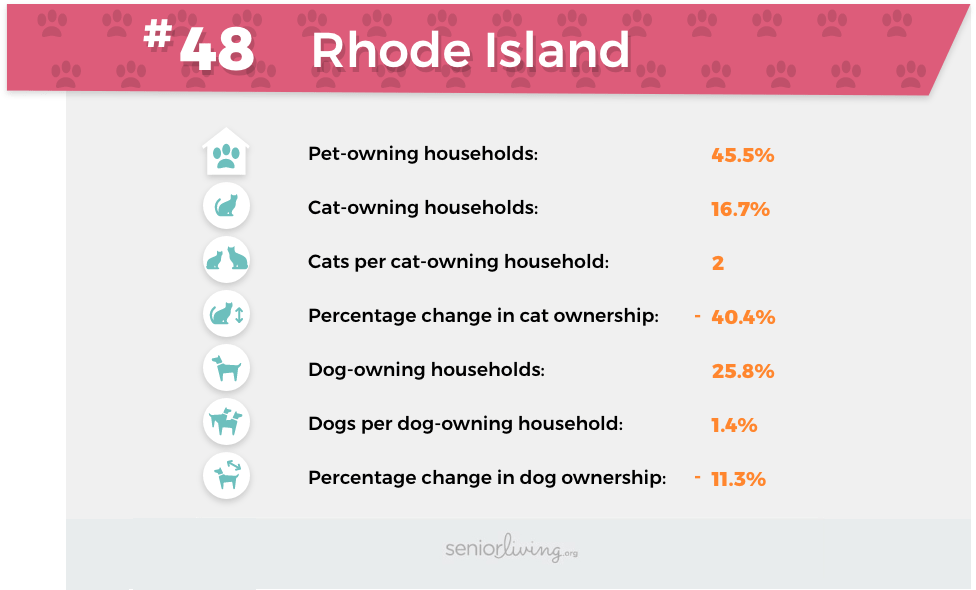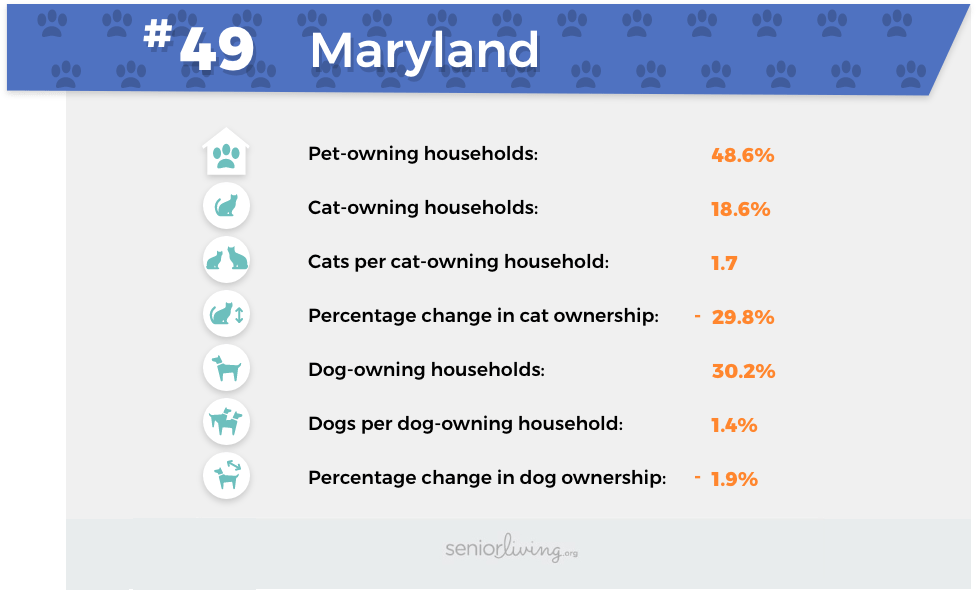 If not for its 230% increase in dog ownership and 43% increase in cat ownership, D.C. would likely be at the very bottom thanks to having the lowest numbers of any state in every other category. Neighboring Maryland takes the bottom spot here, though.
Cat People
About one-quarter of all U.S. households today have at least one cat, who is probably knocking things off shelves and demanding water straight out of the faucet at this moment. Cat ownership has declined from a high of 32.4% in 2001 and is currently at its lowest level since the AVMA began publishing data.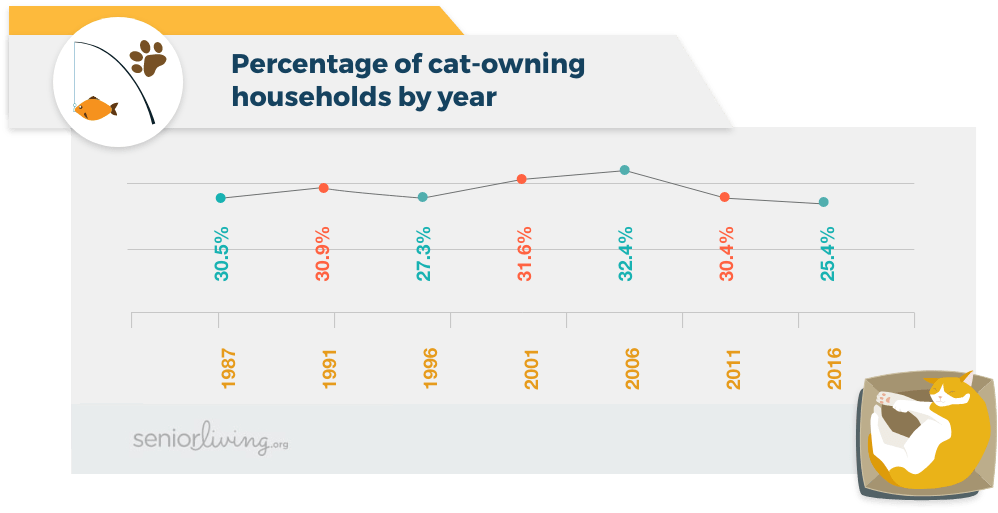 Vermont has the highest percentage of households with cats, as 44.6% of households in Vermont contain at least one cat. D.C. is the least cat-owning state, with just 16.4% of households being home to a cat.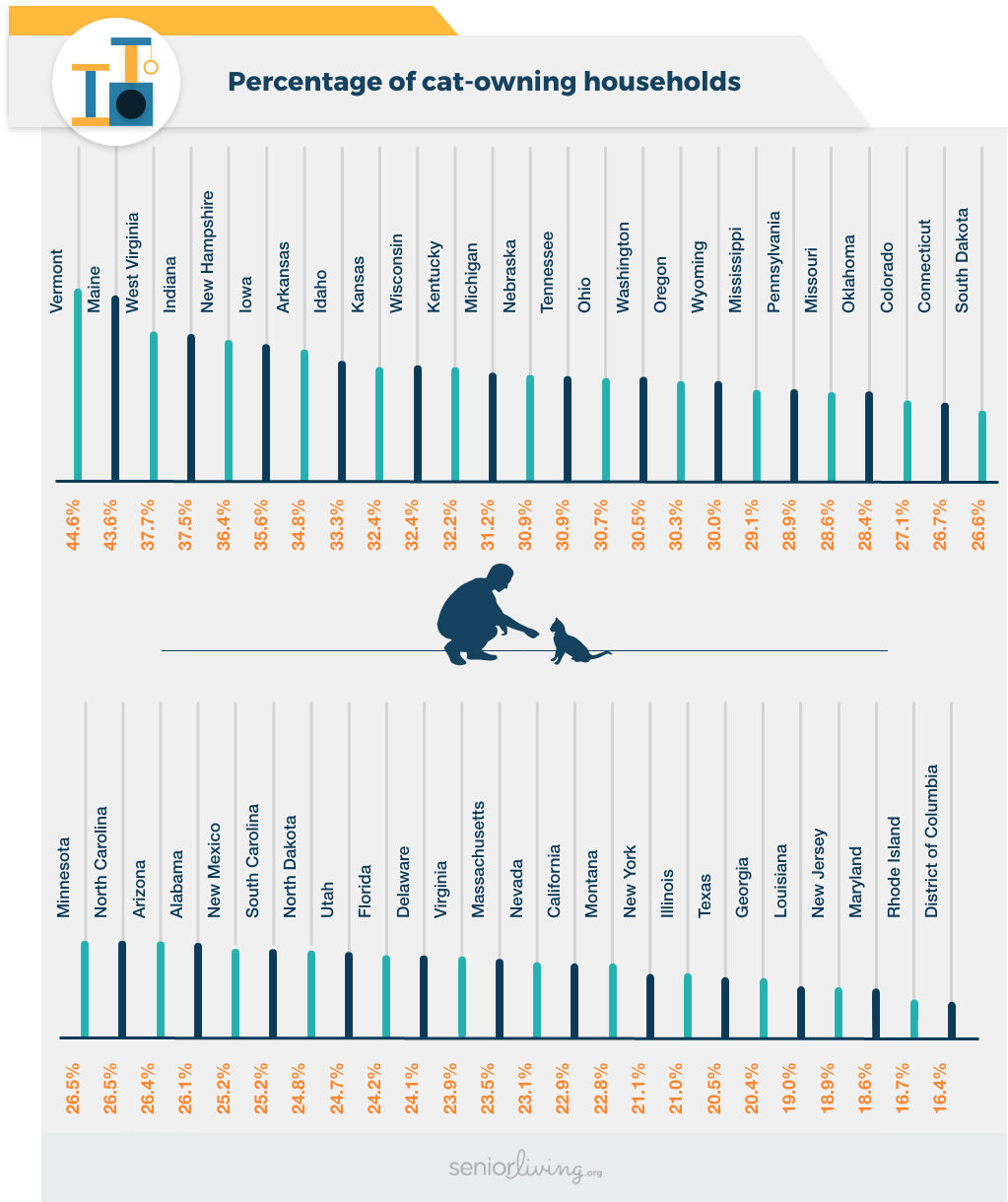 While Vermont ranks first when it comes to the percentage of households with at least one cat, the state is second from the bottom when it comes to the number of cats in each household. By a sizeable distance, North Dakota has the most cats per house — 2.8. That compares to second-place Nebraska with 2.3 cats per household. Nationally, the typical cat-owning household is home to an average of 1.8 cats.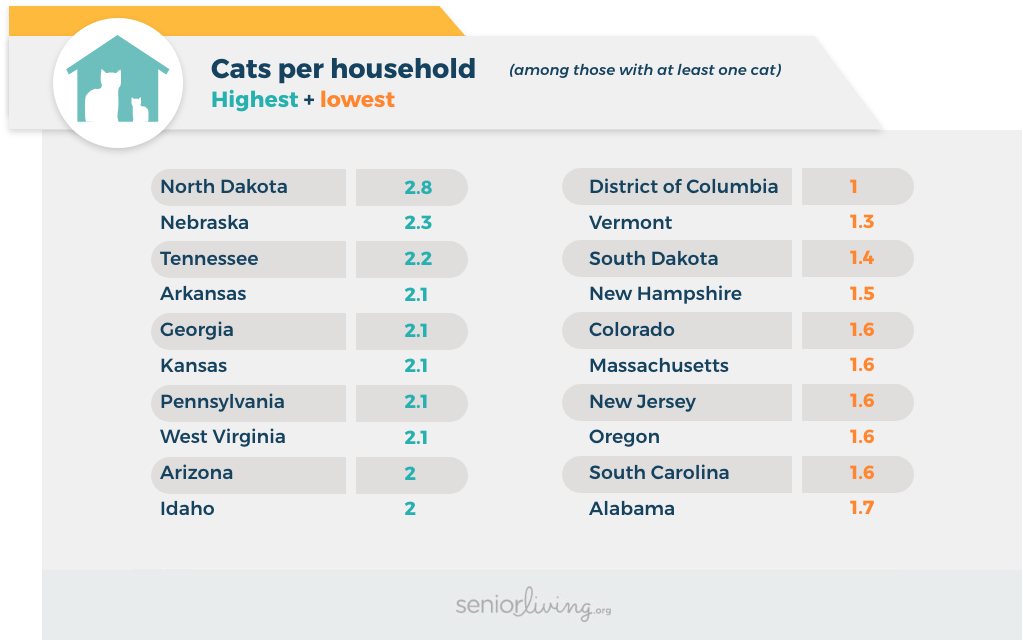 While cat ownership has gone down nationally, it's rising in 10 states and the District of Columbia, where growth in cat ownership was by far the strongest, rising nearly 44% between 2011 and 2016.
Dog People
If you're reading this right now as you attempt to tune out the piercing sounds of a barking dog, you have a lot in common with nearly 4 in 10 of your neighboring houses, as 38.4% of U.S. households are home to at least one dog. Dog ownership has risen modestly in recent years, with the percentage of households owning a dog climbing about 5% between 2011 and 2016, and the 2016 figure is a high-water mark, as 38.2% of U.S. households had a dog in 1987, which was the previous high.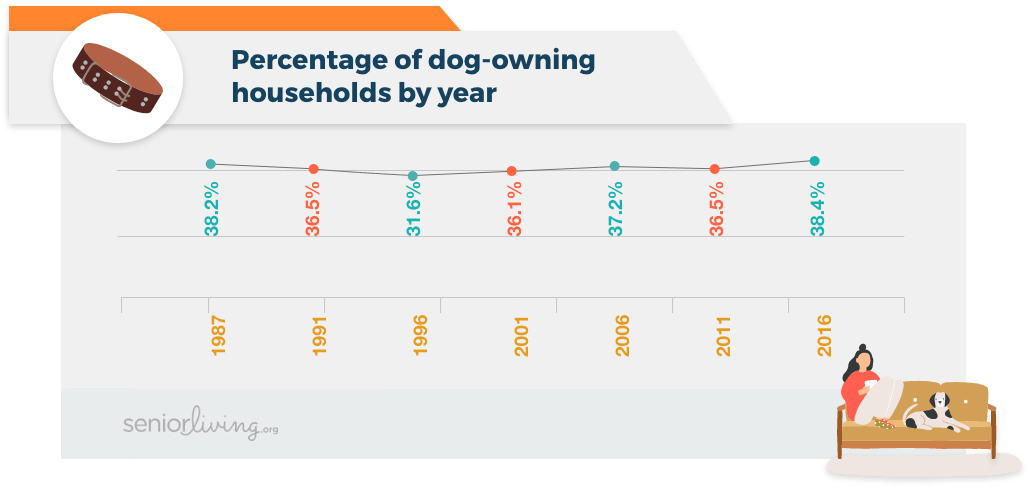 In four states, the rate of dog ownership exceeds 50%, and no state has a dog-ownership rate below 20%. Idaho has the highest rate of households owning at least one dog at 58.3%, while dogs are least common in D.C., where 22.5% of households have at least one.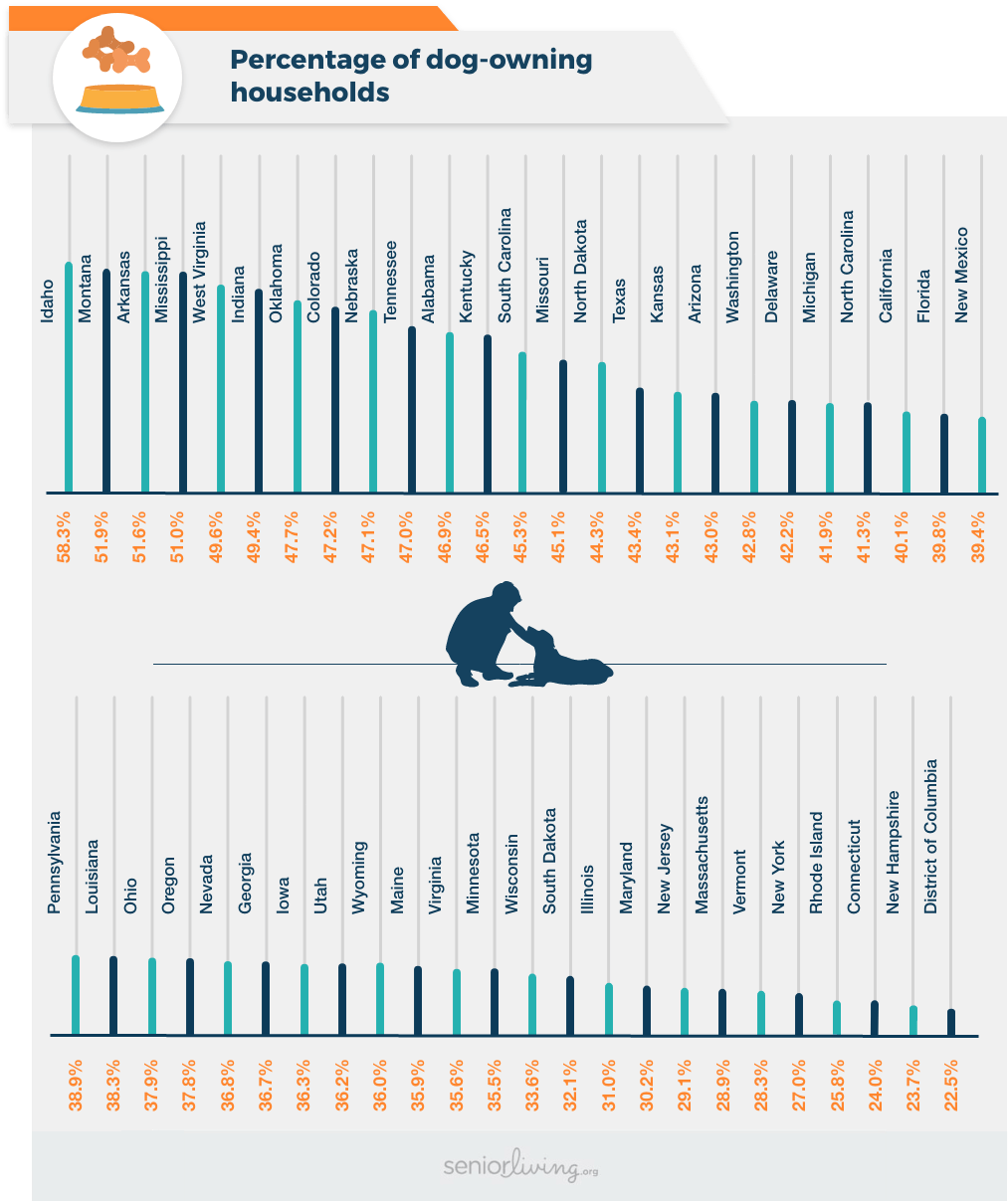 Nationally, dog households are home to a statistical average of 1.6 dogs, but that number is highest in Montana and Mississippi (2.1 each) and lowest in D.C. (1).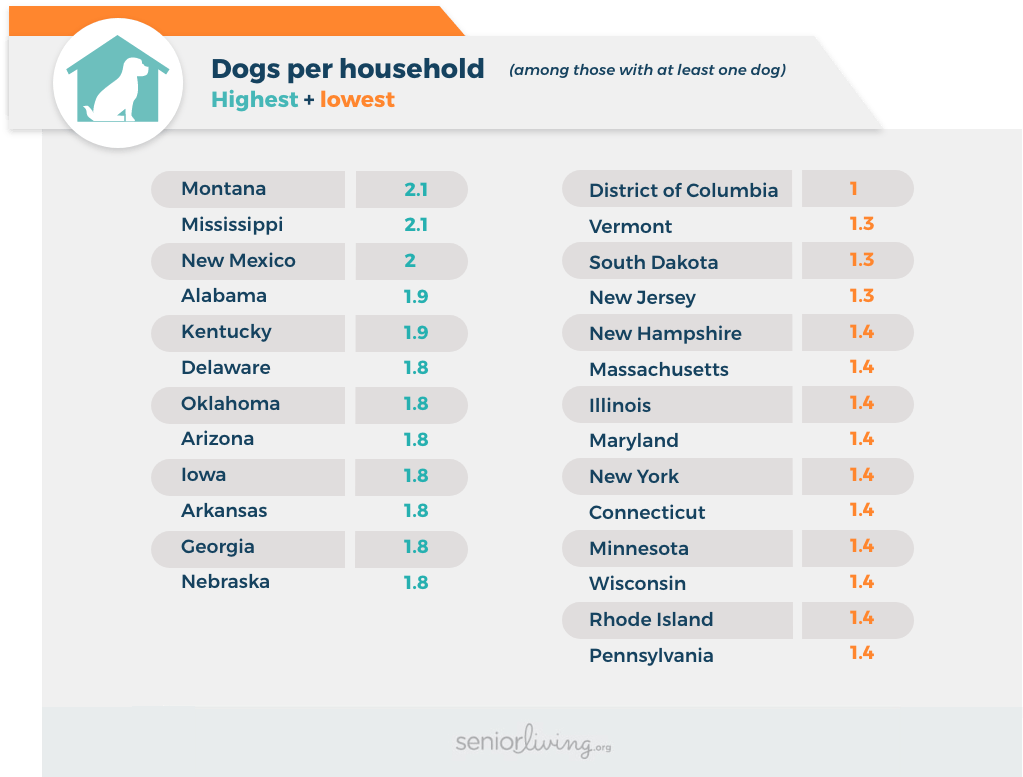 More households are home to dogs than cats, and dogs are growing in popularity faster than cats are. (Cats are probably OK with that, though, if we're being honest.) Dog ownership has risen in D.C. by more than 230% since 2011, but 19 states have seen dog ownership decline in that time.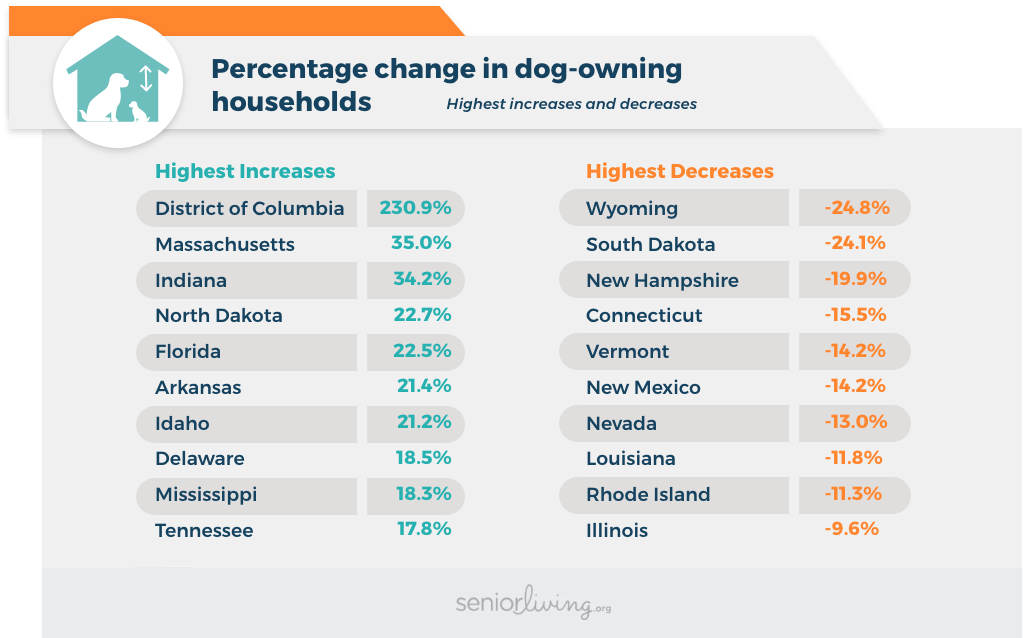 Other Pets
Remember how we told you the U.S. is home to almost as many domestic pets as human beings? That's true, but almost 1 in 3 of those pets are fish. While cats and dogs are the go-to animals we usually conjure when we think of pets, they combine for only about 54.8% of all domestic pets.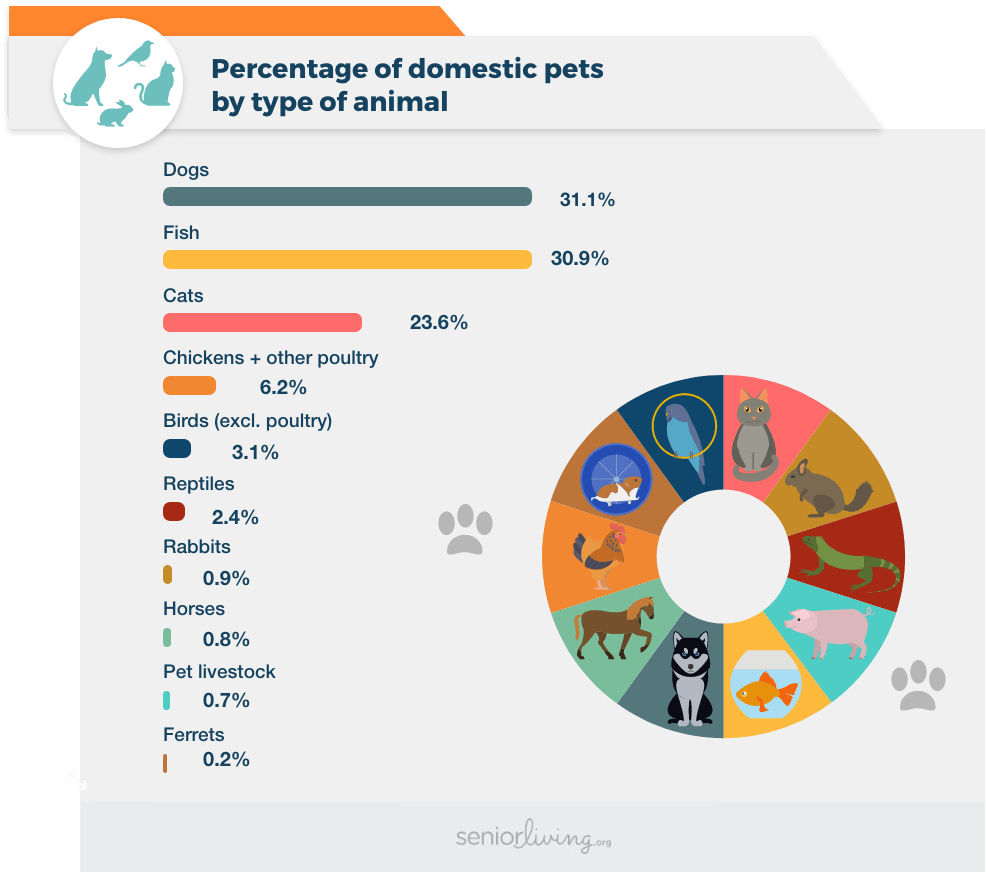 Fish are the fastest-growing category of domestic pet, with the total number of pet fish climbing 32% since 2011, followed by poultry (usually chickens), which have become 22% more common. Even reptiles are enjoying faster growth than the pet dog population, with their ranks rising by 14%, compared to 10% growth in the total number of pet dogs since 2011.
Among pet-owning households, about 4 in 10 had more than one pet, with the combination of cats and dogs being less common than combinations of other species.
Conclusion
There are almost enough domestic pets in the U.S. for each American to have their own special furry (or scaly) friend. While some pets are seeing their popularity fall, most of them have seen their numbers rise in recent years, and a handful of states are helping keep those numbers elevated. It's not tough to understand why: Among all pet-owning households, about 8 in 10 see their pets as members of the family.
About This Report
As referenced, our analysis of where the cat and dog people live in the U.S. was compiled using data from the American Veterinary Medical Association's five-year study released in 2018. The organization supplied us with a media copy of this proprietary report, and you can check out some further details here. Again, as mentioned, the AVMA's data excludes Alaska and Hawaii. To create our rankings, we included data on the percentage of households that own pets, which species and how many and how each state's prevalence of pet ownership has changed over the past several years.
All other sources are linked directly in the text.
Fair Use Statement
Are you a cat person or a dog person? Maybe you're one of those rare people who actually love both. Or perhaps you're a horse girl. Whatever the case, all animal lovers are free to share the data and images on this page for noncommercial uses. All we ask is that you also share a link to the URL of this page.