Millions of visits to hospital emergency rooms are made after accidents and unintentional injuries every year. Aside from very young children, the group with the highest rate of injuries are those over 85 years of age.
Injuries and accidents, falls in particular, are incredibly common and all-too-dangerous for older adults. Falling once doubles the chances of a future fall for those 65 and older, and statistically speaking, an older adult experiences a fall about once per minute in the U.S.
In addition to falls, seniors are particularly susceptible to injuries like being struck by an object or emergencies brought on by overexertion. We wanted to understand what injuries and accidents are most common for seniors, what types of incidents are becoming more common and where in the U.S. senior injuries and accidental deaths have their highest rates. We compiled data from the Centers for Disease Control and Prevention on nonfatal injuries, which includes accidents and intentional injury, and accidental injury-related deaths. See our complete methodology at the bottom of the page.
Read on for our full study, but check out the key findings below:
Adults 85 and older are most likely to need to visit an emergency room for a nonfatal injury. In the most recent year's data available (2018), the population-adjusted rate for ER visits by the oldest adults was almost 200 percent higher than for adults between 65 and 69.
Falls are by far the most common reason for injuries in older adults, and the population-adjusted rate of falls is about four times higher than the next most common reasons, being struck by something or being in a vehicle accident.
Among seniors, the injuries due to environmental causes, firearms, and bites or stings from animals other than dogs have grown the most rapidly over the past decade.
More than one in three seniors in Vermont, Idaho, and Texas experienced a fall in 2018, while only about 20 percent of seniors in Hawaii had a fall that year.
Deaths of seniors from accidental poisoning, which includes overdoses of medications, are more than twice as common in D.C. than anywhere else, while older adults have higher rates of fall-related deaths in Wisconsin than in any other state.
Table of Contents: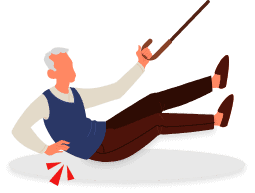 Tips for Preventing Injuries & Accidental Deaths
Nonfatal Injuries
Most injuries sustained by older adults aren't deadly, and a few types of injuries are very common, both among seniors and younger people. In 2018, the most recent year for which CDC data is available, more than 28 million injuries resulted in emergency room visits across the U.S. population-adjusted rates of nonfatal injuries that resulted both from accidents and intentional incidents are highest for those over 85 and lowest for children five to nine years of age.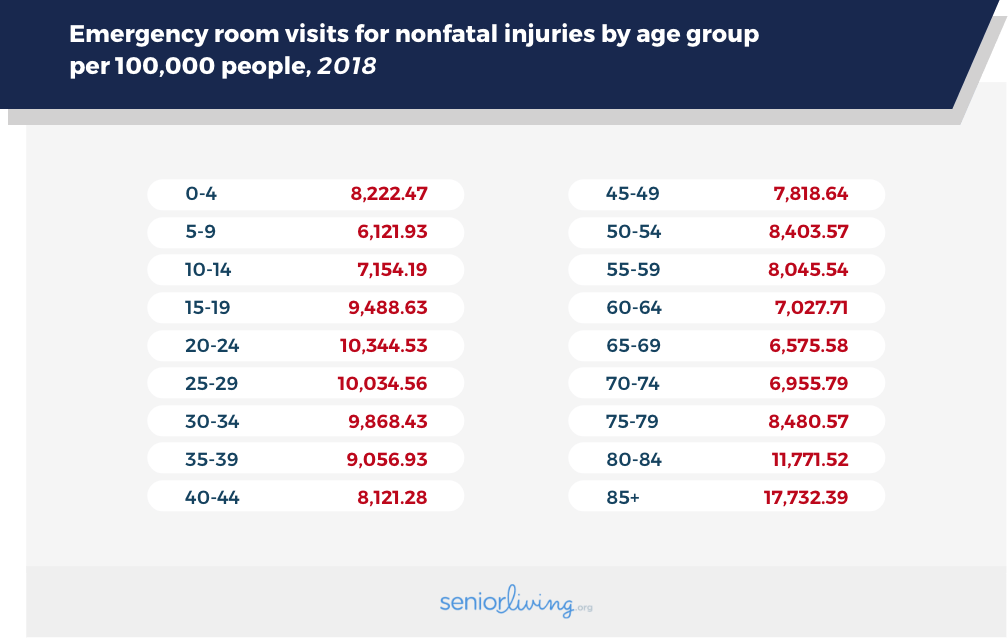 Adults over age 85 have by far the highest rates of nonfatal injuries, and even among seniors, injury rates for other groups aren't nearly as high. In some cases, seniors 85 and older have double the injury rate of other seniors.
Falls are by far the most common cause of nonfatal injuries among those 50 and older. No other cause even comes close. But the next closest are being struck by or against something and transportation-related incidents, such as vehicle collisions.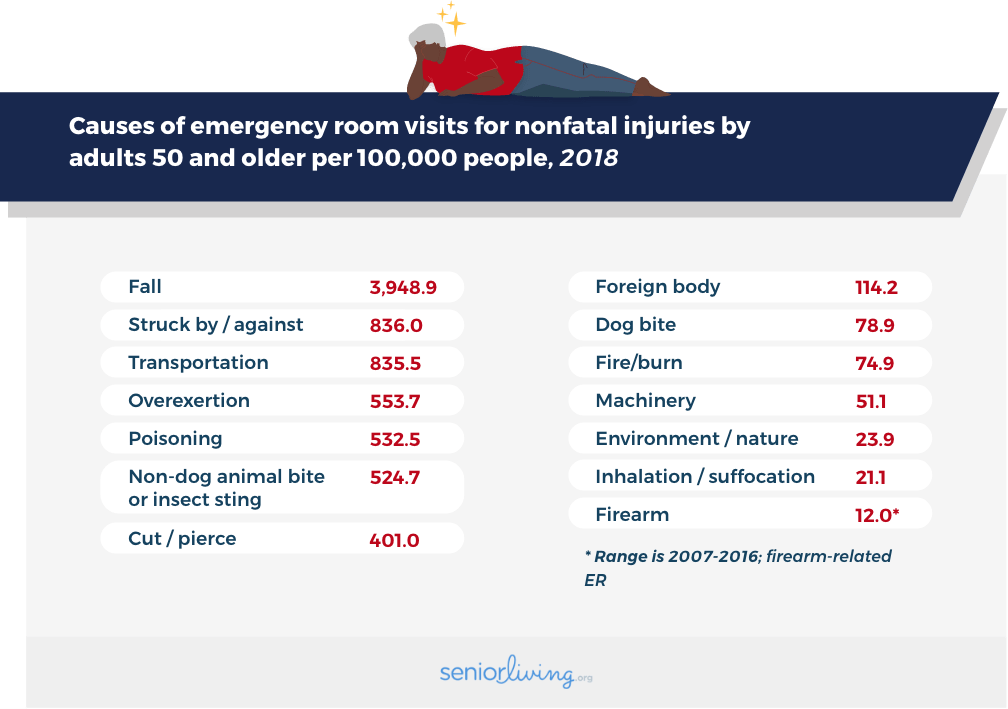 Injuries related to gunshots from firearms were the least common, though it's worth noting that the rate here is from 2016 because of delays in reports related to firearm injuries. But while firearm injuries in seniors are the least common reason for ER visits, they have grown dramatically over the past 10 years. The only cause that's risen more rapidly is environmental, which is a category related to natural disasters, storms, and similar incidents.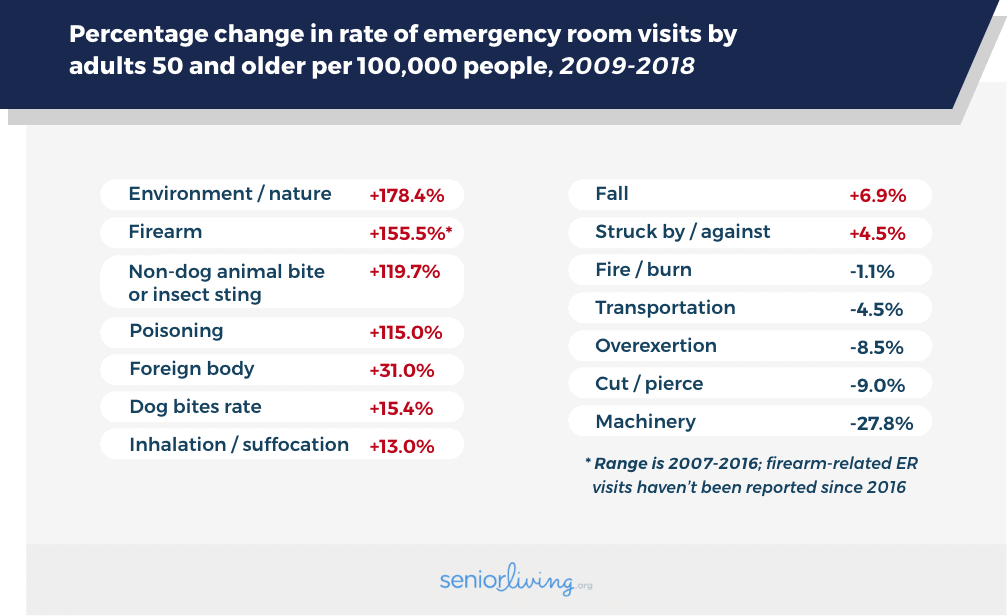 Among other injury causes that have become more common over the past 10 years are poisonings, which includes ingestion of harmful chemicals but also covers drug overdoses. This could be connected to the broader opioid epidemic across the U.S. About 70 percent of drug overdose deaths in 2018 involved opioids. But overdoses of drugs other than pain relievers are also common among seniors, and one analysis indicated that anticoagulants, diabetes drugs, and opioid painkillers accounted for almost two-thirds of emergency visits by seniors 65 and older.
Still, falls remain the biggest reason for seniors to suffer an injury. About one in four adults 65 and older experience a fall in a typical year, and falls were by far the most common injury-related reason for older adults to visit an emergency room in 2018. The percentage of adults 65 and older who experienced a fall in 2018 varies pretty considerably by state, though, with rates being higher throughout most of the South and much of the West. In Hawaii, about one in five seniors experienced a fall in 2018, while in Texas that number was closer to one-third.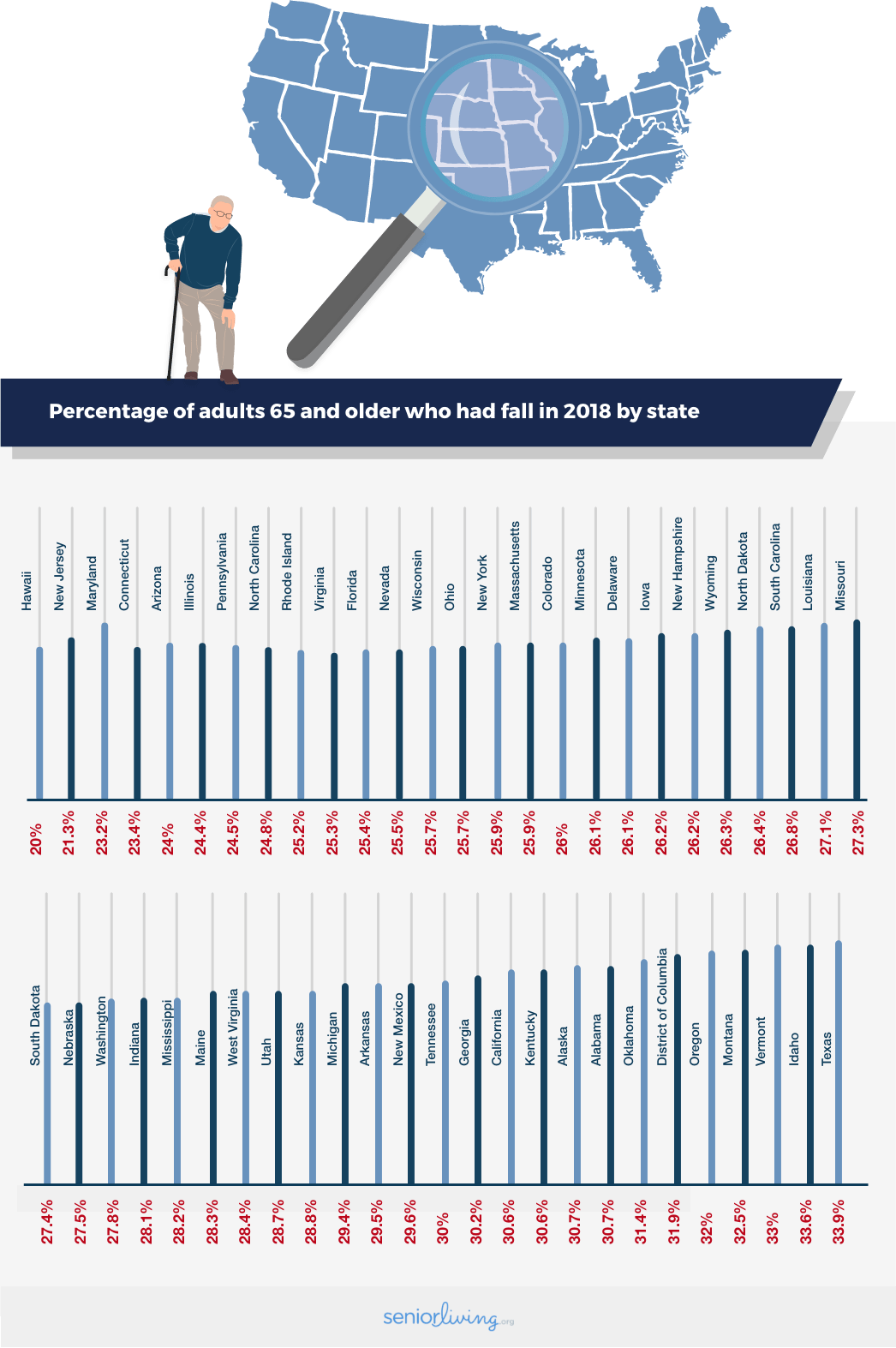 Accidental Deaths by State
As with nonfatal injuries, falls have by far the highest population-adjusted incidence rate among injury-related causes of death in older adults. In most states, the only injury-related cause of death that rivals falls is suicide.
For our purposes, we've limited our analysis of injury-related deaths to accidents, but we'd be remiss not to point out the sad fact that older adults may be more prone to suicidal thoughts and actions than their younger counterparts. In fact, in 2018, the group with the highest population-adjusted suicide rate were men 75 and older.
But considering accidental deaths, in most states, falls are the most common cause of accidental death among those 50 and older, though this doesn't hold true for every state. For example, motor vehicle accidents cause more deaths in those 50 and up than falls in Alabama, while accidental poisoning, which includes drug overdoses, is more than three times deadlier than falls in D.C.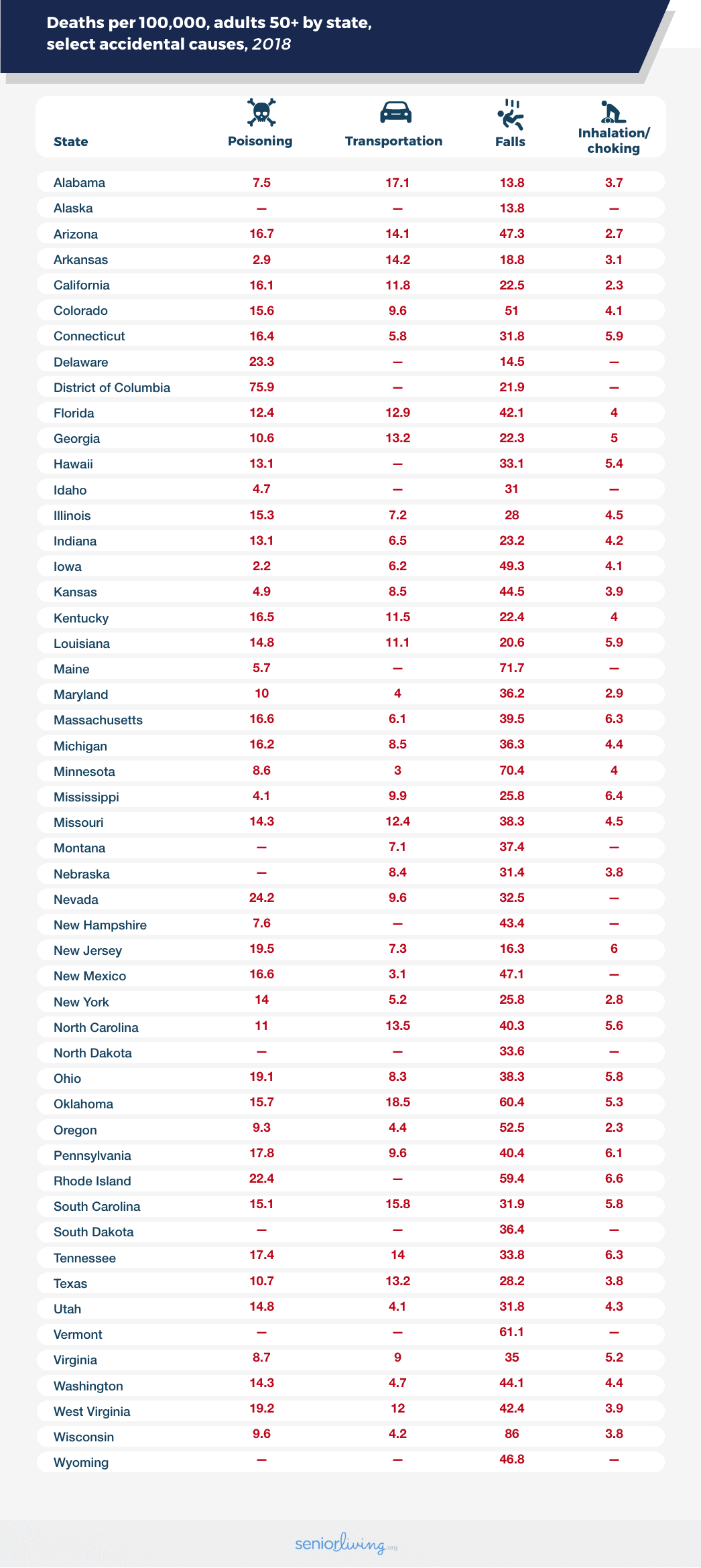 D.C.'s rate of accidental poisoning deaths is far higher than anywhere else in the U.S., though it's important to note that in several rates, the numbers of these deaths among older adults is so low that their rates are not listed for privacy reasons.
Older adults have higher rates of deaths from falls in Wisconsin than any other state by a pretty wide margin, with Maine and Minnesota a distant second and third, respectively. Oklahoma has the highest rate of transportation-related accidental deaths of seniors, while Minnesota's rate of those types of deaths is lowest.
Choking is another cause of accidental death that tends to be higher in seniors than most other adults, and death rates related to choking or inhalation are highest in Rhode Island and lowest in Oregon and California.
Conclusion
Accidents happen to all of us. No amount of vigilance will ever completely eliminate the risk that comes with daily life. But there can be no doubt that the physical, emotional, and economic toll of injuries and deaths related to accidents is high. The good news is that taking preventive steps to ensure your home is safe can greatly reduce the chances of serious injury or death from an accident.
Methodology
Injury and death data included in this story came from the federal Centers for Disease Control and Prevention. We queried multiple CDC-maintained databases.
Nonfatal injuries: The WISQARS database contains nonfatal injury reports, meaning injuries that resulted in an emergency department visit but not a death, from 2001 to 2018. We used injuries by both age group and cause for the 10-year period between the beginning of 2009 to the end of 2018 for all but firearm-related injuries. In this case, the years we used were between 2007 and 2016. The database can be accessed here.
Causes of death: The WONDER database lists causes of death between 1999 and 2018. We compiled data for seniors by state and select causes of death that are accidental in nature. In many cases, values were suppressed because the number and rate were too low. You can access WONDER here.