Where The Healthiest Seniors Roam
As the population of American seniors continues to climb, the country's medical community confronts new opportunities and challenges related to their care. The number of individuals aged 65 and older is projected to double in the coming decades, reaching over 98 million by 2060. And while these older Americans are living longer than ever before, their longevity puts them on a collision course with chronic illness. Nearly 6 in 10 adults aged 65 and older have hypertension, almost half have high cholesterol, and more than a quarter have been diagnosed with diabetes.
Yet for seniors pursuing a healthy and active lifestyle, there's also much reason for hope. While genetics play a large role in long-term health outcomes, environmental factors and attitudes may contribute just as much to staying in great shape well past one's 60s. In this project, we studied the health of seniors in each state, using data sourced from the Centers for Disease Control and Prevention. Our findings suggest broad improvement in the well-being of older Americans nationwide, as well as areas in which senior health remains a troubling concern. Which states can claim the healthiest seniors? Keep reading to find out.
Better Health for Baby Boomers
In several states, seniors are an overwhelmingly healthy lot, with at least 80 percent of those aged 65 and older rating their health "good" or better. New Hampshire took the top spot in this category, a trend that might contribute to recent interest in the state as a retirement destination. Colorado and Utah earned second and third place respectively, followed by Minnesota. Several of these top-ranked states boast enviable health statistics for all age groups, so the well-being of their seniors could result from long-standing cultural norms related to healthy habits. But other states, such as Rhode Island, seemed to make great strides in just a few years, improving about 13 percent between 2011 and 2016.
While most states showed improvement over the period studied, our analysis did present a geographical dichotomy in senior well-being. While Northern states tended to boast relatively strong numbers, states with low rates of well-being among older Americans were concentrated in the South. This disparity could be attributable to differences in health care access, as many Southern states have been criticized for the scarcity of their medical resources. Additionally, rates of obesity and diabetes have recently spiked throughout much of the region, likely contributing to poor health among seniors.
Beneficial Behaviors, by State
In the interactive map above, we give you the chance to explore which states are ahead of the rest on a range of specific healthy behaviors. Some factors are clearly integral to keeping seniors healthy, such as rates of obesity mentioned above (Hawaii, Washington, D.C., and Colorado are top ranked on this measure).
Activity, Employment, and Emotion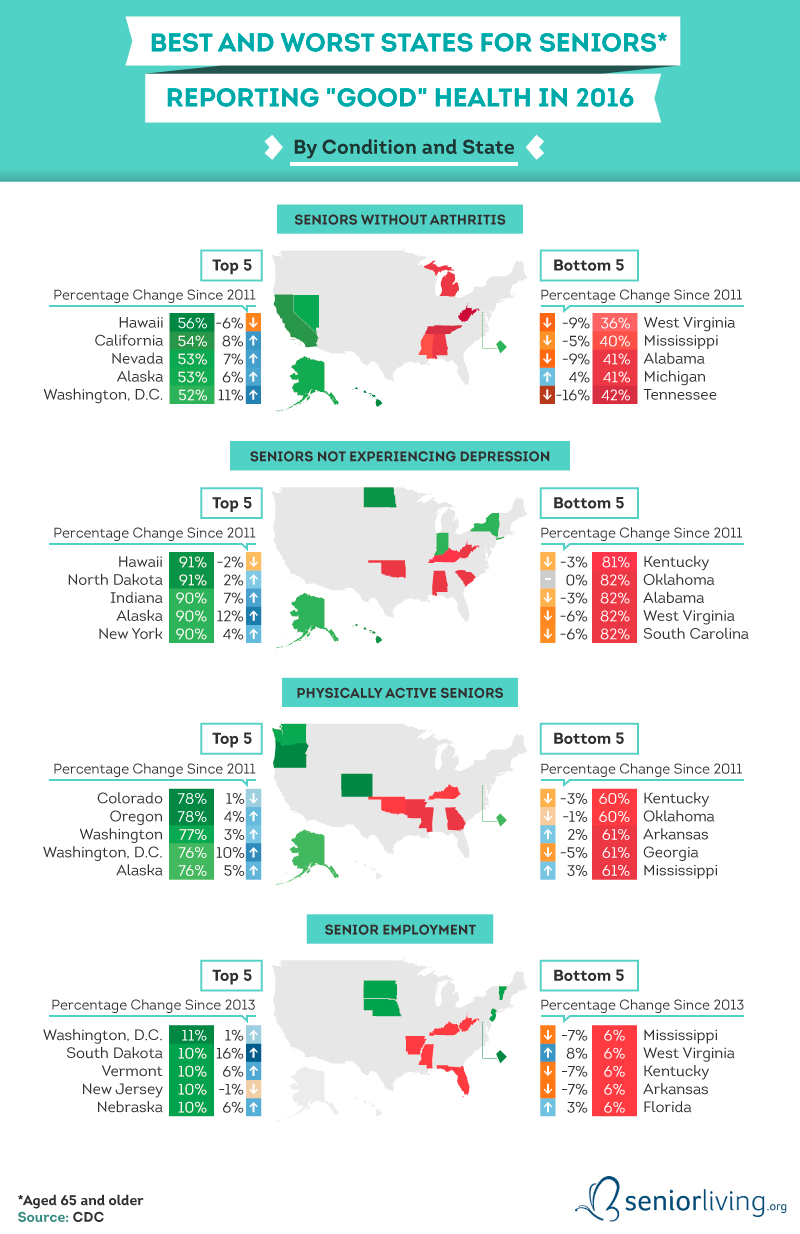 Depression disproportionately affects older Americans, and research suggests it's particularly common among those with chronic health conditions. Yet in states as disparate as North Dakota and New York, 9 in 10 seniors did not report depression – demonstrating deep sadness need not be a part of growing older.
Arthritis was also less common in states such as Hawaii and California, with more than half of seniors reporting they had no arthritis. The illness is painful in its own right but can also lead to more serious health problems, including those that may require surgery.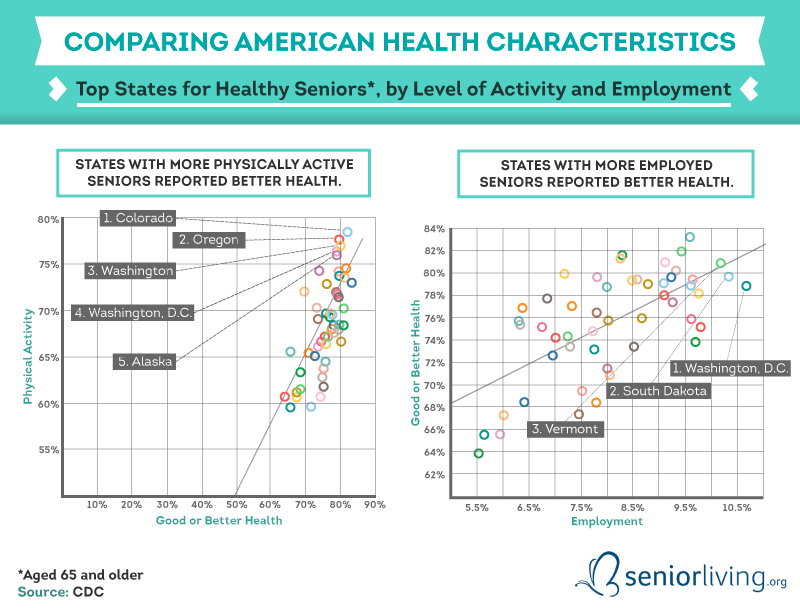 Physical activity is a healthy choice at any age, but its benefits are particularly pronounced for seniors, ranging from lower rates of chronic illness to improved mood and memory. Indeed, our data suggest a general correlation between seniors' health and their physical activity by state. The most active locations for seniors were concentrated in the West (Colorado, Washington, and Oregon claimed the top three spots), but Washington, D.C., also ranked well. Our nation's capital also ranked first in terms of senior employment – another factor correlated with senior health in our findings. With more older Americans remaining in the workforce, that result bodes well for the "unretired" in the years to come.
Wisdom and Well-Being
Although our results indicate significant variation in health outcomes by state, no statistic can keep seniors from making healthy choices for themselves. And while aging presents new and difficult challenges, many of the characteristics associated with positive health outcomes are strengths we develop earlier in life. These include resilience in the face of change and strong interpersonal bonds – traits that make life more enjoyable and meaningful at any age. In other words, seniors may already possess the keys to healthy aging, although they may not know it.
If you're concerned about the health of an aging loved one, or worried about protecting your own well-being as you grow older, activity and engagement with others should be top priorities. But an even more fundamental skill may be communication. When older Americans can talk openly about their difficulties and collaborate with loved ones to produce solutions, their chances of achieving happy living are far better – whichever health challenges they face.
Methodology
We collected public data from the Centers for Disease Control and Prevention's Behavioral Risk Factor Surveillance System, a "system of health-related telephone surveys that collect state data about U.S. residents regarding their health-related risk behaviors, chronic health conditions, and use of preventive services." Data analyzed was reported from 2011 to 2016 (the most recent reports as of May 2018, with new reports scheduled for release sometime around the new year).
Fair Use Statement
Feel free to share our graphics and data with your own audience for noncommercial purposes. When you do, we simply ask that you provide a link back to this page to attribute us appropriately. Whether you're a baby boomer or millennial, we can all agree that giving proper credit is important.