Life Goals
Astronaut. Teacher. Engineer. Doctor. No matter how old you are – or how lofty your dreams may be – goal setting is often regarded as one of the fundamental keys to success.
Experts say goals help trigger the kinds of behavior it takes to bring dreams into fruition, and no matter what you're trying to accomplish – from starting your own business to falling in love – keeping aspirations in mind can help hone your focus and determination along the way.
So what are some of the most common long-term goals people often set for themselves as they age, and what does true accomplishment really look like? To help demystify the nature of ambition, we surveyed over 1,000 people about the milestones they hoped to accomplish and the average age those dreams become accomplishments. Read on as we uncover more about making dreams of travel, love, money, or careers a reality.
If You Can Dream It
For better or worse, anyone in America can become the president. Perhaps it's the hardships of the job or the stress of politics, but most people don't want to be president. Becoming the president or a politician were the least popular dreams of all, second only to becoming a news anchor (another potentially stressful position). Despite the adventures and lore of traveling to space, only 1 in 10 people dreamed of becoming an astronaut.
Far more common were dreams of passion. As early as 15 years old, 65 percent of people said they dreamt of falling in love. A few years later, 60 percent also shared the dream of getting married or traveling the world. Contrary to statistics reporting young people aren't buying houses, 61 percent of people said that by the time they turned 20, they dreamed of owning a home.
While most of these goals typically manifested while people were younger (between 15 and 20), the dreams changed when respondents were in their mid-20s. More than half of people wanted to make money off their passions (which can often be the allure of a side hustle), and by 27, more than 2 in 5 people dreamt of giving their families the best life possible.
Meeting Dream Deadlines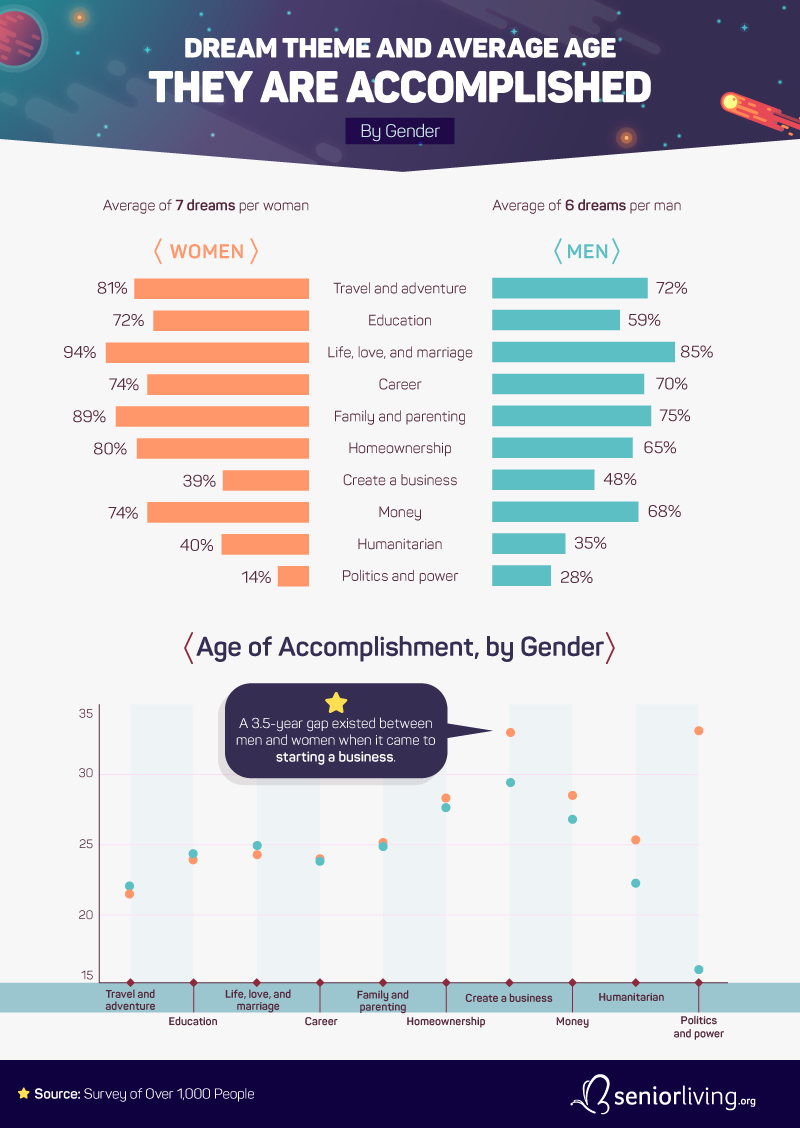 There are plenty of ways (and scientific reasons why) life is different for men and women. As it happens, those differences may also apply to how they set and accomplish goals.
When asked about the things they hoped to accomplish, women had seven dreams on average, compared to six for men. Goals relating to life and love, travel and adventure, and family and parenting were more common among women than men. Women were also more interested in their careers and making money. In contrast, men expressed more passion for starting a business as well as politics and power.
Men and women accomplished their career goals at roughly the same age (24), but there was more of an age gap when it came to achieving dreams related to money, humanitarian efforts, and business ownership. Women who wanted to start a business did so by the time they were 32 on average, while men did the same by age 29. Reports continue to show that securing funding for operations is typically harder for women than men. The gap widened even more between men and women yearning for political positions and power.
The Age of Goals
Having dreams or goals is one thing, but accomplishing them can be an entirely different matter.
Most people of every generation identified wanting to own a home, but older generations had the leg up in turnaround time. Baby boomers were 21% more likely to achieve this dream compared to Gen Xers, and 38 percent more likely to buy a home compared to millennials. Student loan debt and average compensation rates may be reasons for this generational disparity.
Making It Happen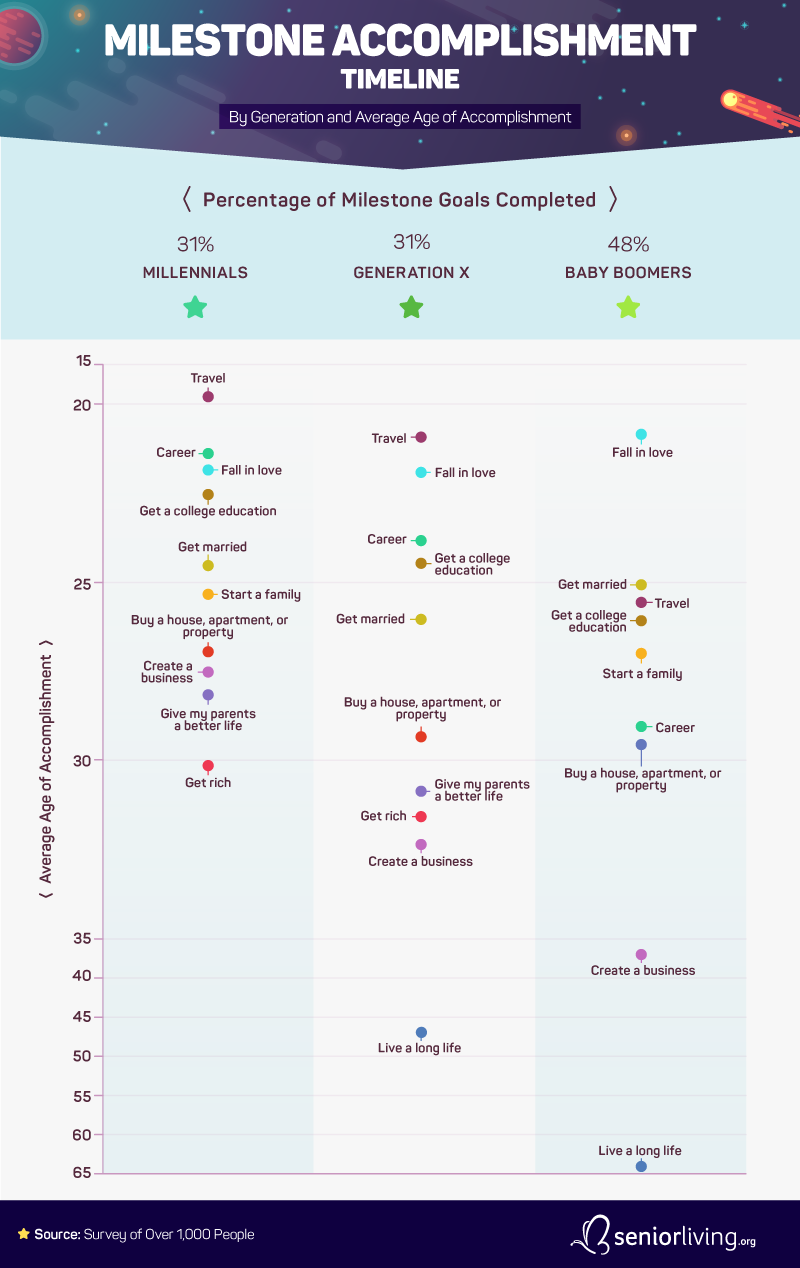 Whether it's seeing the world, adventuring to big cities, or exploring remote parts of the country, millennials are often branded as the traveling generation. Studies show they vacation more than any other generation before them, and 1 in 5 international travelers are millennials. Compared to baby boomers and Gen Xers, millennials prioritized travel.
Career accomplishment timelines also differed. On average, Gen Xers and millennials felt they had accomplished their career goals by 25. Gen Xers and millennials also took the longest to fall in love, although Gen Xers got married later in life compared to baby boomers and millennials.
Finding a way to turn your passion into profit is sometimes easier said than done and often takes a great deal of effort and discomfort. Starting your own business can take even longer. On average, most Gen Xers didn't start a business until age 33, and while it took baby boomers even longer (37 on average), millennials typically started a business by the time they were 27.
Keeping Things in Perspective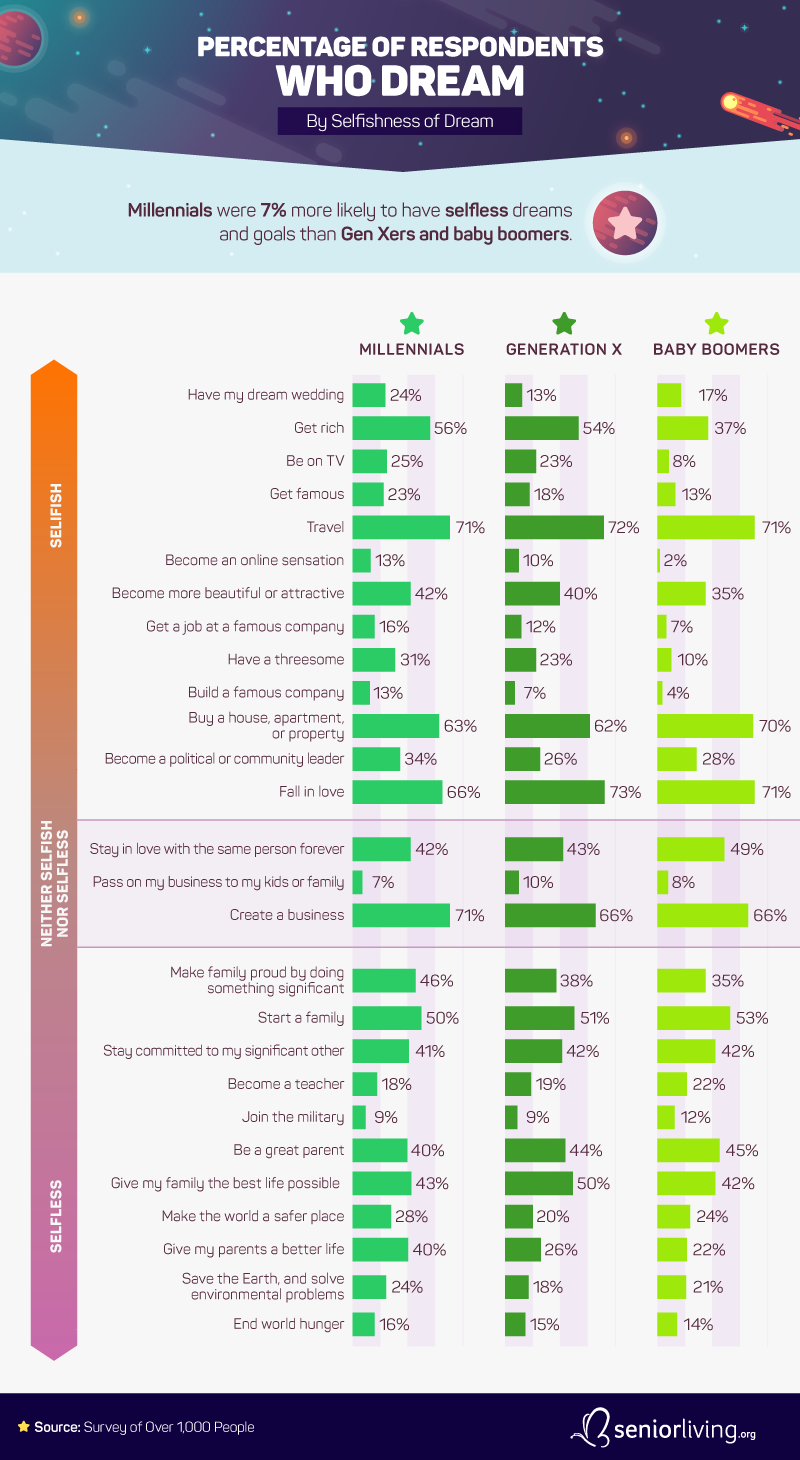 While our dreams are often centered around ourselves, the things we want to accomplish, and the success we'd like to achieve – at some point, those dreams may expand to include other people. Where more selfish goals were concerned, our study found millennials were 7 percent more likely to have selfless dreams compared to Gen Xers and baby boomers.
Millennials may travel more often, but they aren't the only ones dreaming of new adventures. Seventy-one percent of baby boomers and 72 percent of Gen Xers said they dreamed of traveling. However, millennials were the least likely generation to want to fall in love, compared to 73 percent of Gen Xers and 71 percent of baby boomers.
Additionally, 40 percent of millennials dreamed of giving their parents a better life, 24 percent were invested in environmental problems, and 16 percent wanted to end world hunger.
Reach for the Stars
No matter how old you are, it's never too late to set goals. Dreams of accomplishment are often more than visions of fantasy – from helping you find drive and determination to providing something concrete to focus on as a marker of success.
For many people, dreams of love and marriage were more common than dreams of wealth or prestige. However, it wasn't uncommon for older adults to set goals to monetizing their passions or start a new business. Even younger generations –who may be more focused on travel and adventure –may eventually develop more selfless aspirations for themselves and their families.
Methodology
We surveyed 1,002 people about their dreams and aspirations in life, as well as if and when they accomplished their goals. Forty-nine percent of respondents were men and 51 percent were women. Participants ranged in age from 18 to 77 with an average age of 36 and a standard deviation of 12.1. People who did not express that they had long-term goals in life were barred from participating in the survey. To create the final graphic, we used a brief survey to determine how each goal was regarded (selfish or selfless) using a seven-point scale.
Fair Use Statement
Dreaming of sharing this content with your readers? Feel free to repost any of the graphics or content found here on your own site for any noncommercial use. We only ask that you ensure a link back to this page so that our contributors earn credit for their work too.