Guide to Hiring the Right Senior Caregiver
Many older adults receive in-home help from relatives, but professional, paid caregivers have their place, too. Some perform all of the care, while others help seniors' family members so they can maintain a work-life balance. COVID-19 made finding caregivers trickier in 2020 and 2021. Families relied on video interviews to talk with job candidates and asked that caregivers mask at work and practice safe behaviors on- and off-duty. It was even more trust than usual to place into a stranger.
Overall, there are many options for caregivers and places to find them. It takes time, research, and effort to find someone reliable and trustworthy who has the right skillset to tend to your loved one. Just as important is that your loved one feels comfortable with the caregiver.
If your search is beginning, you may be wondering things such as, "Can I really afford a caregiver?" and "How can I trust a stranger in my parents' house?" This guide walks you through the process of hiring help at home. It also explains other considerations when searching for quality home care.
Expert Insight on Hiring Home Health Aides
Benefits of Hiring a Personal Caregiver
It can be convenient for you and other family members to care for senior loved ones, but let's face it: Many of you work full time and live at least a few minutes away. Seniors deserve proper care and attention. They're less likely to get that if their caregivers are off-site and lack work-life balance.
Performing caregiver duties as a family member can be both emotionally tiring and physically draining. For example, transferring someone from beds to wheelchairs and vice versa can strain your back.
Meanwhile, untrained caregivers are especially vulnerable to seniors struggling with dementia. Even experienced caregivers can have difficulty coping with aggression, wandering, leaving cooking burners on, and other dangerous behaviors.
On top of all this, imagine having to complete everyday mundane tasks such as grocery shopping, banking, housekeeping, cooking, and more. Talk about stress overload!
This is where hiring help could come in handy. You can do some caregiving if you want to, but paid support resets the work-life balance. It can also be good for seniors, getting them to socialize and enjoy new experiences. In the end, the right caregiver relieves everyone of some stress. Personal caregivers help with the following: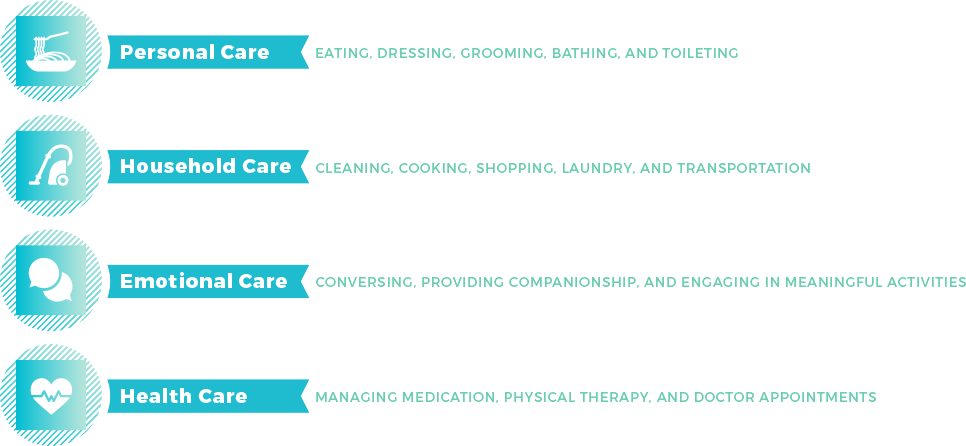 It may take time to build trust. To ease into the process, many families hire a housekeeper first. This allows everyone to get the hang of someone coming in to help with housework before someone else enters the picture to assist with personal care.
What Types of Senior Care Are Available?
The two common types of health aides are home health aides and personal health care aides. Home health aides provide basic health care, encompassing duties such as controlling medication and verifying circulation pressure. On the other hand, personal health care aides assist with housekeeping and personal needs.
Home health aides are good choices for seniors who are ill, disabled, or otherwise in need of medical assistance. If no medical care is necessary, a personal care aide should suffice.
Many seniors live far from their families and spend a lot of time alone. A personal care aide can be beneficial for companionship. It means someone to talk to, share a meal with, engage in activities with, and more. Seniors with Alzheimer's or dementia may also find it helpful to have companion care as they cannot be left alone.
Pros & Cons of Hiring a
Home Care Agency vs. Individual Care Provider
Deciding to hire in-home help is a critical step. Next, you must consider whether to hire a caregiver directly or go through a home care agency. Start with personal recommendations. If friends or family members tout certain people or agencies, look into them.
Also, assess your lifestyle and finances (and those of the senior). Consider the following pros and cons of an agency and individual care provider.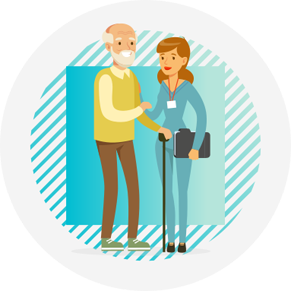 Home Health Care Agency
Pros
Your insurance plan may cover some of the costs.
The agency sends a substitute caregiver if your usual is ill or on vacation.
Since many people work for an agency, there are wider skill sets to meet different needs. For example, if you specifically need physical therapy, you can get a caregiver who specializes in physical therapy through an agency.
The hiring process is easier and streamlined because you get help with several things. The agency handles all screening, hiring/firing, pay, and taxes so that you don't have to.
If you encounter problems, the agency can help settle disputes.
Should you find that your caregiver is not a good fit, you can let the agency know to send an alternative.
On a time crunch and don't have days or weeks to research? You can count on an agency to match you with a caregiver quickly.
Cons
Agencies can be more expensive than hiring an individual caregiver directly because the agency helps with administrative tasks on top of placing a caregiver.
Some agencies experience high staff turnover, which means seniors may have to adjust to different attendants.
Some attendants don't have consistent work hours, so the agency might hire several people to provide care. This requires seniors to adjust to different attendants and be OK with multiple people entering the home.
Certain tasks may not be included or incur an additional charge.
There is less individual choice when it comes to selecting attendants. Ask agencies about their process for matching caregivers.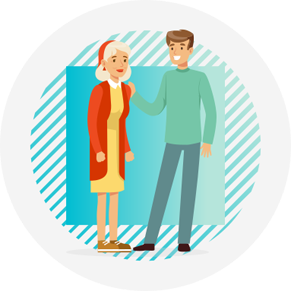 Individual Care Provider
Pros
Hiring someone directly is more cost-efficient than going through an agency.
Seniors are more likely to build a strong one-on-one relationship with the attendant. This makes the experience more personable and "family-like."
There is individual choice when selecting caregivers. You can pick the one you feel will best provide for you or your loved one.
You get more flexibility in the tasks that can be performed.
Cons
Your health insurance might not cover individual care providers.
If your attendant is sick or needs a vacation, you must find alternative help.
You don't have an agency helping with administrative duties such as screening, hiring and firing, taxes, payroll, insurance, contracts, and disputes.
Steps for Getting In-Home Assistance
It can be tough to find the perfect caregiver. Start with the steps outlined below, whether you are looking to hire directly or through an agency.
Determine the Type of Care Needed
Start by making a detailed list of what your ideal caregiver would be doing and what expectations you have. Some things to consider include:
What duties does the caregiver need to perform and how often? Write down all the duties and the frequency of each. Duties may include housekeeping, driving to doctor appointments, bathing, etc.
When is a paid caregiver needed and how often? How fixed are the senior's needs? If family members will continue to provide some care, how flexible is their schedule?
Does the senior have dementia or a serious condition requiring specialized care?
What are qualities you look for in a caregiver to ensure a safe and happy relationship and home?
Do you have rules or values that are non-negotiable? For example, if your caregiver smokes at home, that could be a major problem if you don't want smoking in the senior's home. Since the caregiver will spend plenty of time with loved ones, it may be ideal to have one who shares similar beliefs, values, and backgrounds. These similarities promote bonding and a comfortable relationship.
Become Familiar with Costs
According to Genworth, home health care and homemaker services in 2020 cost about the same. The monthly median cost for homemaker services is $4,481 ($53,768 annually), while it is $4,576 ($54,912 annually) for home health aides.
Rates vary depending on where the senior lives, the kind of care required and the frequency. For example, the annual median cost of homemaker services in Alabama comes out to $41,184, while services cost $59,785 in the District of Columbia. They are a sky-high $64,064 in Alaska and $64,018 in North Dakota, primarily due to fewer available workers.
Caregivers earn more when they work holidays, evenings, and weekends. An aide with credentials who can provide a higher level of care, such as a nurse or certified nursing assistant, will also be more costly.
Know Where to Get Assistance
Get the ball rolling with referrals and word-of-mouth from loved ones and medical professionals. You can also search online job boards such as Craigslist and Care.com to see area caregivers looking for work, or place your own posts. Other places to look or post include social media, online forums, and local newspapers. Last but not least, there are plenty of online elder-care matching services.
Make your posts as specific as possible to save time and hassle. The more information, the better so candidates who are not a good match can opt out early.
Include details such as the job location, hours and days needed, the specific tasks to be performed, how often, and the pay if hiring directly. Yes, even pay. Suppose you're able to pay the minimum wage per hour, no more. If you don't disclose this, most applications could be from people who need a base of, say, $18 to even consider the job. You'd be wasting their time and yours, especially if you wait until the very last minute to bring up compensation.
It's fine to provide a range of pay (instead of an exact figure) based on caregivers' experience and professional credentials. Look at CareerOneStop and area job ads to get an idea of a fair salary. Check out three other websites as you search for assistance:
Visiting Angels – Learn more about how home care works and find the closest Visiting Angels provider to you.
Eldercare Locator (and Caregiver Corner) – This public service from the U.S. Administration on Aging connects you to services for aging adults and their families. Spend some time in the Caregiver Corner, too!
Research & Conduct Interviews
If you are hiring directly, carefully review applicants' resumes and websites. Schedule phone or video interviews with the ones you feel have potential. During the brief interview, reiterate the pay, explain your needs, and clarify that the candidate has the experience and ability to carry out necessary tasks.
Next, you can schedule in-person interviews with the ones you feel good about. Let them know you will conduct a background check and verify references (your job ad should also have said something to the effect of, "Background check and references required."). Request that interviewees come prepared with their driver's license, Social Security card (or number), resumes, past addresses, and references.
It helps to know which online company, people search website, law office, or private investigator you'll use for background checks. This way, you get all the required information at the in-person interview. If applicants are licensed or otherwise credentialed, verify their information with the credentialing agency.
Ask for at least three references. Two should be from former clients.
Interviews can be tough because you must get to know someone in a short amount of time. What's more, this person is someone who could potentially go into your loved ones' home and care for them. Still, it is possible to get a decent idea of what candidates are like and how well they match the job.
Perhaps most important is how well the candidates treat the loved ones they might care for. These seniors don't have to attend the entire interview, but showing up for even five minutes can prove helpful. Caregivers who ignore them or don't seem to be in sync with them may not be good matches.
It's also essential to ask questions such as these:
Talk about what it's been like working as a caregiver.
What is your favorite part of being a caregiver, and your least favorite part?
How long have you been working as a caregiver?
Do you have any specialized training or experience I should know about?
What makes a good work experience for you?
Are you willing and capable of performing these duties? (Go into more detail about the responsibilities you require.)
My parents can be short-tempered and impatient at times (or whatever challenging attributes). Tell me how you've dealt with similar clients in the past.
Be transparent during the interview. You want caregivers who understand what they are getting into and who will stick around. Don't paint your loved ones as easy to take care of if that is not the case.
During the interview, let the caregiver know what to expect. Be upfront about whom the caregiver will interact with (other family members at home or visitors, for example), the consequences of tardiness or absenteeism without notice, benefits and wages, vacations and holiday pay, etc. Tell applicants about seniors' circumstances such as these:
Mobility problems
Diet restrictions
Likes and dislikes
Medication list
Behavior issues
Current medical status
Ongoing exercises and therapies
The more communicative you are, the more productive the interview is for both parties. Before ending the interview, ask if the candidate has any questions and address them accordingly.
Looking for more information about the interview process? Below are some external resources:
Seniors Matter – This website goes over the best interview questions for hiring senior caregivers. You may want to consider including these in your interview as applicable.
GT Independence – Here, you'll find useful interview tips to keep in mind as you prepare to interview caregiver candidates.
Perform a Background Check
It is understandable (and recommended) to be picky about who you allow to provide in-home care. If you hire through an agency, the agency handles interviews and background checks. But, if you hire someone directly, performing a background check is imperative. You do need written consent from candidates. Once you obtain consent, you can get a law office or private investigator to run background checks using their specialized databases.
Background checks include credit reports, DMV records, and any criminal records. They verify that the information provided is accurate.
It can cost anywhere from $70 to $300 an hour to run a background check through a law office or private investigator. If you are looking for a more cost-efficient way, there are online background check companies that cost less. Check out these resources for more information:
Fair Credit Reporting Act – Learn more about this act that requires you to ask for permission in writing before pulling a potential caregiver's credit report. (Here's a summary of applicants' rights.)
Personal background checks – This article is for job applicants wanting to run checks on themselves (to see what prospective employers could turn up). Regardless, it is useful for anyone doing DIY background checks. That could include you! It explains the steps to follow, where, and how.
Make Sure It's a Good Fit
Once the caregiver starts, take about two days to two weeks to confirm a good fit. Someone new in the home is always an adjustment. Tensions may build up due to clashing personality types or habits.
Do make clear in your job posts and interviews that you intend to have a trial period. Two weeks is as long as you should go. Any longer is unfair to caregivers who need to line up long-term work. They may not even be interested in a tryout period for that reason, especially after a thorough screening process.
How to Afford Household Help
The cost of household help can vary greatly depending on where you live in the United States and what kind of care you are looking for. Full-time costs are obviously a lot more expensive than the costs of someone helping out several hours per week.
Some long-term care insurance policies partially cover household help. Inquire with your insurance company to see what kind of benefits it offers. Depending on the policy, coverage may apply for hiring someone privately or only for hiring through an agency.
Low-income seniors may qualify for Medicaid (or Medi-Cal in California). Through this, they can get in-home supportive services. The services depend on area and state. The Eldercare Locator connects you with agencies to determine the programs available.
The cost of a personal caregiver could be tax deductible if it is considered medically necessary. Consult your tax professional for clarification.
As far as the remaining costs go, relatives typically chip in to afford household help. Getting together as a family to discuss home health care service, the associated costs, and the means available to cover the costs can be useful. That is especially true if several family members are contributing.
Paying a Caregiver
An oft-overlooked aspect of having someone provide at-home care is how to pay the person. Set expectations early and establish boundaries.
Get Everything In Writing
Be specific on the hours caregivers are expected to work, what tasks they should perform, and when and how often they'll be paid.
Further, you can use a written contract signed by you (or the senior) and the worker to show that the money was not a gift in case of an IRS audit. If seniors cannot prove this, they could become ineligible for Medicaid. The pay rate should also be in line with the market rate for your area. It seems suspicious to pay caretakers, especially family members, a rate double or triple the average amount for area caregivers. It'd also be bad if you paid the caregiver far less than the market average.
Ask your caregivers to keep a record of the hours they worked and when they were paid. These records serve as proof they are hired help and preserve a senior's Medicaid eligibility.
Check Your Insurance Coverages
Accidents can happen at any time. If one occurs in your home, injured caregivers could sue. If your homeowners' insurance doesn't cover worker injuries, then your finances could easily fall into disarray.
Check what your homeowners' insurance covers to see if you're fully protected in the event of caregiver injuries. If not, increase the premiums and coverages. Some states require workers' compensation and disability benefits insurance, so look into that as well.
Pay Your Caregiver As An Employee
Paying under the table (undocumented and untaxed payments) can cause issues with the IRS and lead to disqualification from Medicaid-funded nursing home care. Avoid that risk by paying your caregiver in an IRS-approved manner. Programs such as QuickBooks Payroll have easy systems for home-based care. You'll also want to send your caregiver a W-2 if you pay them more than $2,200 in a single calendar year or more than $1,000 in a calendar quarter.
Final Thoughts
Hiring someone to help loved ones at home can be nerve-wracking with so much to think about. But, once you do your due diligence and find the right caregiver, you and your family members will be able to live more balanced lives.
Keep in mind that communication is key to a happy and well-run home. Maintain open communication and clear expectations from the get-go. This avoids potential strain with caregivers, and everyone feels more comfortable.