While 7 in 10 American workers had never heard of Secure 2.0 legislation, they support many of its retirement savings provisions
Today, only one in every two American families have retirement savings accounts.1 Though the nation has the largest economy in the world, the United States ranks 11th for financial security in the Global Retirement Index.2 To fend off an impending retirement crisis, the House of Representatives recently passed the Secure 2.0 act which could make significant changes to 401(k) accounts if signed into law.
According to our recent research, 60 percent of American workers support many of its provisions, such as automatic 401(k) enrollment, assistance for student loan borrowers, and accelerated contributions for late-starting savers, but it's a politically divisive topic. As the legislation lingers in the Senate, we conducted a study of over 1,100 American workers to see how they feel about this proposed legislation.
Key Findings
Many workers are hoping for support in retirement savings: 34 percent said it was unlikely they'd be financially secure throughout their retirement years.
60 percent of U.S. workers support the idea of automatic enrollment in employer 401(k) programs.
71 percent of workers who are qualified but do not currently contribute to 401(k) accounts said they would participate if they were automatically enrolled.
Half of workers said they would take advantage of increased catch-up savings limits if Secure 2.0 became law.
Many Workers Back Proposed 401(k) Changes
Many Americans are worried about their retirement years and are hungry for financial solutions, but largely unaware of the Secure 2.0 Act. Seven in ten people had not even heard of the bill before participating in our research study.
Once we informed participants about the bill and its broad implications for retirement savings, strong feelings and broad support for the measures emerged. We found that while the bill is politically divisive among workers, many felt positively about some of its main provisions.
What's in the Secure 2.0 Bill?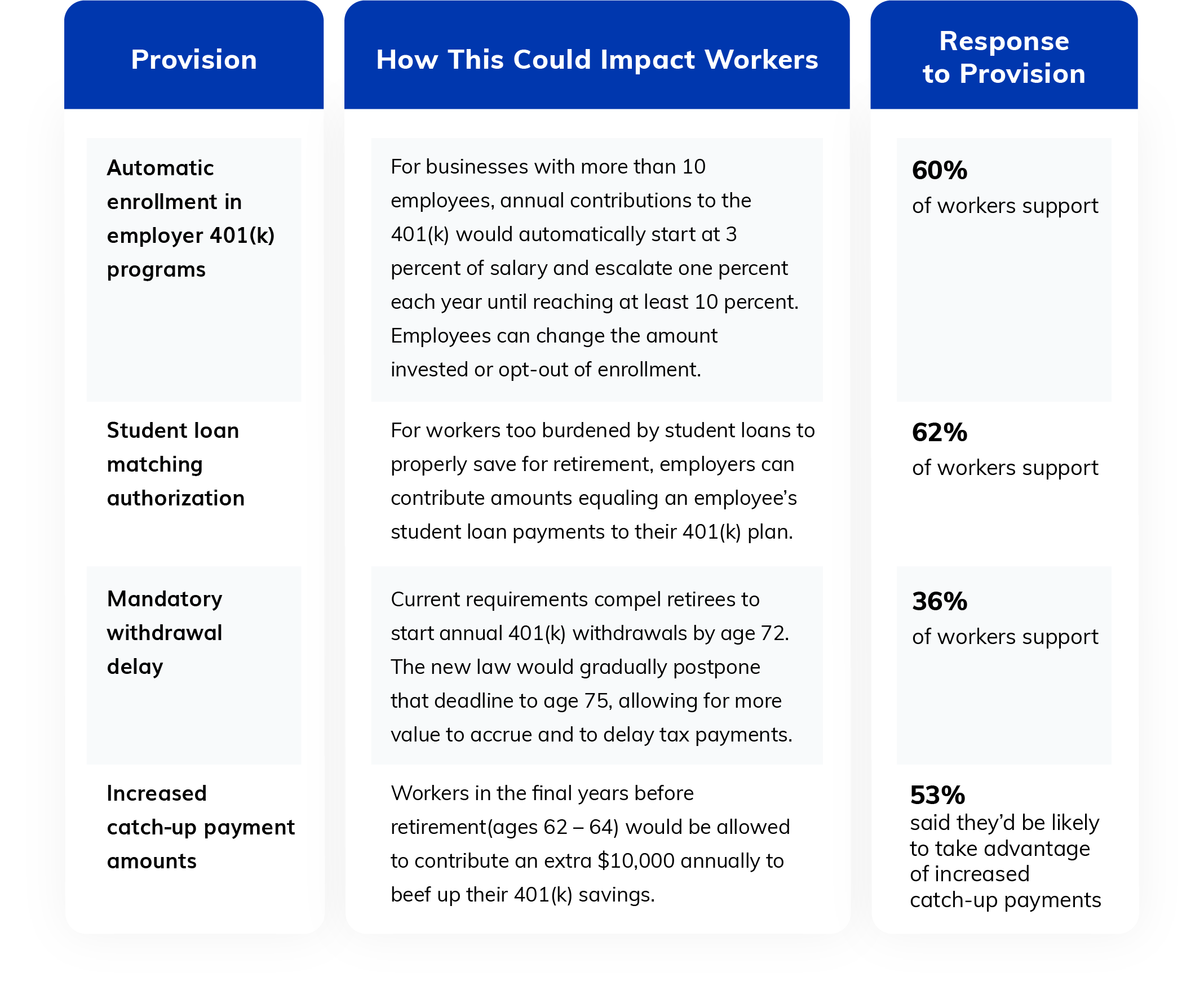 Automatic 401(k) Enrollment
Currently, more than 50 percent of employers already automatically enroll their workers into 401(k) plans,3 but it could benefit even more workers if Secure 2.0 became law. Automatic enrollment would increase retirement savings for many people, and would simplify the choices workers face when enrolling in savings plans. Currently, the Senate version of this bill doesn't include automatic enrollment, but it does incentivize it.
Automatic enrollment in 401(k) plans is a popular idea, but support varies by age and political leaning. Overall, 60 percent of American workers back the idea of automatic enrollment, and 27 percent strongly favored the measure. That said, support dropped sharply among older workers (who may be already contributing to their plans).
Do You Support or Oppose the Automatic Enrollment of Employees Into 401(k)s?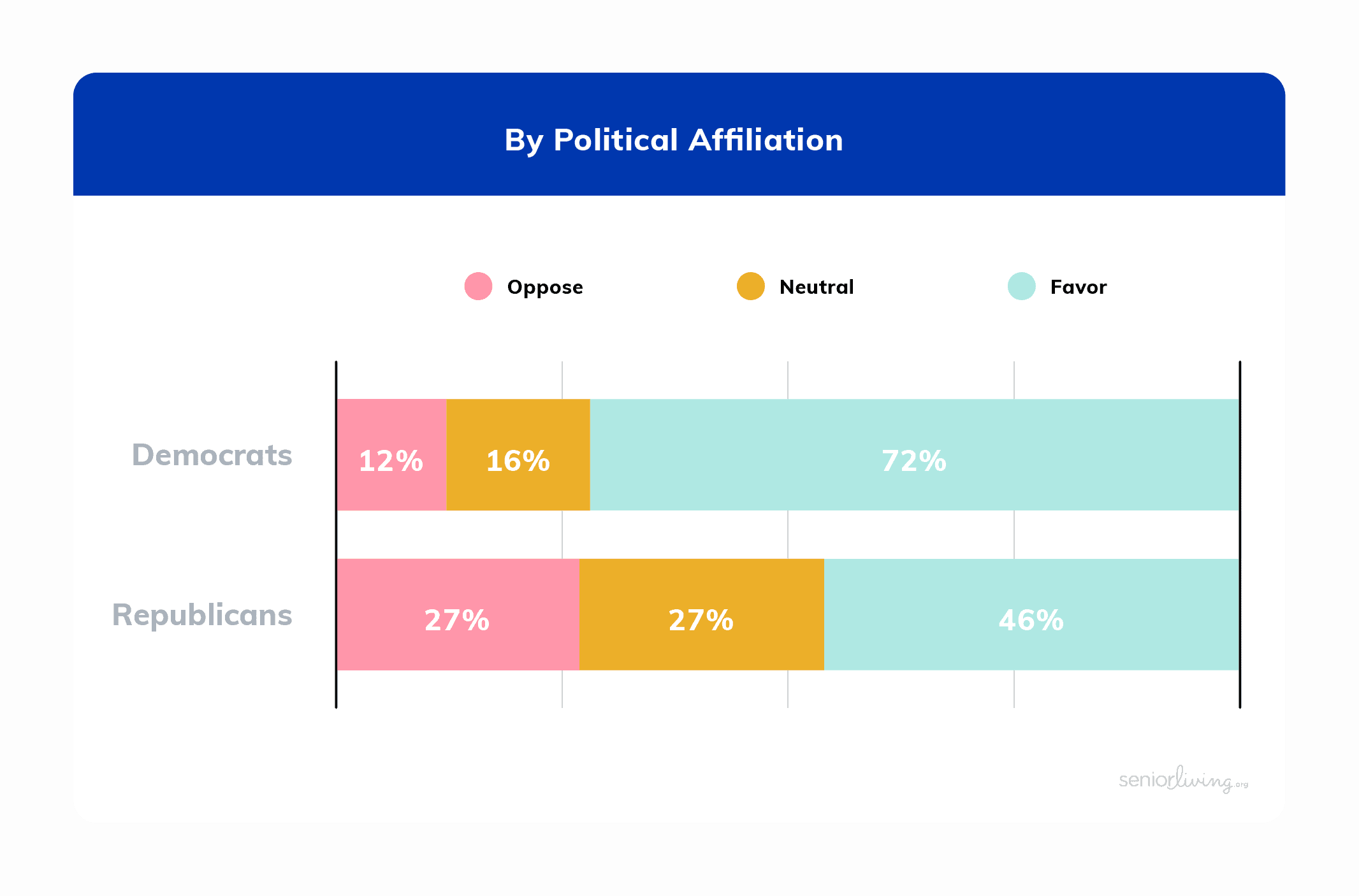 Automatic enrollment was also far less popular with Republicans (who often oppose financial regulations). Less than half of GOP members in our poll backed the measure, while 72 percent of Democrats were in favor.
While this measure would not impact workers who aren't participating in 401(k)s at their current companies, it would affect newly hired workers just starting out at new jobs. A large majority of respondents who currently eschew 401(k) enrollment said they would not opt out if they automatically enrolled in a 401(k) plan.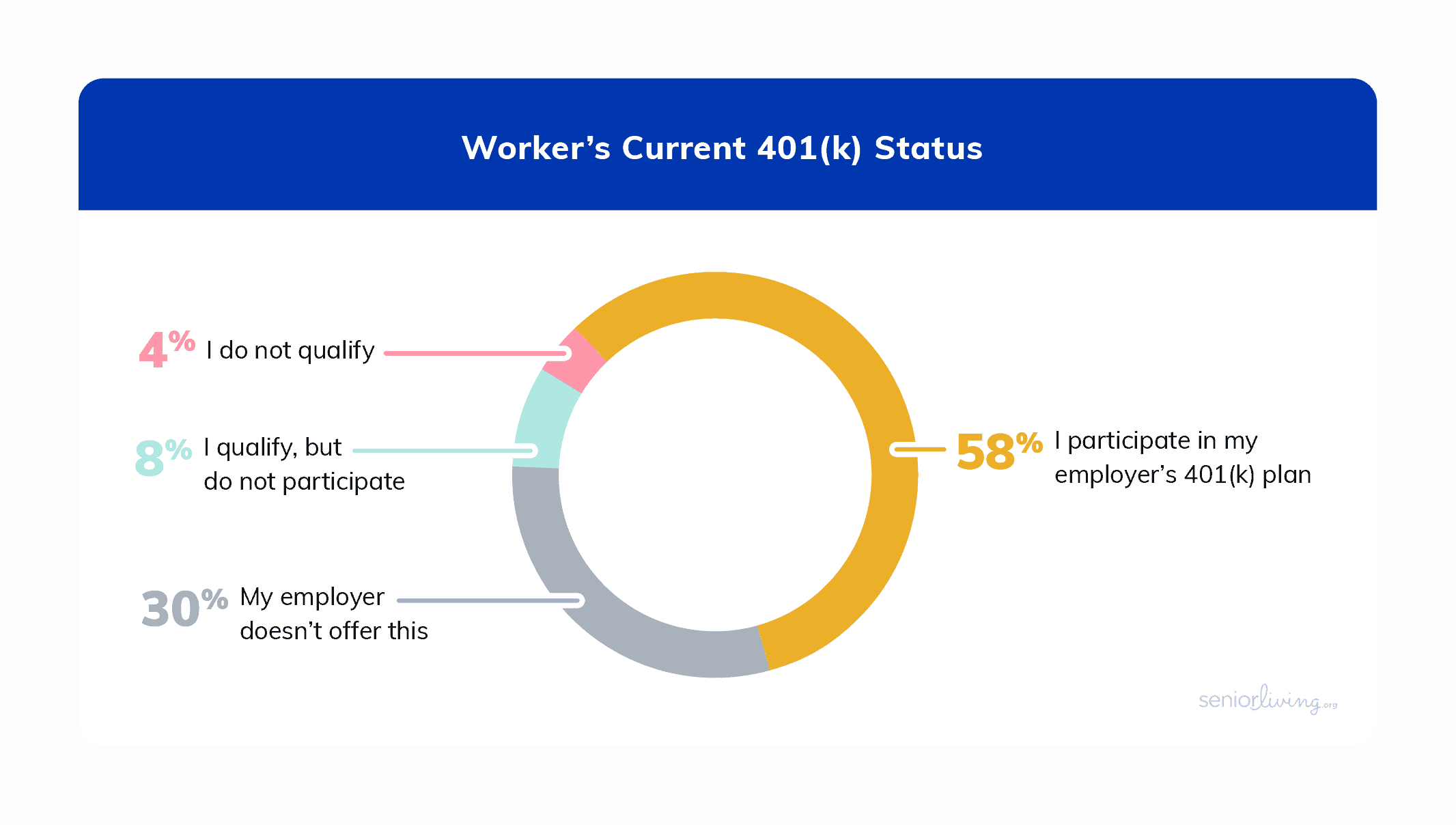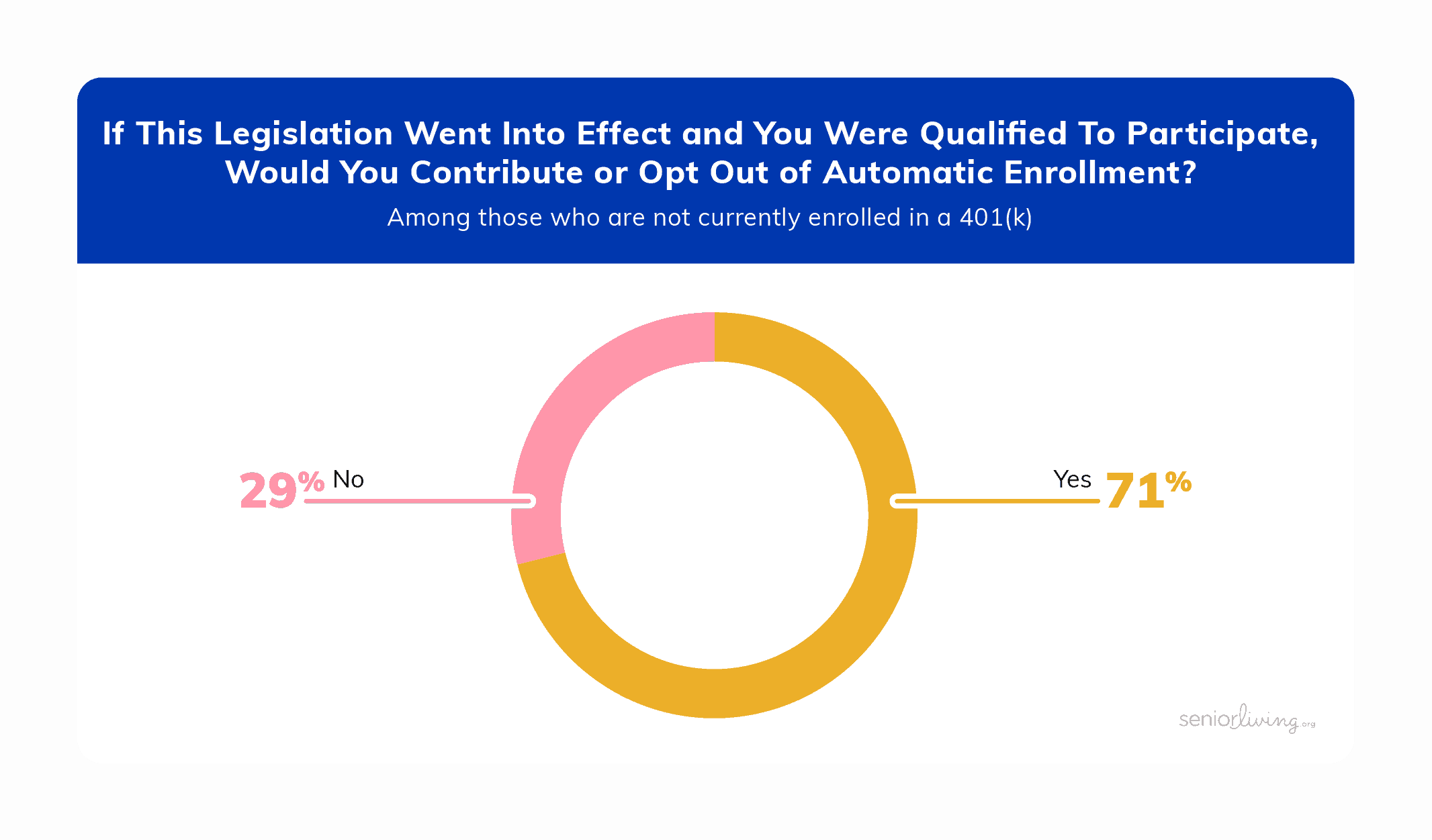 Student Loan Payment Matching
The Secure 2.0 act addresses two major financial issues in America today: low retirement savings and massive student debts. If signed into law, this provision would have a widespread impact on Americans' retirement savings, since more than 40 million people (or about 13 percent of Americans) currently have student debts.
Altogether, U.S. student debt amounts to around $1.7 trillion,4 and the average borrower owes nearly $400 per month.5 With this drain on their budgets, many borrowers cannot afford to pay down their debt and contribute to their retirement accounts.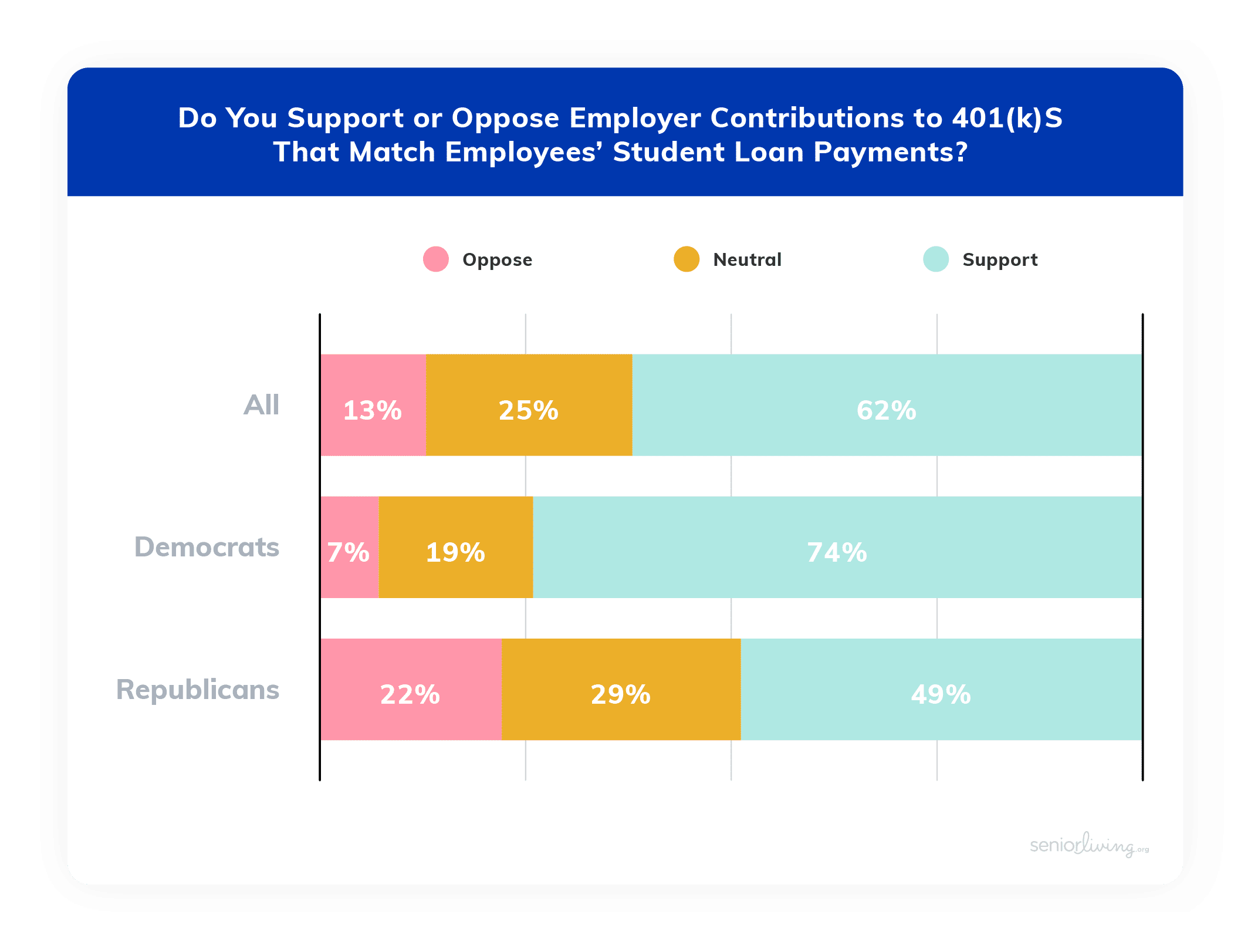 Permitting employers to fund 401(k)s with investments that match workers' student loan payments is another provision that generated broad support in our study. Generally, 62 percent of workers supported the idea of this provision, but 13 percent opposed it.
Once more, far fewer Republicans back this particular Secure 2.0 provision. While nearly three-quarters of Democrats were in favor, fewer than half of Republicans supported it. They may see it as a form of student loan forgiveness, which Republicans tend to oppose.
Support for this measure was strongest among younger workers who are more likely to have student debt. In fact, nearly three out of four people between the ages of 25 and 39 supported this provision. Approval for the measure was lowest among respondents aged 55 or older, those furthest from their college years.
Delayed Withdrawals and Catch-up Payment Expansion
Currently, workers must begin taking withdrawals from their retirement accounts at age 72. However, opinions about deferred withdrawals were evenly split, with around a third of people agreeing, opposing, or remaining neutral. Nearly 40 percent of those due to retire in the next ten years also favored delaying the mandatory distribution age. Those whose retirement dates were further off were less likely to express support.
Those with higher incomes, who may feel less urgency to access their funds, were also more likely to support this provision than those with lower incomes. Some experts say that increasing the required minimum distribution (RMD) age would have an unfair benefit for the wealthy.6 If the age is increased, people can delay paying taxes on their withdrawals and invest their retirement savings into annuities.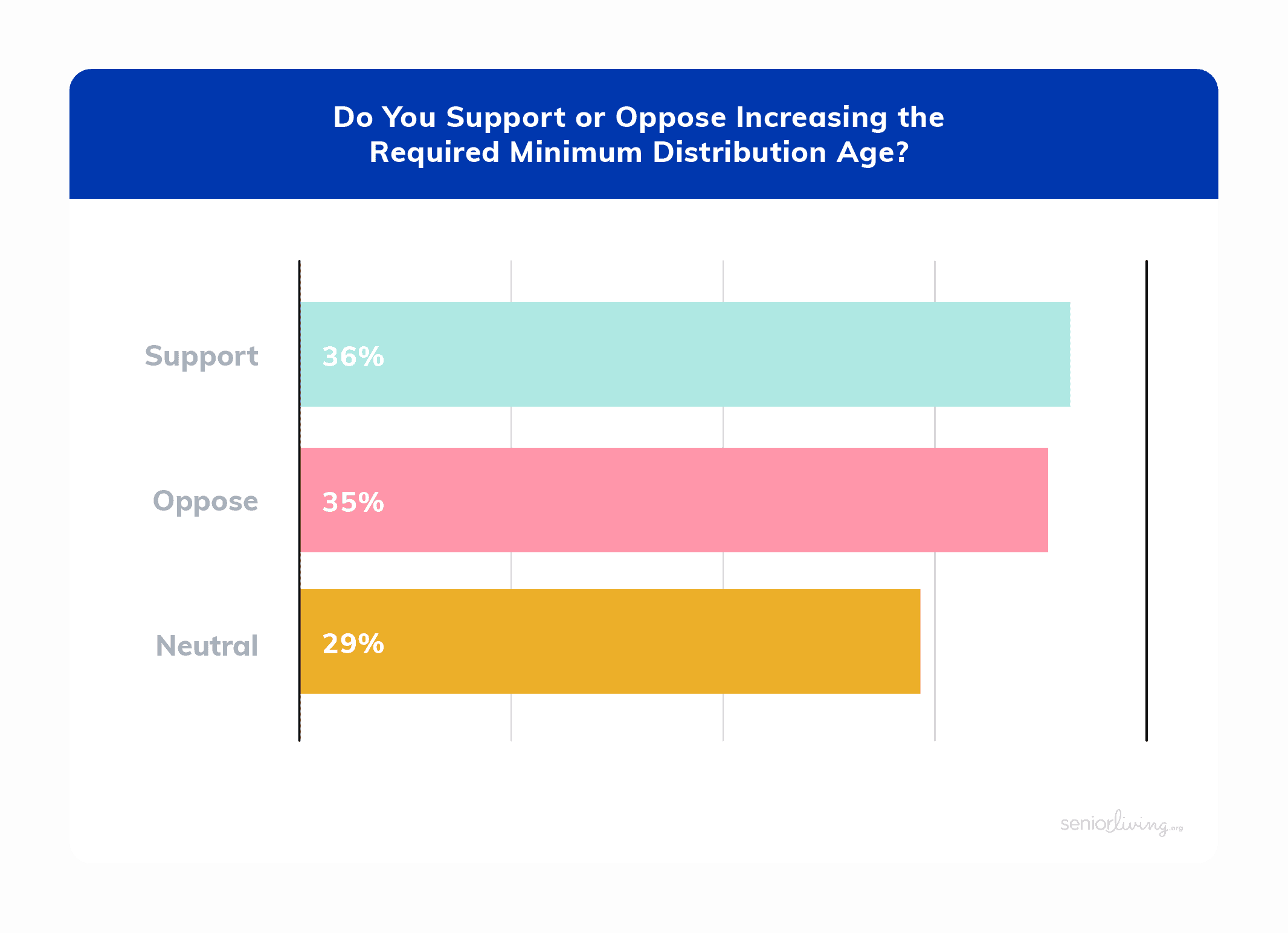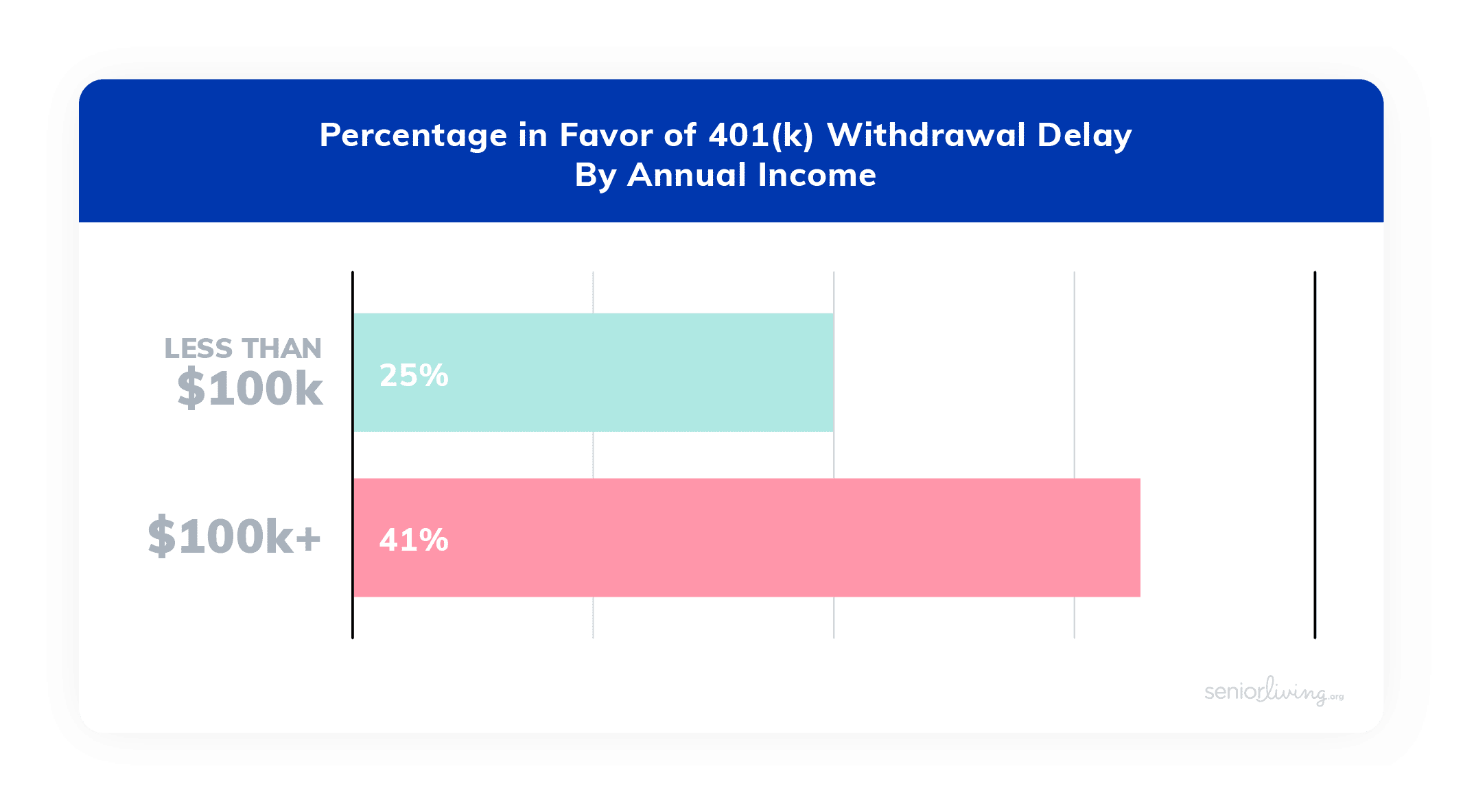 Since many Americans are behind on retirement savings, increased catch-up contributions were a bit more popular than the idea of increasing the RMD. Catch-up contributions are extremely helpful for people who started saving for retirement later in life. Currently, workers aged 50 or older can contribute an additional $6,500 a year to retirement accounts,7 and 36 percent of qualified workers in our study were already making these payments.
Under Secure 2.0, the limit would increase to $10,000 for workers aged 62-64. Just over half of workers said they were likely to take advantage of expanded catch-up 401(k) contributions, if the law passes.
How Likely Would You Be To Take Advantage of Increased Limits on Catch-up Contributions to Your 401(k) If Secure 2.0 Is Passed?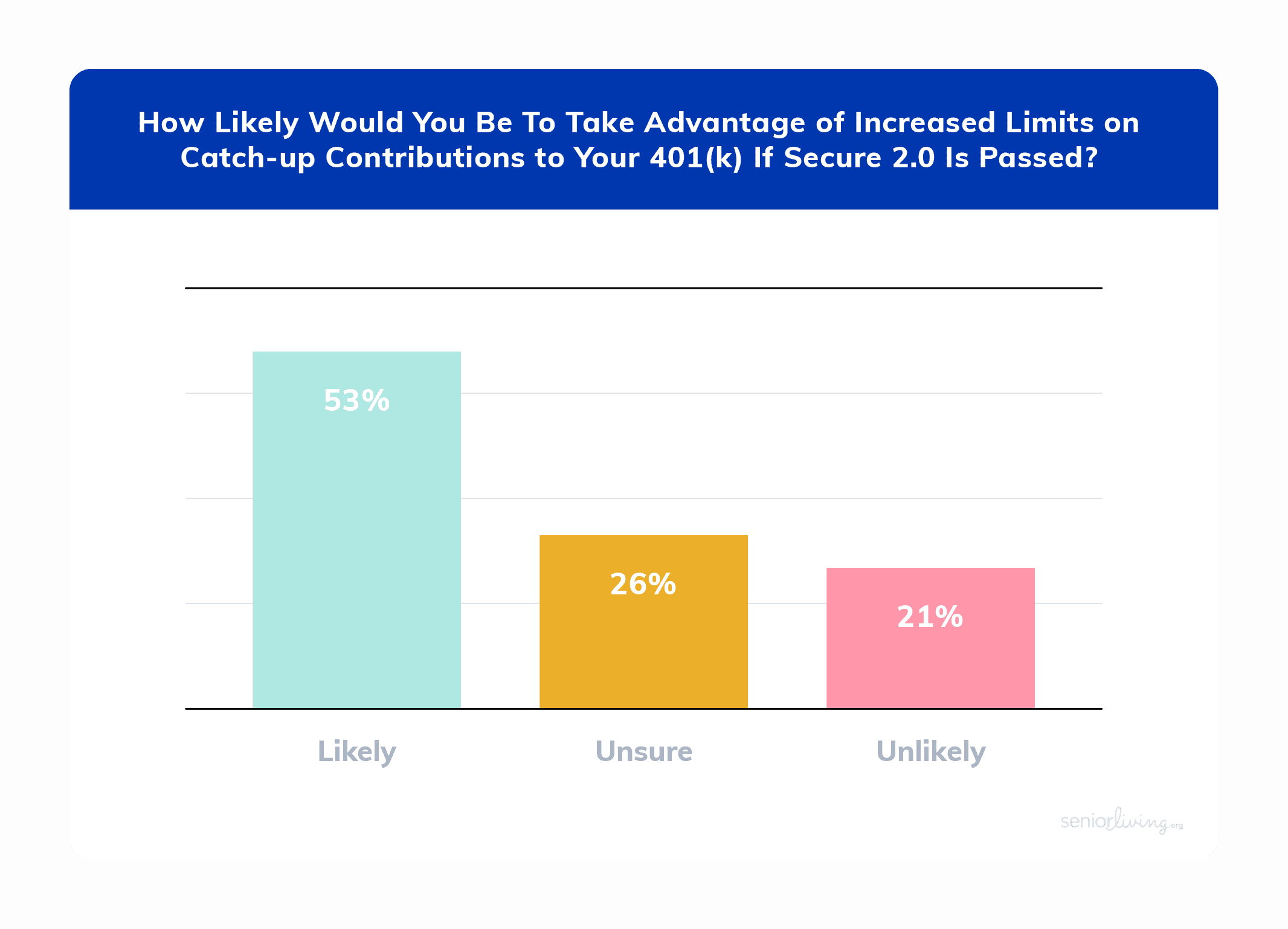 Retirement Report Card: The Need for Reform
Retirement finances are always daunting, but especially during economic uncertainty. As rising inflation pinches fixed incomes and Social Security reserves dwindle,8 Americans are particularly concerned about the state of their savings.
Based on their current financial situations, fewer than one in two American workers said they expect to be financially secure throughout their retirement years.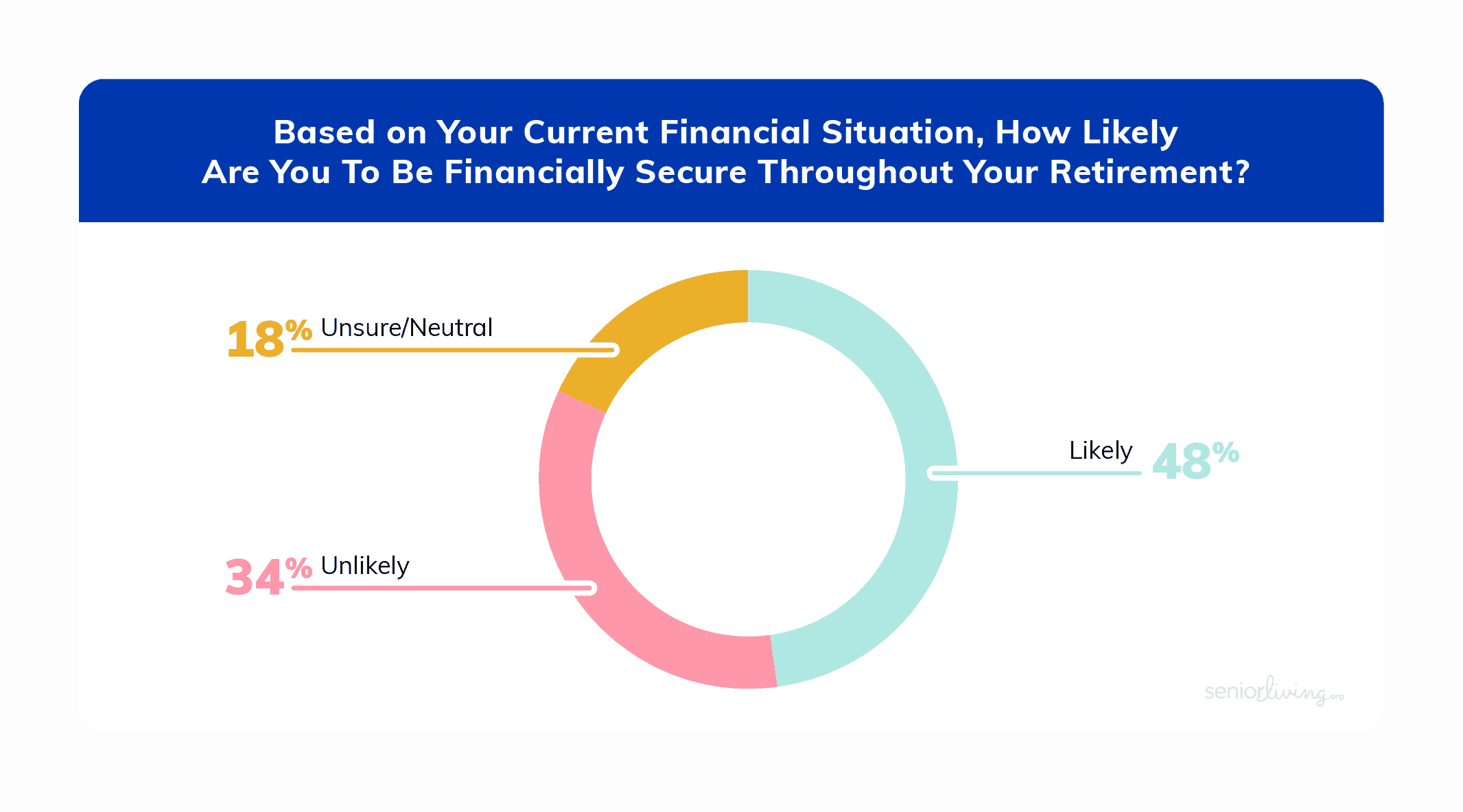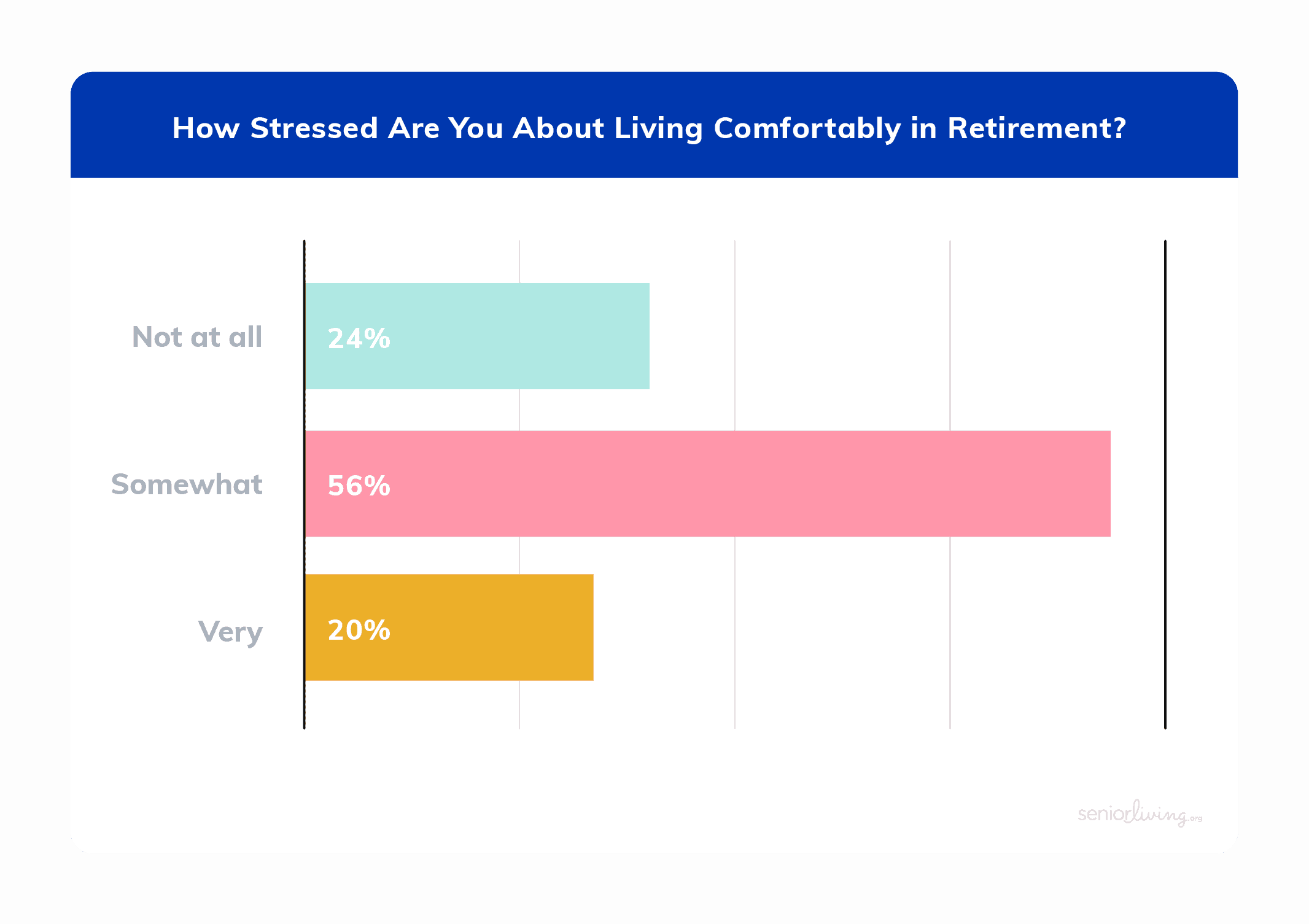 Worse yet, three-fourths of working Americans are worried about living comfortably in retirement. According to our research, only 58 percent of workers were contributing to a 401(k) plan, which means many others may not be saving at all.
We also found that around one-in-ten Americans who are eligible for 401(k) plans choose not to contribute any of their income. The top reason people in our study weren't contributing to 401(k) accounts was because they didn't have enough money to spare, and this issue may become even more common as prices rise. In fact, the number of Americans living paycheck to paycheck has increased in recent months, from 61 percent in December 2021 to 64 percent in March 2022.9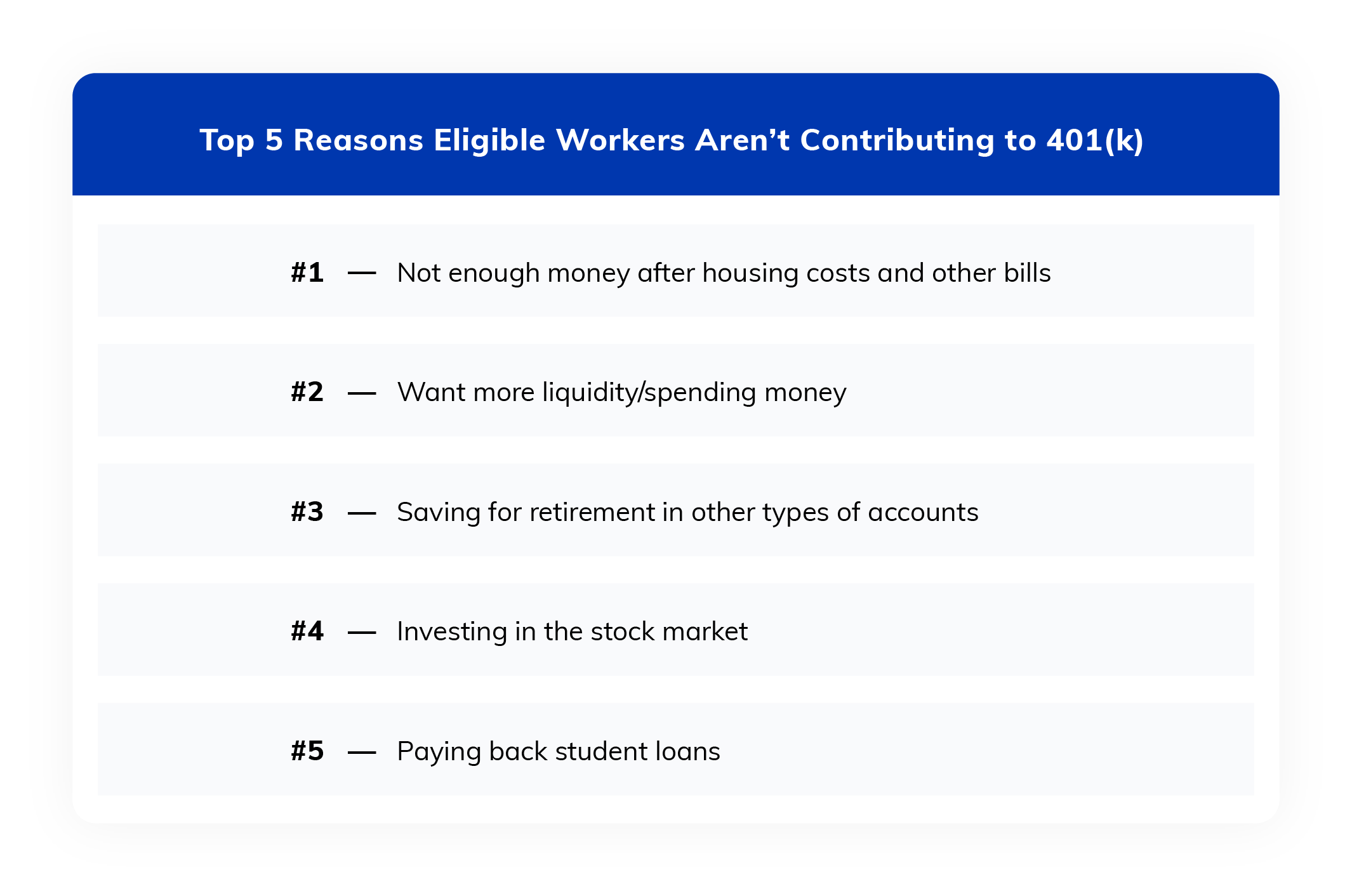 Even those who contribute to their 401(k)s tend to invest less than advisers recommend. Standard guidance suggests contributing 15 percent of income to 401(k) funds,10 but only 14 percent of plan participants in our study met that goal. We found the mean contribution among workers was 6 percent.
Since the Secure Act 2.0 is specifically designed to aid workers currently without 401(k)s, as well as those who delayed the start of retirement savings or who are burdened by student loans, it may help address some of the public's most pressing issues if passed.
Conclusion
Secure Act 2.0 carries bipartisan Congressional backing and public approval for its slate of retirement funding reforms. Though many Americans aren't yet aware of the proposal, those who learn of it support most of its provisions.
Automatic 401(k) enrollment and the ability to match student loan payments with 401(k) contributions are the most popular components of the bill. Packaged with additional measures addressing contributions and withdrawals, lawmakers hope to improve Americans' retirement finances and avert a crisis that could affect the entire economy.
Having already passed the House of Representatives on a 414 to 5 vote, Secure 2.0 looks likely to become law – a welcome sign for workers of all ages.
Our data
In April 2022, we conducted an online survey of 1,028 currently employed adults aged 18 or older living in the U.S. 26% of participants were 55 and over, and 74 percent were younger than 55. 49% were Democrats, 26% were Independent, 21% were Republican, and 4% were another party or no party.
References
https://www.federalreserve.gov/econres/scf/dataviz/scf/table/#series:Retirement_Accounts;demographic:all;population:1;units:have
https://www.shrm.org/resourcesandtools/hr-topics/benefits/pages/401k–auto-enrollment-proves-popular.aspx
https://www.cnbc.com/2022/04/23/millions-of-student-loan-borrowers-are-closer-to-being-debt-free.html
https://rooseveltinstitute.org/2021/12/08/how-canceling-student-debt-would-bolster-the-economic-recovery-and-reduce-the-racial-wealth-gap/
https://www.forbes.com/sites/howardgleckman/2021/05/05/delaying-required-ira-distributions-again–would-largely-help-only-the-wealthy/?sh=6643b37650be
https://www.irs.gov/retirement-plans/plan-participant-employee/retirement-topics-catch-up-contributions
https://www.cnbc.com/2022/03/08/as-prices-rise-64-percent-of-americans-live-paycheck-to-paycheck.html