Would You Want To Know
In 2013, actress Angelina Jolie famously underwent a double mastectomy. In 2015, she followed that surgery by electing to have her ovaries and fallopian tubes removed. In the midst of these difficult decisions, she publicly revealed the results of a blood test which showed a genetic predisposition to the cancers that took her mother's life.
Despite the intense media scrutiny following her decisions, an analysis of over 9 million insurance records in 2016 found that Jolie's decision may have inspired countless other women to have similar tests taken to determine their genetic predisposition to potentially hereditary diseases, like cancer.
Now, the genetic mapping courier service 23andMe will start offering customers the ability to order these screening kits and have them delivered right to their doors. These kits have been officially sanctioned by the FDA and are designed to test for breast cancer genes. But would you want to know? That's the question we asked over 1,000 people. Are they interested in taking tests like this, how much would they be willing to pay for the results, and would they be willing to receive treatment if diagnosed? Read on as we explore their answers.
Tell Me the Odds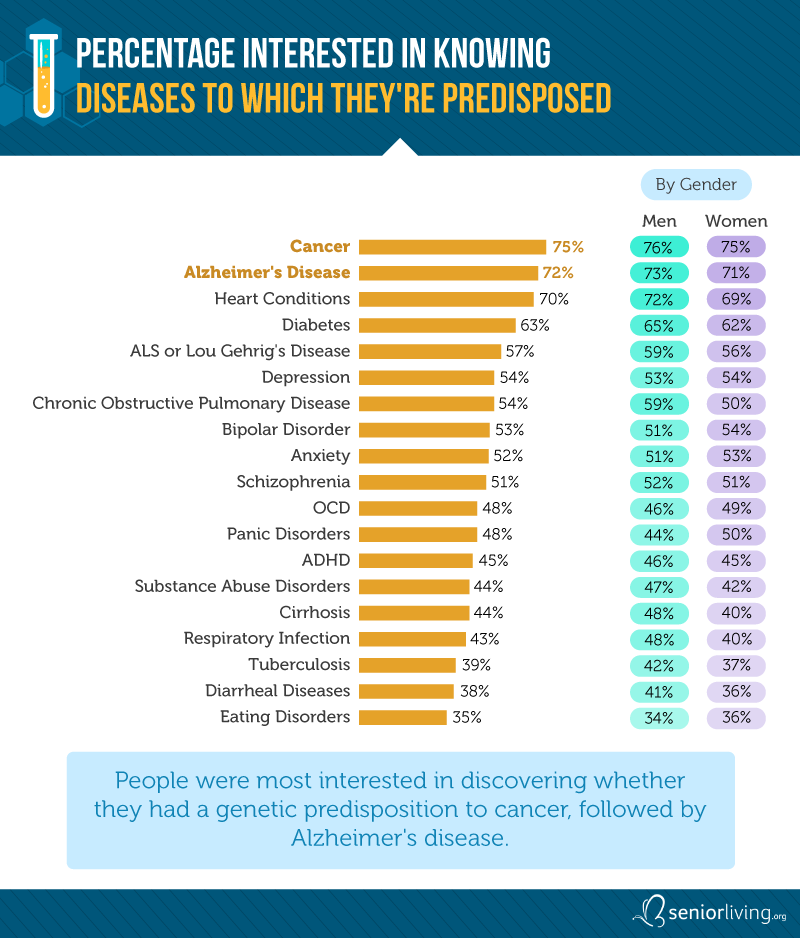 Having a genetic predisposition to a disease does not necessarily mean you're going to contract that disease. What it does mean is that your likelihood of developing that disease is higher. That increased chance can be small in some cases and large in others (like with breast cancer). Knowing you might be more likely to develop a disease, however, might encourage you to get more routine screenings and checkups, modify environmental factors that could exacerbate the disease (like smoking), and be more cognizant of your overall health.
When asked which diseases they would want to know their genetic predisposition to, 3 in 4 people responded that they were most interested in knowing their predisposition to cancer. Some forms of cancer certainly have hereditary tendencies, and genetic tests that find the genes for breast cancer could be more worrying than others.
Another 72 percent of people wanted to know if they were predisposed to the Alzheimer's disease, followed by heart conditions, diabetes, ALS, and depression. Like physical conditions, mental illness or a memory care disease can run in families. Experts suggest having a hereditary link to mental illness doesn't ensure a person will have the disease, but interaction with certain environmental factors makes someone genetically susceptible to the disease more likely to develop it.
Worth the Price?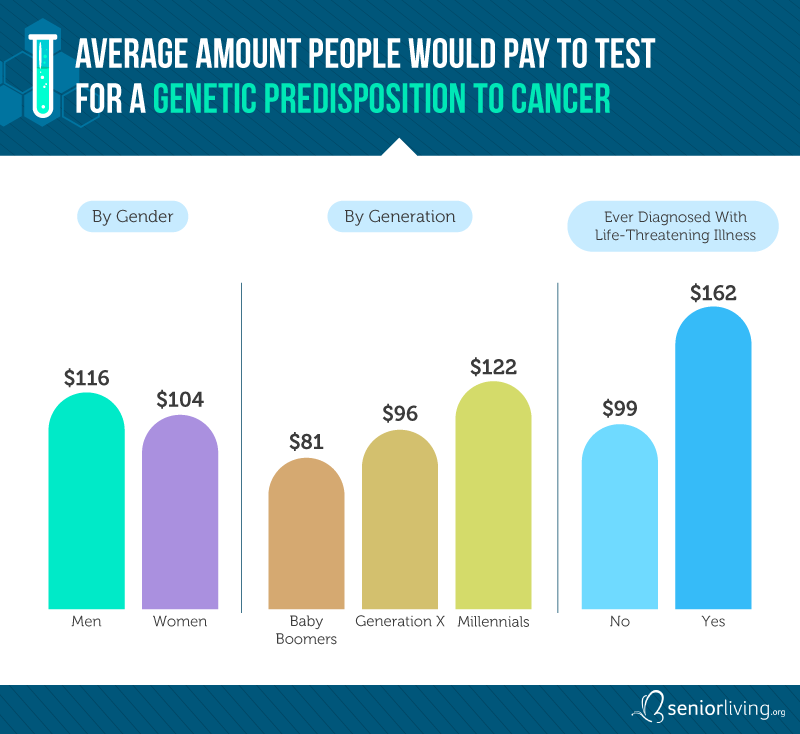 If you're curious as to which diseases (including Alzheimer's, celiac disease, and Parkinson's) you might be genetically predisposed to, mail-order services like the one offered by 23andMe might not break the bank. Overall, in addition to their heredity mapping kit, the "Health + Ancestry" option costs roughly $199.
Still, that price might be too steep for some people. Women were less interested in paying top dollar for genetic-testing services to understand their predisposition to diseases like cancer and Alzheimer's. On average, women suggested a test of this nature would be worth just $104 compared to $116 for men.
We found cost and value discrepancies between people of different ages, as well. Baby boomers said the service would only be worth $81 on average. Gen Xers placed a slightly higher value on the service at $96, and millennials were willing to pay the most at $122.
Leading Conditions for Concern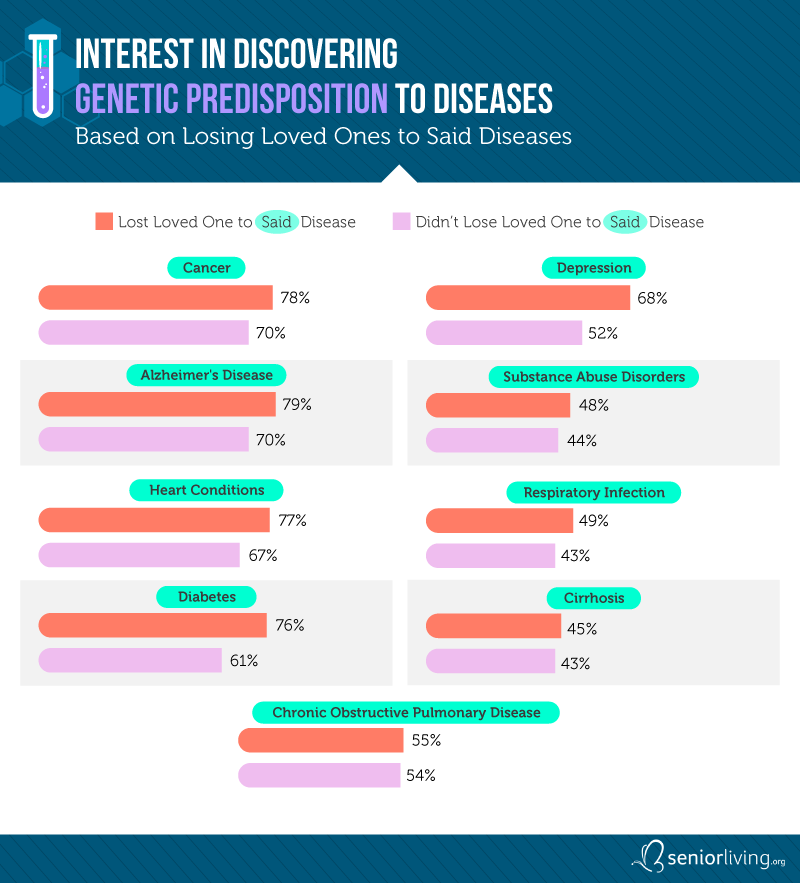 In 2018, experts estimate there will be 1.7 million new cases of cancer across the country, and over 609,000 people will die from its various forms, including prostate, lung, and breast cancer. While these numbers remain shockingly high, research from the National Cancer Institute suggests the overall impact of cancer has been declining for decades. In many cases, these reduced figures are owed to early test screenings and a decrease in the number of people who smoke.
Now, screenings are going one step further to help people recognize the signs of cancer and make decisions about pursuing treatment options. For 23andMe, that includes the first FDA-approved testing to identify a person's genetic risk for cancer.
In many cases, having a personal experience with a terminal illness like cancer made people more curious about their own genetic predisposition. While 70 percent of people who didn't have firsthand experience with cancer wanted to know if they might be at genetic risk, 78 percent of people who lost someone to cancer felt the same. The same was true for other conditions like diabetes and heart conditions.
While physical conditions were overwhelmingly more likely to convince people to learn about their genetic risks, 79 percent of people who'd lost a loved one to Alzheimer's disease said they would want to know if their genetic makeup put them at a higher risk for the condition.
Getting the Help You Need
Despite research and analysis pointing to the hereditary nature of mental illness, stigmas often create feelings of discrimination toward people with illnesses like depression, anxiety, or eating disorders. In many cases, mental health stigmas often act as barriers to treatment.
As we found, these stigmas and an overall lack of awareness of how mental illnesses occur could be among the reasons why people would avoid seeking treatment if they learned they were genetically predisposed. When asked about physical illnesses like cancer, diabetes, or respiratory infections, roughly 90 percent of people would seek medical care. When asked about mental illnesses, people were less inclined to receive treatment.
Men surveyed were generally less open to finding care for mental health conditions including eating disorders, anxiety, depression, and panic disorders compared to women. While 30 million men and women around the U.S. suffer from eating disorders (which have the highest mortality rate of any mental illness), 21 percent of women and 30 percent of men wouldn't receive preventive treatment for conditions like anorexia or bulimia if they learned they were predisposed to them from a genetic testing service.
Knowledge Is Power
Across the U.S., illnesses like heart disease, cancer, respiratory infections, and Alzheimer's rank among the leading causes of death each year. While not always curable, each of these conditions offers treatment plans and medical care that can help alleviate the symptoms or slow the overall progression of the disease.
Being genetically predisposed might sound scary at first, but a majority of people were interested in knowing their genetic health risks. While not everyone was immediately on board with seeking treatment (particularly among mental conditions), tests like these might at least help spark a broader conversation about the genetic nature of these diseases.
Methodology
We collected responses from a survey of 1,016 people. Fifty-four percent of respondents were female, and 46 percent were male. Sixty-one percent were millennials, 26 percent were Gen Xers, 11 percent were baby boomers, 1 percent were Gen Zers, and 1 percent were a part of the Silent Generation.
Fair Use Statement
Would you want to know now if you might develop a disease later in life? Help spread the results of this story by sharing our analysis with your readers for any noncommercial use. We only ask that you include a link back to this page so that our contributors get credit for their work.