Which States Contribute the Most to Social Security?
Understanding the Impact of
Proposed Payroll Tax Cuts
Questions over the long-term viability of Social Security aside — the federal government projects that the retirement fund will be insolvent by 2035 — almost everyone who works pays into the program through taxes taken out of their paychecks.
And despite the political weight placed on income taxes, the average American worker actually pays a lot more in payroll taxes, which fund Social Security and Medicare, than they do in federal income taxes. In fact, an analysis by the Tax Foundation in 2019 found that for about 2 in 3 taxpayers, payroll taxes outweigh income tax, and the burden of payroll tax is greater for those whose incomes are more modest than for the wealthy.
Due to the coronavirus pandemic, this month the White House has proposed eliminating or reducing the payroll tax at least through the election, as a way to boost the economy and put more money into worker's pockets.
So who actually pays into this fund, which states' residents contribute the most, and what can the age mix of each state's workforce tell us about the future? To understand those issues and more, we analyzed the Social Security Administration's most recent data, published in late 2019. It's important to note that the data included in the administration's most recent report covers earnings and taxes paid in 2017.
States are ranked by average tax contribution per-payer, so the average worker in states that contribute more stand to gain more from a payroll tax cut or elimination.
Read on to see details about your state, but here are our key findings:
Residents of D.C. have the highest per-capita contributions ($6,900.12), while Montanans' contributions are the lowest on average ($3,986.23).
North Dakota workers have recorded the highest increase in per-capita Social Security tax contributions over the past decade, a jump of 34.1%.
The per-capita contribution for Social Security taxpayers is $5,015.43 nationally.
Workers and employers paid almost $870 billion in Social Security taxes in 2017.
Northeastern states tend to have older workforces than other states, and more than one-third of workers are older than age 50 in Vermont, New Hampshire, Connecticut, Maine, Rhode Island, New Jersey and Pennsylvania.
D.C. and Utah have the biggest spread between younger and older workers.
Social Security at a Glance
Before we dig into data on the states, let's take a look at some of the relevant statistics about the Social Security program as a whole.
More than 173 million workers had applicable taxable income, which mostly came from wages earned while employed.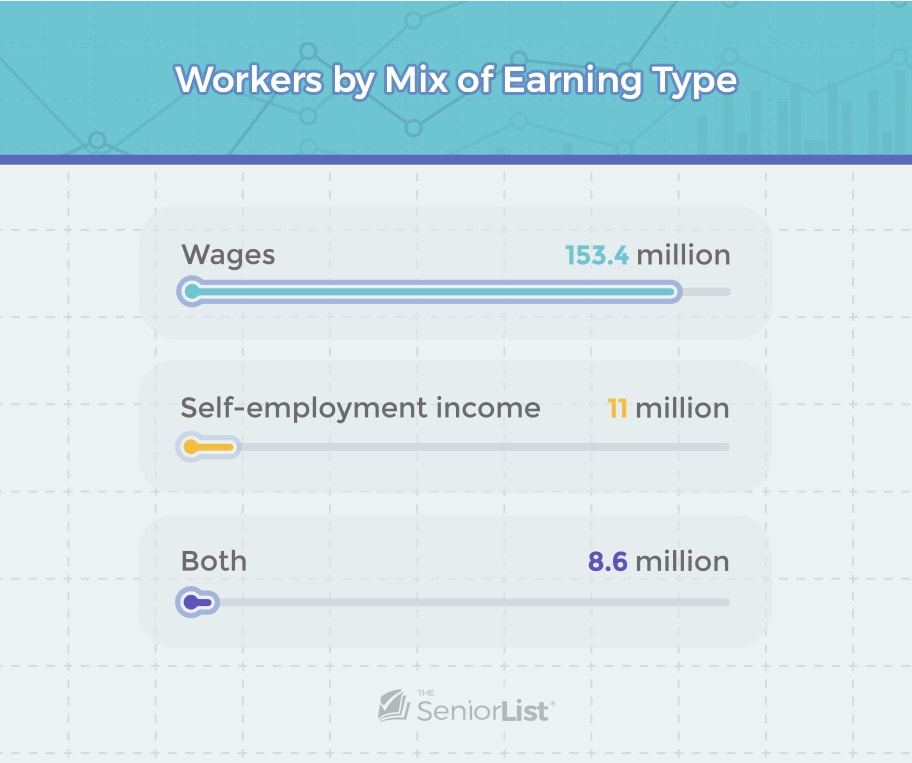 Total taxable earnings added up to nearly $7 trillion, and workers and employers paid nearly $870 billion in 2017, up from more than $660 billion in 2008.
Nearly 68 million people drew Social Security benefits in 2018, and about 5.6 million new beneficiaries joined the system. The majority of people receiving Social Security benefits are retired workers, accounting for about 70%.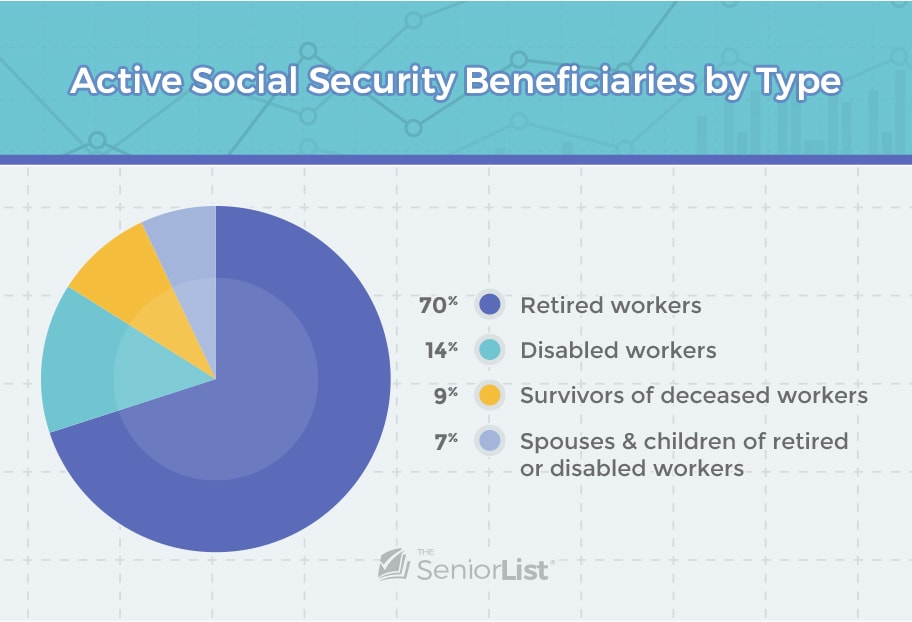 Social Security
Tax Contributions by State
Residents of the District of Columbia, whose Congressional representative does not have a vote, contribute by far the most on per-payer basis when it comes to the Social Security tax — $6,900.12, about 14% higher than the next highest state, Maryland, and nearly 75% higher than the state with the lowest per-capita contribution (Montana). Nationally, the average contributor pays $5,015.43 in Social Security taxes.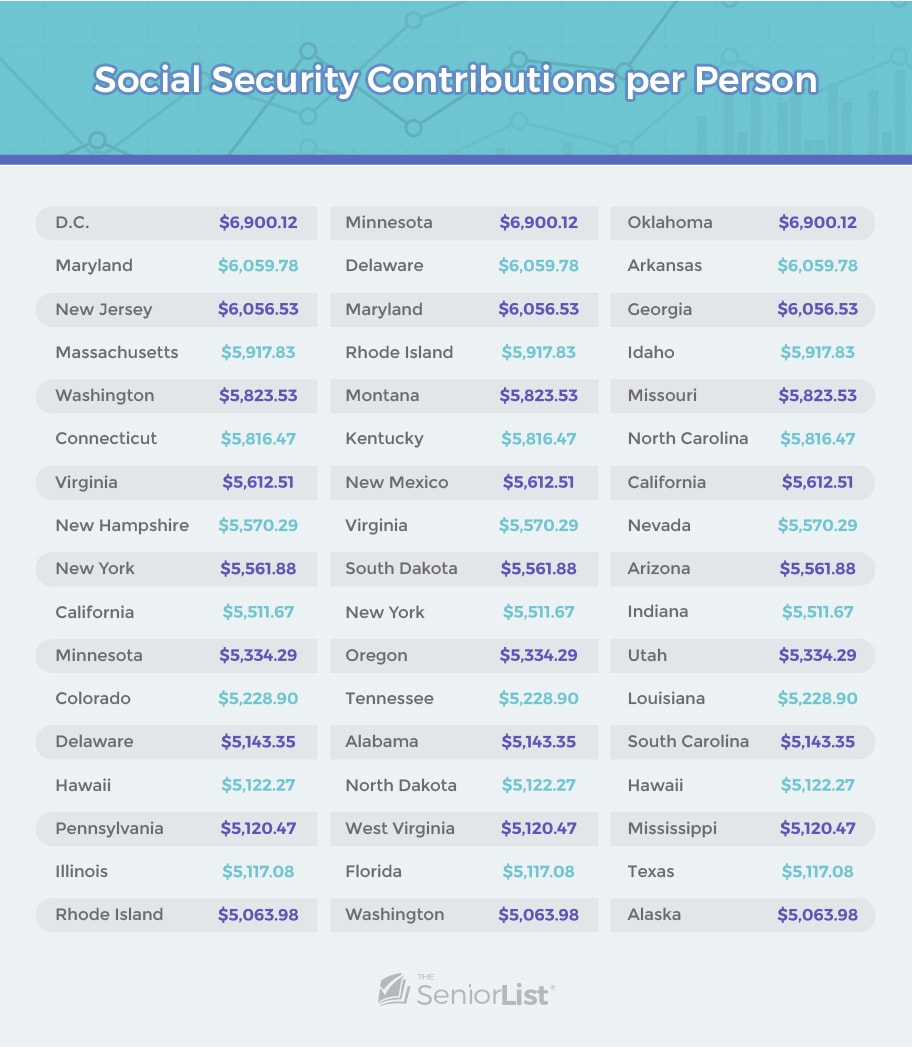 Only two of the top 10 states (Washington and California) are not situated on the East Coast, and half of the bottom 10 states are in the South. On average, residents of Northeastern states contribute the most, while Midwesterners pay in the least.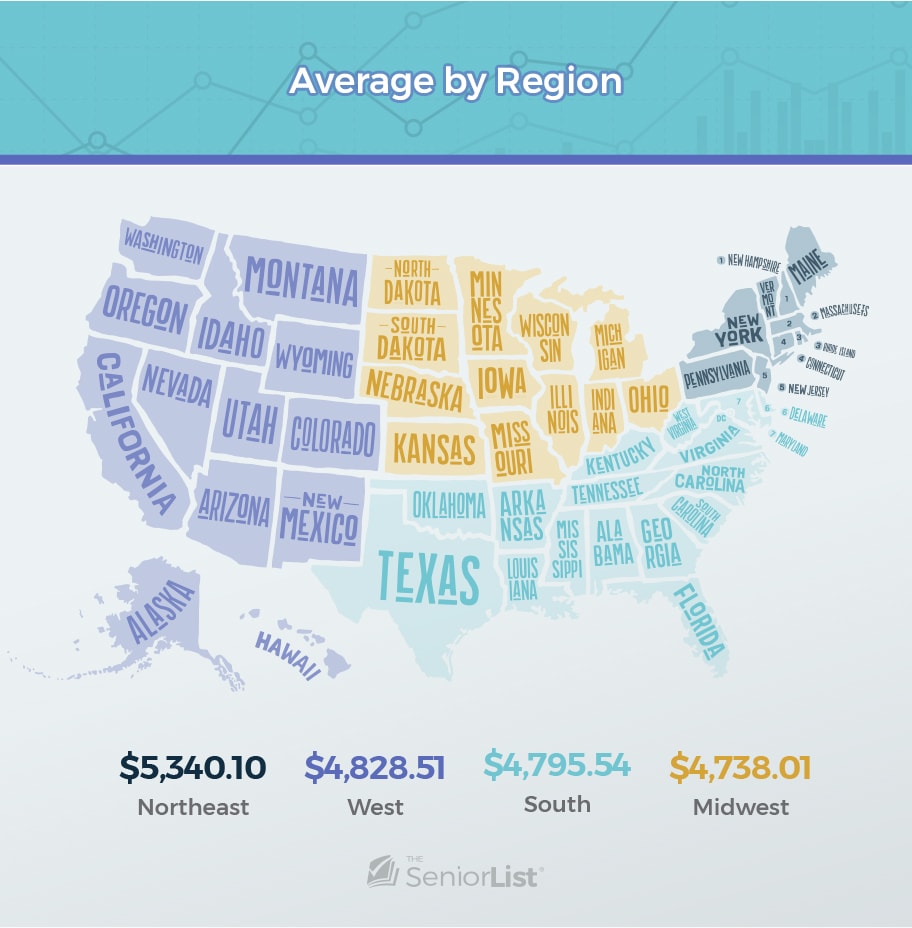 Who's Paying More?
(Hint: Everyone)
Examining a full 10-year period of Social Security tax contributions, a range spanning 2008 through 2017, every state has seen workers' payments rise, and every increase has been in the double digits. On a national basis, the average worker contributes 20.7% more today than a decade ago.
Still, some states have leapt up the list of Social Security tax contributors. North Dakota's per-capita contribution rose the most (34.1%), and the state climbed 20 places in the ranking, rising from 39th to 19th. Vermont, which had the third-highest increase in average contribution, moved up 11 places, from 40th to 29th. D.C. took first place in both years thanks to its 30.3% increase.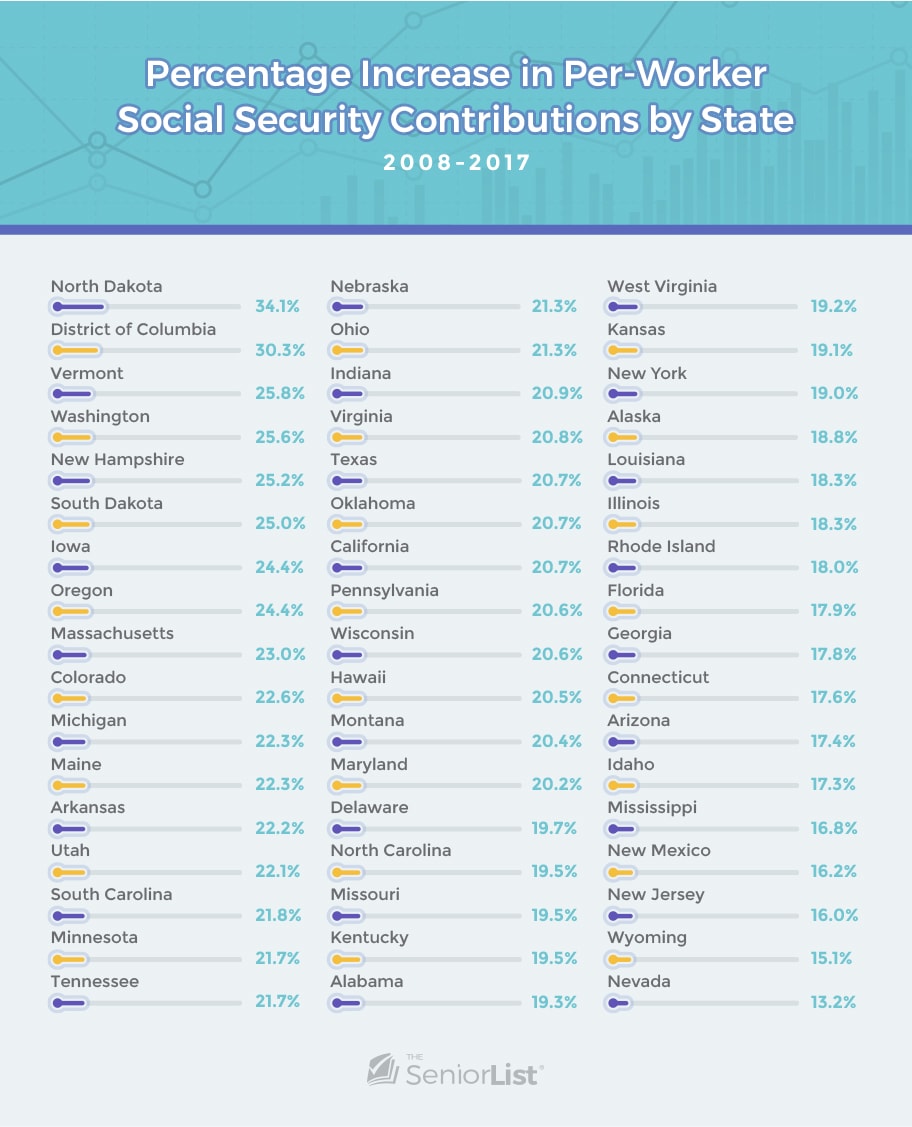 While it's true that in every state, the typical worker is contributing more to Social Security today than they did a decade ago, Nevada's increase was just 13.2%, which helped the state fall 11 places from 26th in 2008 to 37th in the most recent breakdown.
What Does the Future Hold?
The federal government projects that the Social Security trust funds will begin going bankrupt in 2034, and Americans have for decades been inundated with dire predictions about the program's long-term health. While it's tough to imagine lawmakers not finding some way to bridge the gap, it's worth examining one of the key reasons there's an issue in the first place — the American workforce is getting older.
Most of the Social Security income received by retirees comes from the tax contributions of active workers, to the tune of about 88%, but the nation as a whole has seen far more growth in the percentage of older workers than younger ones, and in some states, the share of younger workers has actually declined.
Between 2008 and 2017, the percentage of workers with Social Security tax contributions who were at least 20 years away from being retirement age (meaning they were younger than 40) grew by about 0.7%. But the share of workers at or near retirement age (meaning they were 50 or older) rose by 10.3%, far higher than their younger counterparts.
What this means is that as workers leave the economy and begin to draw their Social Security benefits, there aren't enough young people replacing them in the workforce. About 1 in 3 workers today is at or past retirement age, and workers 65 and older account for a larger share than those under 20.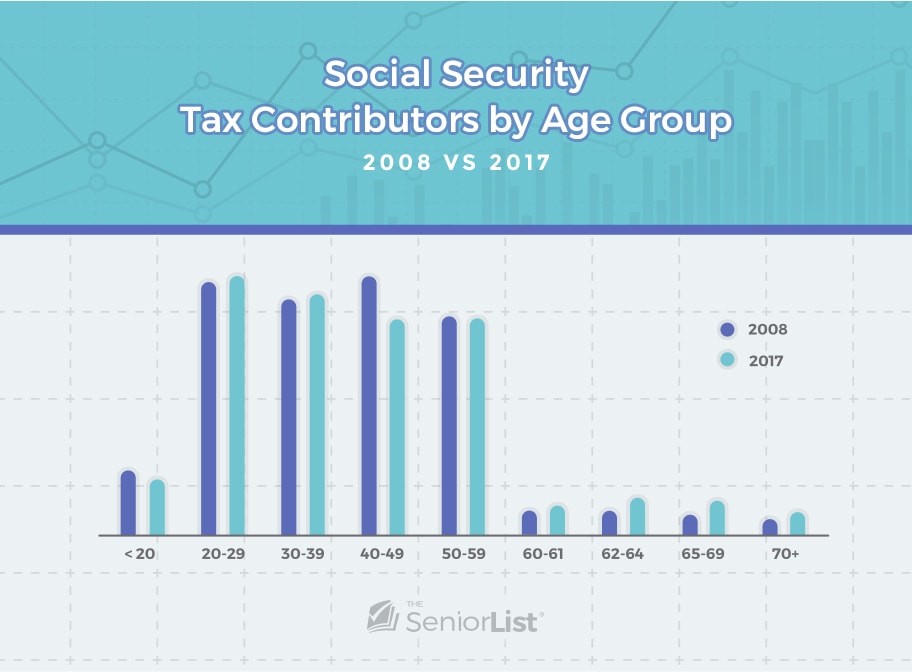 While the national share of workers at or near retirement age is about 1 in 3 (32.8%), in some states, the rate is even higher, though a few states have younger workforces, at least when it comes to paying Social Security taxes.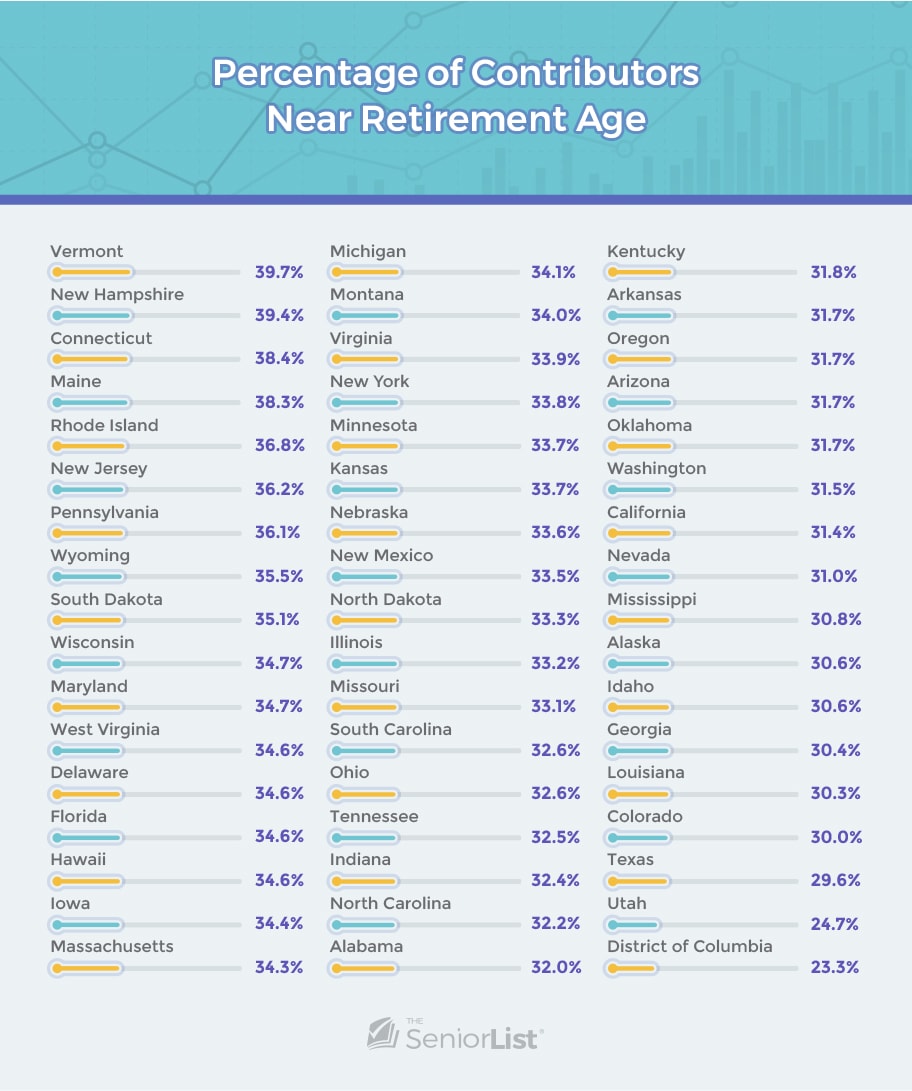 Nationally, there's about a 16 percentage-point gap between those near retirement age and those more than 20 years from it — 32.8% for those within about 15 years of turning 67 and 48.5% for those who won't get there for more than two decades.
But some states have a much higher percentage of younger workers contributing to the program, which bodes well for those states over the long term, as it suggests they'll have plenty of young workers to replace those who retire. In no state does the share of older workers exceed the percentage of younger workers, but some are quite close to striking an even balance.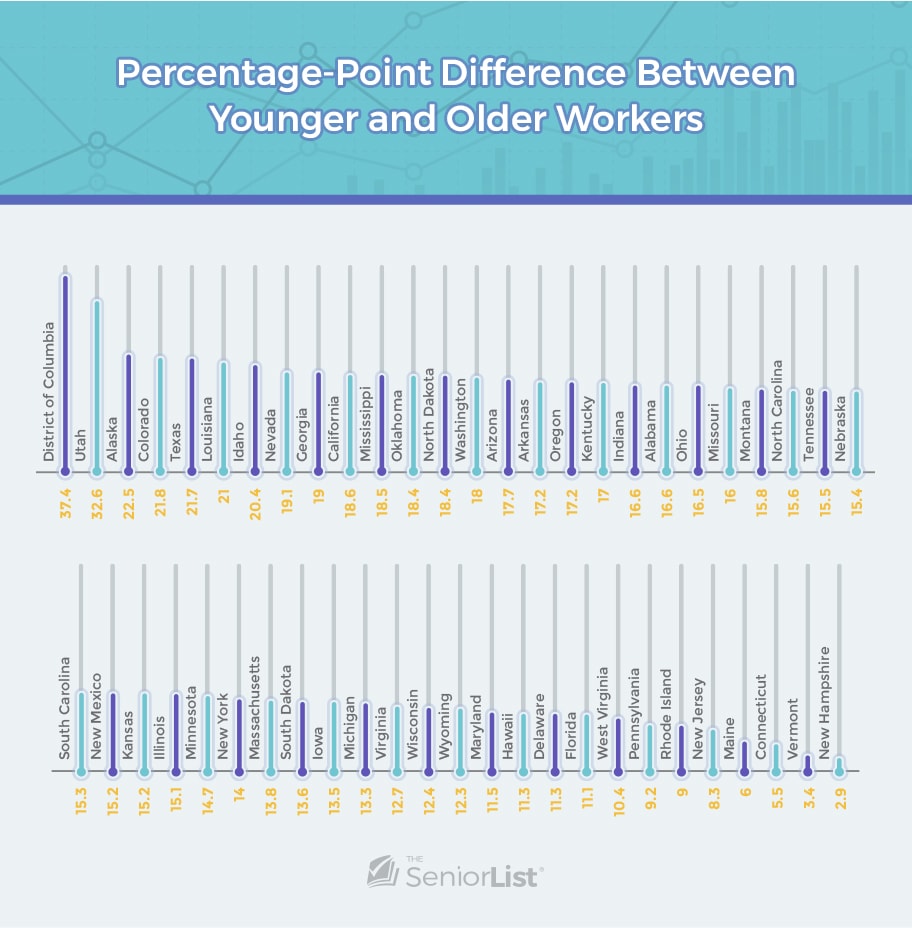 Conclusion
About 83% of active workers doubt that Social Security will be able to provide them the same benefits it provides retirees today once their time comes to stop working, according to a 2019 Pew Research Center survey. And about 4 in 10 active workers don't think they'll get any Social Security benefits at all. But despite the widespread pessimism surrounding Social Security, the program remains enormously popular, and about 3 in 4 people say no cuts should be made to benefits.
Still, as the data indicates, something's got to give. The workforce is getting older, and the supply of young workers simply can't keep up with the exodus of Baby Boomers into their retirement years.
About This Story
As mentioned, our analysis was informed by the Social Security Administration's 2019 annual report, which details the number of Americans who had earnings subject to Social Security tax, the amount taxable and what they contributed. This includes wages and self-employment income. We used the number of workers and contribution figures listed in Tables 1 and 2 for 2017 and the comparable figures reported for 2008 to make our 10-year calculations.