Tech companies have not always paid attention to the senior care market. But with the population of people over 65 expected to nearly double by 2060 to 95 million1, the market for helping seniors live better lives is too big to ignore. Unique startups are seeking to design products and services for these aging Americans, and many of these entrepreneurs say they were inspired by the struggles of senior loved ones. With 73% of Americans over 65 using the internet today2, companies are finding a customer base ready for innovative technology.
By the year 2030, nearly 132 million Americans aged 50 and older will spend upwards of $84 billion a year on technology products3. Here are a few startups looking to be a part of that trend by catering to the unique needs of seniors.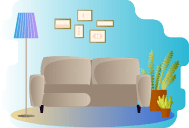 As people age and their children grow up, they often end up with empty rooms in their house. Many seniors realize they no longer need the space they have but are so attached to their home they cannot imagine moving. There are major concerns that come along with aging alone at home ranging from loneliness to falling, so many seniors who want to age in place hire caregivers for help.
At the same time, many cities are facing high housing costs and shortages. Students and young working adults may struggle to find an affordable place to live near school or work in many areas.
Nesterly is matching empty space with people who need housing. Calling it intergenerational home sharing, the company provides a safe way for seniors to make some extra money from their homes and younger generations to find a nicer place to live than they could have otherwise afforded. Renters trade companionship and help around the house for lower rent. Since having someone in your home is obviously a risk, the Nesterly platform takes care of background checks and payments on the platform and facilitates communication between hosts and interested guests. While it is free to sign up, Nesterly takes a fee from hosts when a home share match is secured, and 2.5% of monthly rent.

Self driving cars will be a part of our future, but deploying them in busy urban environments is not yet part of our reality. The technology is, however, capable of operating safely in slower, more controlled environments like those of a retirement community. This is where Voyage has decided to focus their efforts with self driving cars.
Seniors are not always thought of as early adopters of technology, but self-driving cars could improve the lives of millions who can no longer drive. Being able to run errands or go see family has the potential to improve the well-being of seniors and allow them to age at home longer.
Voyage has deployed fleets of self-driving vans in two retirement communities so far, caps speeds and 25 mph, and still has backup human drivers in the vehicle for assistance. They recently got a large investment that they plan to use to expand the fleet and upgrade to a new generation of fully driverless vehicles.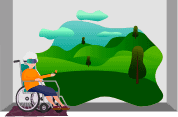 Virtual reality is becoming a popular addition to senior living communities. Residents can travel to far off places, visit childhood homes, or get into nature for a walk without ever leaving home. Seniors can then socialize around those shared experiences, strengthening connections, and helping to combat loneliness.
Rendever is a virtual reality company focusing on seniors and especially the issue of isolation they face. They provide VR packages that are meant to be used in group settings, fostering connection. The VR sessions include guided activities such as touring famous destinations as a group, a search feature for visiting specific places that may hold memories, immersive videos of experiences such as swimming with dolphins, interactive games and experiences, and even videos and photos uploaded directly by friends and family.
The company is 3 years old and has their technology in over 100 communities. They say it is obvious by the reaction of seniors how impactful and enjoyable these experiences are. The technology even works well for those with vision problems since the screen is only a few inches away from the eyes.

Less than 40% of Americans have created a living will or similar document and 25% of Americans report never having thought of end-of-life planning at all4. Most people understand the importance of documenting their healthcare, financial, and end of life wishes, but many continue to put off this important task.
Cake is a company that aims to make end of life planning easy through their digital application. The process will walk you through important decisions with a checklist. Your answers to the questions build documents that you can share with others and even print it out and update them at any time.
A major benefit of thinking through advanced care plans is to ease the burden on friends and family should something unexpected happen. Having trouble convincing a loved one to go through this planning? Cake recommends first going through the process yourself and sharing it. By going through it yourself you are also better equipped to help someone else.

80% of adults between 55 and 74 who would benefit from a hearing aid don't wear one5. One big reason so few people get a hearing aid? Cost. Hearing aids can cost thousands of dollars and are not typically covered by insurance.
There are now a number of companies making wireless earbuds that also qualify as hearing aids because they suppress sounds you don't want, like conversations across the room, and have directional microphones to pick up sounds from directly in front of you. Nuheara is one of these companies who has just developed earbuds with a unique combination of active noise cancellation, tight noise controls, and personalization.
These earbuds do not attempt to hide and blend into the ear like many hearing aids, instead they look more like typical wireless headphones. At $400, they could be a good choice for seniors who have difficulty hearing in noisy settings but do not want to pay thousands for hearing aids from a specialist.
Sources: