Americans' 2020 Fears
Death is inevitable, and according to the CDC, the average American life expectancy is declining: We're "losing too many [people], too early, and too often." But are there issues, political or current, that frighten people more than their demise?
While having a conversation about dying can be uncomfortable, we went there to learn which current events elicit more fear than the thought of death. We surveyed over 1,000 people born between 1946 and 2001. Read on to see what people fear more than death.
Outcomes Worse Than Dying
After the 2016 presidential election, some Americans woke up terrified. As political pundits struggled to piece together the surprising loss Democrats suffered, therapists prepared to see grieving clients: People likened the election of Donald Trump to an occurrence worthy of mourning.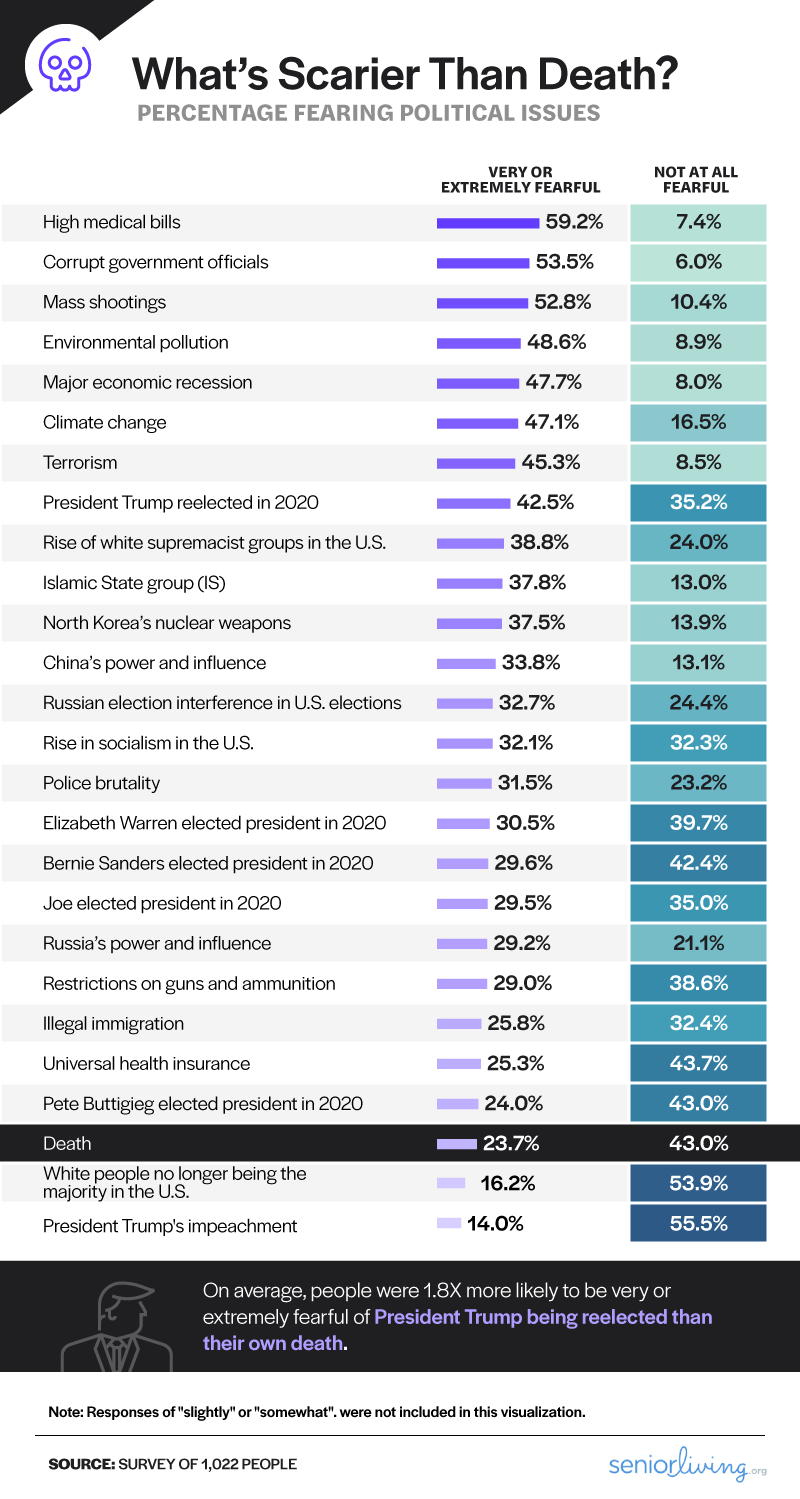 Not much has changed since 2016 because President Trump's reelection was scarier than death – more than 2 in 5 people feared a second term, but only 23.7% feared their death. Other political outcomes, like corrupt government officials (53.5%) and the election of Sen. Elizabeth Warren (30.5%), also trumped the fear of dying. However, high medical bills scared 59.2% of people, making it the No. 1 fear.
Movements to impeach President Trump started soon after he was elected, and House Democrats officially approved two articles of impeachment in December 2019. Are Americans concerned? Not really. Our study shows that only 14% feared the fallout surrounding impeachment of the president. In fact, respondents feared white people no longer being the majority (16.2%) more than they feared President Trump's impeachment.
While political situations and presidential candidates certainly strike fear into the hearts of Americans, what do they fear most on a global level?
According to our respondents, the most fear-inducing international power was the Islamic State group (IS), with nearly 38% of participants reporting they were very or extremely fearful of the self-declared caliphate. Although IS lost most of its physical territory in March of 2019 and its leader in October of 2019, survey participants still feared this group more than established superpowers Russia and China. Experts also affirm these fears are well-founded, as the terrorist organization still holds great global reach and financial resources.
Fear of Political Outcomes, by Affiliation
Law enforcement officials prevented at least seven mass shootings in August of 2019, and most of the men in question were white and held "far-right viewpoints and racist ideologies." As these violent events seem to happen more and more frequently, how do members with different political affiliations view them compared to other current issues?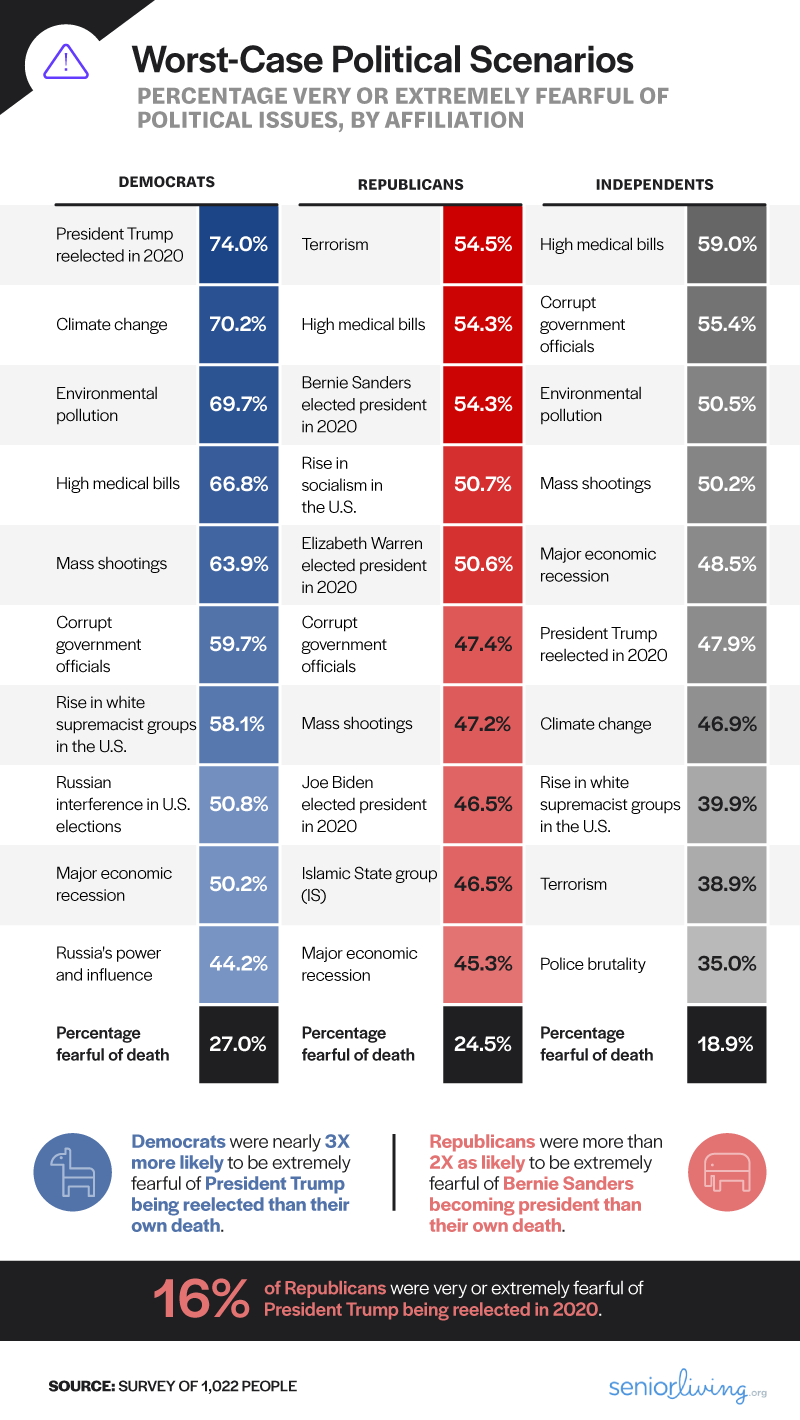 Nearly 3 in 4 Democrats were very or extremely fearful of President Trump getting reelected, but mass shootings frightened 63.9%, making it to No. 5 on their list. Republicans were most fearful of terrorism (54.5%), and 54.3% equally feared high medical bills and the election of Sen. Bernie Sanders. For Independents, high medical costs were their No. 1 fear, but just over half also feared mass shootings.
While fear of death did not make the top 10 for members of any political affiliation, climate change, environmental pollution, and police brutality did – all problems that could lead to death on a large scale.
Political Fears, by Generation
The Pew Research Center found that millennials and Gen Xers tend to be more liberal-leaning than older generations. But while there are wider partisan and ideological gaps between grandparents and their grandchildren, how do the issues they fear most compare?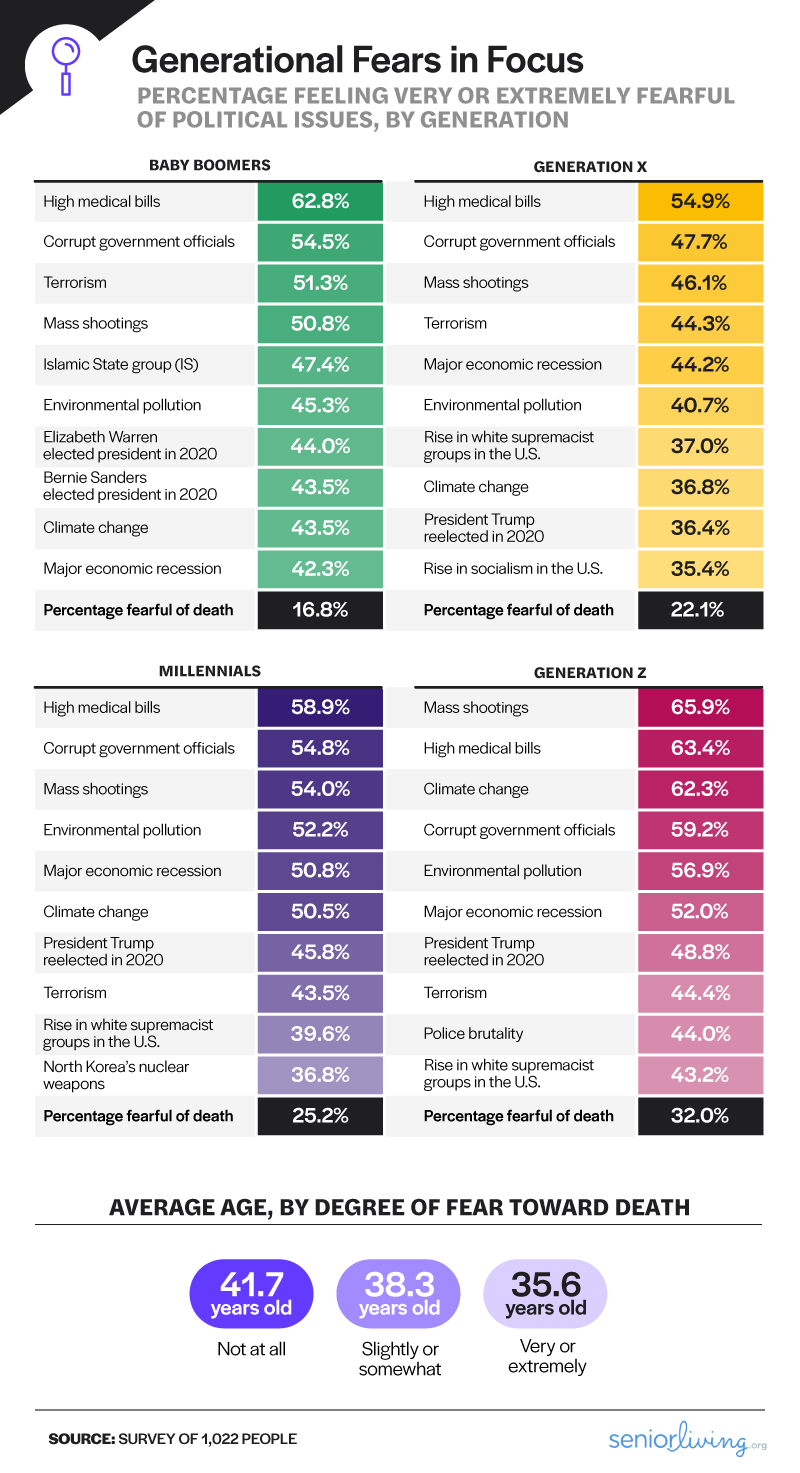 Baby boomers (62.8%), millennials (58.9%), and Gen Xers (54.9%) were all most afraid of high medical bills, but Gen Zers' No. 1 fear was mass shootings (65.9%). While the majority of mass shootings happen in private homes, public shootings like the Sandy Hook Elementary School shooting are often publicized. So, Gen Zers are growing up and attending school during a time when mass shootings are frequently covered by the media, which may add to their fear.
The youngest generation (32%) was also more fearful of their death compared to baby boomers (16.8%), Gen Xers (22.1%), and millennials (25.2%). This may imply that with age, we are more comfortable with the idea and our mortality.
Quell Fears While Remaining Vigilant
Fear of death may have ranked low among the participants in our study because, with recent technological advancements, humans can be immortalized in memory.
However, our findings confirm that current political problems weigh heavily on our participants' minds. As stories flood into our news feeds and across our television screens, it's easy to become overwhelmed with anxiety about current events. In fact, "headline stress disorder" is a real issue affecting many Americans.
So, how should we combat our fears while remaining vigilant about the real dangers facing our society? Try limiting your screen time to reduce exposure to the constant news cycle, seek out sources that contain balanced coverage of current events, and try seeking out good news. Reading a few uplifting news stories can help boost optimism even in the most tumultuous political times.
Methodology
For this study, we conducted a web-based survey to understand people's fears of current events compared to the fear of death. We had 1,022 participants from the U.S. Participants had to be either baby boomers, Gen Xers, millennials, or Gen Zers (anyone born between 1946 and 2001). Participants also had to identify as Republican, Democrat, or Independent to qualify.
To maintain quality sample sizes in this study and to ensure we could explore each generation and political affiliation in more detail, we set quotas for participants. This means our survey population is not representative of the U.S. population.
The sample sizes for each group is as follows:
Generations
Baby Boomers (Born 1946 to 1964): 191
Generation X (Born 1965 to 1980): 258
Millennials (Born 1981 to 1997): 448
Generation Z (Born 1998 to 2001): 125
Political affiliations
Republicans: 413
Independents: 307
Democrats: 296
Other: 6
To determine how fearful participants were when they thought about various political events, current events, and their death, we gave them a five-point scale to choose from:
Not at all fearful
Slightly fearful
Somewhat fearful
Very fearful
Extremely fearful
To simplify the visualizations, we grouped responses of very and extremely fearful, as well as somewhat and slightly fearful.
Limitations
This study is not comprehensive of all current political or technological issues, and the findings are based on self-reported data. This means they could be influenced by telescoping, exaggeration, and minimization. Additionally, since the study was conducted through the internet, only participants with internet access could be included.
Fair Use Statement
We asked the uncomfortable questions about death and fear because we want you to know what frightens Americans. Please feel free to share our findings and graphics for noncommercial use. All we ask is that you link back to this page and cite the authors of the study.