Updated June 24, 2020
The Age Discrimination in Employment Act of 1967 (ADEA) prohibits employers from displaying bias against most applicants and employees 40 or older with regard to hiring and firing, promotions, compensation or terms and conditions of employment. Other federal laws bar discrimination on the basis of age in a wide range of federally funded programs unrelated to employment.
Despite 50-plus years of a federal law that prohibits it, older workers still often face bias and discrimination. This could be as seemingly benign as distasteful jokes about aging (think: "OK Boomer"), or as clearly unethical and illegal as refusing to promote a qualified employee simply because of their age.
And the cost of age discrimination is steep: An AARP study released in 2020 pegged the cost of bias against older workers (for the purposes of the AARP study, an older worker was defined as someone 50 or older) at $850 billion in gross domestic product during 2018 alone. The organization also predicted that age discrimination against older workers could cost the U.S. economy nearly $4 trillion by 2050.
This report seeks to understand how common age discrimination is in America's workplaces and surveyed more than 1,000 workers age 40 and over about their personal experiences.
Here are our key findings:
About one in five workers over 40 have personally experienced age-related discrimination on the job. Those over the age of 60 were the most likely to experience this form of discrimination (24 percent). Men and women reported similar rates of discrimination.
Workers age 40-60 are more likely to report jokes or harassment about their age compared to workers over the age of 60.
Sixteen percent of age-bias victims work in the education field, though this industry accounts for about 21 percent of female victims but 11 percent of male victims. But about 11 percent of male victims work in media, compared to only 2 percent of female victims.
Smaller businesses with between 10 and 99 employees had the highest reported discrimination rates.
More than 70 percent of workers 60 and older said their age would be an obstacle to getting a new job today, and one in four of those between 40 and 44 said the same.
The Scope of Age Discrimination
We asked workers 40 or over if they have experienced age-related discrimination at work. We also asked for other information, such as the size of the company, industry, tenure, and confidence in their ability to find another job. We asked the type of discrimination and how it may have impacted their job. We asked for gender and also whether the respondent was over 60. Our survey was limited to people currently employed over 40 and whether they believed they'd faced age-related discrimination, not whether they'd pursued any action against the employer as a result.
Our research indicates that about one in five workers over the age of 40 has experienced age-related discrimination. This includes 21 percent of male respondents and 19 percent of female respondents. Along generational lines, those older than 60 were more likely to say they'd experienced age-related discrimination at work.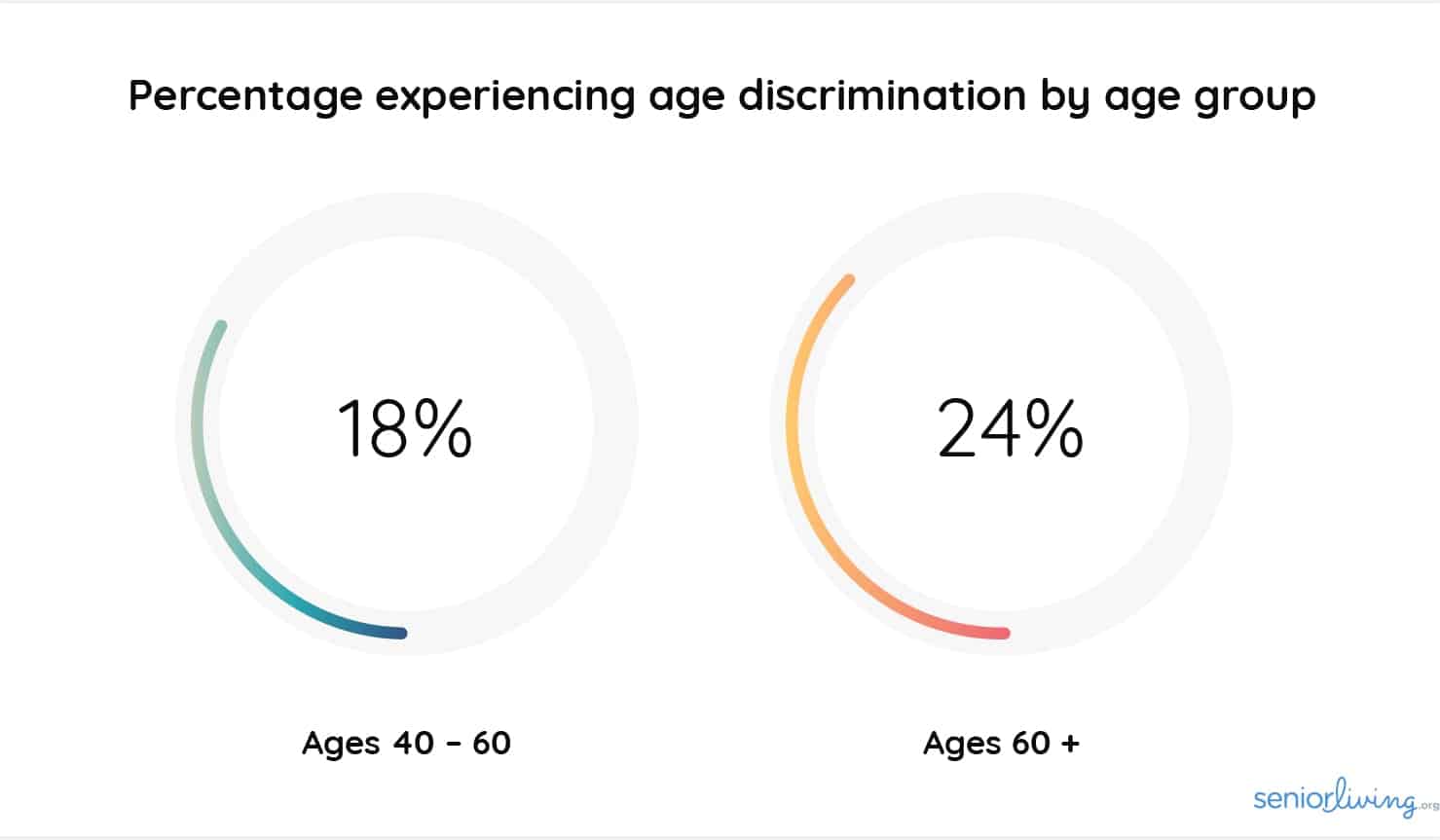 Based on the respective percentage of people in these age brackets who are employed and their overall numbers in the general population, our analysis indicates that nearly 18 million Americans over 40 have experienced workplace bias because of their age.
We asked workers to select the industry that they were in. Not every industry received a significant number of responses, so we've included only the most common industries selected. Workers self-reporting in a business field (marketing, finance, accounting) had the highest reported rate of age discrimination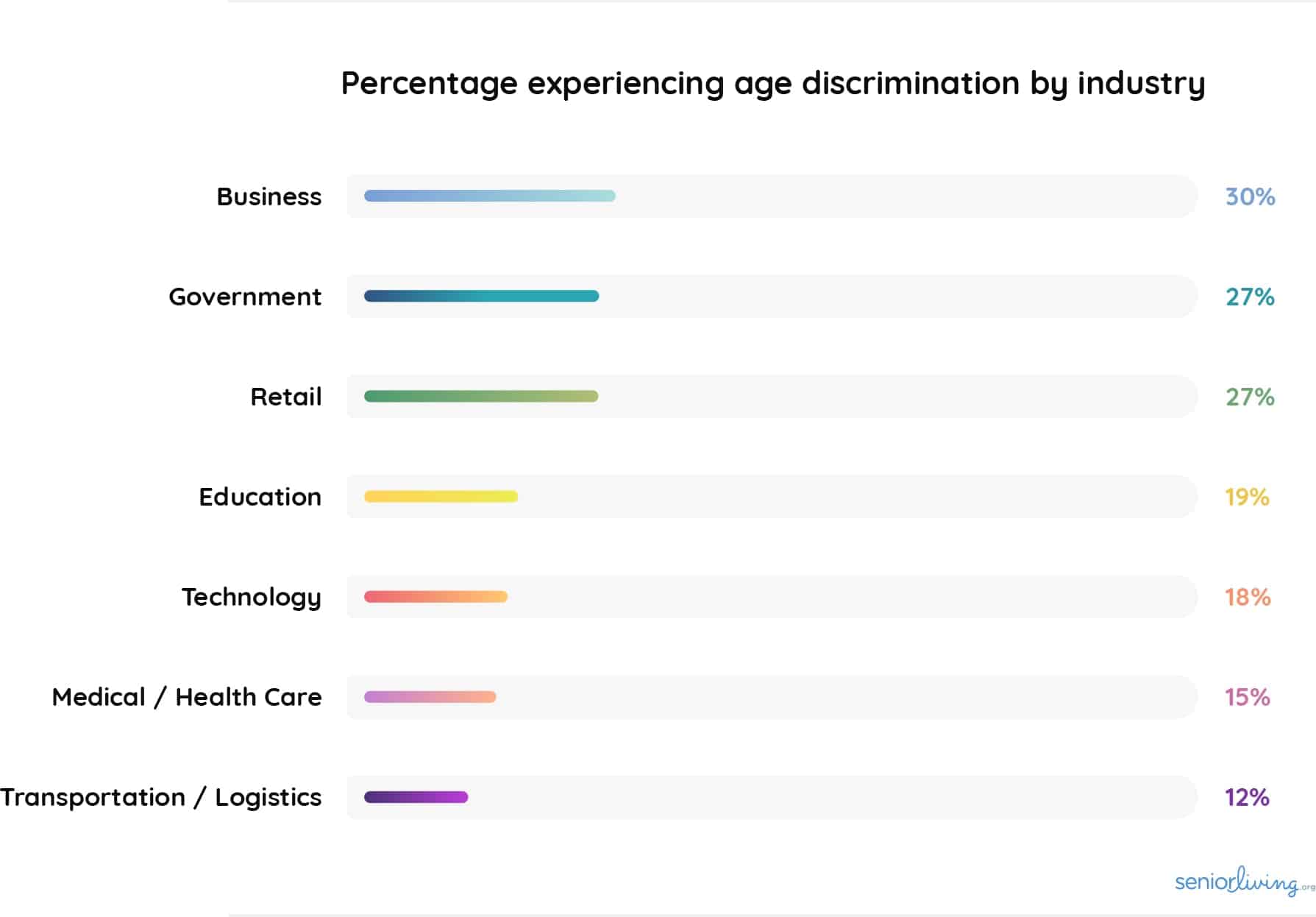 What Does Age Discrimination Look Like?
Workplace discrimination, be it age-related or some other form, often manifests in a variety of ways. We asked survey respondents who had experienced discrimination to select the type or types of workplace age bias they experienced.
Our survey respondents who had experienced age discrimination at work reported two actions at roughly the same rate — being passed up for job opportunities (45 percent) and being overlooked for raises and promotions (43 percent).
Some notable differences emerged along generational lines with younger people (ages 40-60) being more likely to say they'd experienced unwanted jokes about their age.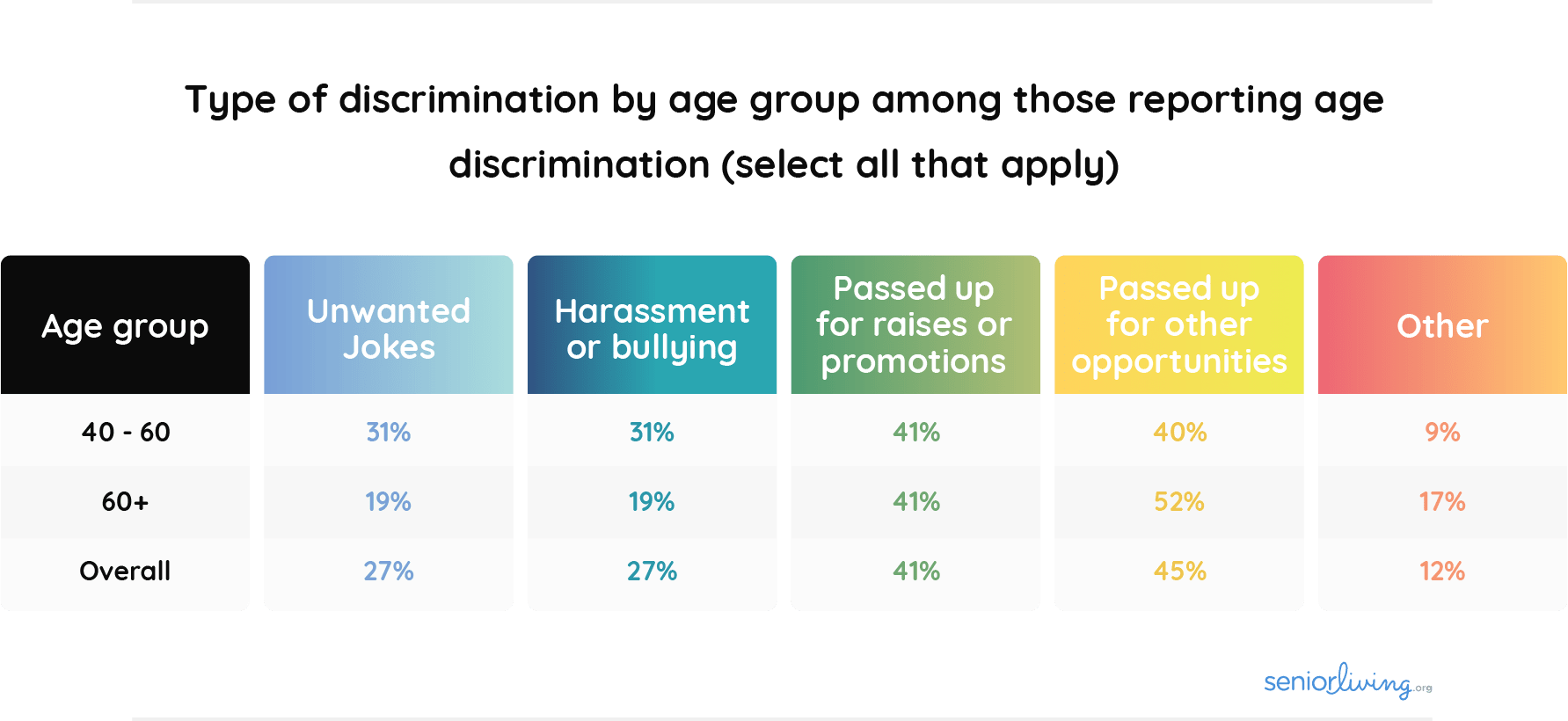 Tenure, Company Size and Job Satisfaction
We also asked respondents about their longevity at their current jobs. People who have been at jobs between one and five years are most likely to say they've experienced age discrimination.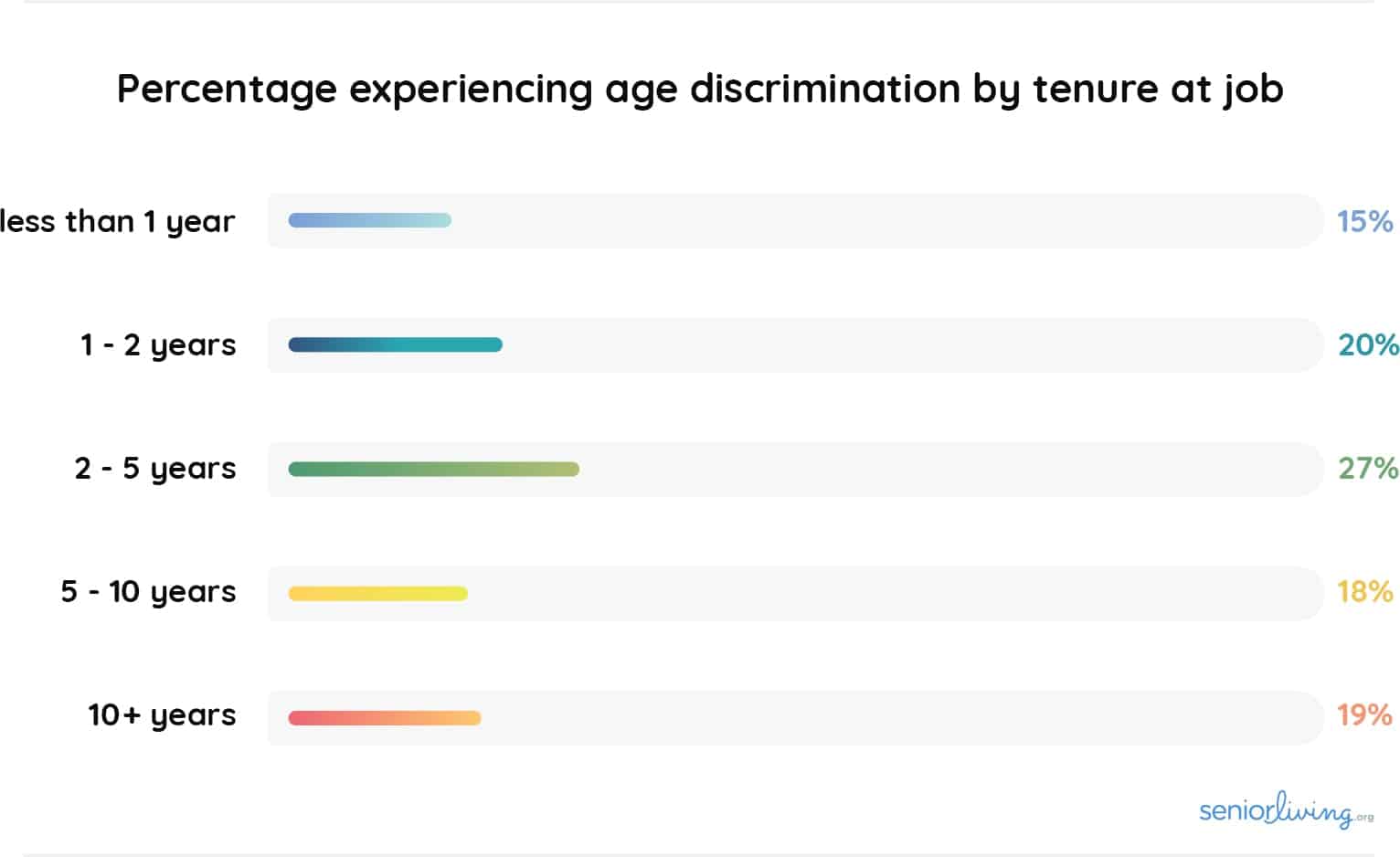 This research indicates that mid-sized businesses could benefit the most from training and additional scrutiny with regard to age discrimination. While all sizes of business report discrimination, those with fewer than 100 employees but more than 10 had the highest rate. Notably, the largest companies also had the lowest reported rate of age-related bias.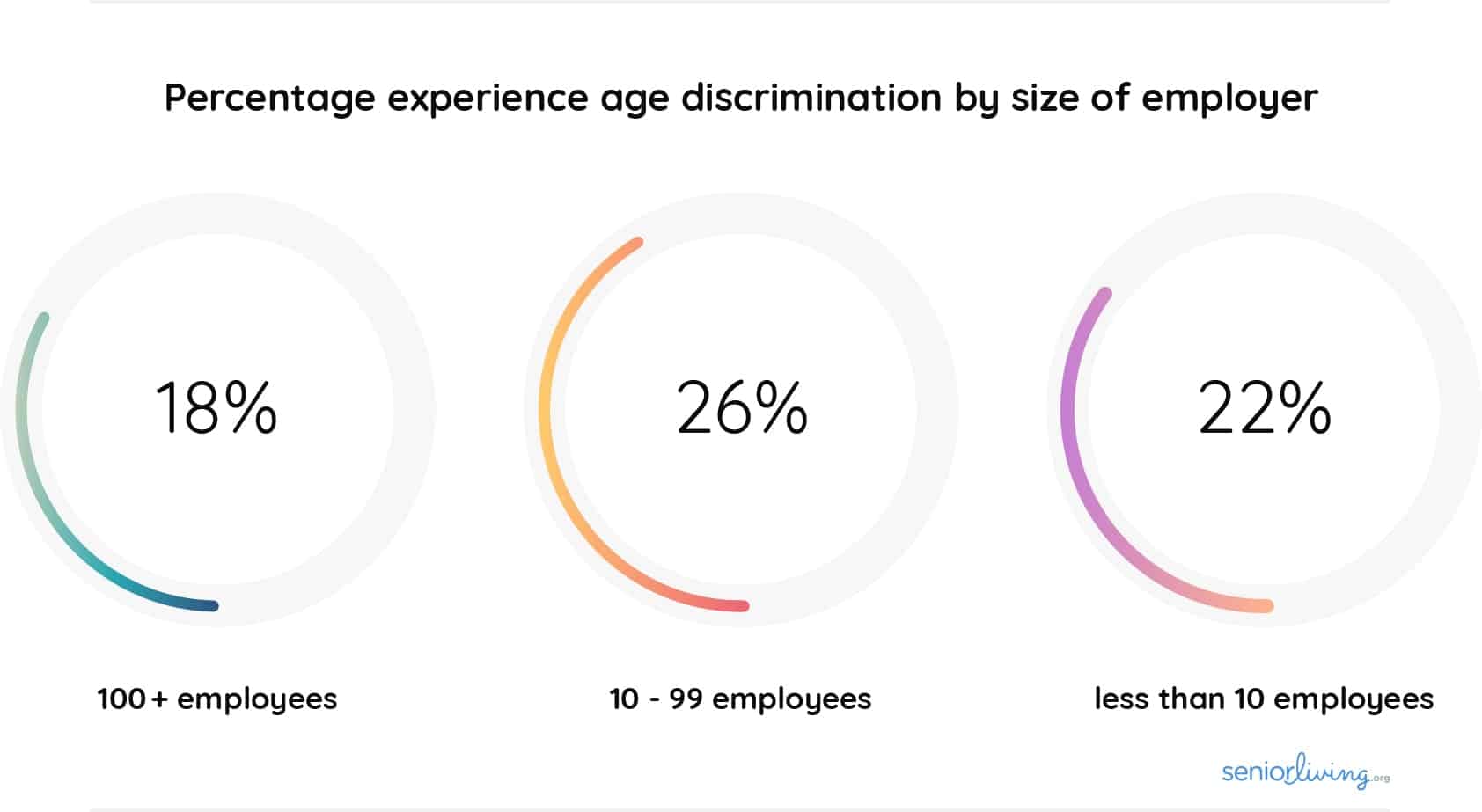 So how engaged are older employees? Nearly 60 percent said that they were "very engaged" and 28 percent said "somewhat engaged", which indicates a labor pool that is very eager to contribute.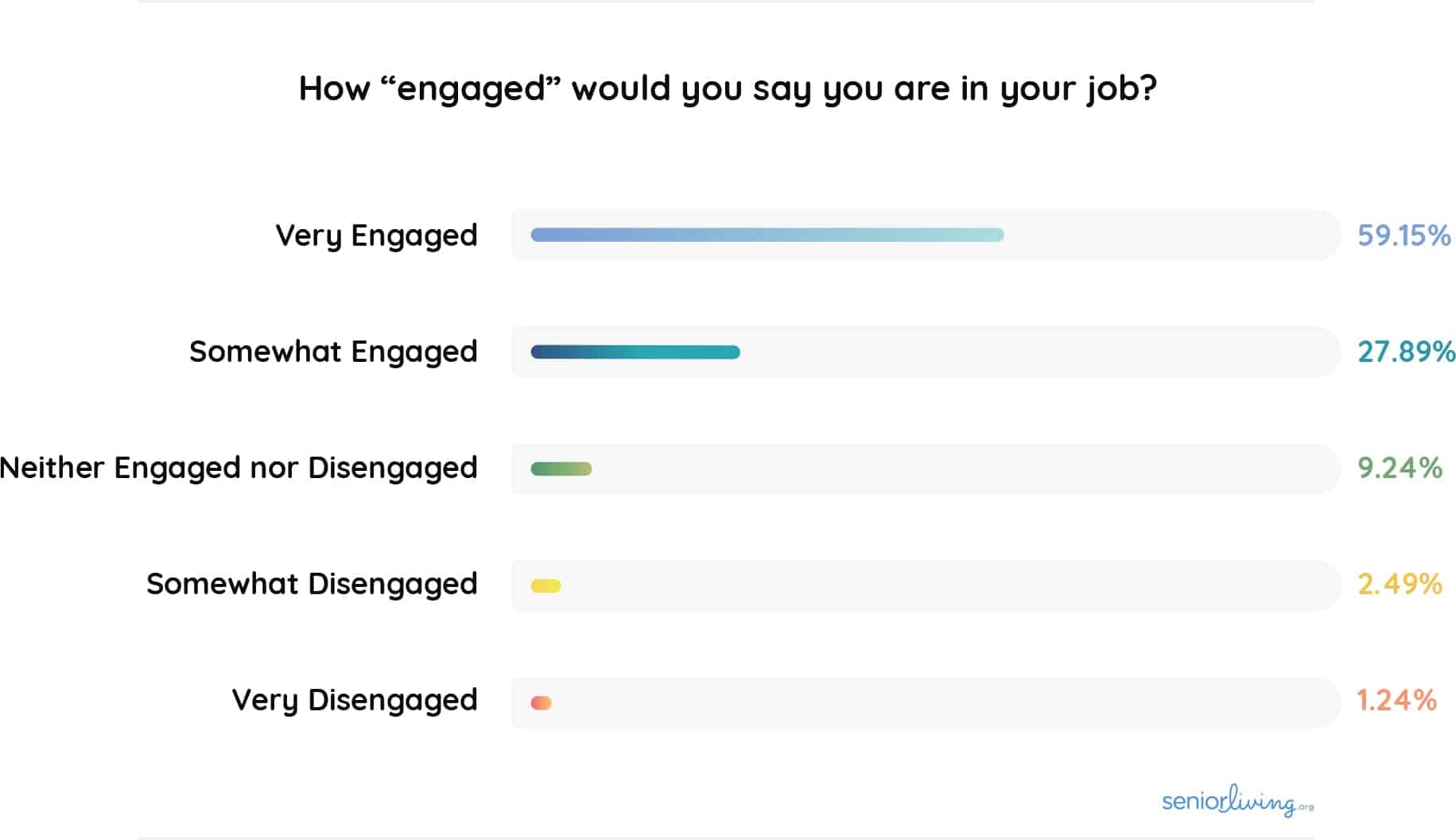 Changing the Situation
More than 70 percent of our survey participants over 60 years old said they believed their age would be a hurdle to getting a new job if they were in the market. Even among younger workers, those between 40 and 44 years of age, nearly one in four said their age could be an obstacle.
Even with survey respondents who didn't report experiencing workplace bias because of their age included, about 47 percent of women and 40 percent of men say their age could keep them from getting a job.
A bill that passed the U.S. House of Representatives in 2020 with limited bipartisan support, the Protecting Older Workers Against Discrimination Act (POWADA), would restore some of the protections workers previously enjoyed in civil cases alleging age discrimination. A U.S. Supreme Court decision in 2009 ruled that workers must prove their age was a decisive factor in an employer's action, and POWADA would restore the previous standard set out in the original age discrimination law, which required workers to prove that their age was a factor, not necessarily the only or deciding factor.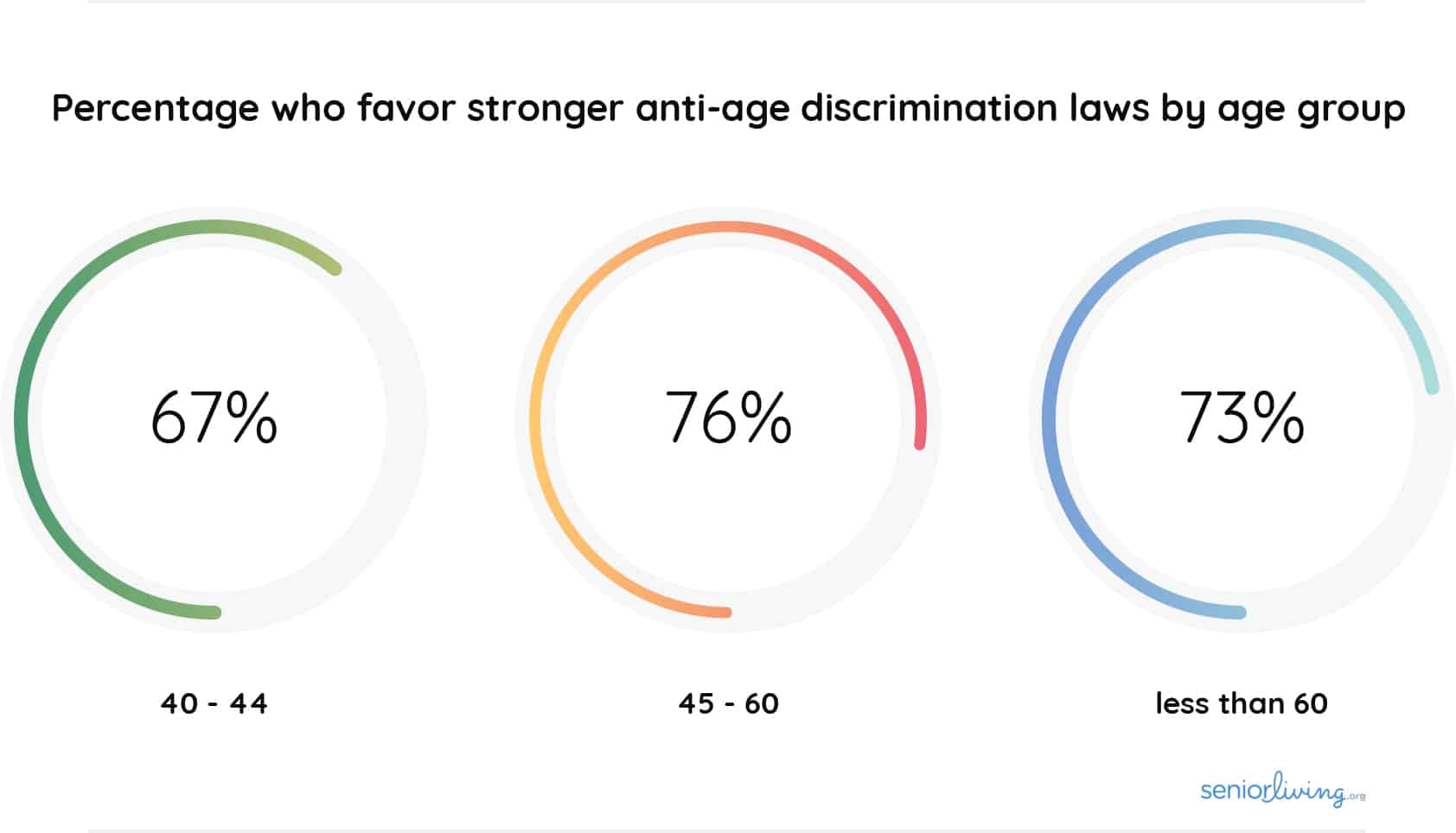 Even despite the limitations of such lawsuits, there have been several successful high-profile age discrimination cases in the recent past. The Los Angeles Times was ordered to pay more than $15 million in damages to a former sports columnist who was demoted because of an age-related health issue, and Google settled a class-action suit claiming the company engaged in discrimination against employees over 40.
Business and government leaders would do well to consider the demographic trends in the United States — in just two years, it's expected that one in four U.S. workers will be 55 or older. Though, as it's thrown a wrench into everything else, it's also possible that the coronavirus pandemic will make it more difficult for older workers, especially those in high-risk age groups for the virus, such as those over 60, to return to their jobs.
As New York Magazine architecture critic Justin Davidson put it, "If you have diabetes or high blood pressure (or live with someone who has diabetes or high blood pressure), you'd be wise to avoid serving on a jury or entering a mall. Public transit will serve only for the young and healthy or the foolish. The threshold of every public building becomes a site of discrimination."
Methodology
SeniorLiving.org is where seniors and their loved ones can find and compare housing options for seniors, including assisted living, in-home care, and everything in-between. We publish research on issues facing assisted living and aging, and cover governmental programs, and economic and social issues facing seniors. We surveyed 1,110 Americans over the age of 40 about their first-hand experiences with workplace discrimination. The survey was completed in May 2020.