Where in the U.S. Is Home Healthcare Most Affordable?
In 1960, a combined $57 million was spent on home healthcare services; by 2027, that number will be closer to $200 billion. Why? We're getting older. We're getting sicker. And, increasingly, policy-makers and healthcare providers are promoting the value of home health services.
The 72% increase projected between 2011 and 2027 for total spending on home healthcare is the largest expected increase of any other care category, outpacing the increase in spending on prescriptions (+60%) and the increase on hospital care (+56%), though the total spent on those two categories still will eclipse home healthcare.
Still, there's no doubt that the future of healthcare seems to be right inside the home. In addition to what the government and individuals are expected to spend over the next decade, technology like smartphones, apps and digital personal assistants are increasingly making it possible for people who in years prior would require the services of a nursing care facility to delay or even prevent that need from arising at all.
For those who are weighing the choice between a nursing home and in-home care for themselves or a loved one, the decision is certainly a difficult one, but it can be made simpler by just looking at the bottom line — cost. Across the board, in-home assistance, whether housekeeping or healthcare, is cheaper than a full-time nursing care facility.
We wanted to look at the cost of home healthcare, how affordable such services are across the country and where home health aides can expect to make the most money.
Costs of Home Healthcare
Home healthcare is an umbrella term for a raft of services that can be provided within a patient's home. Services offered include:
Nursing care
Physical, occupational or speech therapy
Medical social services
Homemaker care
Companionship
Nutritional support
Transportation
Home-delivered meals
These services can be delivered by a range of professionals depending on what needs a patient has, but most often, home healthcare workers are home health aides or personal care aides. Services related to healthcare (instead of, say, help cleaning the house) are more expensive, and the more experienced the healthcare professional, the more expensive they will be to hire.
Still, in-home care is far cheaper than nursing care and is largely comparable to the expense of assisted living.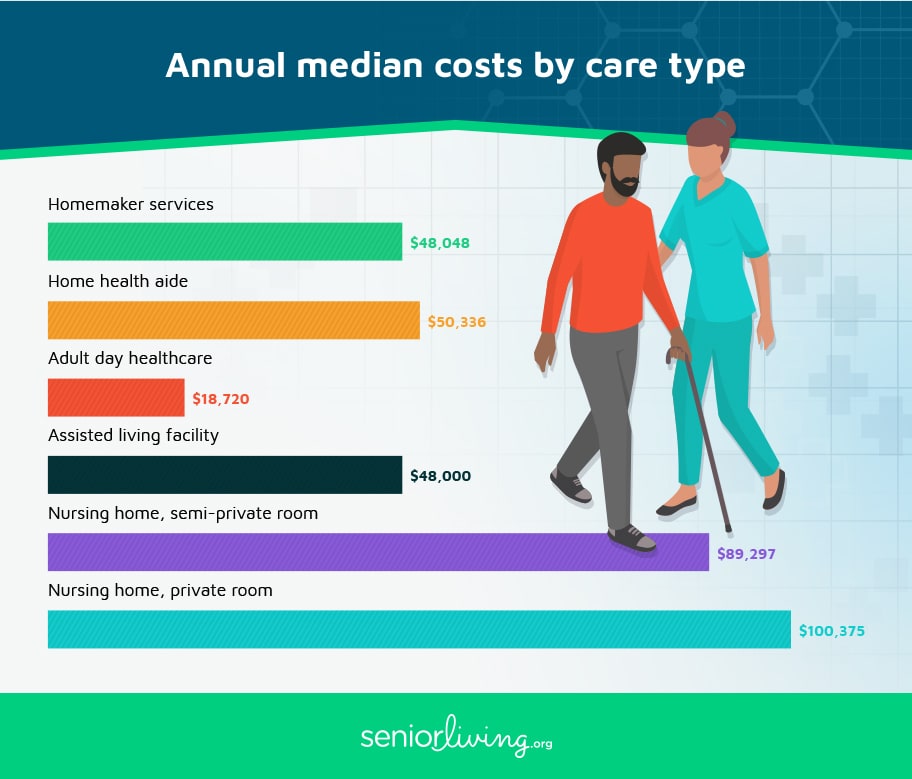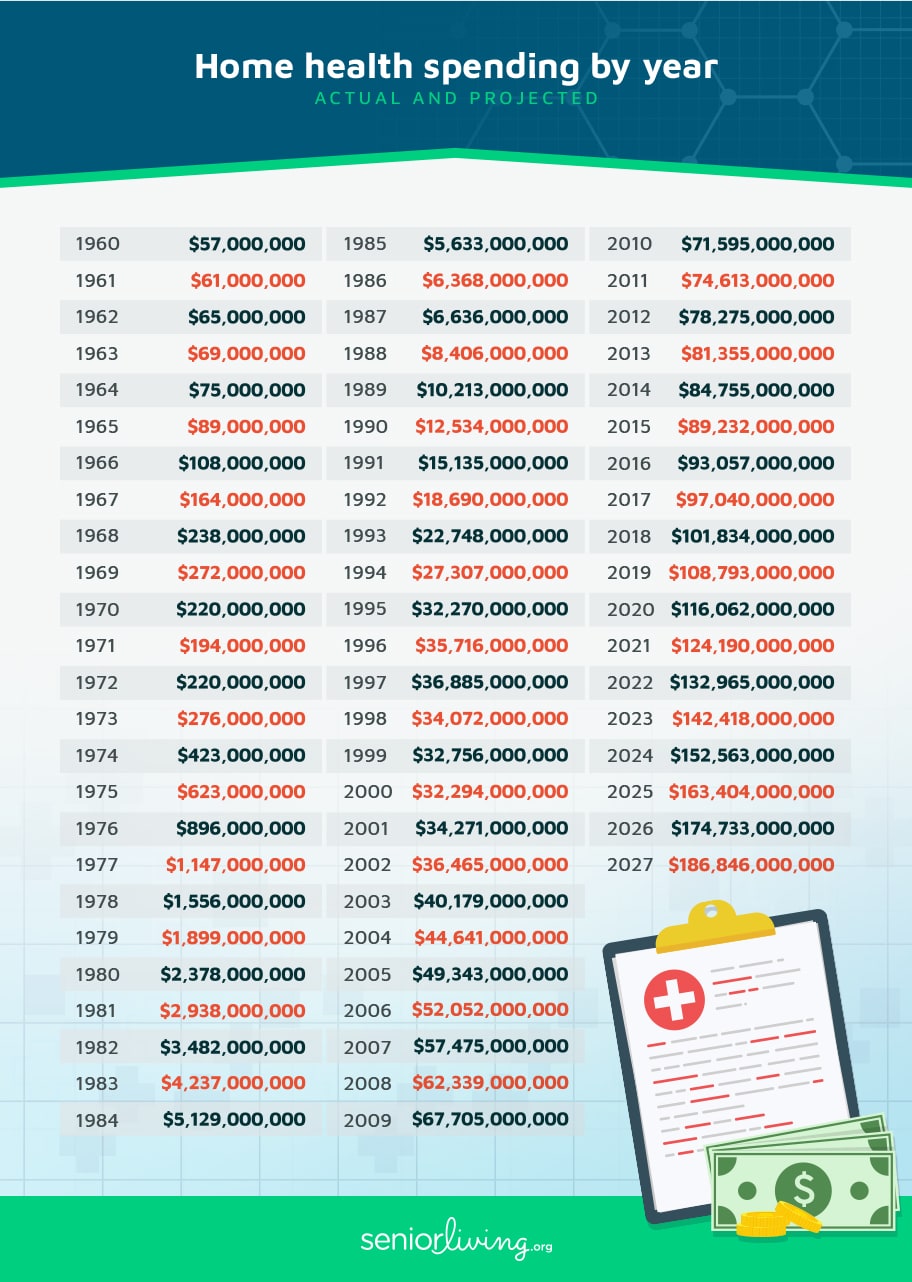 Most & Least Affordable Places
for Home Healthcare
As with most services, costs vary widely from state to state and even city to city for home healthcare. To understand the affordability of in-home care, we're going to look at how expensive the services of an in-home health aide are and how that cost compares to household income.
Services like homemaking are important and helpful, but they're generally less expensive, so looking at the skilled care offered by home health aides can provide a better baseline to understanding the full range of these costs. We've calculated the cost of in-home health aides using Genworth's Cost of Care tool and assumed 44 hours of work per week.
For the income portion of the calculation, we've used median household income figures published by the U.S. Census Bureau and accessible through the American FactFinder tool.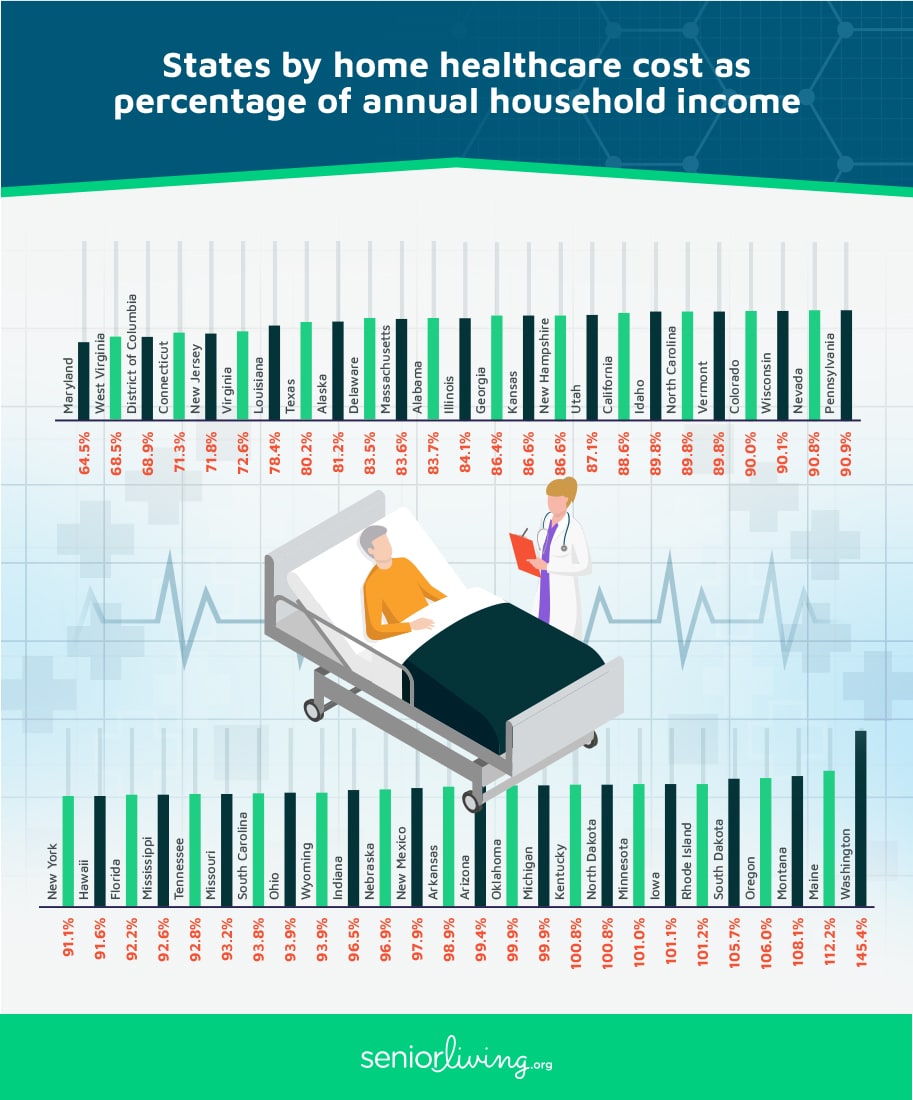 The national median percentage is 91.1%, meaning that 44 hours per week of a home health aide would cost more than 9 out of every 10 dollars of household income. Of course, it's important to remember that most people who use in-home health aides don't require their care for 8+ hours every day.
In several major metro areas, in-home healthcare is a more realistic option than in some others. Here's a look at in-home healthcare affordability among the 50 largest metro areas in the U.S.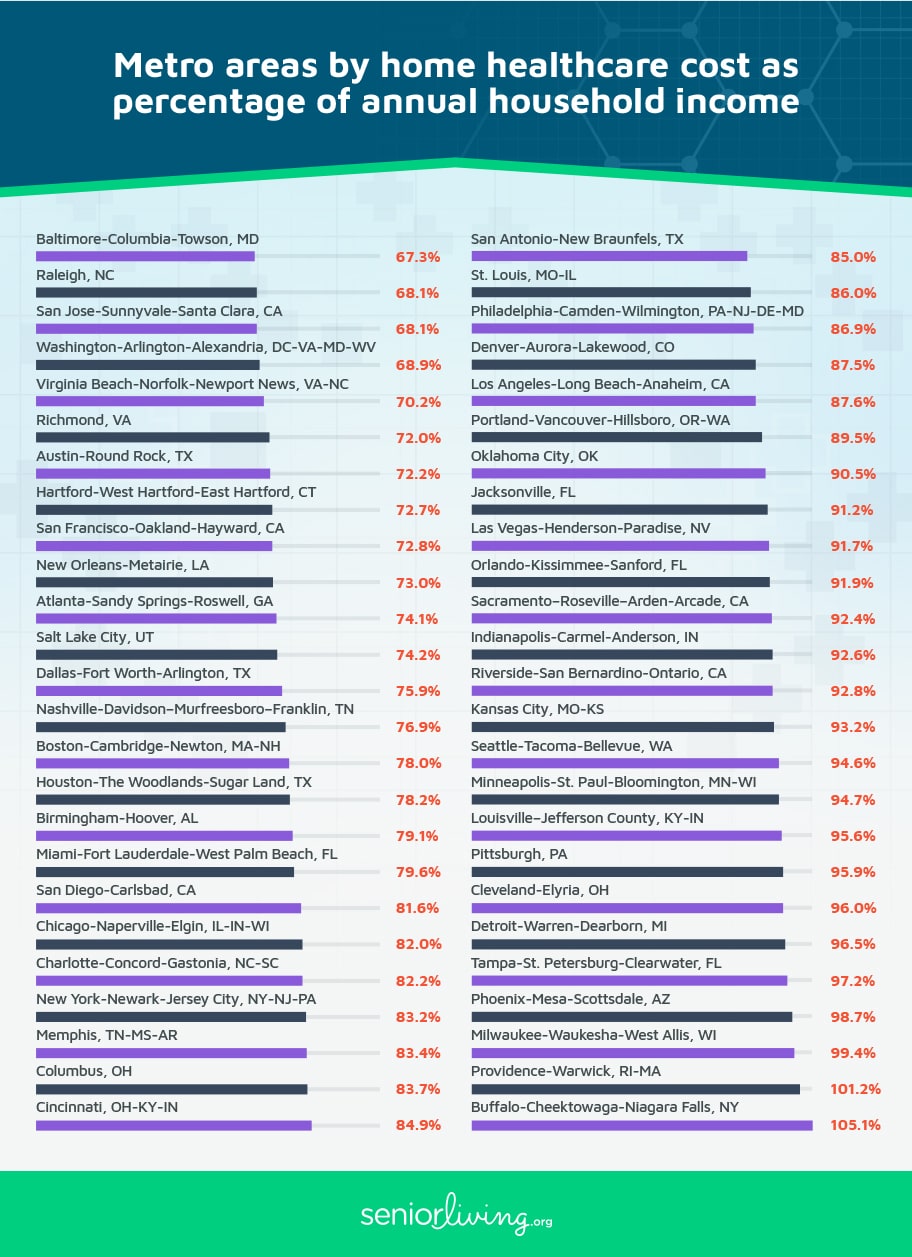 Maryland is the most affordable state for home health aides, and Baltimore is the most affordable city. Interestingly, San Jose, California, in the heart of usually pricey Silicon Valley, is among the most affordable cities in the country.
Best Places for
Home Healthcare Workers
Demand for home health aides is expected to surge through 2026, rising by 47%, several times higher than demand for all occupations, which is projected to go up just 7% in the same time. Home health aides earn pretty meager salaries nationally (median annual wage of about $24,000), though the more education and experience a person has, the more they'll make, and several cities have median wages that far exceed the national rate.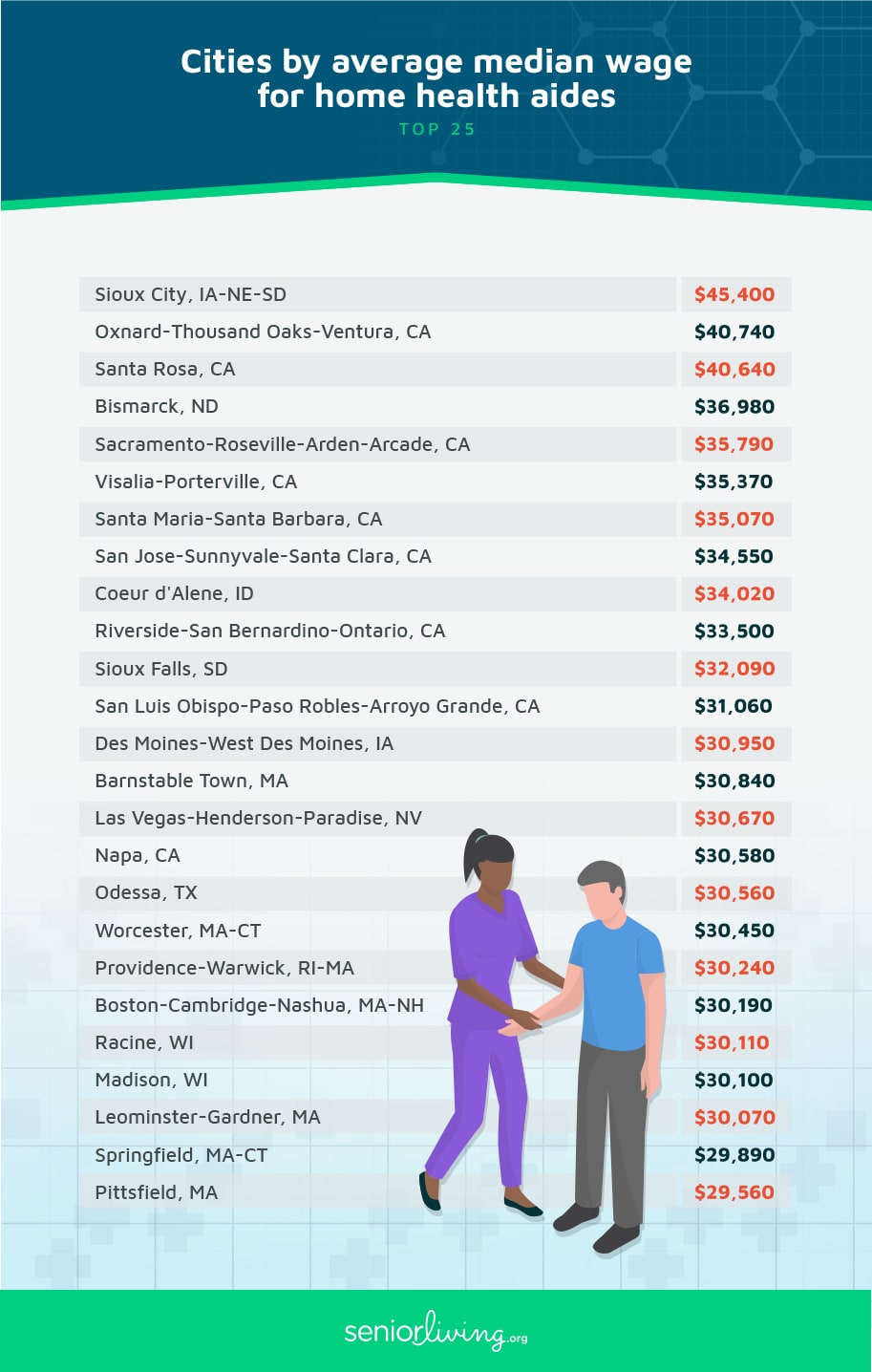 Eight of the top 25 cities for home health aides are in California, which is interesting given that we know is on the more affordable side of the equation.
Conclusion
It's the average person's dream to grow old in their own house. Thanks to the exponential growth in the home healthcare industry, that's becoming a more possible outcome for a great and growing number of Americans. There's no doubt that regular in-home healthcare isn't exactly cheap, but the increased availability of this type of care means that it may be closer than many families assume.
About This Report
We've linked to all the original data sources used to create our analysis, but here's a brief explanation of the data we used and where it came from:
Fair Use Statement
The research, data and graphics on this page are free for noncommercial uses. If you decide to use any of this information, please properly credited this page by including a link to the URL at top.