Getting your mobility back can change your life. Whether you want to spend time with your grandkids, grocery shop, or just cruise your neighborhood's streets, a senior mobility scooter can give you the freedom to go anywhere and do just about anything.
Do I Need a Scooter?
My 85-year-old grandmother can't stand for more than about 15 minutes before her back starts hurting. She has to sit down for an hour before standing up again. This is extremely limiting for her. Does she need a senior scooter? It would certainly increase her mobility.
The first thing my grandmother should do is get an evaluation from her doctor. An occupational therapist, if you have one, can also conduct an evaluation. You won't need a doctor's evaluation to purchase a scooter unless you want financial assistance from Medicare.
In the evaluation, your arm and leg strength will be tested as well as your balance and posture. Will you have enough arm strength to operate the scooter? Will you be able to hold yourself upright to operate a scooter?
The doctor can then write a prescription for Medicare if you intend to use your coverage.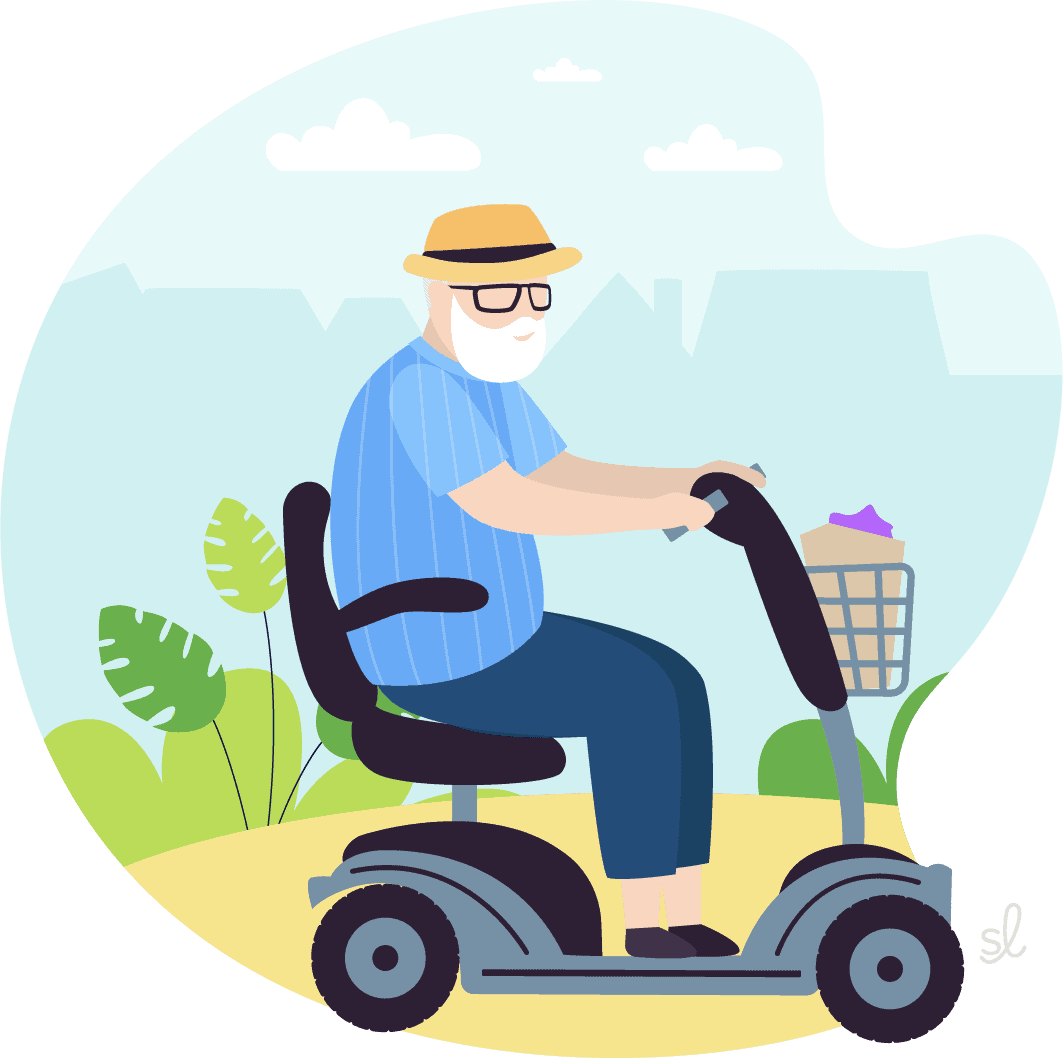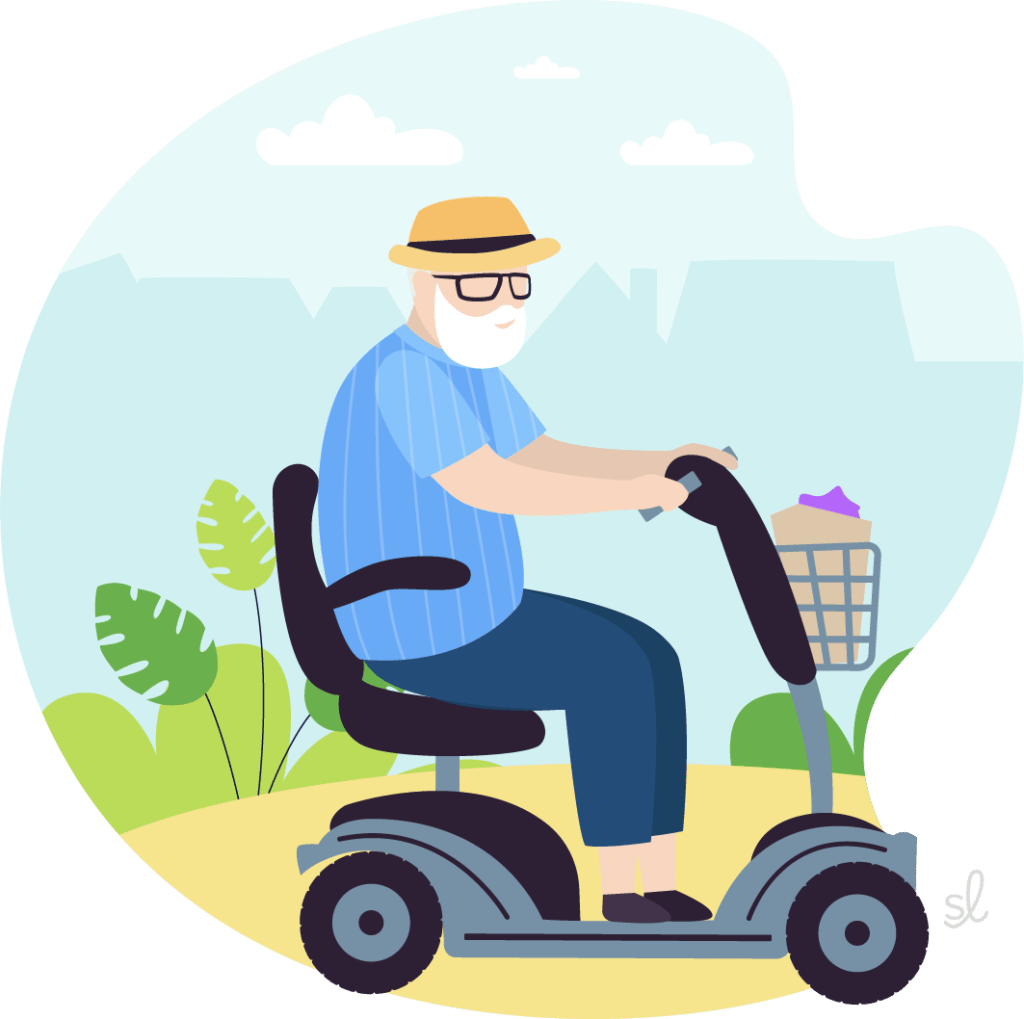 Medicare and Scooters
According to Medicare's "Wheelchair and Scooter Benefit" clause, a doctor's written order is required for Medicare to consider coverage. This order must say that you medically need a scooter and are able to safely operate one.
Medicare will generally pay 80% of the "approved amount" after you have met the Part B deductible. You would the remaining 20% unless Medicaid (see your state office for coverage) will cover this portion.
You have to meet ALL of the following conditions:
You have a health condition that causes difficulty moving around your home.
You're unable to do activities of daily living (bathing, dressing, getting out of a chair, etc.) even with the help of a cane, crutch or walker.
You're able to safely operate, and get on and off the scooter or have someone with you who is always available to help you safely use the device.
The scooter must be usable within your home.
Other Financing Options
If Medicare is not a payment option for you, there are other options. The stores that sell senior scooters often have financing plans available. Also, private insurance policies sometimes cover a percentage of the cost.
Questions Before Shopping
If you're thinking of buying a scooter, here are some questions to consider before shopping:
What are your physical needs for using the scooter? E.g., do you need a power lift chair?
What are your height, weight and hip-to-hip measurements?
Will you be using the scooter indoors, outdoors or the combination?
Do you have a steep driveway, sidewalk, or roads?
Will you ever operate it where there's snow or ice?
Will you ever operate it on dirt paths?
How will you transport it? Truck, van, car, outside of one of these vehicles?
Will you have to "break down" the scooter to fit in your vehicle?
Will you need ramps, wider doorways, etc. when operating the scooter at home?
How will you be paying for it?
Types of Senior Scooters
Part of this equation will emerge based on how you answered the above questions. If you search online, you'll see a dizzying array of options on places like The Scooter Store. Before we get to specifics, let's look at the two basic categories of scooters.
Power Wheelchair
Are the most maneuverable for indoors
Can be used outdoors
Tip resistant
Extremely comfortable seats
Joystick control
Price range from $2,000-$10,000
Mobility Medical Scooters
Ideal for extended outdoors use
Less maneuverable indoors than a power chair
Lots of options available (e.g. extended battery, oxygen carriers, all-terrain, etc.)
Price range from $800 to $9,000
Weights from 54 lbs. to 500 lbs.
Considerations for Mobility Scooters
Here are some items to consider when shopping for a mobility scooter:
The big question is how will you transport your scooter? Portable scooters can be folded and put in a car's trunk. But this will likely require assistance from a friend or relative.
Large, heavier models need to be lifted by a vehicle lift that attaches to your car, van or truck. These lifts can run as high as $3,000.
Consider other options like swivel seats, reclining seats, flat free tires, long range, adjustable headrests, tight turning radius steering, removable armrests, speed, battery charge,
Think about long-term use for your scooter. Is it something you can use if your living arrangements change? For instance, if you move to an assisted living facility, how practical will a particular model be? Can you use it in a small apartment? Will it get through most doors?
If you live in a retirement community or assisted living facility, find out their scooter rules first.
What comes standard on the scooter? And is there room for attachments you may need down the road?  E.g. an oxygen attachment.
What kind of warranty comes standard with the scooter? Where and how is service/repairs performed? Do you have to bring in your scooter to the store? Or will they make house calls?
Check customer reviews on a particular model using Amazon.com. Not all models are listed, but there are dozens of reviews.
Hold out for deals such as holiday sales and Black Friday sales to get the best price.
For information on other senior mobility products and options, see our article "Assistive Technology Devices."