Seven Key Facts on Immigration and In-Home Healthcare
An enormous crisis is brewing when it comes to caring for older adults (see our report on The Home Care Economy). This issue is closely linked to immigration policy. In our previous analysis of the looming home care crisis, we noted that one segment of the workforce is shouldering an outsized burden: foreign-born workers. The industry relies on immigrants, especially as fewer native born workers are stepping into these roles.
Here are seven key takeaways from our research and analysis of government data that reveal why immigrants are so essential to the home health and personal care economy today – and why they'll need to be prioritized in the future.
The number of immigrants working as home health or personal care aides has grown by 41 percent since 2010. The number of native-born workers in the field has increased by just 1 percent.
Though they represent a minority of the home health and personal care workforce, immigrants and naturalized citizens account for the fastest-growing population to hold jobs as health or personal care aides, a category that also includes nursing and psychiatric aides.

Source: Current Population Survey, October 2010 and October 2021
Overall employment in the occupation has grown by 10 percent since 2010, with the share of native-born workers growing by just one percent. However, the number of foreign-born individuals working in those roles surged by more than 40 percent.
Where do foreign-born care aides come from? According to 2021 Current Population Survey figures, Mexico accounts for the single biggest share, about 13 percent of the foreign-born home health and personal care aide workforce, with the Philippines and Dominican Republic in second and third, respectively.
Today, immigrants make up 27 percent of all home health and personal care aide workers. A decade ago, they accounted for 20 percent of workers in the field.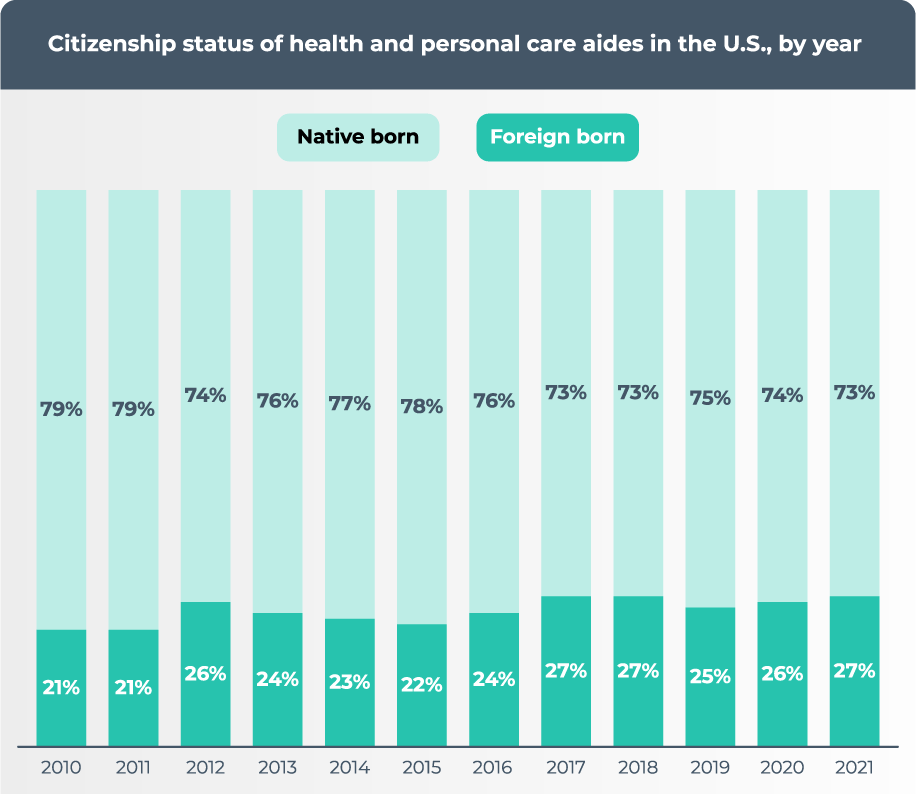 Source: Current Population Survey, October 2010-October 2021
A decade ago, immigrants and naturalized citizens made up about 21 percent of home health and personal care aides, and today, they've climbed to nearly 27 percent. While that remains a clear minority, there can be little doubt that if foreign-born workers were removed from the mix, an already-strained system would crack even further. As our previous analysis has indicated, the home health workforce is facing a dire situation, including low wages and demand that outstrips supply of workers.
Home health aides and personal care aides are more likely to have been born outside the U.S. than doctors, physical therapists, or nurses.
Of course, foreign-born workers are common in many other healthcare occupations; for example, more than one in four U.S. physicians or surgeons weren't born here in the United States. And for home health aides? That's an even higher ratio – 38 percent are immigrants or naturalized citizens.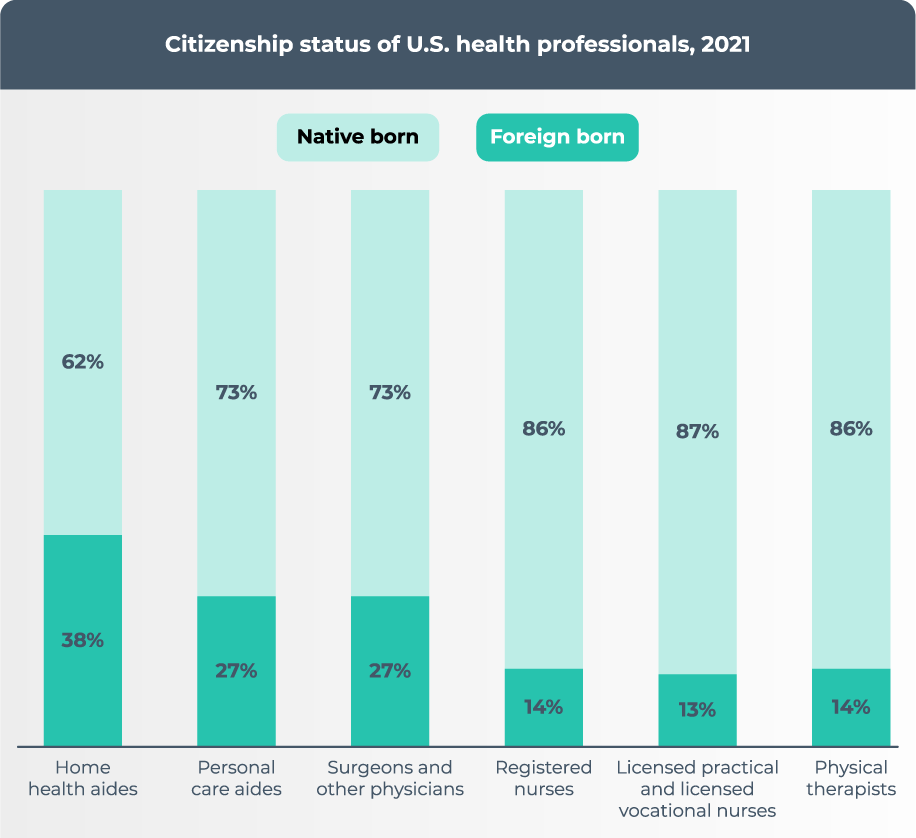 Source: Current Population Survey, October 2021
Personal care aides are also more likely to be immigrants than surgeons, doctors, and nurses. Both personal care and home health aides do not need specialized degrees to perform their roles, while doctors and nurses do. This means many young people who arrive in the U.S. can immediately begin working in these essential fields without advanced education.
The immigrant population in the U.S. has grown more slowly in the U.S. since 2017, which may have long lasting impacts on the home health and personal care economy.
While immigrants have been a rapidly growing segment of the home healthcare workforce, recent changes in U.S. immigration processes may stem some of this growth. Before the Covid-immigrant 19 pandemic brought the U.S. immigration system to a near-halt, immigration rates had been on the decline for a few years. The Center for Immigration Studies found that growth in the population1 – both documented and undocumented – fell from an average of 650,000 per year between 2010 and 2017 to about 200,000 annually between 2017 and 2019, possibly due to more harsh immigration enforcement during the Trump years.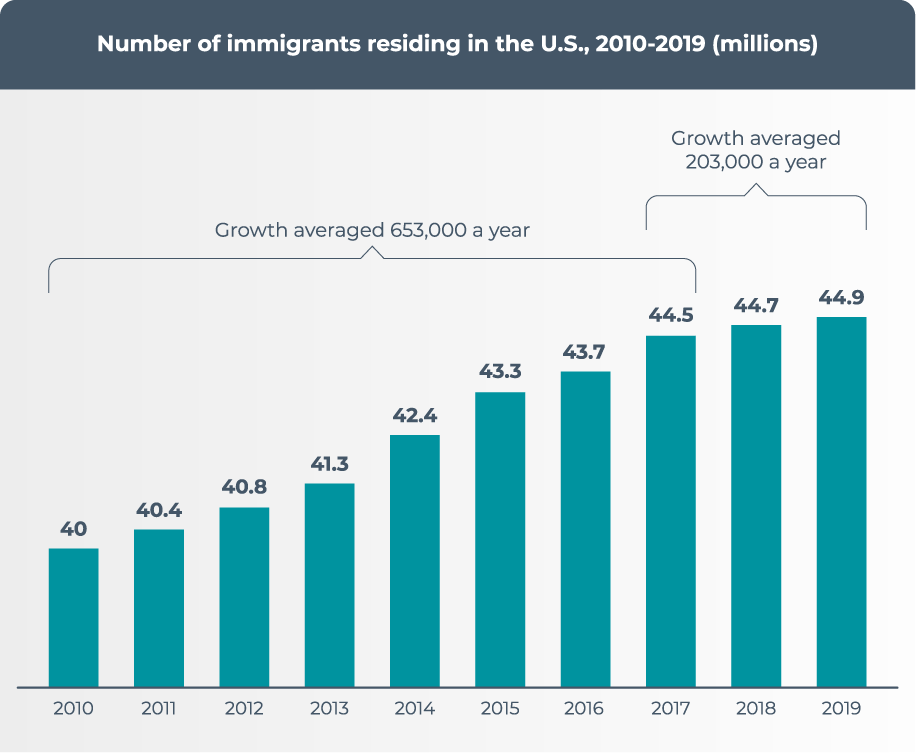 Source: American Community Survey, 2010 to 2019, data.census.gov
And in the early days of the pandemic, the U.S. government closed all of its immigration processing offices to in-person visitors before slowly reopening in some locations.2 This caused unprecedented delays in processing immigration applications – delays that are still impacting many foreign-born workers today.3
If restrictions and backlogs continue to cut off migration flows, the home health and personal care industry may not grow at a fast enough pace to meet the demands of the growing elderly population.
By 2030, projections indicate that the number of Americans 65 or older will reach an all-time high of 73 million people, but the home health economy is already strained.
As the nation continues to age, demand for professionals to help provide necessary in-home care for older Americans will only keep growing. Long before Covid-19 or declines in migration, several factors were deepening an already existing crisis in home care staffing, including a massive increase in the senior population as the Baby Boomer generation enters its retirement years.
Home health and personal care aide employment is projected to rise over the next decade, but according to our analysis, it won't grow enough to keep up with demand, and many states will likely face dire shortages. Due to staggering turnover rates, low wages, and grueling workloads, workers simply may not be incentivized to consider becoming home health aides and remaining in the field.
Despite this, nearly 80 percent of adults want to remain in their own homes as they age rather than residing in long-term senior care facilities.4 Demand for workers in the home health industry will only continue to grow as America's population ages.
 To help keep up with the demand for home health workers as Americans age rapidly, the U.S. may need to create a new visa class for lower skilled, in-demand workers.
In addition to relatively low wages, there's one huge hurdle when it comes to considering how immigrants could get this job done: visas. Currently, no visa class has been established specifically for less-skilled medical workers. In times past, we would probably have referred to these individuals as low-skilled workers, but the reality is that specific skills are absolutely required to excel in the role of a home health or personal care aide, but an advanced or entry-level college degree isn't.
Many in-demand jobs, both in healthcare and outside the industry, benefit from having special visa classes that target specific types of professionals, including:
Persons with extraordinary abilities
Outstanding professors or researchers
Multinational managers or executives in business
Temporary farm workers or other seasonal workers
But none of these classes would apply to home health and personal care aides based on the current shape of visa requirements and job descriptions. One potential solution is to create a new visa class for "low-skill" workers who can help fill openings in many industries.
"While there is nothing 'low skill' about [home health work], you don't always need a degree for such positions. The U.S. immigration laws do not have such a visa. The H2B visa is for seasonal, intermittent or one-time work. Businesses such as home care facilities need assistance all year around," said Tahmina Watson, a Seattle immigration attorney.
A 2013 immigration reform bill did include provisions for a new "W" visa, which would have applied to so-called low-skill workers, it never became law,5 and in more recent legislative negotiations, such as those over the recent infrastructure bill, this type of visa has not been part of the mix.
"Such a new visa category is important for the general labor shortage America is facing," Watson said. "The labor shortage is not only in the senior healthcare industry, but also across the hospitality, construction, manufacturing and other industries. In my opinion, a new visa category is important."
Watson is an advocate for a new visa class that would establish a path to a temporary work visa in industries where there is an immediate, dire need for workers, such as in home health. Some current visas could apply to these workers, but the process for getting these types of permits makes them unrealistic for urgent needs like home health and personal care aide shortages.
For example, employment-based immigration: third preference (EB-3) visas, which provide qualified workers with green cards, could theoretically apply. But since the process can take as long as three years, Watson said, it's not a good solution to the care economy staffing gap.
"From start to finish of this process, it could take easily two to three years – Covid has definitely created backlogs at every step. In addition, there is a huge time and cost burden on the employer," said Watson.
Increasing the number of immigrant workers in the home health industry would not likely lead to lower wages for native workers.
Legal hurdles to immigration aside, there are certainly other concerns to take into account, not the least of which is the impact of current U.S. workers. However, fears of low wages and higher competition for jobs are much less a concern for home health and personal care aides for a couple of reasons.
First, some research has shown that immigration can reduce wages for native workers, and the current wages in the home health and personal care workforce are dismally low. At just $13.02 an hour, or $27,000 a year, the median wage for workers in this field are far below the U.S. median annual income. People currently working as home health or personal care aides cannot afford to earn less than they do now.
However, research shows that wage decreases that occur as a result of increased immigration largely take place when foreign-born and native workers are competing for the same jobs.6 In this case, native-born workers aren't entering these jobs at the rate they used to, so in effect, they aren't competing against immigrants for employment. According to the most recent available federal data, fewer than six percent of home health aides have a college degree.7 As Americans earn bachelor's degrees at greater numbers than ever before,8 fewer people may consider employment as home health or personal care aides, since a college education is not necessary.
Second, creating a pathway for foreign-born workers to fill more home health and personal care aide jobs could have a net positive effect on the economy, as it would free up unpaid family caregivers to return to the labor force. Millions of Americans provide unpaid caregiving, as many as one in five, according to AARP, and many of these people are working-age adults whose earning capacity is being reduced because they are working less in order to care for a loved one.9 One study showed "that low-skilled immigration increases the labor market participation of high-skilled women by allowing families more freedom to hire child care or pay for other domestic tasks,"10 such as caregiving for older adults.
Conclusion
A problem as massive as the staffing shortage in home health care has few easy answers. Higher wages and better working conditions. Benefits like health insurance and retirement plans. Affordable pricing for patients. Access to jobs for foreign-born workers.
All of these (and more) are potential planks in a reform of home care; but none of them can come to fruition without federal action sooner rather than later.
About our data
The SeniorLiving team analyzed data from the Current Population Survey, which is conducted monthly. The survey is sponsored by the U.S. Census Bureau and the U.S. Bureau of Labor Statistics (BLS) and is the primary source of labor force statistics for the population of the United States. At the time of our analysis we used the latest available data from October 2021 and compared that to survey results from October 2010. To show the number of native born workers, we grouped those who were born in the U.S., its territories, and those born abroad to American parents. To find the number of foreign born workers, we grouped naturalized citizens as well as non-citizens. The true number of foreign-born workers may actually be higher since researchers may not have been able to survey undocumented workers in the home health and personal care industry. Before 2020, the Current Population Survey grouped home health, nursing, and psychiatric aides into one occupational code. To learn more about the Current Population Survey, visit Census.gov.
References
https://www.cato.org/cato-journal/fall-2017/does-immigration-reduce-wages#ch4_ref14
https://www.aarp.org/content/dam/aarp/research/surveys_statistics/econ/2021/longevity-economy-working-caregivers.doi.10.26419-2Fint.00042.006.pdf
https://www.aeaweb.org/articles?id=10.1257/app.3.3.88