Caregivers Most At Risk of Poor Mental Health
While most caregivers reported similar difficulties, not all reported negative mental health symptoms. Being new to caregiving, having little health and support, and living with the person they help were all major risk factors for poor mental health.
New caregivers
Taking on the responsibility of providing necessary care for a loved one can feel very much like your entire world has changed. Major life changes, such as taking a new job, having a baby, or having a family member move into your home, can be very exciting, but change of any kind can also cause stress.
As such, those who have been family caregivers for a year or less are much more likely than more veteran caregivers to report poor or below average mental health, and they are more likely than other groups to have emotional stress related to caregiving. This may indicate that once caregivers adjust to their new roles, their stress may decrease and their mental health may improve.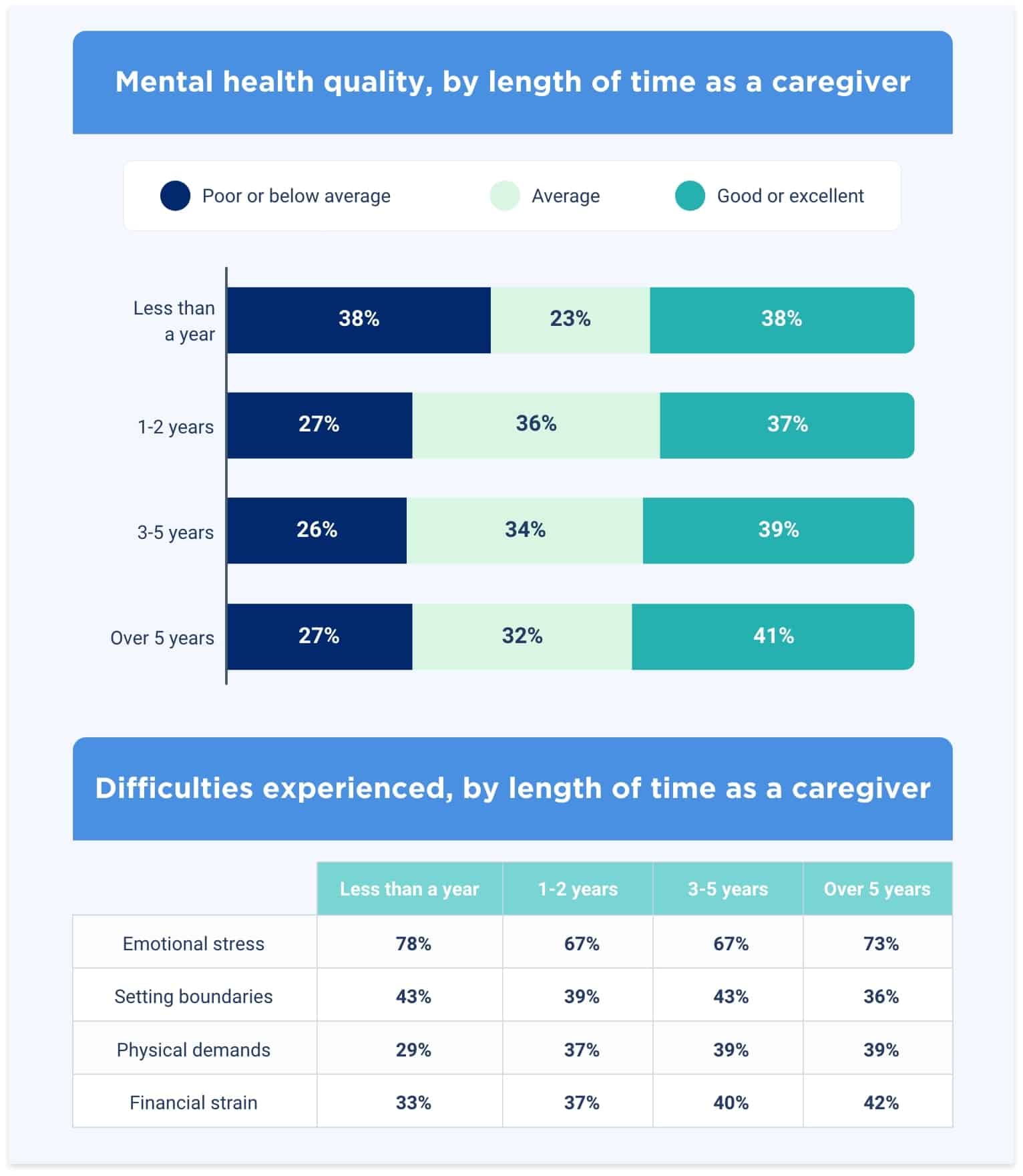 That is not to say that veteran family caregivers don't experience any difficulties. While they have slightly higher rates of good or excellent mental health, they also have the highest rates of financial strain and physical demands compared to new caregivers.
Sole caregivers
Caring for a loved one often requires hours of care each day for several years. Because of this, it's essential for caregivers to have a community of support and help, though our research revealed this is not the case for many caregivers.
Nearly 40 percent of the caretakers in our study were the sole caretaker for a family member aged 50 or older. These people are at heightened risk of poor mental health because all the physical and emotional caregiving tasks fall to them alone. We know that sole caregivers put in more hours than the average caregiver — 32 hours per week compared to 25 hours for all caregivers.Sole caregivers are likelier than those with help to lose their temper with others, feel pervasive anxiety, and to experience depression.
While it may be difficult for some sole caregivers to seek help, experts say it's essential for their health. Jennifer Brechtel, the Community Benefit Manager at Granite VNA, encourages family caregivers to look into respite care, which can often be less expensive than residential or nursing home care. This is a great solution for individuals who don't have any family or friends in the area who could provide support.
"Consider respite care to give yourself a break, even if it's just for a day or afternoon. Ask family members to help with the person or with their own daily tasks and share the load," Brechtel said. "The biggest tip is for caregivers to be sure to make time for themselves and to take care of their own needs. They should be mindful of signs and symptoms of stress…and to find ways to alleviate the stress."
Sole caregivers without support from friends or family may also benefit from joining a support group, either in-person or online. These groups are sometimes condition-specific (for example, for dementia caregivers), and some offer education in addition to emotional support. Some people might also be eligible for caregiver benefits from their health insurance providers, which can reduce the amount of day-to-day work that falls onto solo family caregivers.
"Caregivers should take a close look at their loved one's specific health plan benefits. If you need help getting your loved one to a doctor's office, for example, their health plan may offer a transportation benefit with rides to medical appointments and pharmacies," said Christopher Ciano, President of Aetna Medicare. "Health plans can also offer access to more convenient care choices, like telehealth and in-home care, or prescription delivery options."
Caregivers who live with their family member in need of care
According to AARP data, the percentage of older adults who need care and live with their caregiver has risen steadily over the past few years. This is likely due in part to the rising costs of residential care. Nursing home rates are around $7,000-$8,000 a month and are expected to continue to climb by as much as a third over the next decade.
Living with a family member can reduce costs for the person receiving care and can be very convenient for the caregiver. It also guarantees plenty of quality time together.
"I am very fortunate that I get to share each day with my mother, who can be unbelievably strong," said Rachel Escio, who works from home and cares for her aging mother. "My mother's schedule and appointments are in my calendar and I also inform her of mine so each day turns out to be a collaboration. With this day-to-day plan, we are both able to ensure that we are well."
Even with strong communication between family members, this situation also has unique challenges, including:
Less privacy at home
Changes in family dynamics
Impact on work-life balance
Impact on marriages/relationships of caregiver
Financial strain
These difficulties can have an impact on emotional health and wellbeing. Even when they have assistance from others, people who live with the person they care for experience unhappiness and anger at higher rates than those who live separately.
Percentage experiencing negative feelings often or always
By whether or not the person they care for lives with them
Living with the person receiving care
Living separately from the person receiving care
I feel overwhelmed, like there is not enough time in the day to get everything done.
52%
44%
I have trouble engaging with friends and family members.
28%
21%
Activities that once brought me relaxation and joy now leave me feeling listless.
27%
21%
I find myself losing my temper with others (especially the person in my care) more often than I used to.
19%
11%
They also have higher rates of feeling overwhelmed and have trouble engaging with friends or family members. Caregivers who live with the family member they care for are also more likely than those who live apart to feel listless doing activities that once brought joy and relaxation, which is a primary symptom of depression.
Family caregivers who live with the care recipient report emotional stress at similar rates as those who don't live with their family member. However they are much more likely to experience financial strain, loss of sleep, feelings of obligation, and depression.